Sponsored by Pantene
Several weeks ago I shared an Instagram about trying new Pantene Airspray – the first-ever flexible-hold, alcohol-free aerosol hairspray. I was born and raised in the South… I don't play when it comes to hairspray.  So I might not have the big-hair-closer-to-God look, but when styling my hair, finishing my look with a great holding spray is a step that is never missed.
With this hairspray, you can restyle your hair throughout the day without it feeling sticky or stiff and it leaves your hair touchable and soft. Today I want to share a few ways my hair was styled in one day using Airspray.
First off, a sleek blowout to start the day –
Next is a side part with voluminous waves for some daytime meetings.  I think tucking hair your behind one ear is such a sophisticated and elegant look – I wore a similar style for the People's Choice Awards last month (photo here).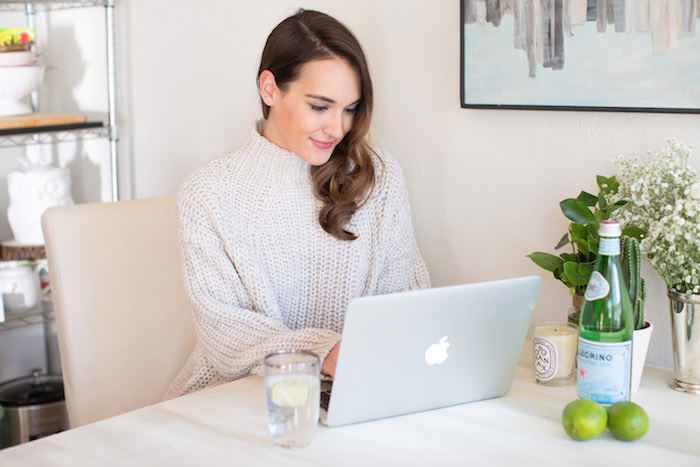 The final look (and my favorite, also shared at the very top of this post) is loose beach waves with a fun braid for drinks with my girlfriends. I love this laid-back look.  I think the key to braids (especially if you have fine hair like I do) is pulling the hair out throughout the braid to make it appear larger and fuller. In my personal opinion – the messier, the better!
photos by Taylor Cole
You can win the ultimate trip to New York City for yourself and a friend by entering Pantene's contest!  The prize includes a two-night hotel stay in the city, roundtrip airfare for two, ground transportation during to and from the airport in NYC and dinner, hair & makeup and a gift certificate to dinner.
You can follow myself and Pantene for more info on the contest. Post your own looks (inspired by the ones above) to your blog, Twitter or Instagram. To submit, you can either leave the blog post link to your look in the comment section of this post, send the link to [email protected], or enter through Instagram or Twitter using custom hashtags #HelloAirspray #PanteneXBloglovin #Contest and tagging @Pantene and @CarrieBradshawLied!
You can snag Pantene's Airspray at Pantene.com, Target, Walgreens or Drugstore.com for under $6 to try it out for yourself. I'd love to hear what you guys think!  Thanks so much for reading and entering – XO –