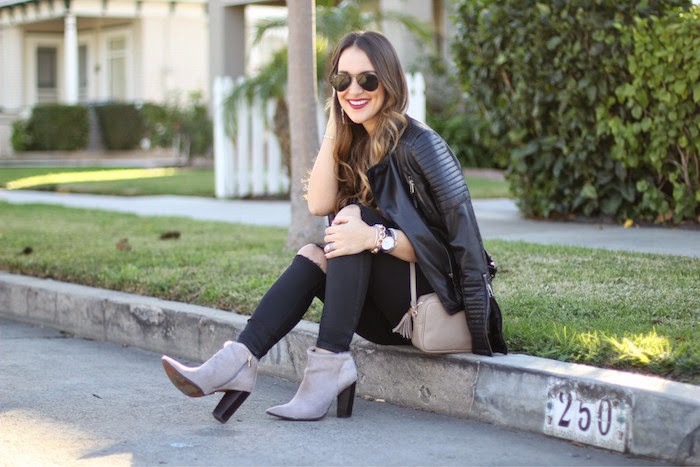 Y'all may notice CBL looks a little differently this morning! I've been working with my fab web designer, Stephanie, to spruce this baby up a bit and we're still working through some kinks, so thank you for your patience as we all get situated! I'm hoping to make CBL easy to navigate and hop around (from the new categories drop down up top to the collapsable posts below and so on), so I hope you guys will like it!
Now onto this Lulu's top. I love that it brings back a little peplum flintiness that I've been missing from my life lately in this cold-front in California (you read that right: IT'S BELOW 50 HERE and even raining, we're all walking around like confused zombies, tis true), so we're bringin' it back baby! It actually dips down in the back, covering my bum, and I know I'm not the only one is all thumbs up when a top, sweater, or coat covers up the derriere.
And I have to give the hubs a little shoutout for my some of my spot-on Christmas gifts – these sunnies and this bag! I originally pined for the Gucci Soho… but after almost buying it last Christmas and then seeing it go up over $100 in price this year… I couldn't pull the trigger. WHAT IS HAPPENING to me that I'm becoming conscious about splurging? We might need an intervention soon. Is anyone else getting more conscious of their spending as they're getting older? I don't like it. I need old Kat back.

I just want to remind y'all that you have three more days to get 15% off your Daniel Wellington purchase with the code holiday-carriebradshawlied!  This watch is such a great idea for Valentine's Day – Christian hasn't gone a day without his watch since he's had it.  Other than the sleek and sophisticated design, our favorite aspect of this watch is how incredibly lightweight it is.  Honestly, you forget you're even wearing it, it's that comfortable.
NOW, onto our fab giveaway!  Giveaway will run 1/12 to 1/18 and the winner will be announced 1/21. Open to US & Canada residents ($590 based on USD).
**Update 1/20** Our winner is Katie Hanson! Thanks so much for reading and participating! XO –