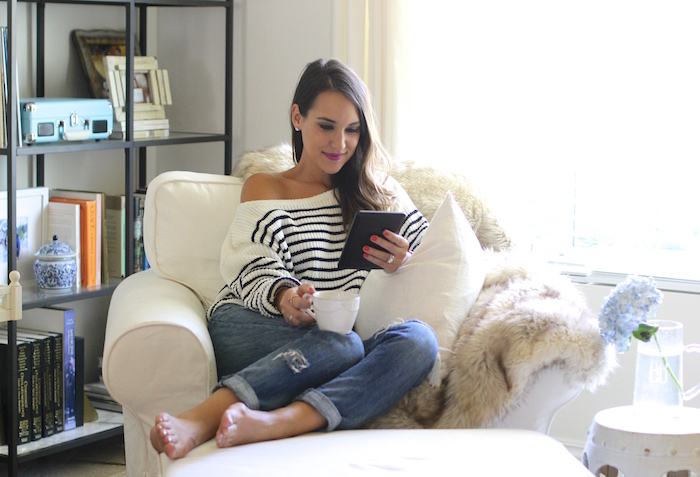 sweater c/o | similar denim here and here | mug | kindle c/o
I'll admit, I love a paper book.  I love to leave my previous airline tickets as bookmarks and highlight or underline my favorite parts.  I love stacking them on the bookshelf and glancing at them, remembering the intense plot lines or funny parts of biographies.
But the problem is that I never read them twice, and ultimately they crowd up my house sitting in stacks because I can't part with them.  The reality is that my bookshelf is currently full and I'm not looking to add to the collection, and therefore have been dragging my feet when there are so many books I want to read.  SO, when the opportunity came to team up with Amazon to try the Kindle, I was all about it.  It's something I've been thinking about trying for almost a year but couldn't take the final step to take the plunge.
After reading books on it for over a month, I've got to say I'm into it.  I'm finally making a laundry list of the books I've wanted to read for months so I thought I'd share my top picks with you!
Sidenote – for those of you traveling, you can also download travel guide e-books to your kindle.  I would never think to do that, but it's genius!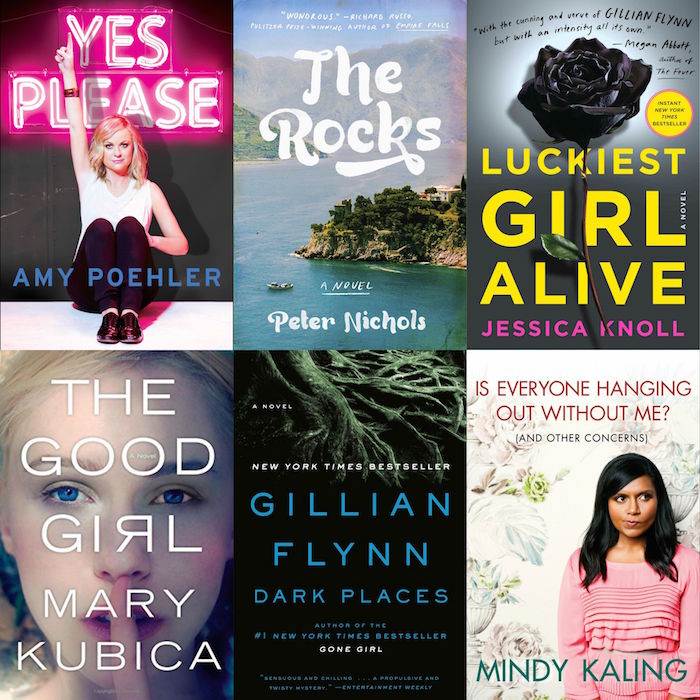 1. Amy Poehler's Yes Please
2. Peter Nichols's The Rocks
3. Jessica Knoll's Luckiest Girl Alive
4. Mary Kubica's The Good Girl
5. Gillian Flynn's Dark Places
6. Mindy Kaling's Is Everyone Hanging Out Without Me? I'm actually reading this now and it's hysterical –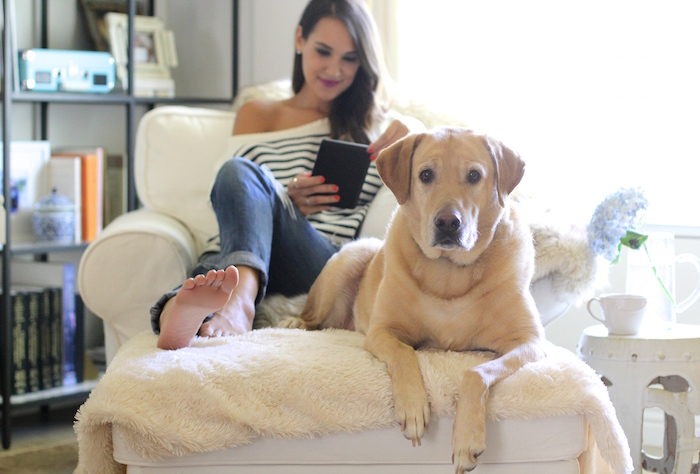 What have you read this summer that you would recommend?  I'm making it a priority to read more (I've always loved having my nose in books but not like… intellectual ones, more like Harlan Coben mysteries, #guilty) and would love to hear your picks!  This year my favorite picks have been DVF's The Woman I Wanted To Be (absolutely amazing), Gillian Flynn's Gone Girl, Paula Hawkins's The Girl on the Train and Andy Cohen's The Andy Cohen Diaries.  LOVED all of them – although I confess The Girl on the Train was my least favorite… I think there was so much hype around it I expected something different.
Thanks so much for reading and sharing! XO –