First of all, I hope everyone had a sweet VDay yesterday! C surprised me with tripling our bistro lights on the patio (I've wanted to do this since we moved in and he kept saying no), which was the best surprise ever.  We cooked dinner and ate outside while listening to Cuban music. All was right in the world.
BUT onto today's post! We're going to get a little deeper today, so I hope you guys will continue reading with an open mind! And I'll be sharing the details of this space below, but stick with me up here!
I recently connected with a reader and she told me that she and her friend loved CBL and that laughing at my loco Snapchats and Insta-stories had helped her friend who has been a little down. First of all, I will ALWAYS be ok with anyone and everyone laughing at or with me, so I loved hearing that I had made someone smile! But of course I don't like to hear that anyone is blue.
Secondly, I thought – oh girl, I've been there.  If you're human, and especially if you're an emotional female, you've had the blues.  My sophomore year of college I was in a major funk and it took over a semester of wanting to sleep all the time before I even recognized that I was struggling.
Since then, I've had several not-so-great office jobs (and some amazing office jobs!), moved across the country from all of my family and friends, lost one of my closest girlfriends and former roommates, my four-year old niece left us for heaven… life has its ups and downs, and we've all had our moments when we've thought, "God, why didn't you want you to protect me from this?  Why would you allow these terrible things to happen to anyone?"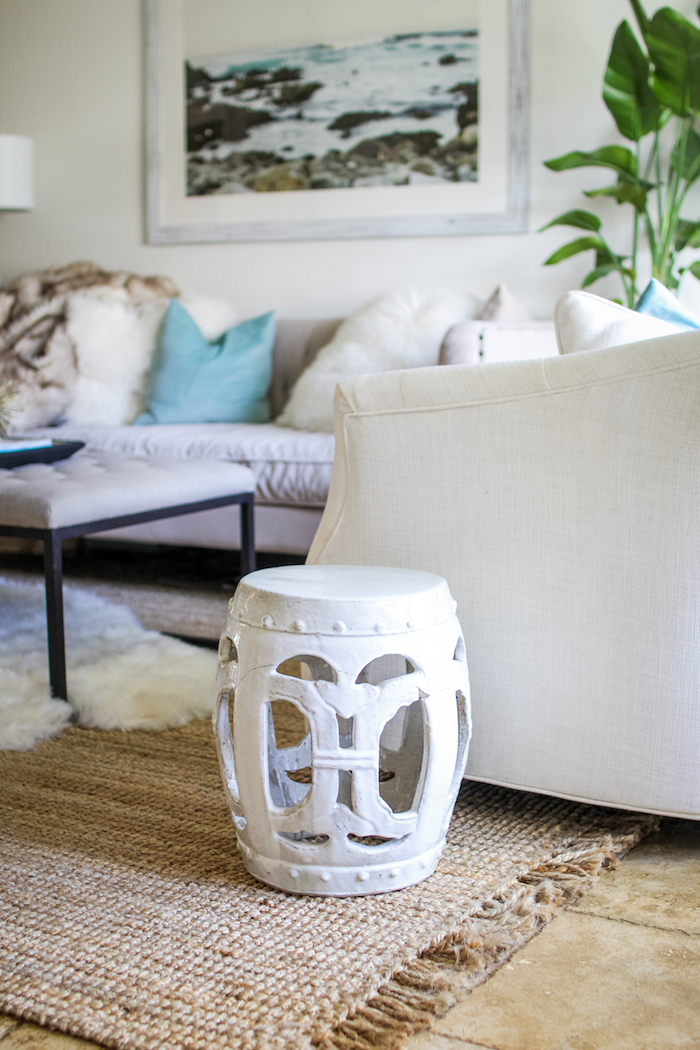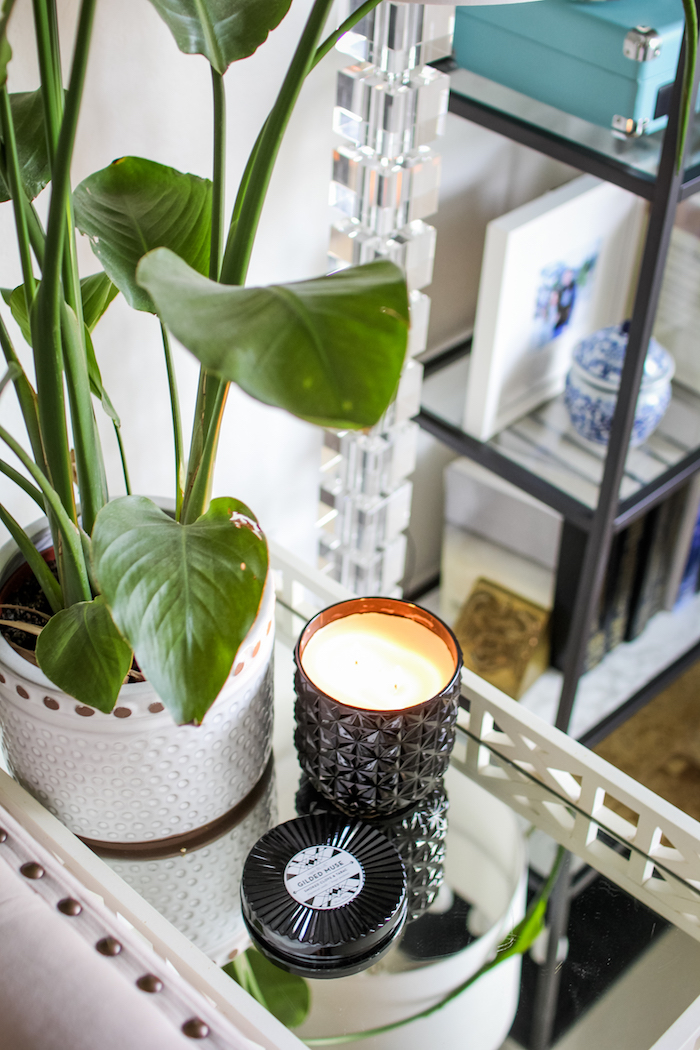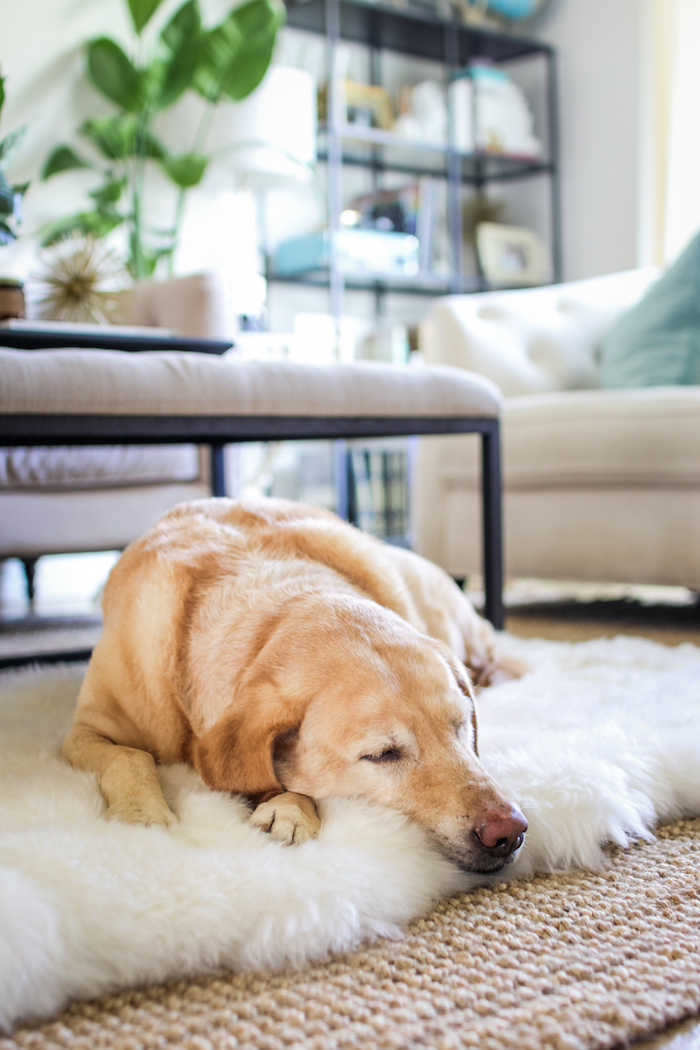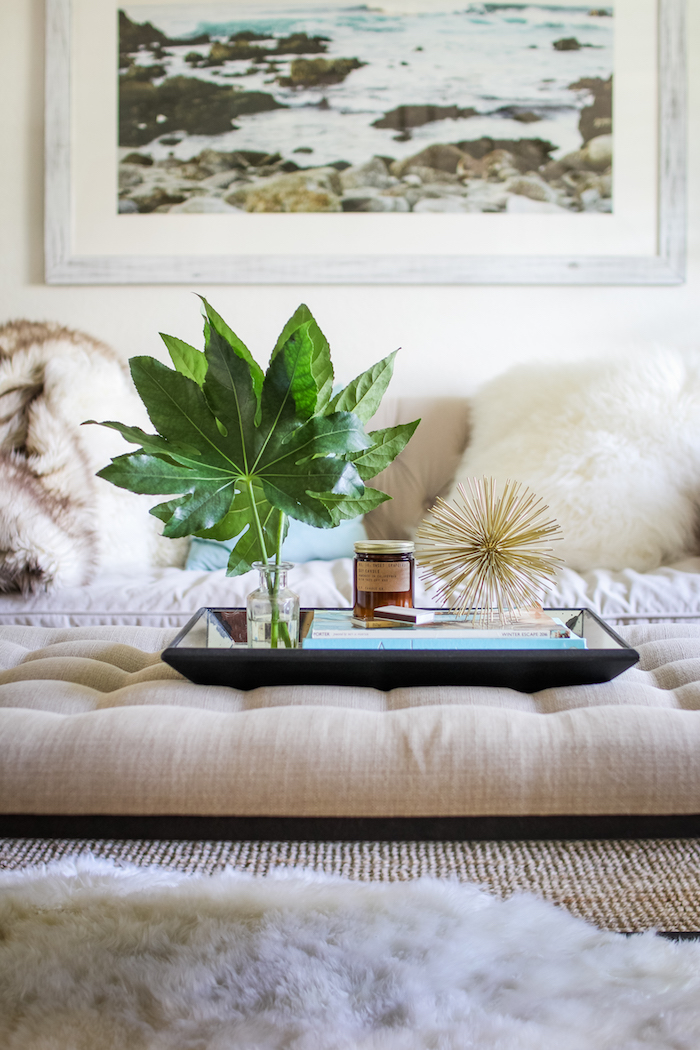 jute rug & sheepskin c/o Rugs USA | gilded muse candle c/o capri Blue – smells amazing | coffee table | art | mirrored tray | sofa – on sale! | faux fur throw | chairs | similar garden stools | tray tables – almost 10 years old, no longer available, similar style here | ballet flats (amazing look for less!) | similar Monogolian fur pillows | similar blue pillows
I can't go without mentioning how much Bailey loves our new rugs from Rugs USA. This fringe jute rug has been on my lust list for quite sometime, and she has been crawling under the coffee table just to nap on the sheepskin.  She loves it so much that I occasionally pull it out for her, and she'll pass out for hours (if you follow on Snapchat: CBLied or Insta-story, you've already seen how often she's snuggling on it)!
Of course now to my list of spirit-uppers! I feel it must be said that if you are battling depression, you should seek professional advice. Knowing when to ask for help is empowering and never shameful. BUT, if you're struggling with a case of the blues, regardless of the reason, I have some things I like to do when I'm down that always help me from the inside out.
Yoga/Stretching/Breathing Exercises – Usually this is the first thing that will give me some instant gratification.  Quiet your mind, take deep breaths through your nose, listen to the birds, loosen your muscles. It is one of the fastest ways I can find instant peace. When I get upset or stressed out, focusing on my breathing before reacting always helps me calm down.  Christian would say I need to do this more, and he's right – I do! PS – YouTube has some AMAZING videos to guide you if you're new to this.
Get Outside – It's amazing what fresh air and sunshine can do.  Honestly – such a gift!
Read a Book – Some may disagree, but for me a healthy distraction can be a great thing. Diving into a great book – fiction, non-fiction or self-help – helps me focus on something else and allows a shift in my thought process.
Attitude of Gratitude – if Oprah said it, you know it's right.  Concentrate on 10 things you are blessed with – even better, write them down.
"Peace I leave with you; My peace I give to you. Not as the world gives do I give to you. Let not your hearts be troubled, neither let them be afraid."  John 14:27
Eat Healthy (or even just healthier) – If you're already down, eating poorly is only going to make you feel good for 10 minutes and bad the rest of the day.  Try a new healthy recipe or challenge yourself to eat whole foods. The natural energy that comes from the right nutrients will surprise you.
If you have anything you go to when you need a lift in spirit, I'd love to hear! Thanks so much for reading – XO –