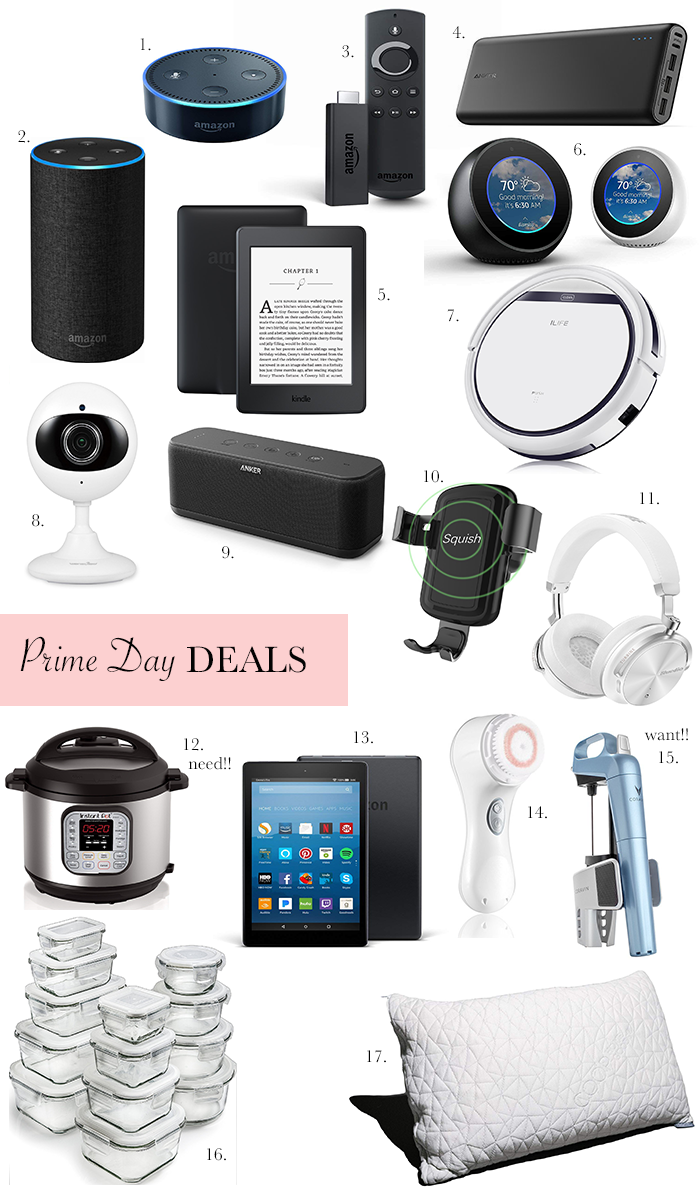 Ok, I'm starting to feel like we are seriously having Black Friday in the middle of summer right now, and since Amazon's Prime Day JUST launched and will be in action for only 36 hours, I wanted to share my picks that are marked down!
There are TONS of things you can snag on sale right now, but these are things we have in our house and use every single day, so let's get into it –
My Prime Day Picks:
1. + 2. + 6. | Amazon Echo + Echo Dot + Echo Spot | We have these and use them all the time! We play music, ask questions, set alarms, use it to control the lights in our house… you name it. And to all of you who are like, "but who's listening to my conversations?" My thoughts on this are: if you want to listen to me talk about how I think Bethenny and Carole need to make up on Real Housewives… by all means, be my guest.
3. | Cell Phone Battery Pack | Have to have it, can't live without it.
4. | Firestick TV | Christian surprised me with this for Christmas and it's seriously the handiest little thing. I can easily watch Hulu, Netflix, HBO, and all the things from one interface on my TV. Brilliant.  It also pairs with your Alexa, so it's a full circle moment.
5.  | Kindle | I used this for a little bit and now Christian uses it to read his 47 lb. textbooks without having to lug them around. Such a great deal and ideal for travel.  Self-explanatory.
7. | Robotic Vacuum | WHY I didn't have this 10 years ago is beyond me. We've had a Roomba for about five years and it's life-changing. Bailey's hair sheds on a different level, and this is like having a robot cleaning lady who stops in for 30 minutes a day. It's made a huge difference, and this one is like, 1/3 the price of a Roomba. I love that there are some more affordable options out there now!
8. | Security Camera | I don't have one of these but I've been considering it because I plan to hire a dog walker which means someone will be in our home when we aren't here… plus I can spy on my pets so that's a second reason I clearly need it. Not creepy at all.
9. | Bluetooth Speakers | We actually have two bluetooth speakers that we use all the time.  While in the shower, picnics, cleaning out the car, dinner parties – I took it to Napa over the weekend and we used it for the bachelorette party while hanging at the pool. These are so versatile and if they're small like this one you can just toss it in your weekend bag!
10. | Car Mount for Cell Phone | We got these when we moved to OC and now I can't live without it when traveling or learning to get around a new city. It allows you to keep your line of vision on the road while following directions.  With my terrible navigation skills, it has become essential.
11. | Noise Cancelling Headphones | Once you get some noise cancelling headphones, there's no going back. I have Bose (also on sale), but these are an amazing deal and have great reviews!
12. | Instant Pot | Ok I don't have one of these, but everyone and their mom, sister and cousin does, and I've only heard amazing things, so I think it's time.
13. | Tablet | We have a really old iPad mini, and it works terribly. This tablet is a steal, and it has such great reviews I think I need to give it a try for travel!
14. | Clarisonic | Everyone should have one of these by now. Nothing gets out dirt and makeup residue like this guy. The best! I love it so much that I have two – a large one like this and a mini one (also on sale)!
15. | Wine Preservation System | I've heard about this device and am so glad to see it in the sale! You can use it to drink wine without corking it, allowing it to stay fresh longer.  Christian isn't much of a wine drinker, so this could be ah-mazing for yours truly. Long live the vino!
16. | Glass Storage Containers | Not too long ago we tossed all of our plastic food containers and only use glass. I really love it and wish I had done it sooner.
17. | Memory Foam Pillow | I needed a new pillow recently and after the reviews bought this one. It's AMAZING. I took some of the foam out to make the perfect thickness, and now even Barnez is jealous of my pillow. The reviewers did not lead me astray.
Tell me what you have your eye on – I'd love to hear! Thanks so much for reading, and don't forget to check the "NSale Picks!" page at the top of CBL for the latest and greatest in Nordstrom Anniversary Sale picks! XO –