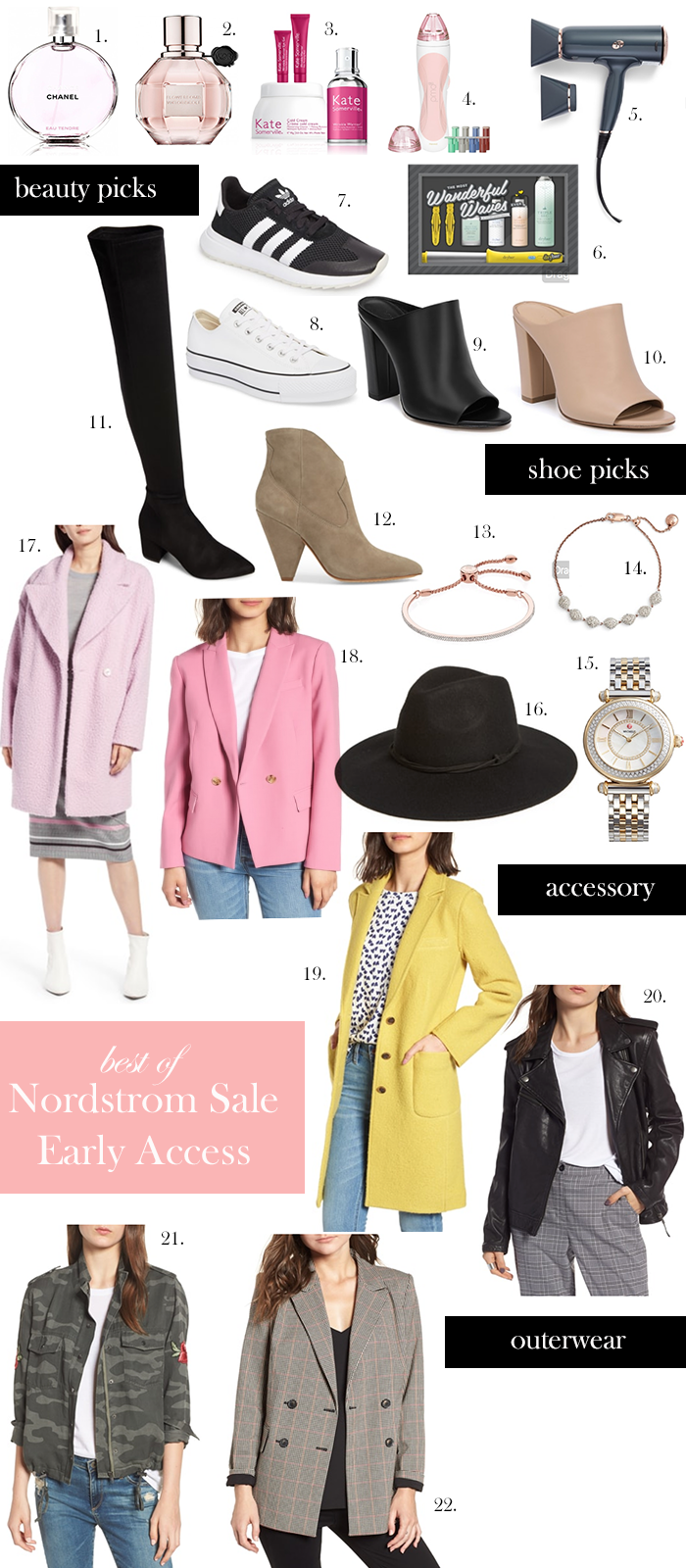 The Nordstrom Anniversary Sale has officially started for cardholders!  Every year I cover this sale to help show you guys what I think the best bang for your buck is, and this year I'm getting a headstart with my favorite pieces in the sale.  Keep in mind these are brand new items, so there are a lot of great fall staples – outerwear, boots, denim, etc.
You can find ALL of my NSale posts at the top of this blog under "NSale Picks!," including last year's coverage.  If you have some questions about the sale and why it's such a steal, be sure to check out this post from last year!
The sale is open to cardholders 7/12 – 7/19 and then will be open to anyone and everyone 7/20 – 8/5.
I'm heading to Nordstrom this morning (my first visit to Union Square since moving to SF!) to see what I can snag myself and will definitely be sharing with you guys!  Without further ado, let's get into it, shall we?

Beauty Picks
I'm a BIG FAN of T3, DryBar, Kate Somerville and PMD products and have and own all of these things!  This is an amazing time to get major discount on luxury beauty items that will last for quite a while. I mean… I have had some perfumes for years and years. #TreatYoself
Shoe Picks
Every year during the NSale, I snag a pair of booties. In the past it's been a Frye pair, but some of these sneakers and mules can't be beat!
Accessory Picks
I have both of these bracelets and this watch, and they're timeless pieces you'll have forever. Love, love, love. Yes, they're splurges… but we're talking discounted diamonds, people!
Outerwear Picks
In my opinion, outerwear and denim are two of the most amazing deals you can find in the NSale. Now that I live in fall 24/7… you best believe I have my eye on some of these pieces. This pink blazer!? Um… HAVE to have it!
I have one teddy coat from last year, and it's one of my favorite cozy jackets. I definitely want another one for this year, and I know this is the perfect time to snag one.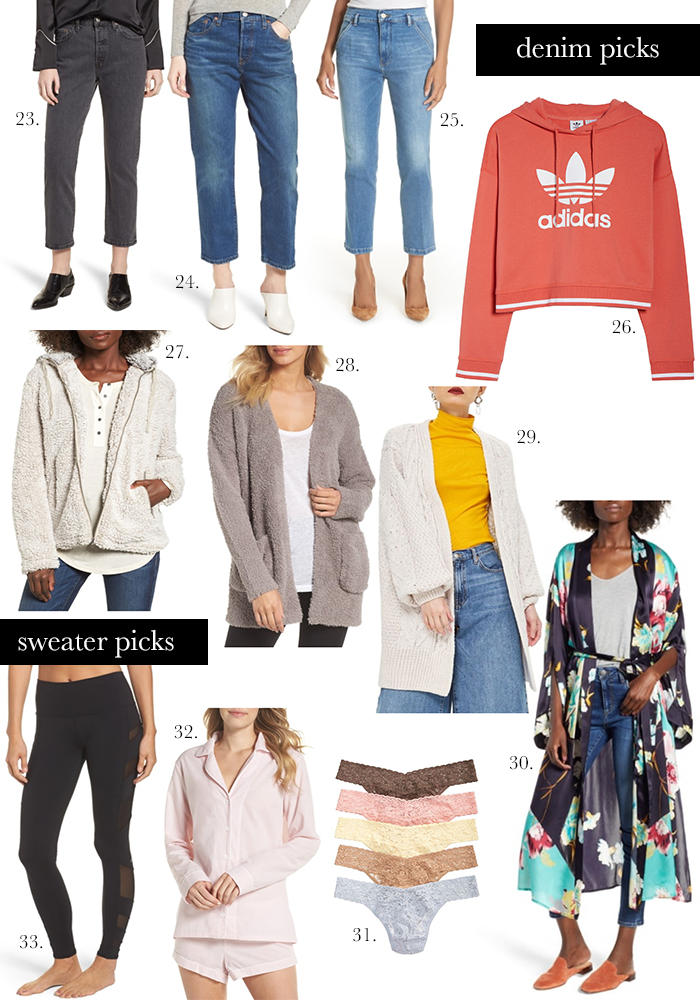 Denim Picks
I never go without adding a new pair of denim to my cart, and these are my favorite three picks I've seen so far. You guys know I'm a Levi's addict, and they have some awesome selections included in the sale!
Sweater Picks
Ooohh girl… you gotta get you a sweater! I think this one (it comes in four colors and is under $50) is going to go fast, so I definitely want to scoop one up while I can!
Extras I Love
I can't say no to this gorgeous kimono, and some of my favorite pajamas I own are the ones I scoop up during this sale. I think this set is so cute for spring and summer, and I can never have enough hanky pankies.
A few more great deals on some pieces at seriously low prices, I'm sharing a few extras I found this morning!

I am going to continue to cover the Anniversary Sale through 8/5, so if there are any categories you guys would like to see deep dives on, please let me know!  Are you a cardholder? I'd love to know how many of you guys plan on shopping early or waiting until 7/20.
If you're NOT a cardholder, don't sweat! They almost always restock items before the sale opens to the public, and sometimes they'll add even more pieces.  Trust me, there's something for everyone (if you're looking for a deal)!  Don't forget to check the "NSale Picks!" page at the top of CBL for the latest and greatest.
Thank so much for reading and sharing – XO –