I am so excited to be hosting my brother's family for a delayed Thanksgiving this year. Christian is working Thanksgiving Day and the day after, but I can't complain – we've had Christmas Day together every year. So I'll take what I can get!
Thanksgiving is his absolute favorite holiday, and the first year of his residency he worked and I had a Friendsgiving. I brought home a plate for him that he warmed up in the microwave at 9PM… and while I know he was appreciative, I also know he was a little sad. SO, this year he asked if we could feast and celebrate on Saturday. And of course, I was happy to oblige (but that also means I'm going to drag him into the kitchen to help for the first time in his life! Ha).
SO, today, with the help of Seven Daughters Wine, I am sharing 7 easy and low-cost ways to to achieve a beautiful Thanksgiving tablescape. I loved putting this post together – so I hope it will inspire some of you who are planning out your holiday!
1. Table runner.   Not all dinner parties require such extravaganza, but if it's a holiday, why not pull out all the stops? Here's what's even better – I didn't buy anything special to make this runner. I was trying to think of something with different textures and colors, and I remembered I had some burlap leftover from a makeshift Christmas tree skirt a few years ago.
I didn't have enough of the same color, but no fear – I cut the pieces to make a two-toned fabric runner.  I actually ended up liking the two-toned even more! So as my high school art teacher would say – there are no mistakes. Ha! Then I clipped some greenery from the yard and layered it on top of the fabric.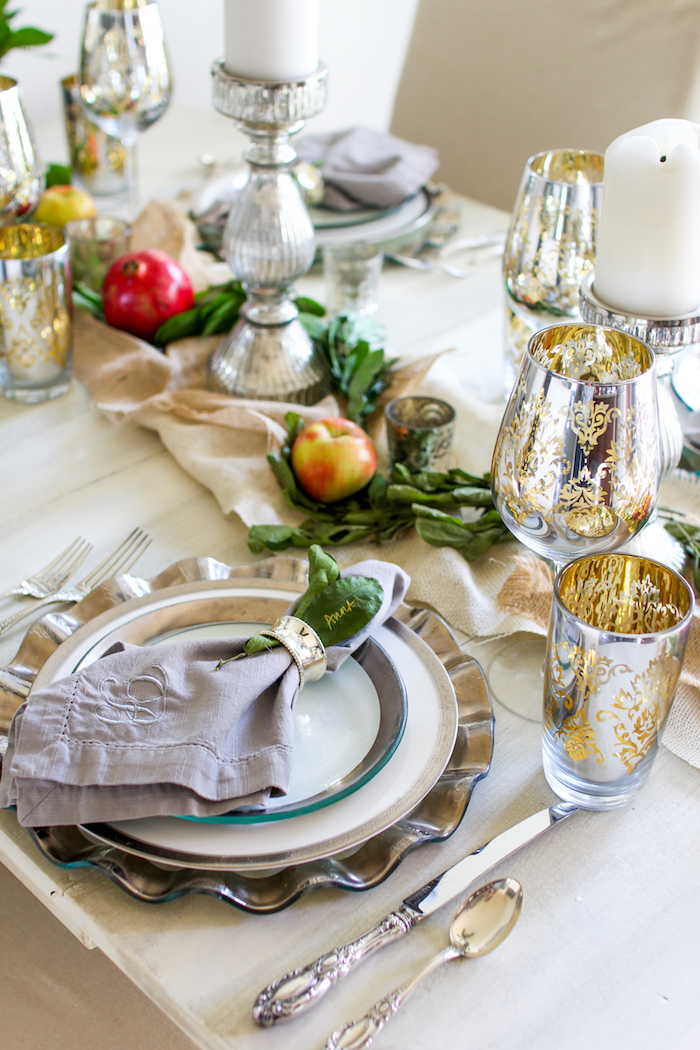 2.  Add some fruit, pumpkins or winter squash. I had apples and pomegranates in the fridge, so I just pulled out a few and placed them sporatically.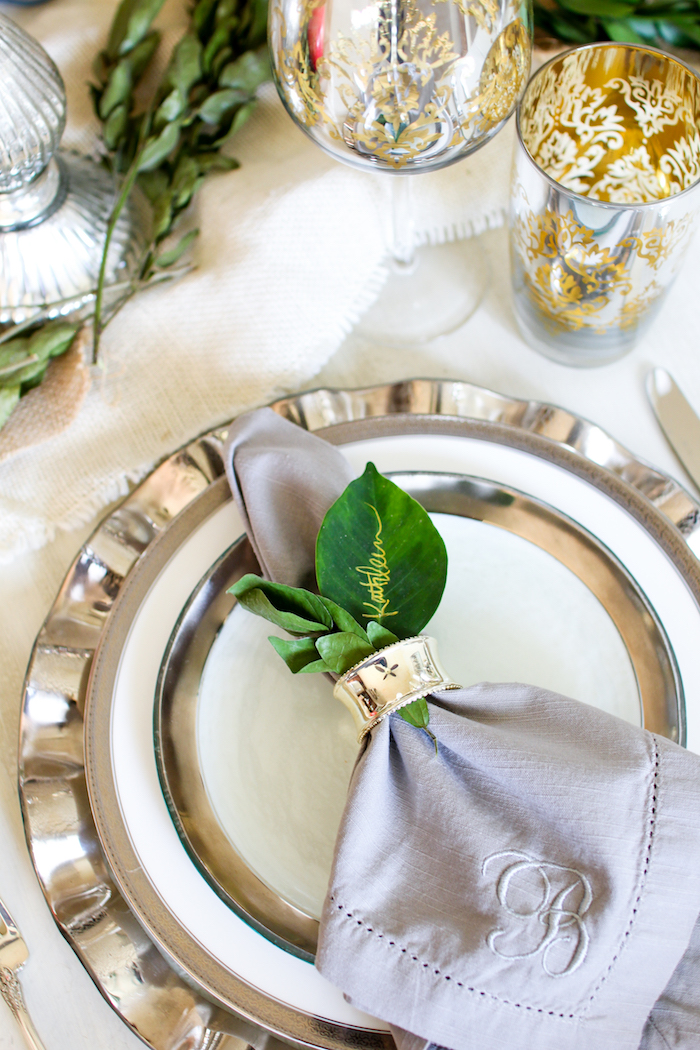 3. Candles.  We all know that a few lit candles can add ambiance to any occasion. I have mercury glass candle sticks and votive candle holders that I love to pair with our china.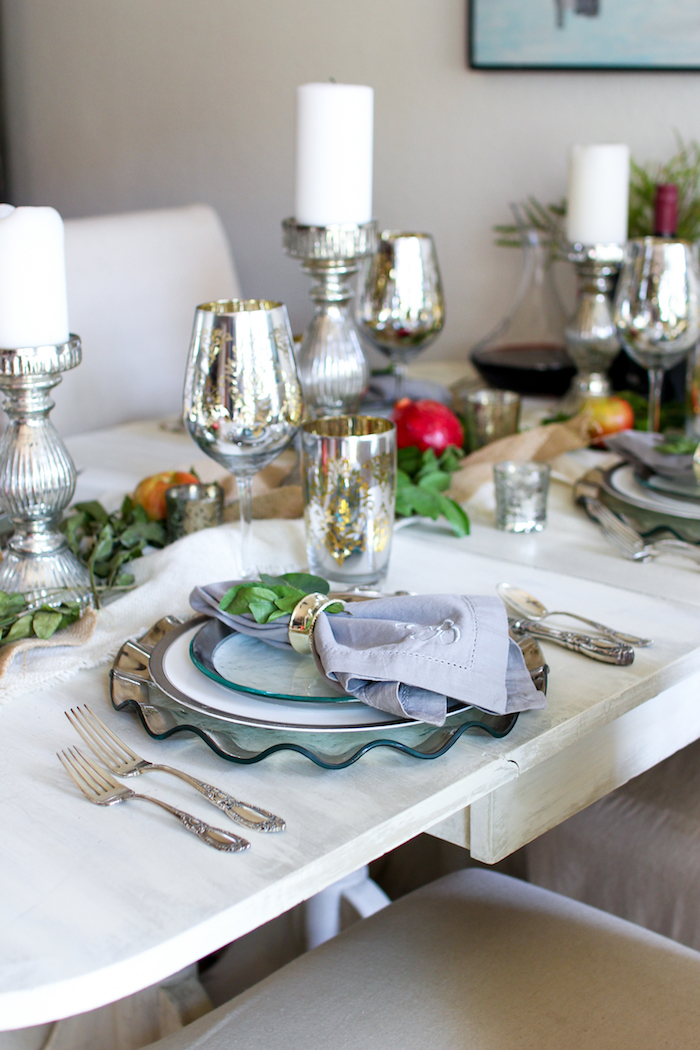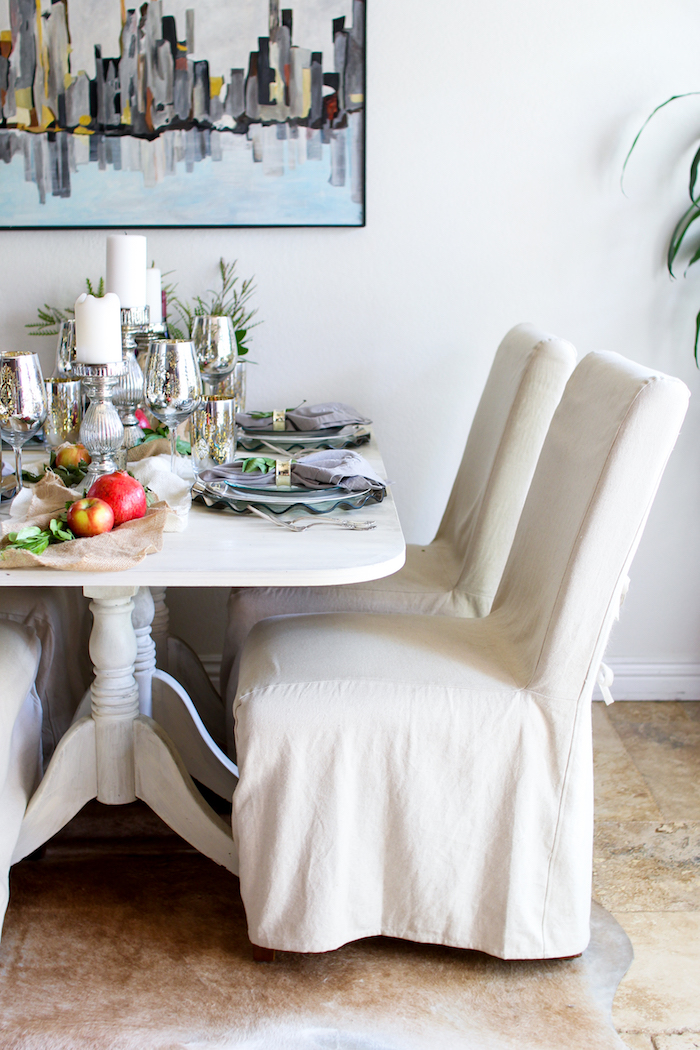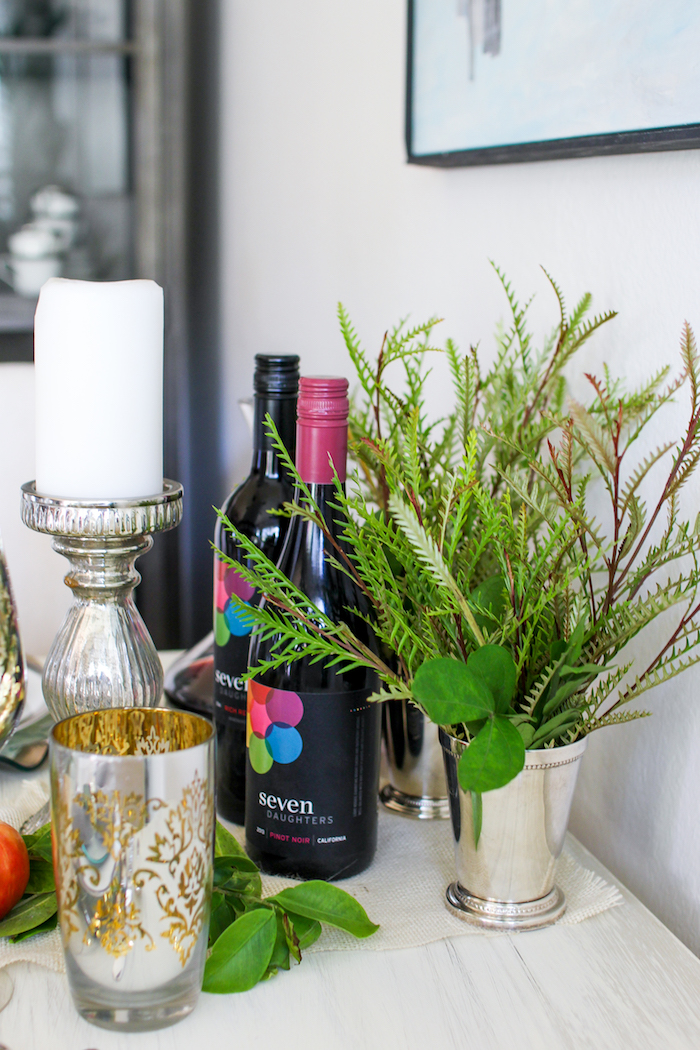 4. Greenery or Floral Arrangements.  It doesn't have to be expensive, but adding a few flowers or some vases of greenery adds a formal touch.  For the past year or so, I've chosen to skip buying flowers and simply clip greenery from outside. Now Trader Joe's also sells $1.99 bundles of greenery too!  I polished two of my silver julep cups and filled them with greenery.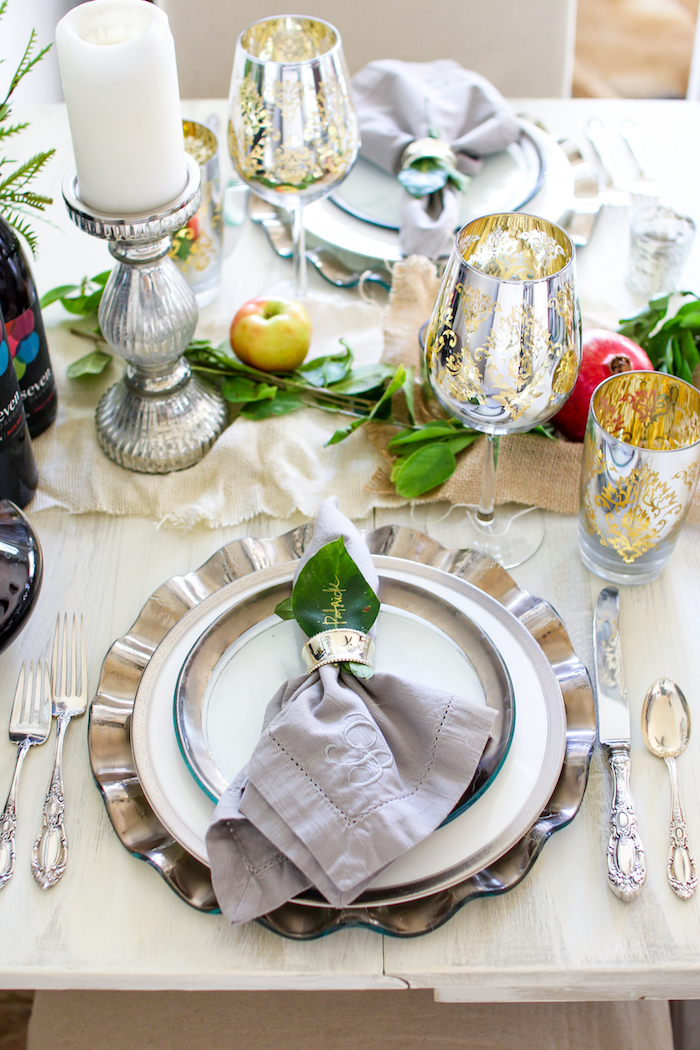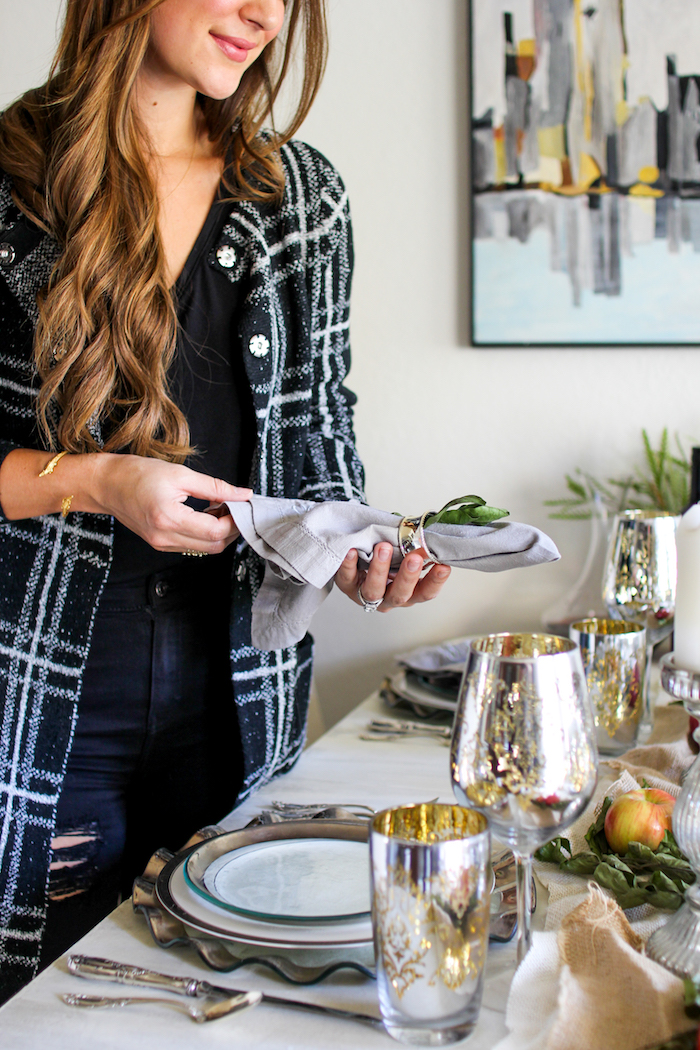 5. Linen Napkins.  I'd love to be the kind of woman who used linen napkins at every meal, but…. who wants to do all that laundry on the daily? I reserve them for special occasions, and they really add such a beautiful element to the table. If you're looking for personalized linens at a reasonable cost, Etsy is a great place to start! I love this shop.
6.  Name cards. Growing up, my mom would have name cards at holiday tables, and I loved the formality of it. Who doesn't love seeing their name on a place card? It just shows that the host was thinking about you in advance, and I think it's a wonderfully polite touch.
No place cards on hand? I grabbed some leaves from outside and wrote on them with a gold pen. Easy!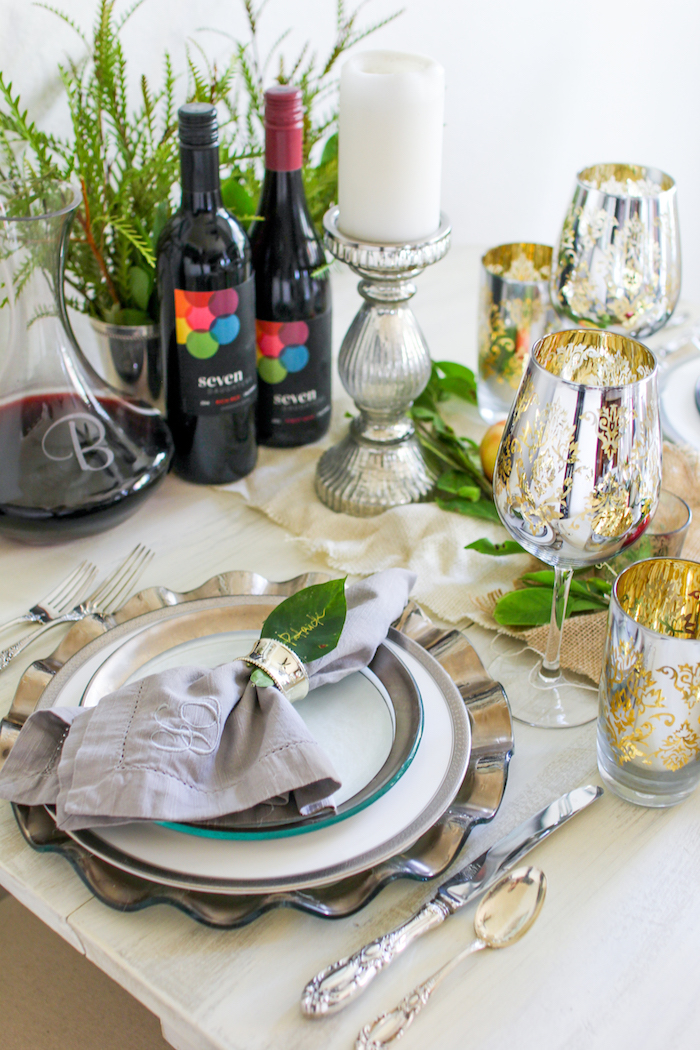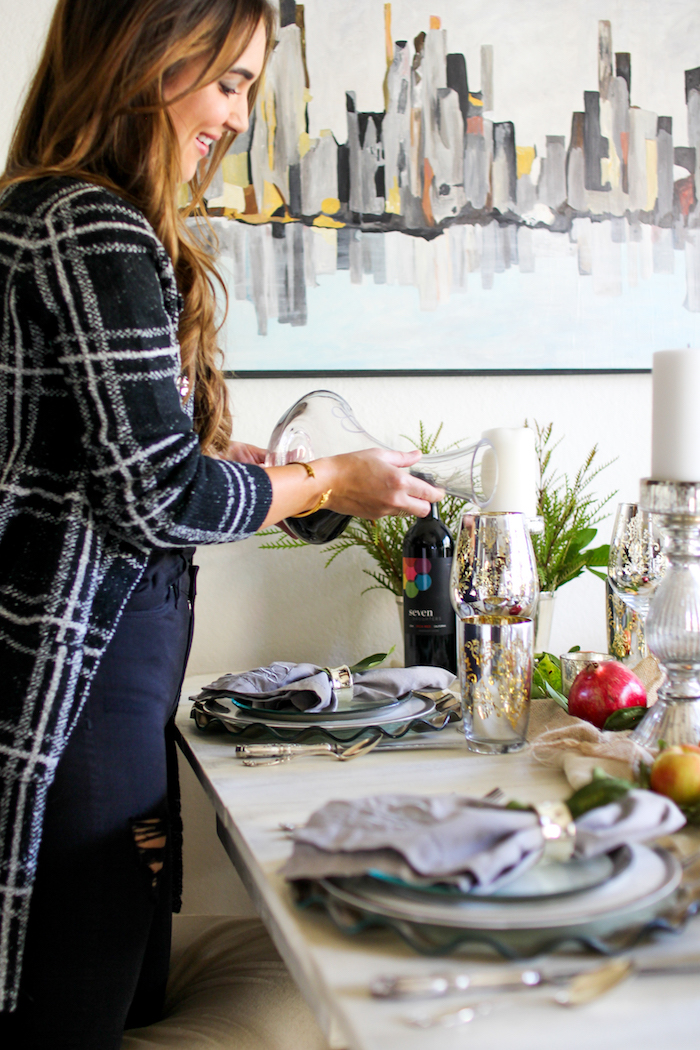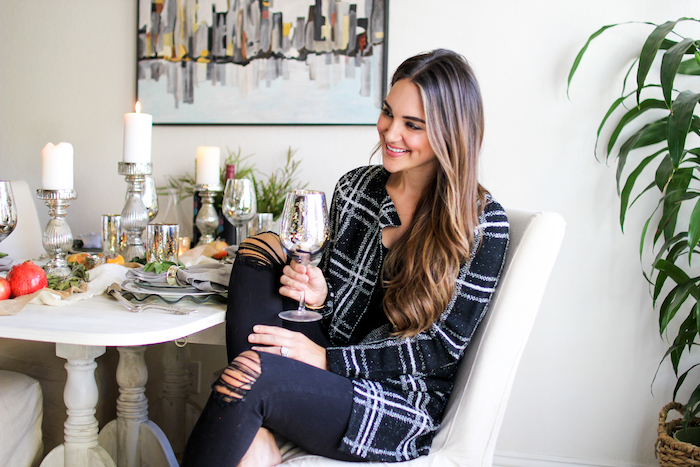 7. Great wine and good conversation. A must. I am more of a red wine drinker this time of year, but I like to have a few bottles of Chardonnay on hand in case a guest prefers white. When I know we have a few wine drinkers in the house, I love to pull out a decanter to pour my Seven Daughters into.

wine glasses | slipcovered chair and covers | silver chargers and salad plates | china | similar julep cups | similar candlesticks | similar votive candles | similar hide rug | knit jacket | denim
I'm also excited to share that Seven Daughters is hosting a Friendsgiving Giveaway Contest here, and it's super easy to enter!
Thank you so much for reading! And if you have any tried and true tablescape ideas, I'd love to hear. My mom is so great at putting together a spread – I hope I can continue the tradition! XO –
Brought to you by Seven Daughters Wine