I'm always looking for new ways to keep our home organized and clean, while still visually appealing and livable. While I would live in an all-white, mirrored haven if I could, Christian is always reminding me that our home should be comfortable and lived-in (and on the inside I know he's right athough it pains me to admit).
SO, today I'm teaming up with Seven Daughters Wine to share 7 ways we combine design and function in our house.
1. Ottoman Storage
I love this ottoman (I snagged it for $25 on Craigslist) not only because it has clean lines and is comfortable (we almost always have our feet propped up whenever we're sitting down), but also because it has this great secret storage.
We move it around often, so I don't want to load it with books or anything heavy, but it's perfect for extra blankets. And is there anything better in life than curling up with a blanket and a cold class of Chardonnay, propping your feet up and watching the Real Housewives?
The answer is no, no there is nothing better.
2. Baskets
I'm all about some baskets. On the floor for magazines, on bookshelves to store items that aren't display-worthy, in the bathroom to hold magazines, extra toilet paper, you name it. I have purchased baskets from Home Goods, Ikea and even Goodwill – and I love them each for their different style and design.
I love this basket (on sale) and I've almost bought this one like, 10x.
3. Chalkboard
My mom actually made this tall chalkboard for me in college with leftover wood and a little chalk paint (although this could be another great, inexpensive option), and I've been using it in every house I've lived in since. I love that it looks cute but I can also use to send strong messages to Christian. Like… "please organize the stacks of paper on the breakfast table by Wednesday or consequences shall follow."
A different kind of "honey do" list.
4. Pin-up Board / Bulletin Board
My mom also painted this white frame in college and strung wire across the back. We use it to clip up pictures, cards, concert tickets and other mementos, similar to a bulletin board.
It always seems to be a focal point when guest visit our house, and I love that some of my favorite pictures hang there. This is a really great similar option for those who don't feel like trying to make their own (no shame in that!).
In the same way I am a cat lady (and dog lady), I am a tray lady. I love trays. Painted, acrylic, antique, mirrored, any way you serve 'em. I find them pretty to sit on a dresser or coffee table, and I will also move them around to keep things fresh.
I like to serve snacks or appetizers on trays, display jewelry on them, stack candles in them, etc.
6. Apothecary Jars
I've had these large apothecary jars for years and we use them to collect matchbooks, wine corks (I'm adding to the collection by drinking wine as often as possible… because I must contribute to the décor #duh) and bottle caps. I think they look so pretty while actually being usable storage.
I've also seen people fill them with lemons and limes, pinecones, soaps, shells, candy – there are so many ways to style them! I love this one and these.
7. Kitchen Shelving
This metal shelving piece used to be on our patio when we were living in 850 square feet and we were trying to make it work (it did not work). When we moved to a larger home, I wanted to put it in the kitchen for the appliances we have that I wanted to display.
Christian thought I was a little cray, but was willing to let me give it a shot. I love it. I love that I can see some of my favorite (and often used) appliances and kitchen items without having them clutter my counter space.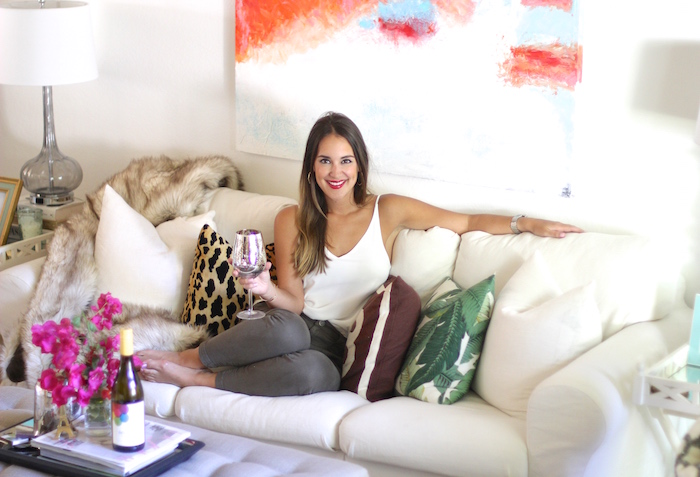 Those are my functional décor tips – do you have any that work for you? I'd love to hear – we're always looking to streamline our space in a pretty and effective way!
Thanks so much for reading – XO