Christian and I knew when we moved into our townhouse that we would take full advantage of our patio. There was a blooming bougainvillea bush there from the beginning, and we honestly treat the space like an additional room of our home.
SO, I wanted to share our 7 must-have items for a summer bbq, including the newly released Seven Daughters Moscato cans!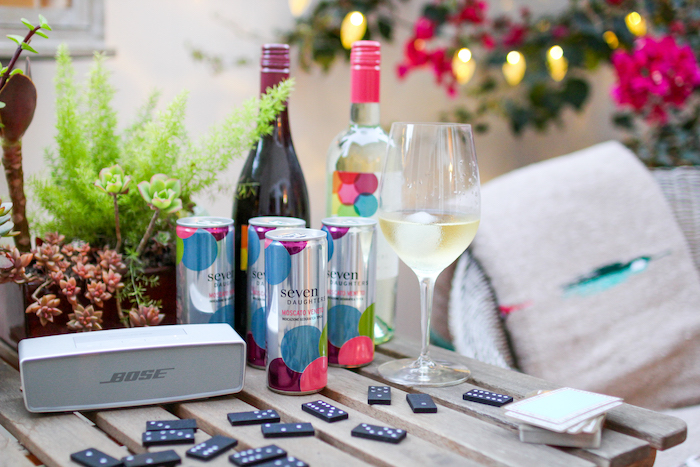 1. Grillin' skills.
Someone has to be on grilling duty (preferable a person who takes pride in it so it won't feel like a party chore).  Christian really loves being in control of the marinade and grilling, so if you're at our house – he knows this is his role!  We have a small gas grill that is great for what we need, and if you're new with this, there are all kinds of helpful videos (trust me, we've watched some of these before)!
2. Beverage Selection.
A great drink selection is just as important as the food in my book (sometimes I'd even say it's more important, depending on the crowd!).  Seven Daughters has always had a great selection of twist-top wines, which is great for hosting or gifting a hostess because there are no tools required to open it. Nothing is worse then someone getting half a cork stuck in a great bottle of wine!
Now they're offering wine in a can (comes in a pack of four), and they are perfect for a picnic, beach trip or if you know one person will want a glass of white wine while the rest are drinking red, etc. They offer Moscato and Pinot Noir in the can and the Moscato is perfect for summer!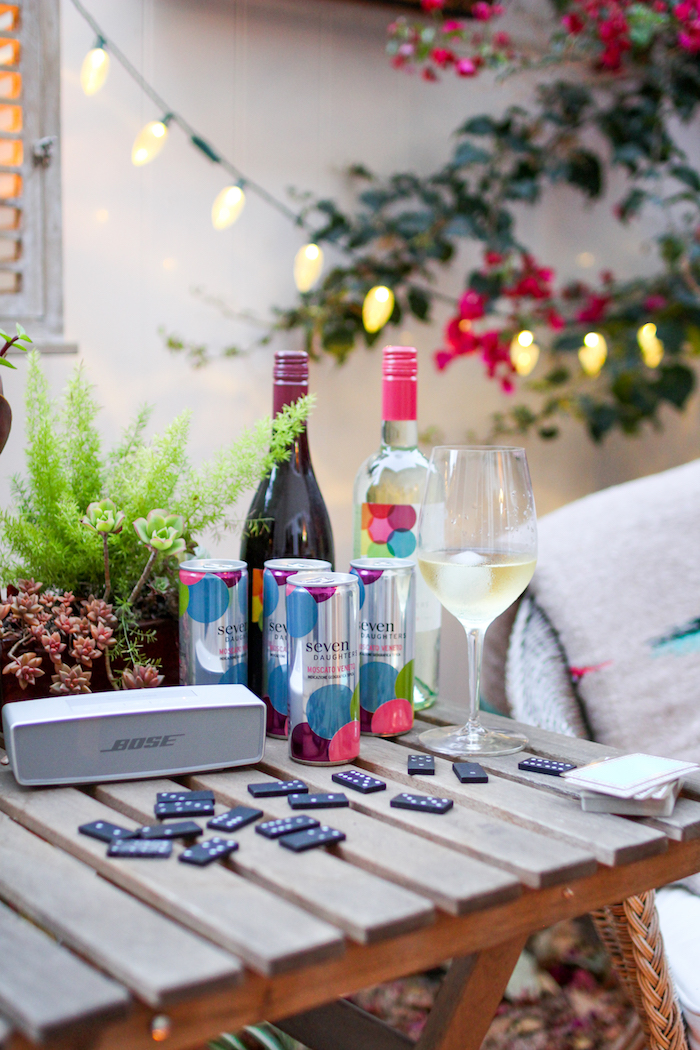 3. Great apps.
Everyone like a little nosh, so setting out some apps from the beginning is a welcoming touch.  I usually try to serve something a little bit on the healthier side so people don't overeat before the main course!
4. Music.
A great playlist and portable speakers (we've been using these for the past few months, and they really are the best) can direct the vibe of a get-together, and C's go to is usually a Pandora station called "hip hop bbq." I cannot make this up.  If I'm in control of the music, it will probably be something more like Jack Johnson for a relaxed crowd or Jamiroquai for a livelier crowd.
5. Games.
My family has always loved any kind of group game, and it's a great way to bring people together and talking to new people.  Scrabble, cards and dominoes are great options – but everyone loves cornhole if you have the space!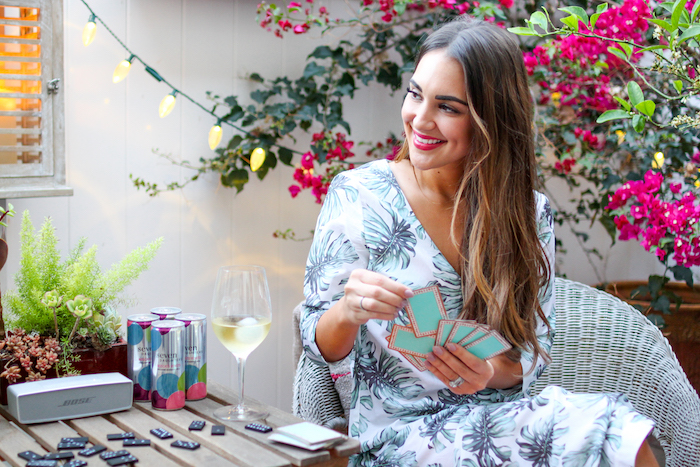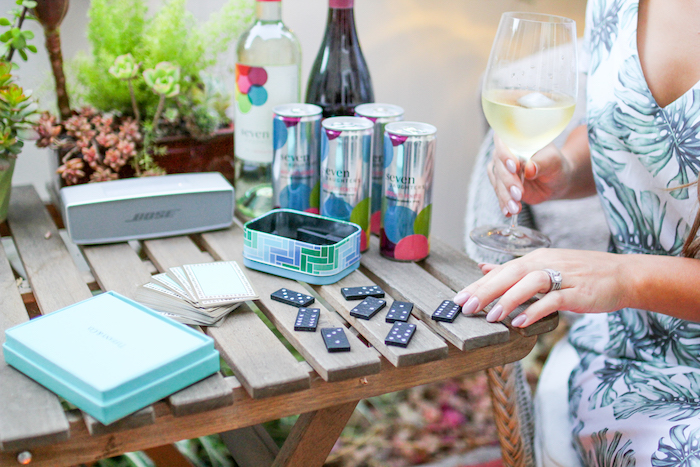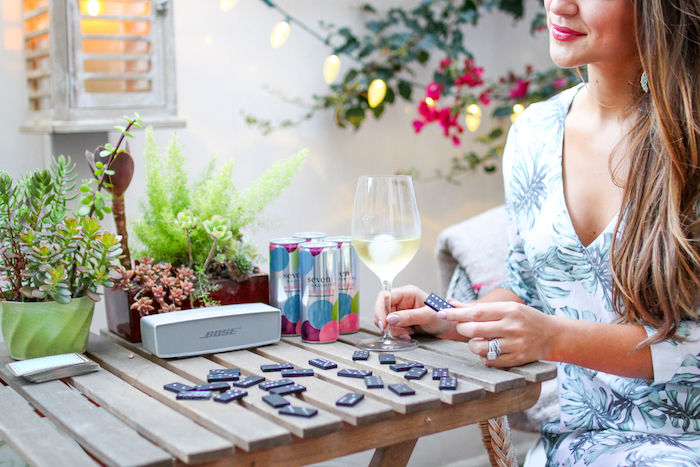 6. Candles and/or Bistro Lights.
I really think that some twinkle lights and candles add so much to the ambiance of space. We had both of these at our garden wedding ceremony, so they always bring back the warm and fuzzies! Plus they just make any space feel more cozy.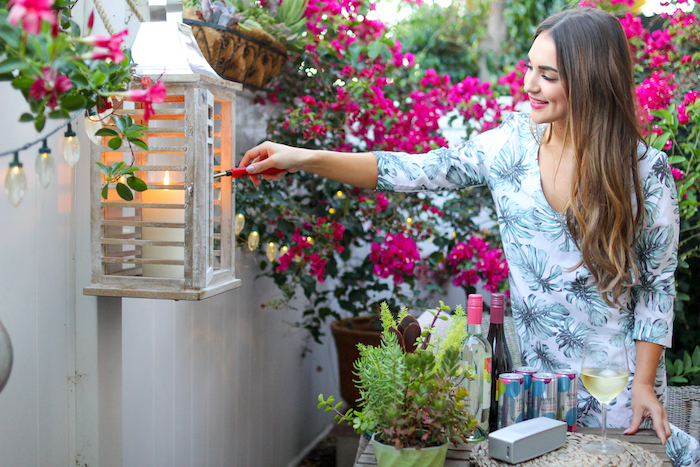 7. Blankets.
Someone is going to get cold, so a few blankets lying around lets everyone stay comfortable without feeling like the have to ask for something to keep warm!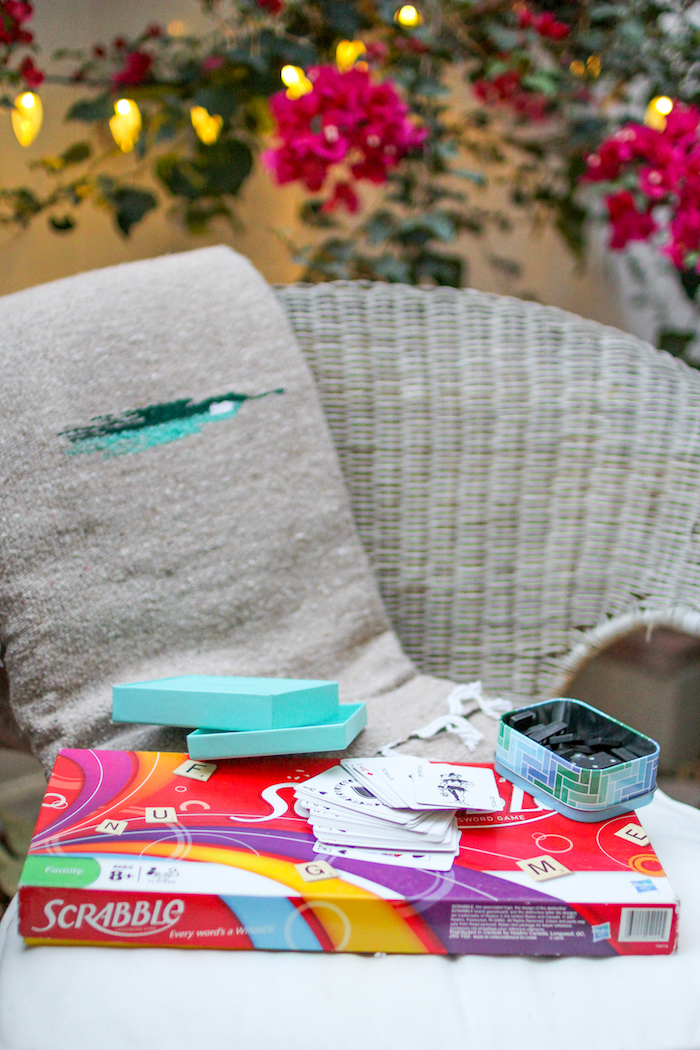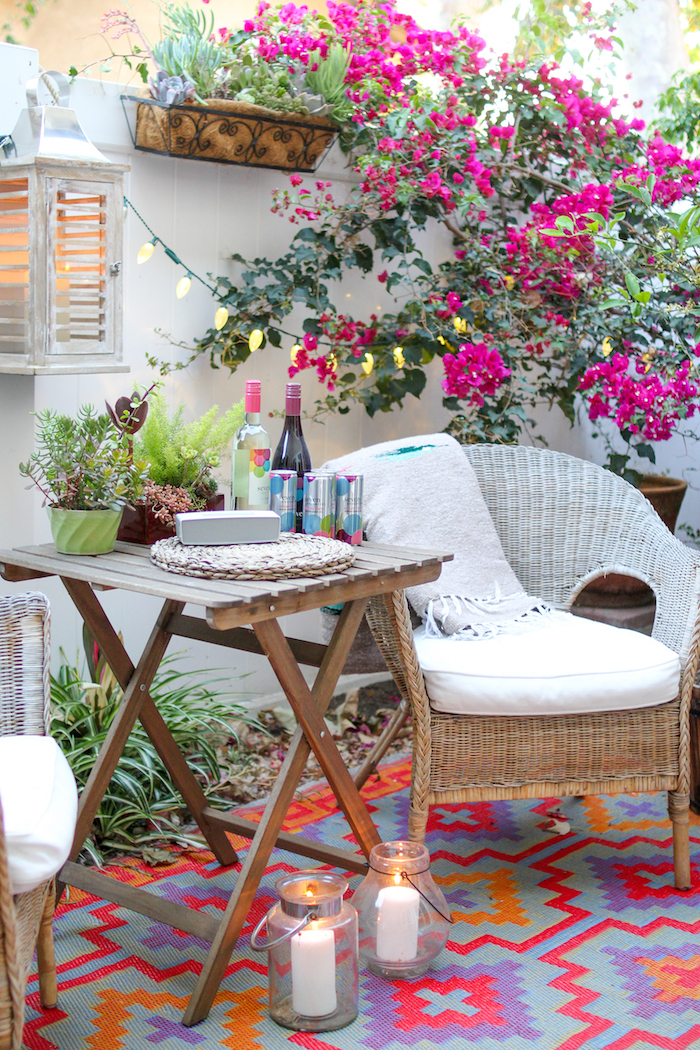 tunic dress | earrings | similar chairs (on sale!) | blanket, also love this one | similar table here (on sale!) | hanging lantern, also love this one | similar glass lanterns here and here | outdoor rug | bistro lights
If you have any outdoor bbq favorite items that I missed – I'd love to hear! Thanks so much for reading and happy summer, friends – XO –
Brought to you by Seven Daughters Wine