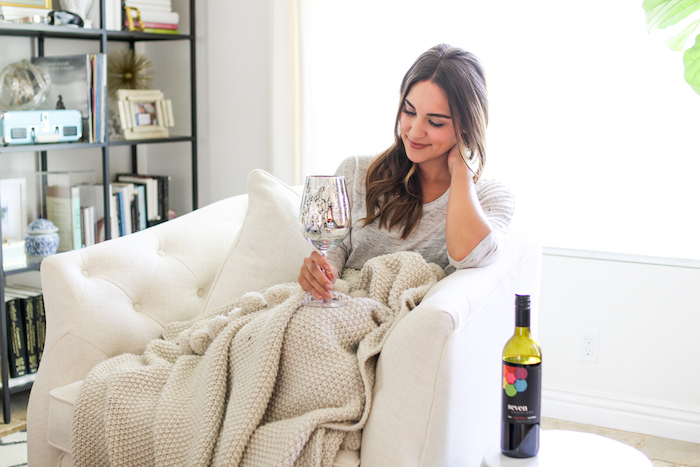 Today I'm sharing my tips for incorporating fall into your home decor with Seven Daughters Wine (and it doesn't mean you have to go out and buy a bunch of stuff).  Because who doesn't love a little vino while decorating!?
Especially since I've lived in California, bringing some seasonal changes into your life largely depend on choice, as we all know that we kind of have one season out here. The temperature has definitely dropped in our neighborhood lately, so we have had all the windows and doors open again – it was magic after a hot summer! AND it made pulling out these fall decor elements that much more fun.
SO, let's get into it, shall we? Some of my favorite ways to add some seasonal touches in our home without breaking the bank –
1. Add some fur. It's no secret I love faux fur, and a heavy fur blanket and/or some pillows add a warm and rich element to any room. I love these Mongolian fur pillows, this blanket makes its way all throughout our house, and I found some rabbit fur throw pillow cases (repurposed from a vintage jacket) on Etsy years ago that I still move in different rooms depending on my mood!
2. Toss some chunky blankets in the mix.  I am somewhat of a blanket hoarder – I can never have too many! Adding a chunky knit blanket to a sofa or chair instantly adds some coziness to any space.
3. Add candles or diffuse essential oils – I love fir, orange and lemon. You can find other fall blends here! I'm also going to tell you my money-saving candle secret… I often buy my candles at Big Lots. They're around $5, and you can buy several so that you don't feel like you have to save your candles for the evenings or weekends. I have oils diffusing or candles burning pretty much all day and night. I love them (and so do pet owners).
4. Add a wreath, it doesn't have to be on the front door. Don't get me wrong, I also love a front door wreath, but there are all kinds of beautiful decorative wreaths you can hang in your home (temporarily or permanently, like this one or this one), along with several DIY ones. I made the one below with leftover wedding programs from our wedding (tutorial here – and be prepared to laugh at the photo quality of this blog four years ago)!
5.  Layer in some wooden accents. An accent tray here or a wooden bowl with fruit there.
6. Put in a fireplace DVD – I'm serious! Sadly I haven't had a fireplace in three or so years, so I bought this dvd as "kind of" a joke at first… and then I fell in love with it. They have multiple videos (campfire, modern fireplace, classic, etc.), and listening to the fire crackle is so relaxing.  Christian and I put this dvd in on Saturday and he fell asleep on the sofa like it was a sound machine.  Watch a clip example here, and tell me what you think!
7. Pour a glass of red wine or make a fall sangria. I love a crisp white wine in the summer, but as soon as the temperature drops I'm all for a rich red wine. Seven Daughter's Rich Red Blend is one of my go-to's for fall and winter. What is better than a blanket, real (or faux) fire and tall glass of red wine? Not a thing. Especially when The Affair comes back on soon… I am addicted to that show!

You can check out more of my home in the home category of this site (including this recent room makeover).  I also think adding decorative birch branches (like these), cranberry branches (Trader Joes always has them!), and white or gray pumpkins can be great fall touches. For the bedroom, swapping out the quilt at the foot of the bed and tossing in some fur pillows can be nice touches too.
Would love to hear any of your favorite ways to subtly decorate for fall without breaking the bank! Thanks so much for reading – XO
Brought to you by Seven Daughters Wine