We have an L-shaped bedroom, which allows me to have a little nook space that I've called my "cloffice" ever since we moved in. Before you all start feelin' sorry for Christian – he uses the majority of our spare bedroom for his workspace (and sometimes I take over that area too… but I promise I don't leave a mess!), so we share!
For the longest time I had this hanging rack and a desk in this nook (you can see the different setup here), but I found myself cozying up in the guest bedroom workspace more often than my cloffice, so I thought I should make better use of the area and add some storage.  Until now, we only had one dresser in our house. We have shelving, but no drawers.  So I wanted something functional, beautiful and big!
There were so many beautiful options at Joss & Main, but when I spotted this dresser on sale, I knew it was the one.  Then I realized it is actually made by the same company as our headboard, so it really was meant to be.  When it came in, it was even more fabulous in person that I had envisioned, and this gold ornate mirror was the cherry on top.  It ties in so well with our bed and side tables (you can see that setup here), and has transformed the room.
The dresser has made the entire room feel bigger, and I love that when I wake up in the morning, it's the first thing I see.  I really feel like Carrie Bradshaw, with my money where I can see it… in my cloffice!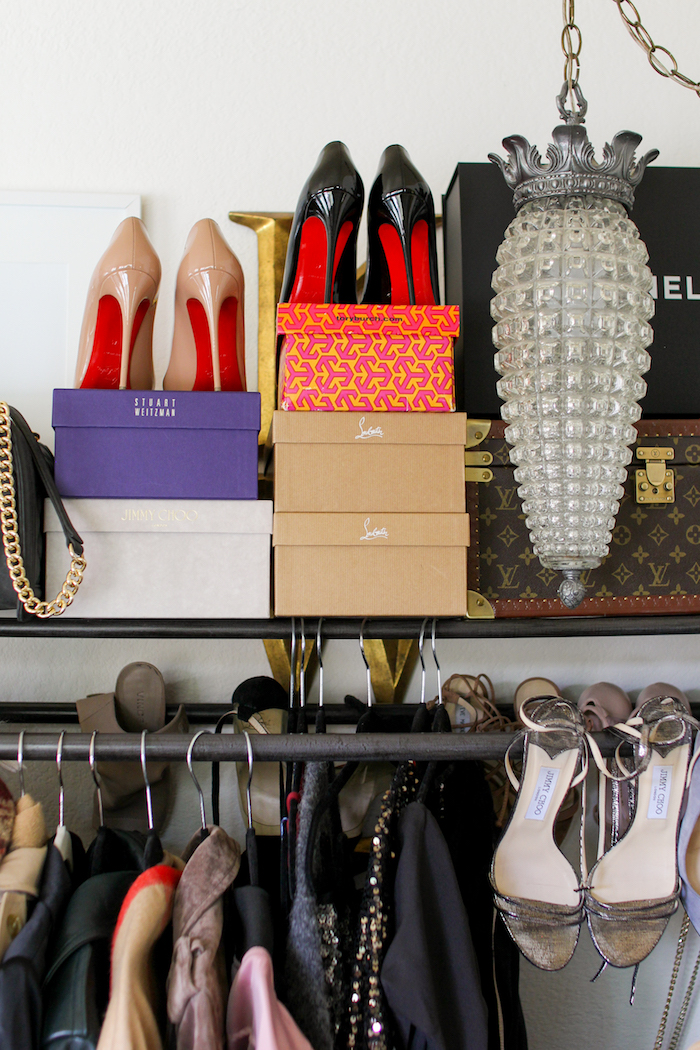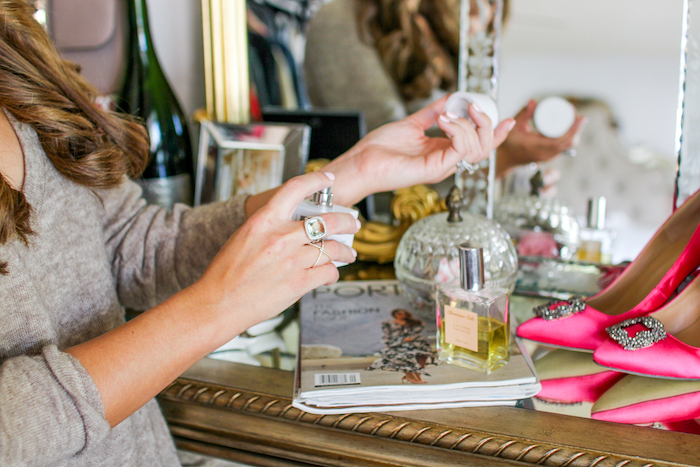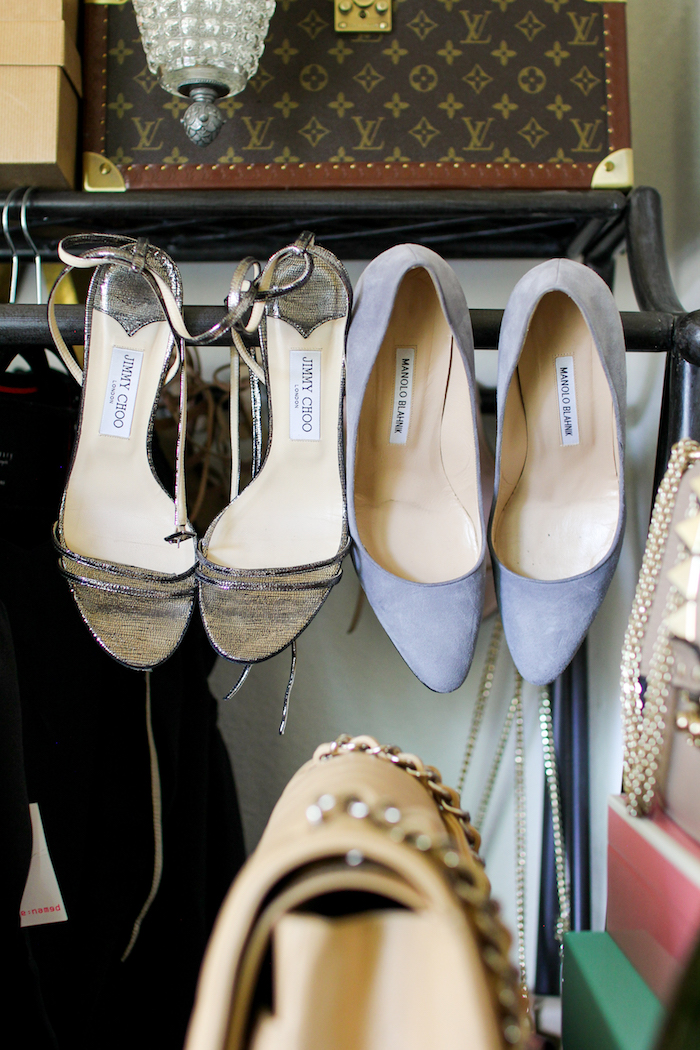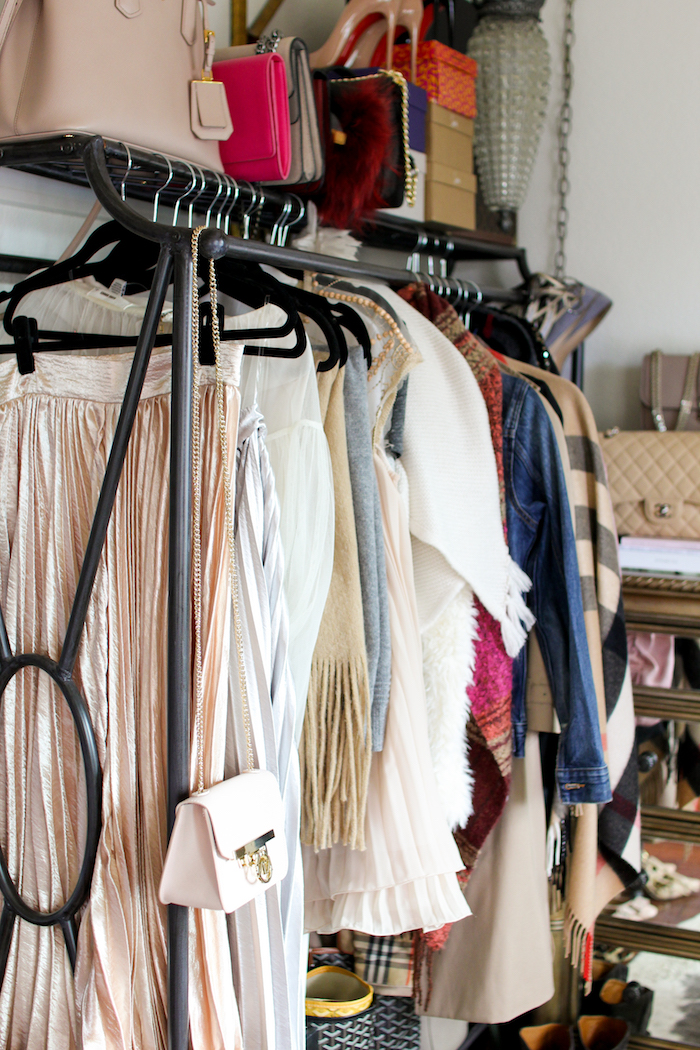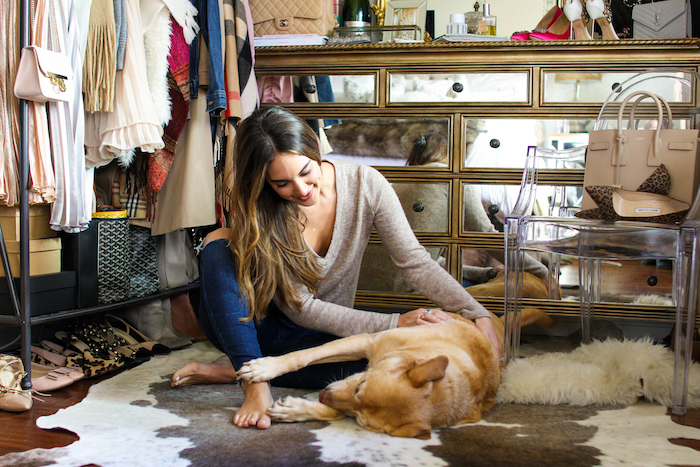 dresser c/o Joss & Main (sold out), also love this one (40% off) and this one (75% off) | mirror c/o Joss & Main (sold out), love this one and this one | ghost chair | hanging rack | similar hide rug | sheepskin | similar sweater here, here and here | denim | sac de jour | beige Chanel | black Chanel | gray wallet on a chain | zebra dish | rockstud bag | winged heels | Jimmy Choo strappy shoes | pink handbag
Do you have a dream closet or office? Or have you created your own? Tell me about it! I want to hear what space in your home makes your heart flutter.
Thank so much for reading, and don't forget today is the last day to enter the beauty giveaway with $600 of beauty and skincare swag! XO –