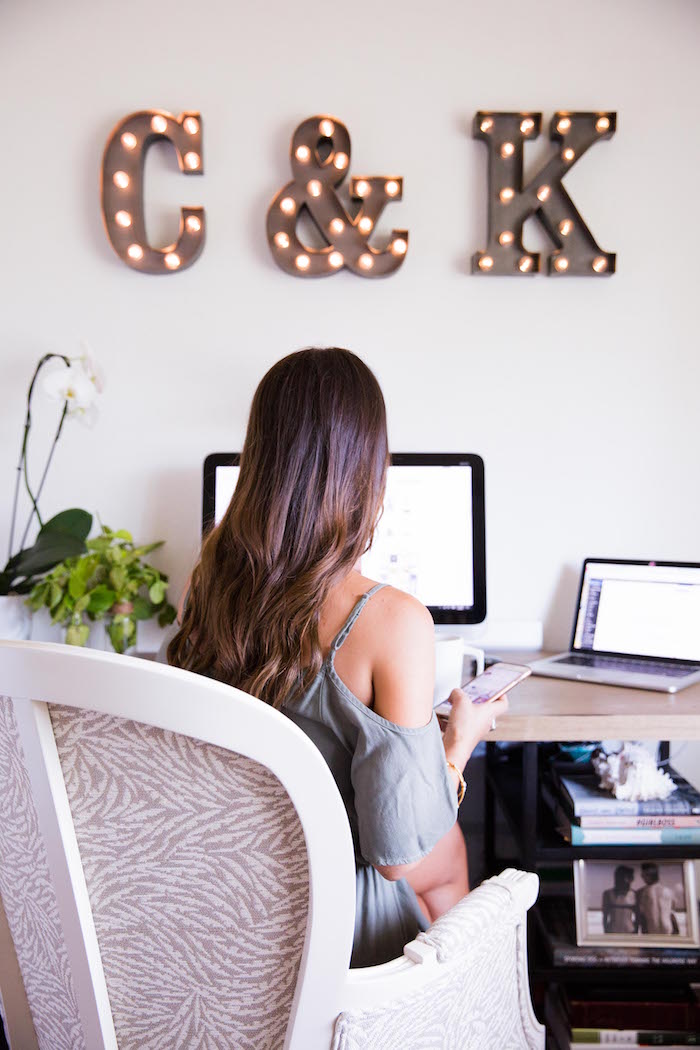 Transitioning from working in a corporate office to working from home was definitely an adjustment.  It took many, many months to find a routine that worked for me, and if you know me well, you know that I pride myself in efficiency. Crossing off things on my to-do list and then dancing around the kitchen while drinking wine and listening to the Jersey Boys soundtrack (I watched the movie recently on a flight and the soundtrack is like… way better than the musical soundtrack. Which I've seen twice and aggressively love.) is basically my perfect day.
SO today, I'm sharing some of my tips for staying focused during the work day – and if you have any to add I would love to hear!
1.  Create a workplace that inspires you.  
For the first year we lived in our townhouse, this guest room sat empty. I was still working in Newport Beach at an office everyday and we didn't know how we wanted to use the extra space.
The more hours I was logging on the sofa with my laptop at night after my day job, I knew having a desk and distraction-free space was of a growing importance.  We finally created a comfortable room where Christian and I both work everyday, and I love how it turned out!
2.  Embrace an empty desk.
This is tough for me because I am a sucker for stuff, but I try to keep the desktop as clean and tidy as possible.  It helps me avoid distractions and a clutter-free space equals a clutter-free mind (Oprah once said this, so you know it's correct).
3.  Multiple screens is a game changer.
I discovered this at my corporate job and now I can't live without it. I'll have my email on one screen constantly and work on photo editing, spreadsheets, etc. on the second screen. It allows me to me so much more efficient!
4.  Start your day with a to-do list of 3-5 things you want to be sure to accomplish that day.
I'm a woman which means I love making lists. I keep a paper planner, but every day I list 3-5 things I want to get accomplished that day. It helps me prioritize what needs to get done and leaves me feeling like I've made a dent in the week's tasks each day.
5.  Make sure your chair is comfortable and encourages good posture.  This chair is a custom creation from DwellStudio and I am in love with it. It's roomy (enough for myself + Lula which is very important because she always wants to sit with me!), comfortable, makes me sit up straight and the armrests are the finishing touch that I didn't have with my last desk chair and really wanted.  It was so hard to select a piece because I loved so many of the pieces, and being able to customize the fabric, wood finish, etc. made the selection feel really personal and unique.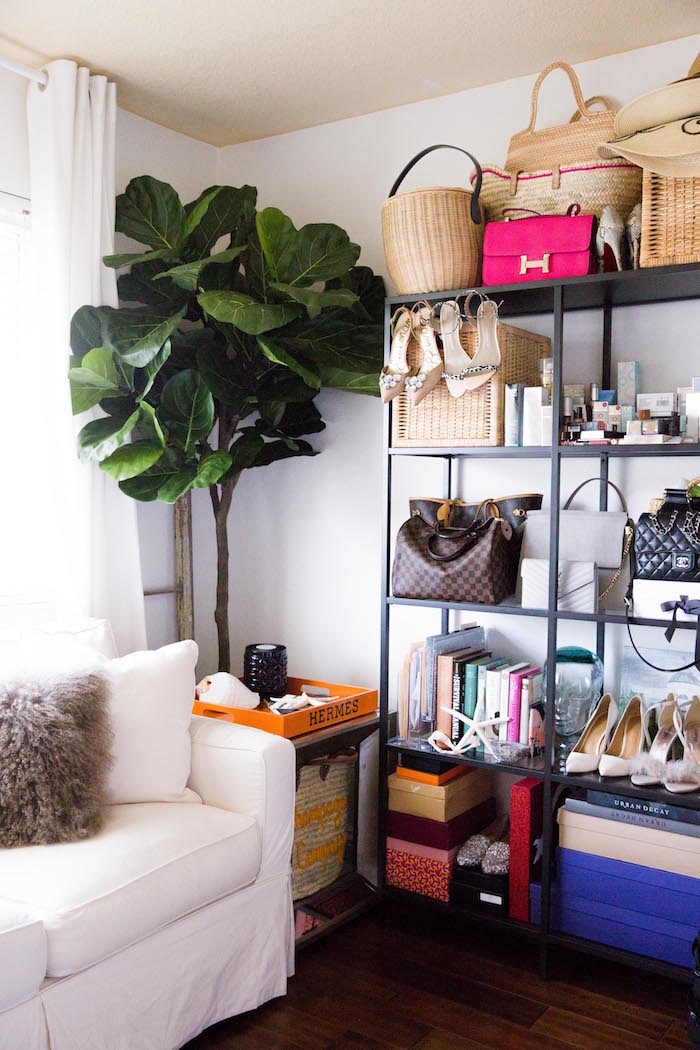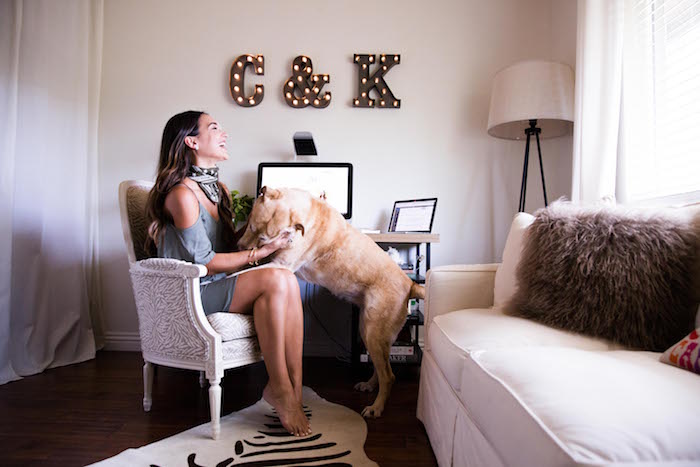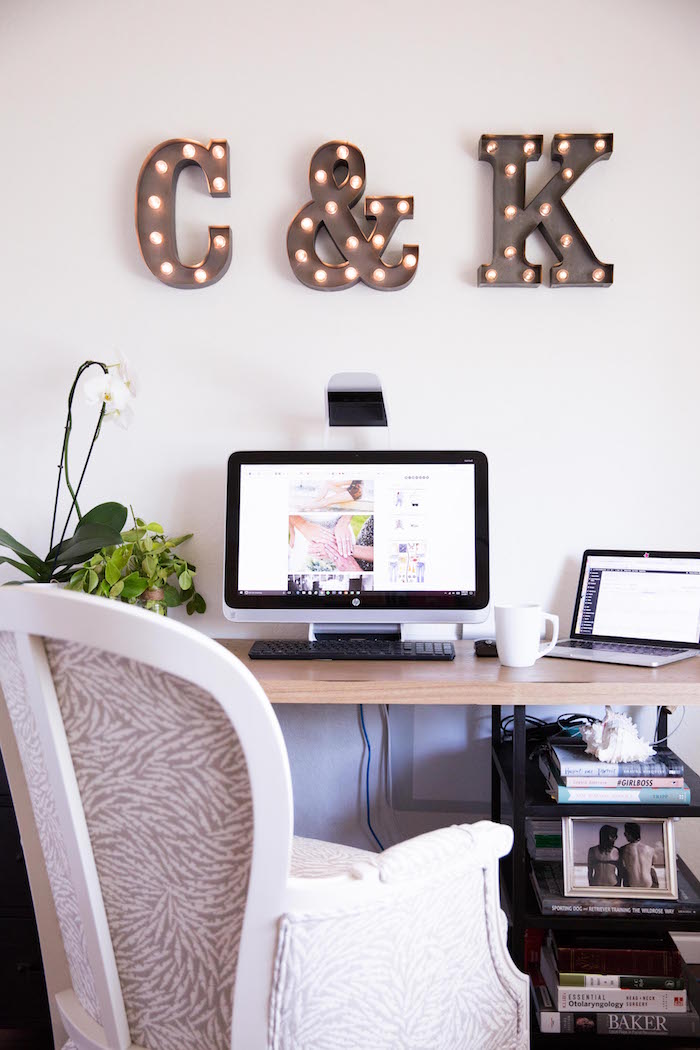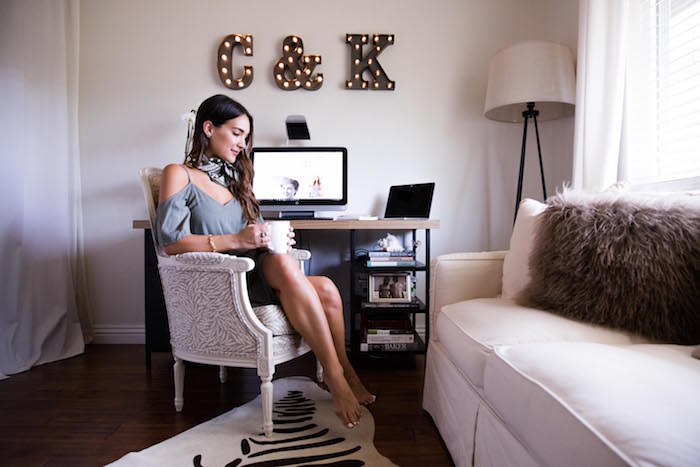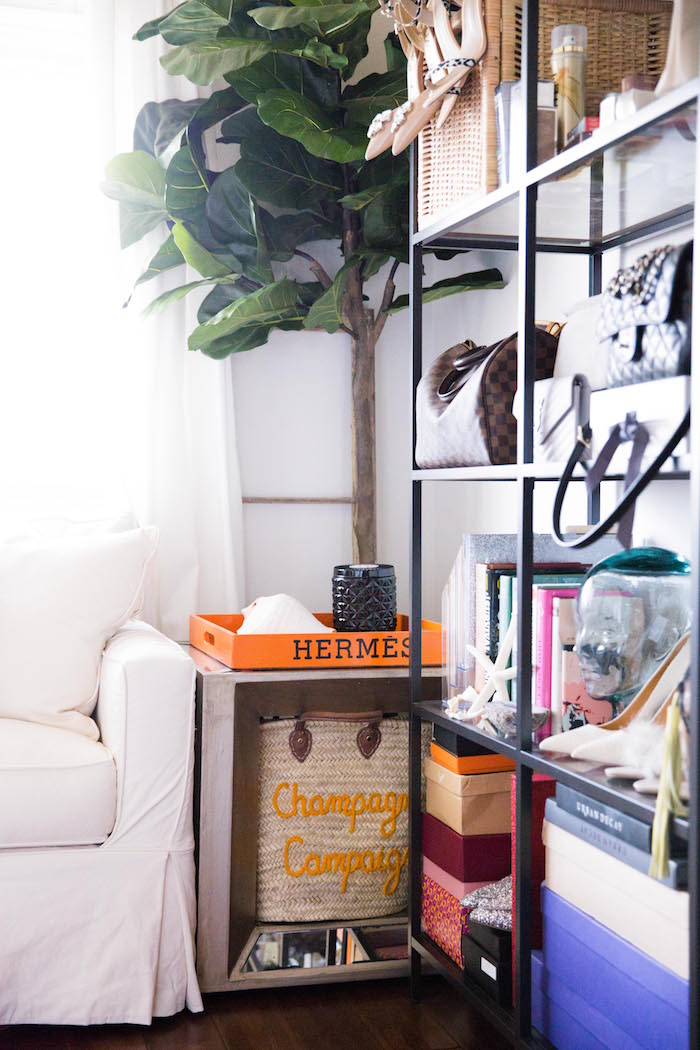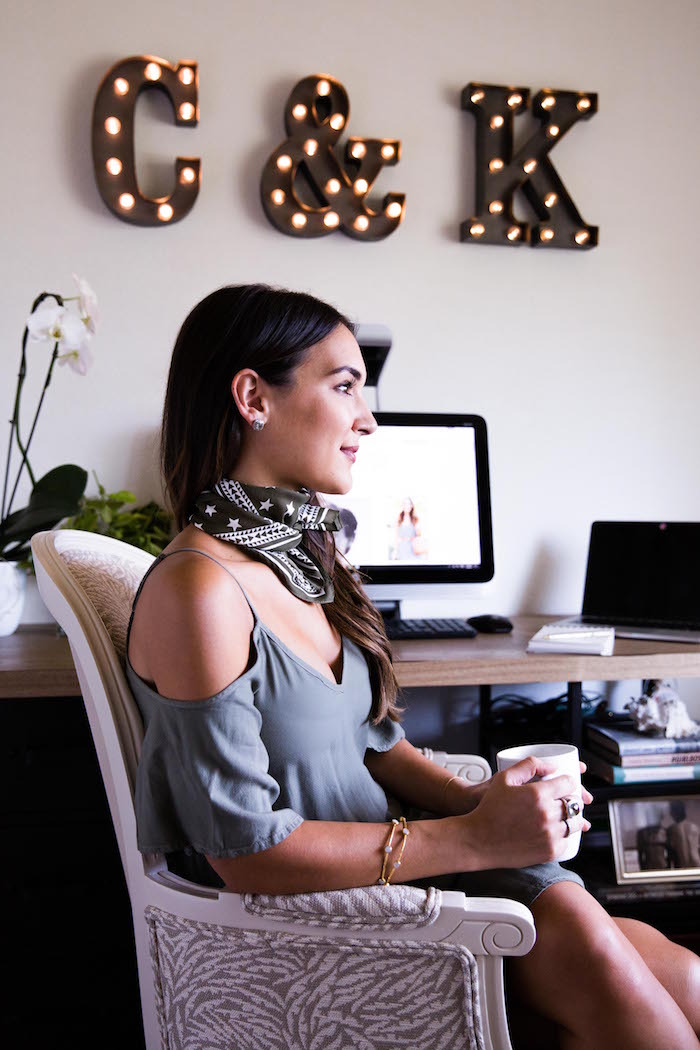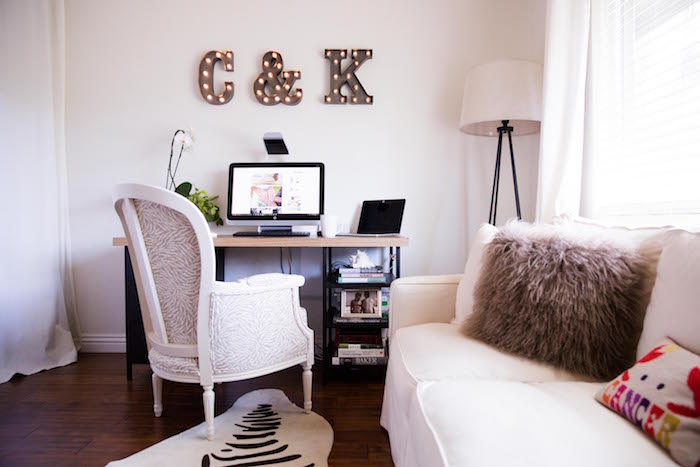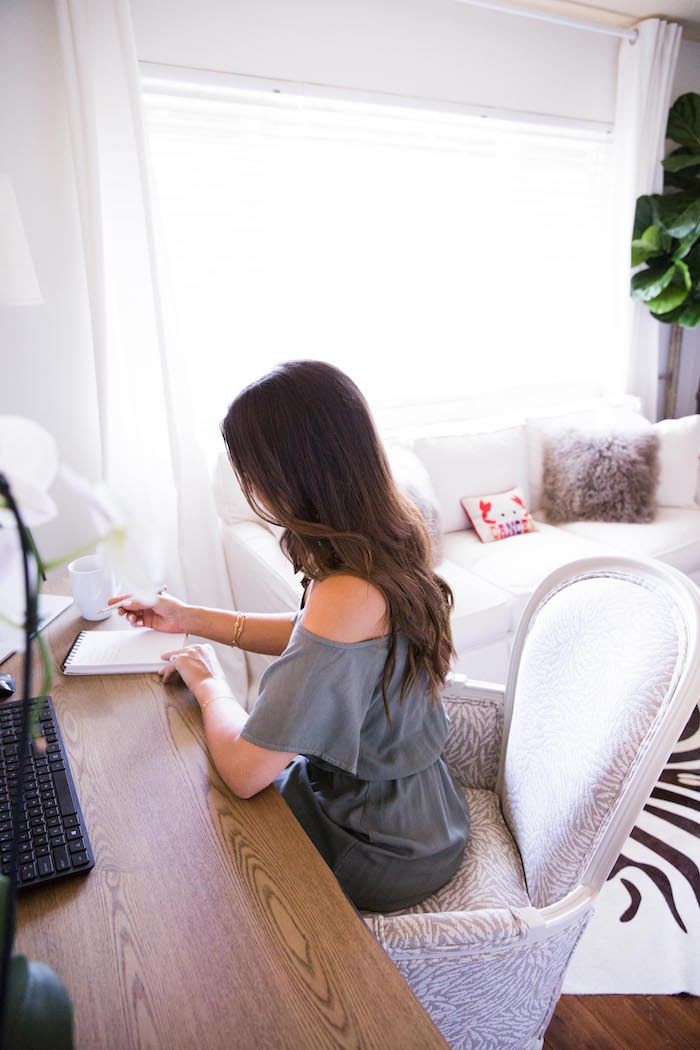 photos by Vincent Elejorde

 custom chair c/o DwellStudio in partnership with Robert Allen and Calico | similar marquee lights here and here | desk | dress 30% off! | neckerchief | earrings | bangles | albion ring | sofa – Lee Industries from Gatehouse Home, similar style here | similar mongolian fur pillows | blanket | deer head, this one is under $30 | hide rug from Summerhouse, similar style here | cancer pillow | lamp – no longer available, similar style here and lamp shade | similar Hermés tray | faux fiddle leaf tree
Do you have any tips that help you stay focused when you're working? Especially to those of you working from home – it takes a little extra concentration not to get distracted when you're in your own house!
Thanks so much for reading and sharing – XO –