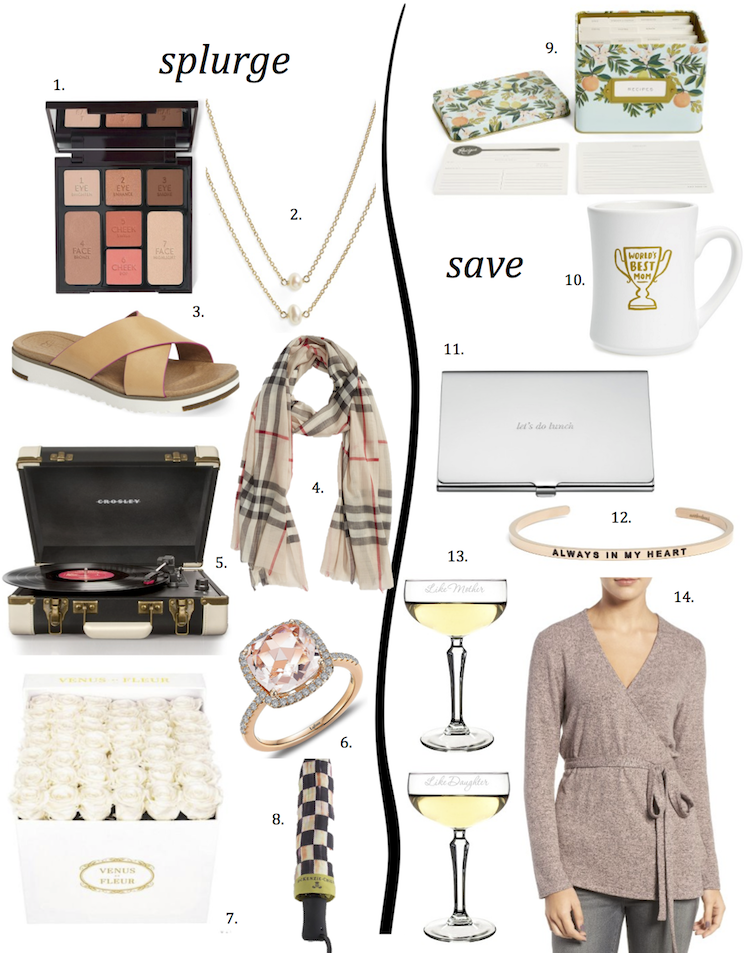 1 | 2 | 3 | 4 | 5 | 6 | 7 | 8 | 9 | 10 | 11 | 12 | 13 | 14

Thank you so much for the feedback in last week's summer staples splurge vs. save post!  I definitely heard your thoughts loud and clear so we're going to keep it up.
Mother's Day is approaching on May 14th, so the time to start perusing for mom and grandma is now.  I think some of the above options would be great for that special lady in your life.  I have a portable record player and it's just the best. I recently went through my grandmother's vinyls and picked at least 20 to add to our collection, and it's going to be so special knowing they were hers.
I love this little mother/daughter sets like these necklaces or these champagne glasses – how fun! This would be a great gift for the mama #girlboss, and I've had these roses since January 1st and they still look brand new. Unbelievable!
My mom asks for the same thing every year – a letter or story.  When I have something good to share I always write one, but sometimes I just have zero ideas. This year I have one though, so I'll be typing up a letter pretty soon! Another gift that I always love receiving is fresh flowers in a pretty vase (love this one). The vase can be reused and who doesn't love roses?!
If you have something in mind for mom, I'd love to hear! Thanks so much for reading – XO –