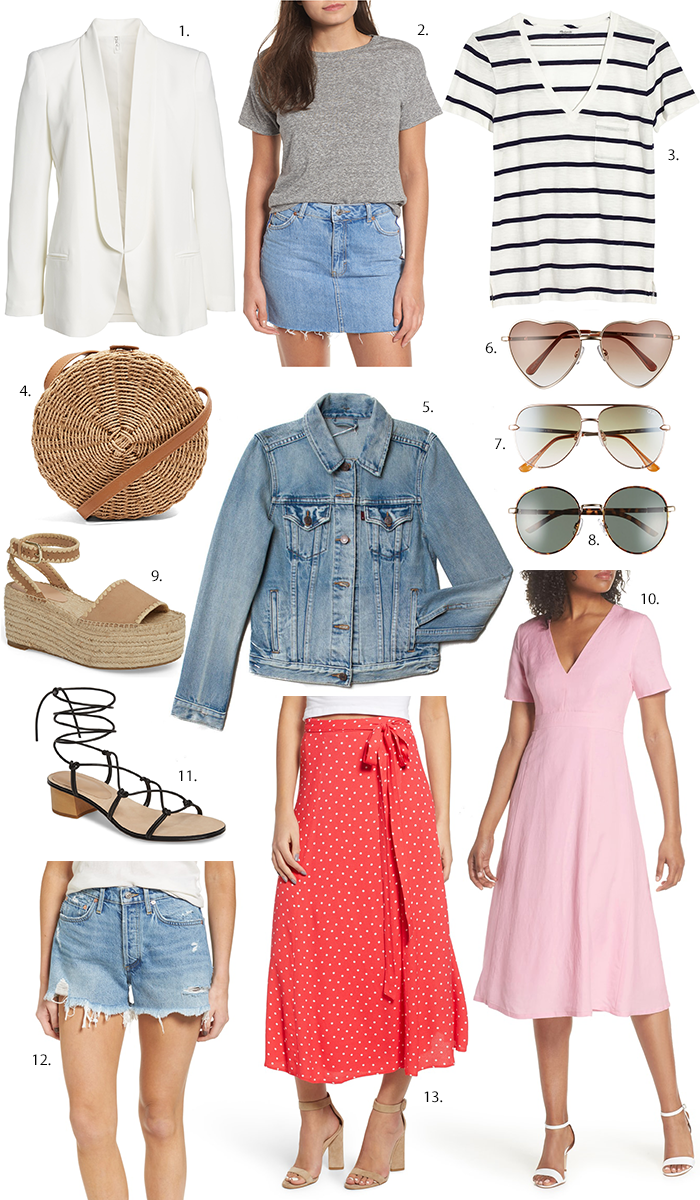 1 | 2 | 3 | 4 | 5 | 6 | 7 | 8 | 9 | 10 | 11 | 12 | 13
First things first, wow. The comments and emails from you guys regarding yesterday's post. You guys are like therapists! I am so inspired and moved by your stories of your own experiences feeling lost, sad or discouraged. You ladies get it. Like… really get it. Thank you, from the bottom of my heart. You encouraged and motivated me more than you know.
But can we, like, get back to clothes (said in Valley Girl voice)!? It may be 50-something degrees in San Francisco right now, but for most of you it's JULY which means it's summer, baby (in Lisa Rinna voice)!  Every now and then I get a question about "closet staples," and while this really varies person to person depending on budget, style, body type, climate of where you live, etc., I thought I could dig into what some of my summer staples would be.
Y'all know I'm a sucker for a blazer.  This one comes in four different colors and I love the fit! You can layer over a dress for church or date night or with a tee and jeans to brunch. Chic.
Speaking of tees, I can never have enough. Solids are my go-to but stripes and graphic are pretty stinkin' fun.
I know I put these shorts in basically every roundup but it's because I have this pair and this pair (also what these) and wear them constantly. They cannot be beat and I promise they're worth the price!  On the note of denim, a denim jacket is such a great layering piece and looks equally cute around your waist.
These espadrilles and these lace-up sandals are two that I keep reaching for. They look great with everything. Everything!
Have you invested in any staples for summer? Tell me what you're loving! Thanks so much for reading and sharing, happy 4th everyone! XO –