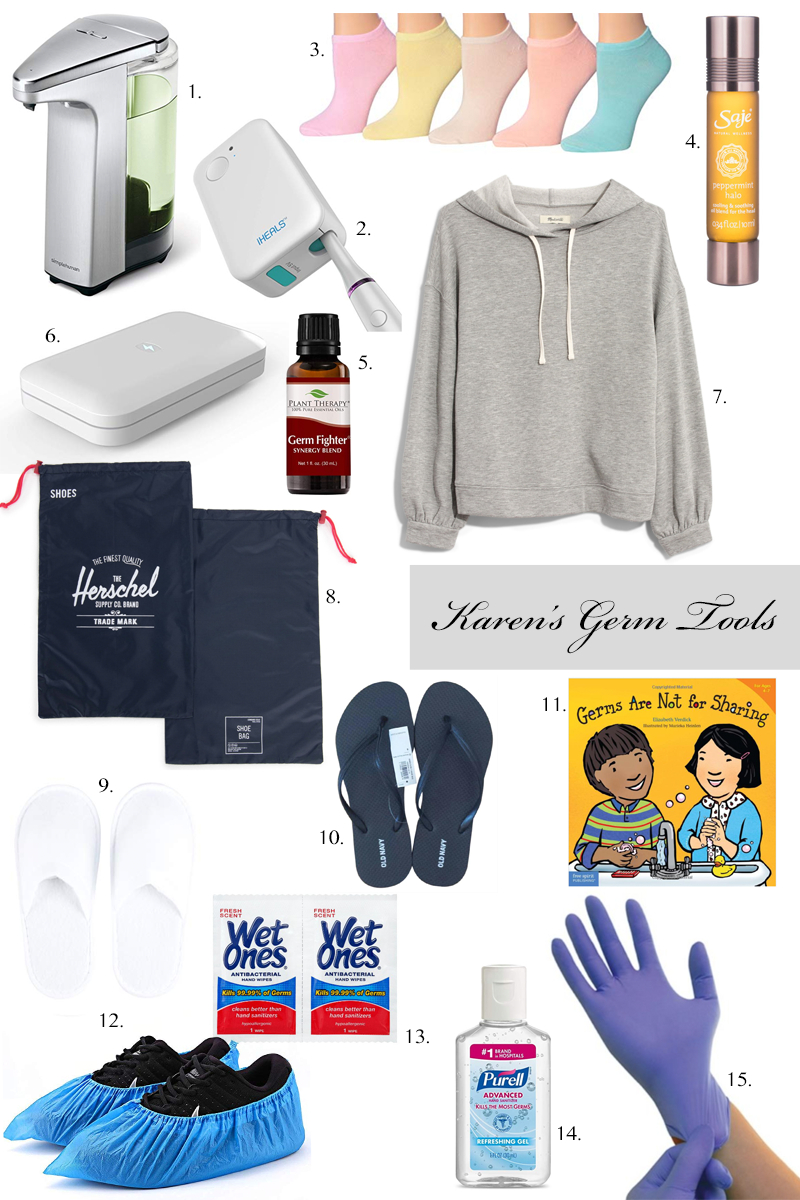 1 | 2 | 3 | 4 | 5 | 6 | 7 | 8 | 9 | 10 | 11 | 12 | 13 | 14 | 15
After 96% of those polled in an insta-story said they wanted more of my mom's germ-avoiding tips, we had an Instagram Live Sunday night.  It ended up being 40 minutes long and was somehow hilarious.  I was floored by how many of you also have your own creative and sneaky tips to avoiding germs in public restrooms, hotels, movie theaters, gas stations and more.  It turns out, avoiding germs at all costs is a common subject of which many unite.  Who knew!?
I wanted to share some of the things Karen mentioned during the Live that she uses and how she uses them.  And if you missed it, I saved the first 10 minutes on IGTV (you can only upload 10 minutes on IGTV and I thought I'd spare everyone 4 separate videos).  My PSA: I DO NOT do all of these things. Sure I try not to touch anything in a public restroom, but sometimes I just know I'm touching all kinds of germs and I'll wash my hands, shower and wash my clothes later.  You do what you can and blissfully try to ignore the rest.
That being said, here's a short recap of some of her tips:
Inexpensive Flip Flops, Disposable Slippers, Shoe Booties | When traveling, bring your own slippers so your feet don't ever have to touch the floor (I collect them from hotels but you can also buy them in bulk).  Karen takes it to the next level and sometimes will bring flip flops to wear in the shower (excessive for most but you do you), and you can also have booties if you have construction or something of the sort going on in your home!
Sensor Soap Dispenser | Mom has now bought these for all of us and it is a dispenser that will drop some dish soap on your hands or sponge by sensor.  It's really quite handy!
Latex Gloves | This entire germ saga started with a video of Karen wearing a latex glove to pump her gas.  She literally has a box in her car because she refuses to touch the pump.  I've since found out from a friend that even mechanics don't like to touch the gas pump… so that's something.
Hoodies | SO many of you suggested a great tip for airplanes and movie theaters – wear a beanie or hoodie sweatshirt so your hair doesn't touch the seat.
Phone Soap | This brilliant device will sanitize your phone and kill 99% of germs with a UV light.  So many of you also have this little machine – so smart!
Essential Oils | I also always travel with a small peppermint rollerball in case weird airplane smells are getting to me.  I found this Germ Fighter one on Amazon that also sounds fascinating!
Inexpensive Socks | Karen brings an extra pair of socks to the airport in the instance she has to take off her shoes.  She will double sock and then throw away the cheapie pair she brought with her.  I don't go to this extreme… but no judgement.  Whatever brings you peace!
THANK YOU to everyone who checked in, watched our live video and shared your own brilliant tips for avoiding germs.  If you want more of the topics we covered in the Instagram Live, I can go deeper on this subject.  But I don't want to overshare if y'all are more relaxed in germ-filled scenarios – so let me know!  Karen feels justified and relieved that she's not the only one fighting germs one latex glove at a time.
Next week we'll be back to our regular wish lists – thank you so much for reading! XO –