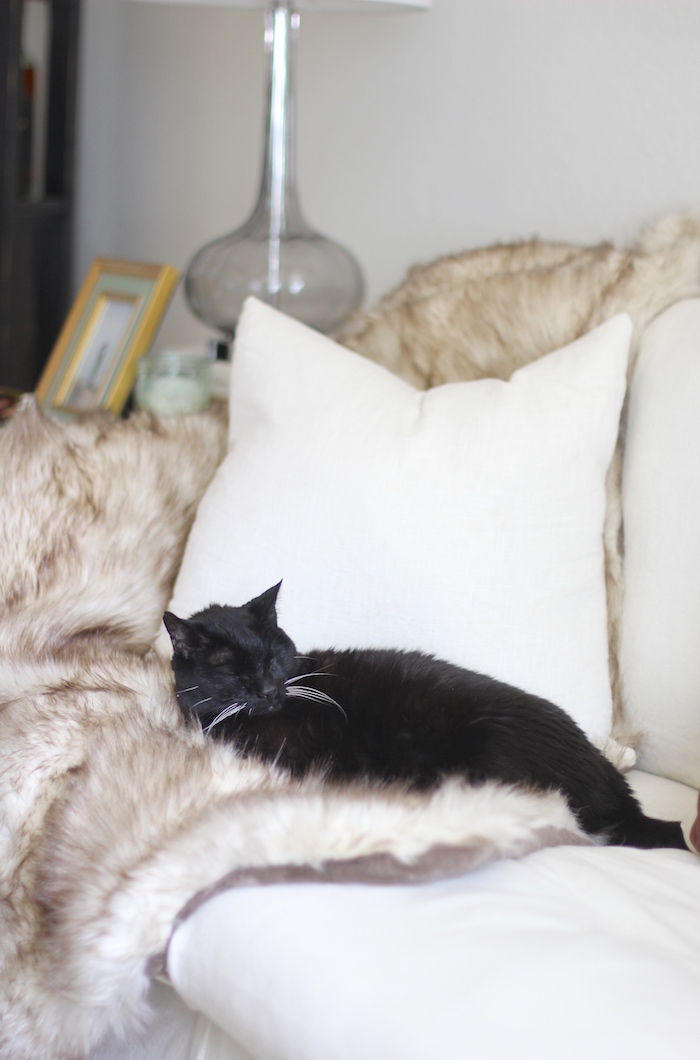 – after debating keeping this throw, Lula has decided we're keeping it by sleeping on it 24/7 –
– trying out this Sigma Beauty Brush Cleaning Glove and being all, "WHY did I wait so long to use this magic mitt?" –
– a quick and easy DIY to add a little marble contact paper to the bottom shelf of our bookshelf –
– having the idea to cut bougainvillea from our patio for a floral arrangement and wondering… WHY have I not thought of this earlier!? –
– packing for a quick trip to Las Vegas –
After a whirlwind week, I'm doing what any logical person would do when they're exhausted… heading to Vegas! It's a quick 36-hour trip with a direct, one-hour flight, so I will back in town on Sunday to celebrate my birthday with Christian.  I am dragging him to have high tea with me at a tea salon near our house (because my birthday would be the only time he would eat tea sandwiches and drink tea with me with a smile on his face), and then hoping he gives me the vacuum and teacups/saucers I've requested.  SERIOUSLY!? I am sounding older and older by the minute.
This week has been full of blog dinners, happy hours and work events, and the earliest I've gotten home is 9:00pm (this is where Christian sings a la Justin Timberlake "cry me river"), so I am actually really looking forward to a low-maintenance birthday.  I'm turning 28… which I have to share because I feel like you probably think I'm turning 65 based on the paragraph above. I'm not mad about it. Every year I turn older I'm more and more comfortable making decisions and following my intuition.
I was recently listening to a podcast that talked about ego vs. intuition and learning to trust your intuition in times that required important decision-making.  Your ego tells you to do the thing that looks the best to the outside world, while your intuition tells you what you're made of – your conscious, your integrity. I'm a religious person, and I've always felt that the gut feeling I feel is God guiding me to the right choice. The older I get the more confident I am to stay true to myself, which makes me feel like this.
Thank you so much for reading, for sharing your kind (and often hilarious) comments, and for making this blog one of the most fun and rewarding things in my life. Love you, mean it – XO –