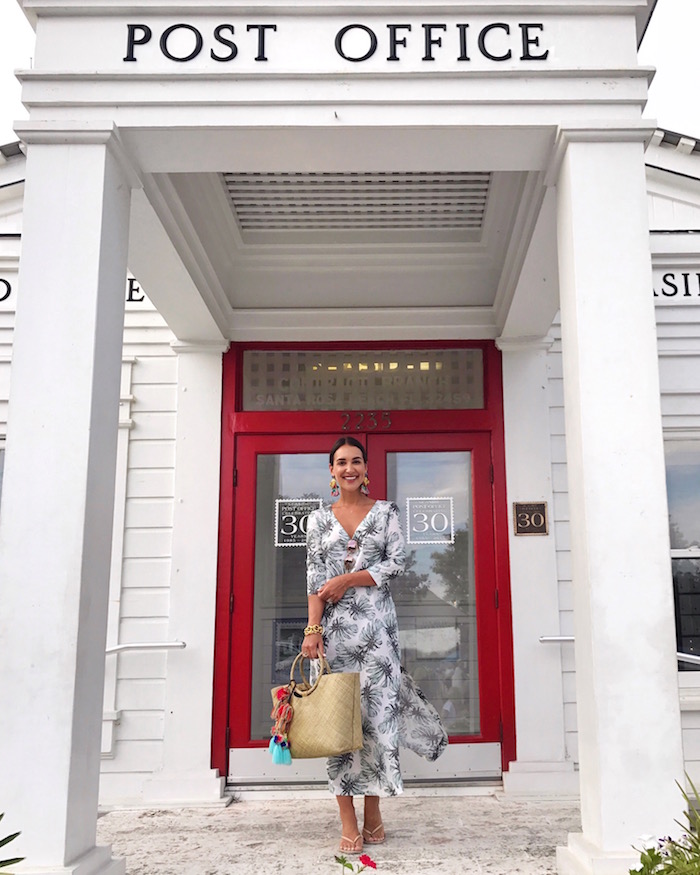 similar dress here | similar bag | earrings | sandals
I debated sharing this post because I was on a family beach trip, and we didn't get out and about as often as we usually do because there were small children in tow.  BUT so many of you asked about a travel guide, and since I've grown up coming to 30A I still feel equipped to share my favorite spots!
I had intended to share this post earlier but due to the technical difficulties I've been having I wanted to wait until everything was running smoothly.
Then I wrote the post on a flight, lost service and it deleted the entire post that I had written… so that was fun. BUT, thank you for your patience as I've gotten all this together.
Now that I've written it twice I feel like I could basically sing/rap my recommendations to you I know them so well!
leggings | tennis shoes | similar tank here, here and here | hat | water bottle
top here and here | denim here and here | bag | sunglasses | similar necklace
Beach Town Breakdown of 30A (my favorite beach towns along the 28-mile stretch):
Seaside | The OG (urban dictionary definiation: original gangster) of 30A. A family-friendly, slice of heaven that is always worth a visit! Fun fact: The Truman Show was filmed here. That's how perfect this little town is.
Watercolor | A newer development right next door to Seaside. Bigger houses to accommodate larger groups, a sweet little lake and an Inn available for smaller parties.
Seagrove | This was my first time staying here and I really loved it.  It's quiet, less busy than the more popular tourist spots and the beach access is really mellow = a dream.  Seaside and Watercolor have some hoppin' beaches which means your umbrella and chairs are sometimes on the second or third row viewing the ocean (not ideal).  We had six bikes and a six-seater golf cart (rented from here), and you can easily get to all the beach towns by bike.
Watersound | I worked here one summer when I was in college! This is a gated community next door to Watercolor and it's a great spot to rent a smaller condo and have a private beach experience without all the kiddos.
Alys Beach | A newer development and a little mini Mediterranean dream. Very mellow and quiet – it's my parents favorite spot if you know what I mean! Fun fact: I wanted to get married here until Christian (a surprisingly opinionated groom… not ideal for my Type A self) really pushed for a traditional hometown party. When I visited earlier this month I was like… um, why did I listen to Christian? That boy know nothin'!
Rosemary Beach | A little beach town that has really developed over the past few years. Home of The Pearl and numerous adorable restaurants and shops. A great spot for families who want a more peaceful 30A trip versus the busier Seaside and Watercolor.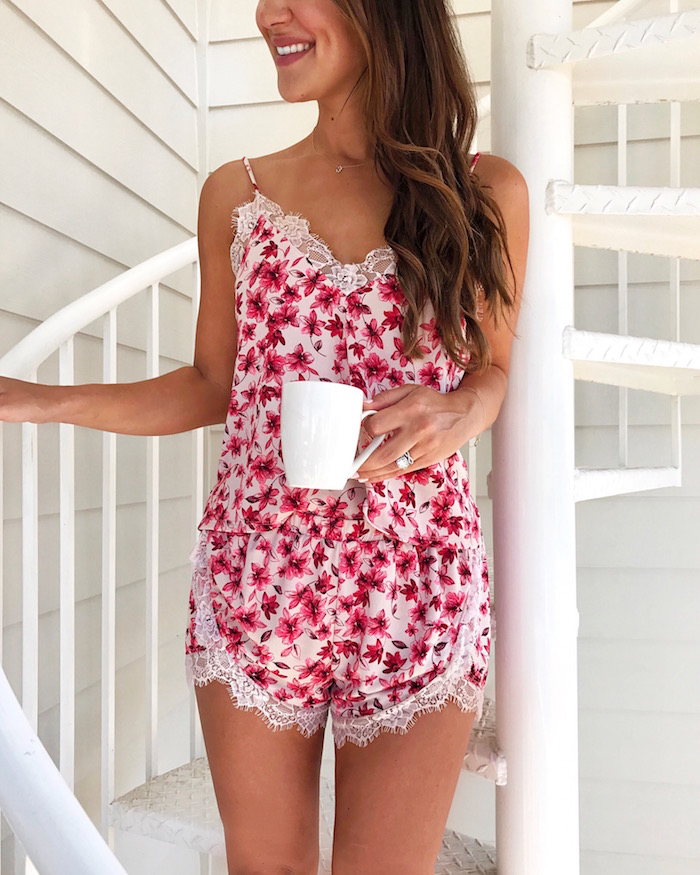 skirt | similar top here and here | heels, similar look for less here | bag | earrings
top | similar bottoms | similar shirt | similar bag | hat | sunglasses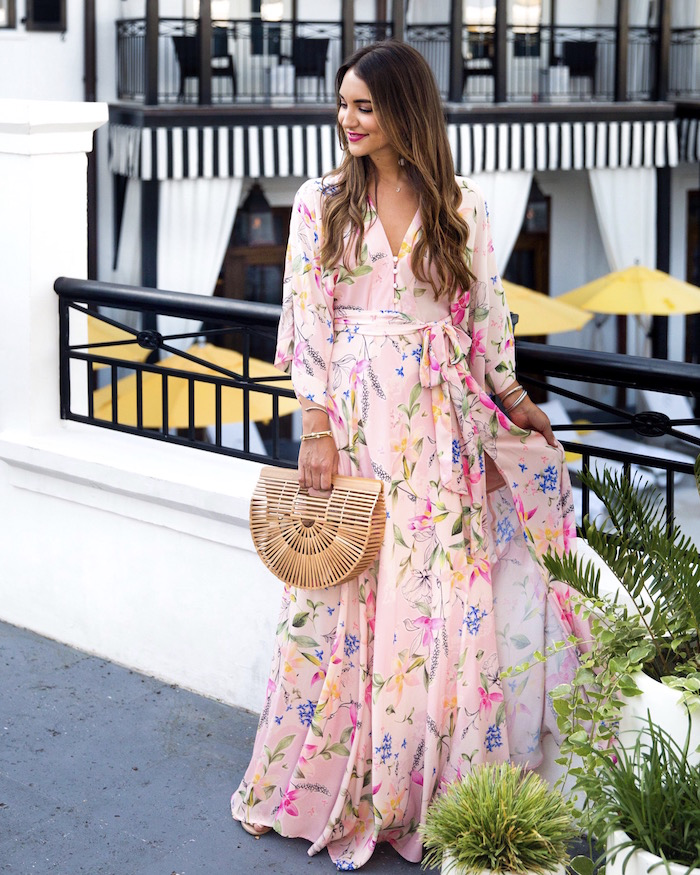 dress here and here, also love this one | bag | earrings | heels, similar look for less here
Where We Stayed: 
On this trip we stayed in this beach house. My brother selected it for the group because it had 8 bedrooms and was prepared to house all 13 of us. Several of you messaged me on social media asking for the details but to protect the privacy of my family, I wanted to share the scoop after we had left (I happily exploit myself #allday, but I try to be aware of normal people who prefer privacy). So thank you for patiently waiting!
BUT if you don't need a house this big, we've stayed in numerous house rentals along 30A when we had 8-10 people, predominantly in Watercolor and Alys Beach. Some other recommendations if you're not traveling with a large group –
The Pearl Hotel Rosemary Beach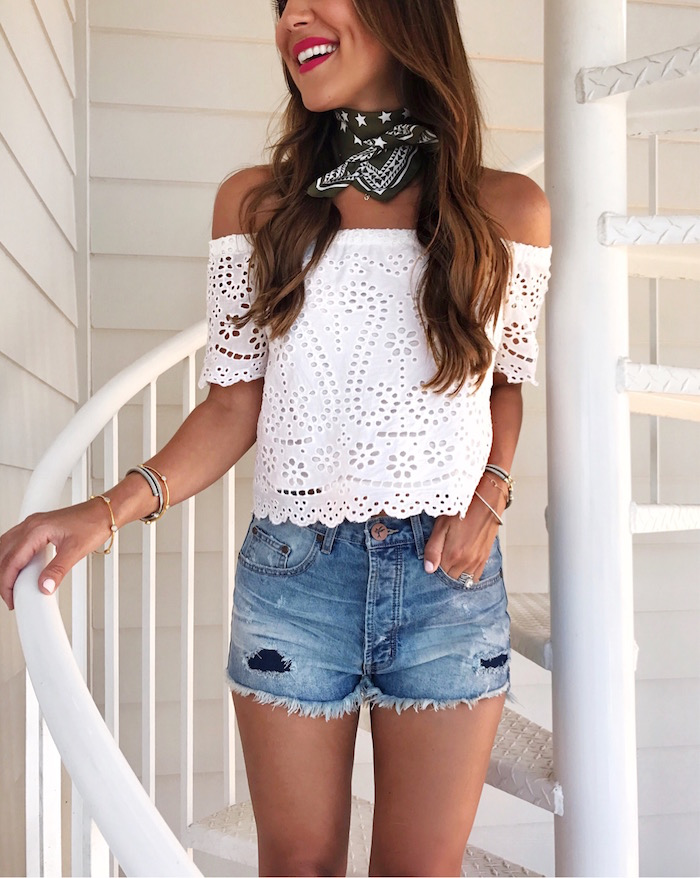 neckerchief  | similar shorts here and here | similar top here, here and here
similar crop top here, here and here | maxi skirt | heels, similar style for less here | clutch | earrings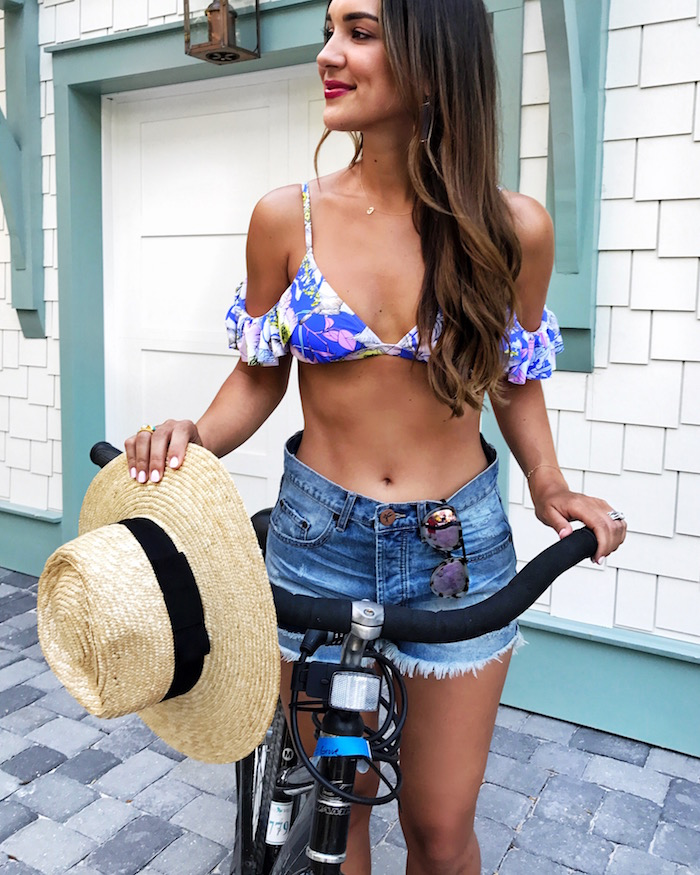 swimsuit top and bottoms | similar shorts here and here | hat | earrings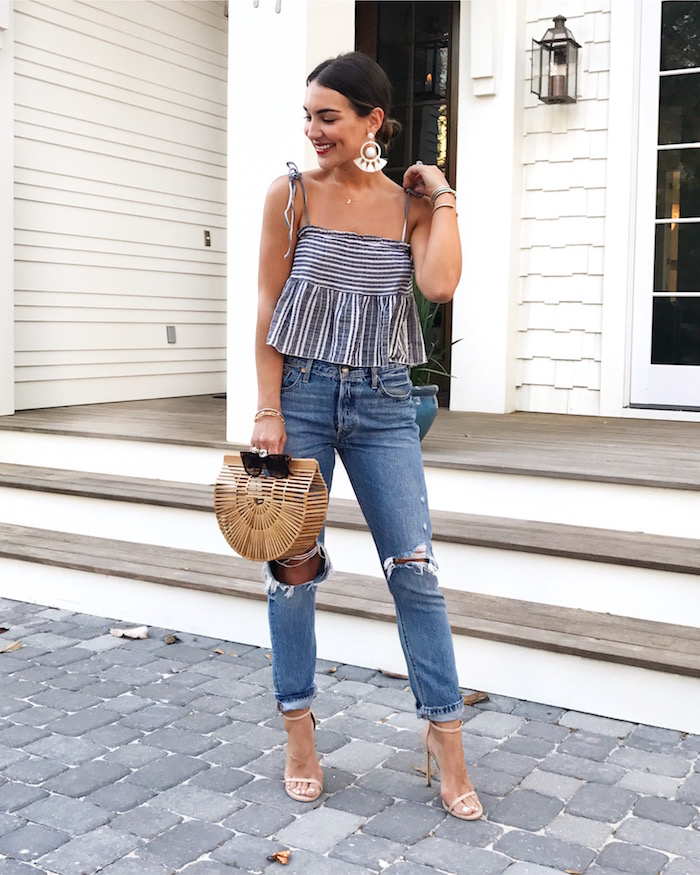 earrings | denim here and here | heels, similar look for less here | bag | similar top here and here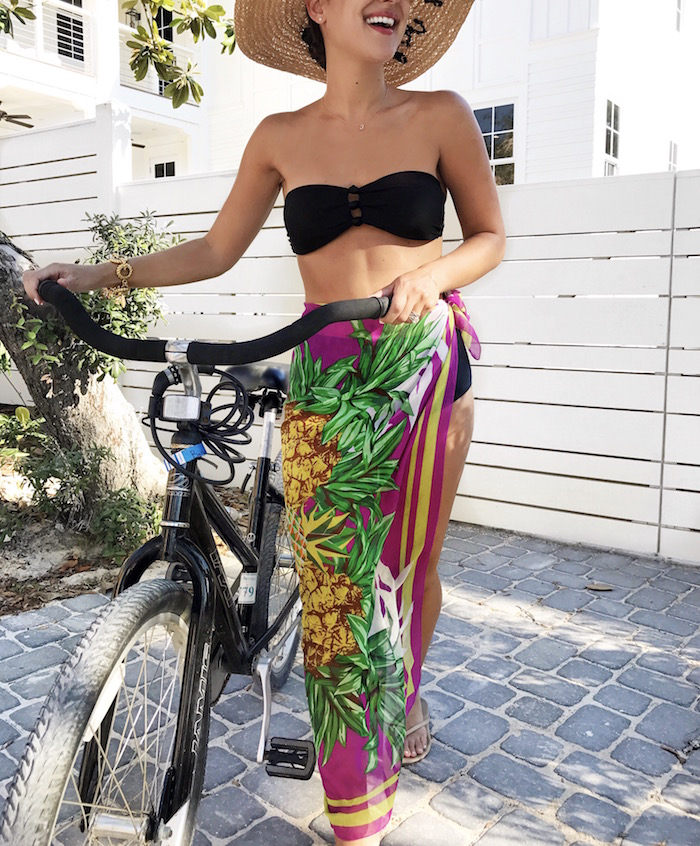 hat | similar swim top | similar sarong here and here | sandals
Food Picks:
Frostbites, Seaside | Snow cone central.  Ask for some "sand" on top! It's really just crushed up graham crackers, but still, so cute right?
Bud & Alleys, Seaside | A great pizza spot on the water.  Plus there's a rooftop bar.
Cowgirl Kitchen, Seagrove and Rosemary Beach | This is a place I'd heard of but never tried until this trip. We had it catered to our beach bonfire, and I'm happy to report it's worth the hype. A great lunch spot!
Red Bar, Grayton Beach | This is the spot I always wanted to go to growing up and it remains a favorite. Crazy (as in crazy fun) decor, huge portions (split an entree with a gal pal) and the mashed potatoes you dream of. Unfortunately they don't take reservations, so put your name on the wait list and hop into the cute shops next door.
The Wine Bar, Watercolor | Love this spot for a glass of wine. Christian and I will bike there during all the kids "power hour" and enjoy a quiet moment. What's better than a cold glass of wine after a day in the sun?
The Donut Hole | I mean… am I dramatic if I say this place is legendary? We would visit the Destin location when it was the one and only, but now they have multiple locations so everyone can get a taste. The coconut is my ultimate jam, but those in my family with less impressive taste buds go ham over the Dutch Crumb.  It's so OG that they don't even have a website. Like… welcome to the 90's, Mr. Banks!
earrings | bag | similar dress here and here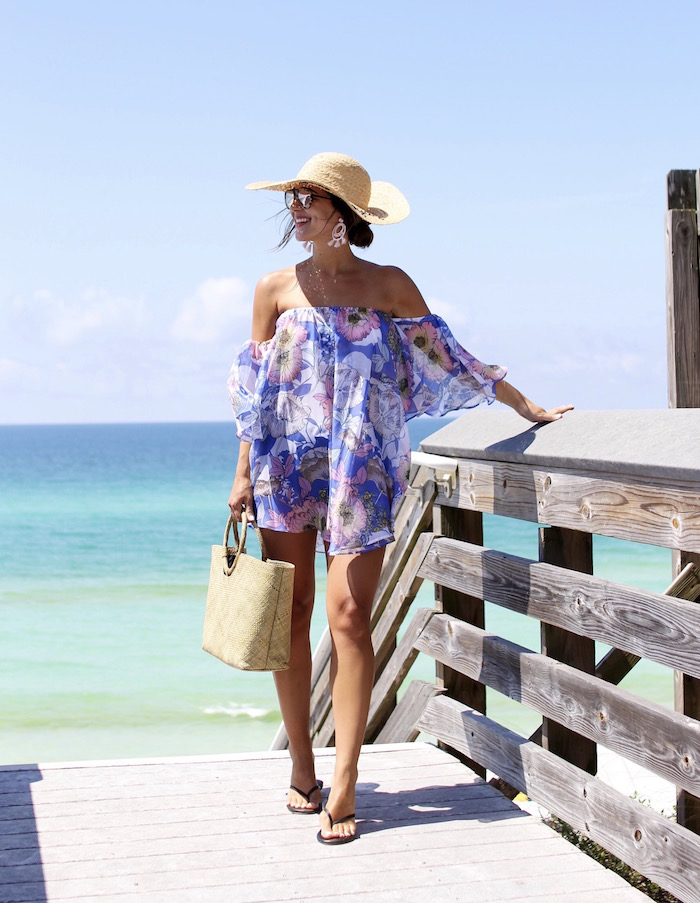 hat | earrings | coverup here and here | similar bag | sandals | sunglasses
dress here and here | earrings | bag | lip in Tilt | bangles | heels, similar look for less here
Activities/Shopping:
LiveWell30A | I shared in this post that we used this company for paddleboard rentals and a beach bonfire. They also offer golf carts, bike rentals and in-house chefs!
Seaside Square | Several great little shops, markets and casual eats. A place that all ages can find something to do – including a huge grassy lawn in the center for kids to run around.
The Zoo Gallery | An eccentric little shop that was a must-stop for my artist mom. I think we visited this place every summer and is worth a visit just to enjoy the creativity. Warning: if you're a minimalist like my sister… this place could potentially give you a panic attack.
Destin Commons | Now THIS was the place I couldn't wait to visit when I was a teen. All the cool stores – get some shopping done and finish the night with a movie or a scoop of ice cream. I'm happy to report it's still a great place to do some shopping (or at least I thinks so!).
Silver Sands Outlet Malls | The amount of back-to-school shopping we would do here… I think I know this outlet mall like the back of my hand.  A great stop on your way in or out of town!
neckerchief | dress styles here and here | heels, similar look for less here | bag | sunglasses

Ok fellow Florida lovers – how did I do!? We really had the best time. I can't believe it's been four years since I've visited this dreamy little area. I have so much nostalgia with South Walton, and truthfully I'm sad this trip is already over. Until next year!
Thanks so much for reading – XO –