– vintage motorcycle tags at an outdoor antique mall –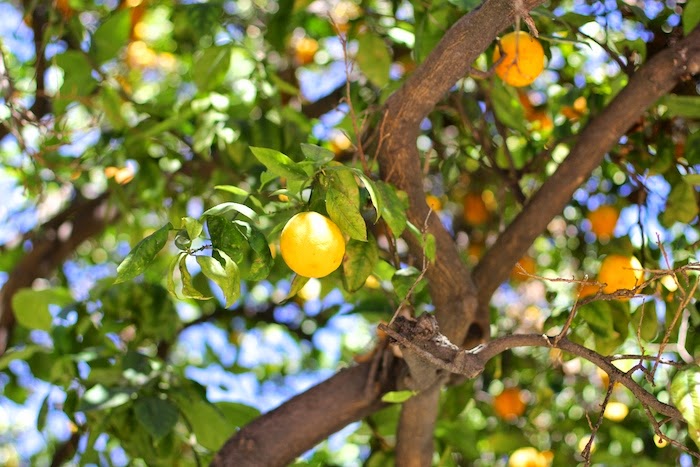 – oranges in our neighborhood that I'm just dying to reach –
– a flight of beer from Haven Gastropub –
– darling Paris teacups –
– love notes left on a brick wall –
It's always exciting to have something to look forward to all week and this week's it's been the long weekend that has kept me on my wishful toes.  I have both Monday and Tuesday off (!!), so I'm hoping to visit a friend in LA and get caught up on my life. I've been having fun with after-work activities this week – cocktails with other blogger babes, shopping at Fashion Island, heading to The Wedge to watch surfers in 30-foot waves – but it's left me feeling like I'm scrambling everyday because my type-A personality hasn't had enough time to keep all the mundane things organized.  I need to do some of those not-fun things like clean out my closet and go grocery shopping for this weekend.
Christian and I are having some people over Saturday to celebrate the International Street Fair that happens every year in our new neighborhood.  Last year we were living about 15 minutes away and had to deal with traffic, parking and whatnot.  This year I'm happy to just walk from our house – one of the things I love about living in a college town again!
And speaking about food, remember last week when I shared I was trying this green smoothie cleanse?  Well I tried it for four days (and really did like it) and had to stop because I broke out into a head-to-toe rash, not kidding.  It didn't itch or bother me, I just looked like I had the chicken pox all over my body.  I was texting all the doctors in my family and my brother's friend who is a dermatology resident recommended I stop to see if the rash went away, and after a week it did.  I'm slowly trying to introduce green smoothies back into my diet and am hopeful that they weren't what caused the rash because I really want to try this cleanse!  I don't want it to deter any of you from trying it but wanted to ask – have any of you ever gotten a rash from a cleanse or from smoothies?
I hope all of you have a beautiful holiday weekend!  What are your plans?  Do share!  Thanks so much for reading – XO –