– some new sunglasses for cruisin' –
– the prettiest palette that brings some serious glow, addicted –
– the coolest speakers that also work as an alarm clock + transportable cell charger –
– having a little too much fun with this Hanes sweatshirt and flare –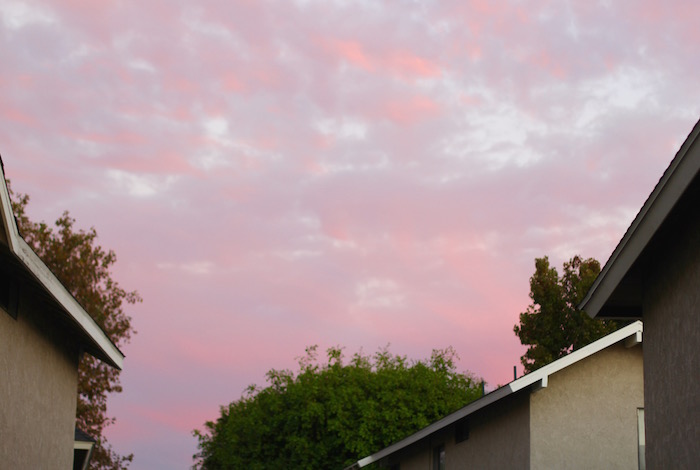 – walking outside to a pink sky –
It's HALLOWEEN weekend you guys!! So fun. I have been binge-recording scary movies on the DVR so C and I can have a movie marathon while hoping for trick or treaters so I don't eat an entire bowl of chocolate candy by myself.
It's happened before.
I regret nothing.
I feel like when you're in between having graduated college and having children you're in this weird limbo phase where you still love Halloween but there's not always a party or something to do… so this is the phase we are in. I'm going with it.
In other news, I was slated for the 2:30 speaking panel about Topshop Holiday Trends on 11/7 at StyleCon here in Orange County!  Following the panel I will be in the Skin Laundry booth, so I would LOVE to meet any of you who will be there! You can get $5 off your tickets with the code KATHLEEN.  This brings your ticket down to only $24 and you get a swag bag valued at over $100… so I'd say that's a steal.
Tell me your Halloween plans.  So far this is definitely the best Halloween costume setup I've seen. OBSESSED. Thanks for reading and y'all don't forget to win one of TWO Rebecca Minkoff satchels here! XO –
PS – this new Barbie commercial my sister sent to me must be mentioned. GENIUS rebranding. I was always obsessed with Barbie (duh, she was basically just my fit model), so I'm loving this new #girlboss mentality!