– an unplanned brunch at home that turned out quite lovely (and was a girly touch to an AM football game!), coffee table available here –
– a few of my recent beauty favorites –
Urban Decay Revolution Lipstick in Liar | Sigma Mascara in Sinuosity | Pixi Correction Concentrate… seriously, goodbye dark circles! | sara happ One Luxe Gloss in Pink | GlowFusion bronzer in Golden | L'occitane Divine Cream | Urban Decay Blush in Rapture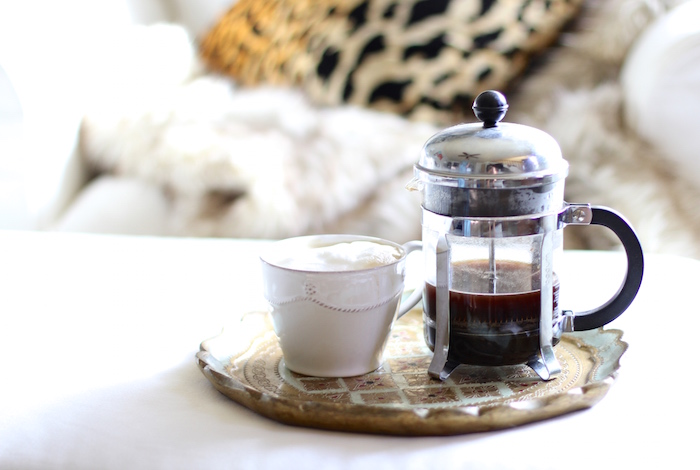 – mixing up my usual routine with some french pressed coffee –
– having fun with some skull tassels –
– putting out some Halloween décor, including these adorable skull candles –
Halloween decorations are full force, and I've been having so much fun with it! October and November are two of my favorite months because there are fun holidays to celebrate that have so much less pressure than other holidays.  It's all about wine food, fun, friends and family!
Some highlights this week include rearranging my bedroom a little bit (we'll see if it lasts… stay tuned!), and falling deeper into my addiction to The Affair. I snapchatted about this (CBLied), and several of you have told me that you also watch the show – it's SO ADDICTING, right? Even my mom and her best friend were like, "I don't know about this show…" boom.  Watched the first season in less than a week.
On that note, I also watched the next episode of American Horror Story last night and Christian was on call – in and out of the house all night.  Which meant I was 98% sure a ghost was going to try to kill me in my sleep, so needless to say I slept terribly.  Reflecting, I'm assuming my fear of getting a glass of water in the middle of the night boils down to the media I'm filling my subconscious with. How to Get Away with Murder, Scandal (which I decided I'm over this week), Narcos, The Affair, American Horror Story, the podcast Serial, The Americans… even the books I read are often centered around murder.
Perhaps I should be watching less TV.  I also got jury duty this week, and I'd say my mind is a little paranoid.
As for today, off to check out a brunch spot today that I've been dying to try – The Attic in Long Beach. They put mini hamburgers on bloody marys… WHAT!? Thanks so much for reading – tell me what you guys are up to this weekend! XO –