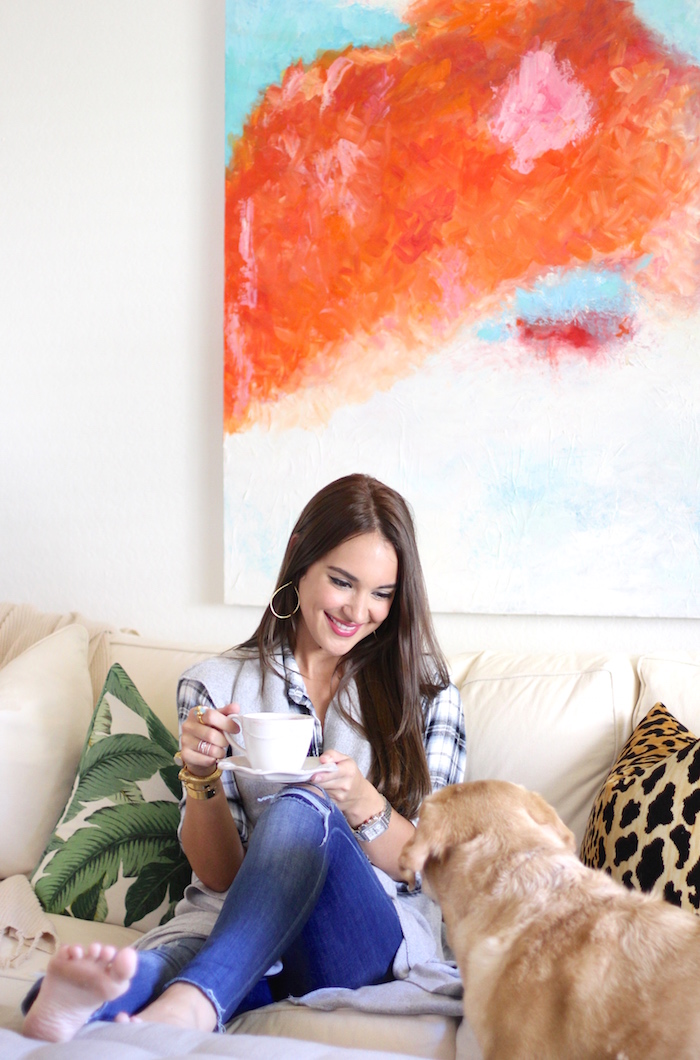 Christian and I have been wanting to upgrade our living room sofa for a few years and we've been dragging our feet because we couldn't seem to agree and commit on the same one.  A nice sofa is a big investment (easily the most expensive piece of furniture in our home), so I knew I couldn't pull the trigger unless it was a piece I wanted in our home for years to come. This meant it needed to be comfortable, attractive and versatile.
SO, when the opportunity came along to work with Gatehouse Home to finally select the sofa we had in mind, I knew this was our chance!  I wanted to share with you guys not only the finished product, but also my recommendations if any of you are looking to make a similar purchase.
Know your non-negotiables.  For us, this meant machine washable.  We have a dog and a cat, and I know we will always have pets because we are both big animal lovers.  This means I need to be able to throw a cushion cover in the wash when someone puts their dirty paws on the sofa or drops a piece of pizza.  Who am I kidding – I've spilled half a glass of wine on a sofa before.  But guess what? I washed the cover and it was good as new. #smallvictories
Keep it neutral.  This may seem like a no brainer, but I can't preach enough to invest in neutrals for your big pieces.  I always add color with art, flowers, throw pillows, blankets, picture frames, the list goes on. Don't get me wrong – I love the beauty of a statement sofa (like this one), but I know myself, and I know I would tire of it. Before I committed to a fabric, I brought two large swatches home and put them on my current sofa arm.  I wanted to see what the color and texture looked like during all hours of the day, as well as against my current living room layout.  Doing this showed me that one swatch actually looked much darker than I had anticipated, but had I not taken them home for two weeks, I wouldn't have known!
Test it out.  I knew I'd found our new sofa when I sat on it.  Gatehouse carries Lee Industries sofas, and when I sat on the down-blend cushions, I was all, "welcome home."  Christian lays on the couch more than he sits on it, so it was a match made in heaven.  You sink into it just enough, and I wanted the seating area to be just deep enough to be comfortable, but not so deep that it affects your posture.  We're both tall, so 40″ deep was perfect.
Check the warranty.  When making an investment purchase, check the warranty.  Lee Industries offers lifetime warranty which is a huge bonus.  They also keep all the measurements of their furniture designs, so even if this particular slipcovered sofa was to no longer be available, I could still contact them about ordering a new slipcover down the road.  This kind of service makes the price tag sting a little less!

throw blanket c/o | palm leaf pillow | similar potted pillow | monogram pillow | leopard pillow | denim c/o | vest c/o, also love this one and this one | shirt c/o, similar here | earrings c/o | cup & saucer | acrylic tray | coffee table | fur throw | watch c/o | gold cuff c/o | gold cuff 1, 2 c/o | ring c/o | painting – Karen Williams (my mom!)
Have you made a big furniture purchase recently? Have any advice? I'd love to hear it!  And if any of you are in the Orange County area, I can't recommend enough popping in Gatehouse Home in Costa Mesa.  The store is so beautiful (and inspiring for any décor lovers!) and the team is so friendly.
Thanks so much for reading, and you can see our full home tour here. Stay tuned for a reveal of our home office and guest bedroom! XO –