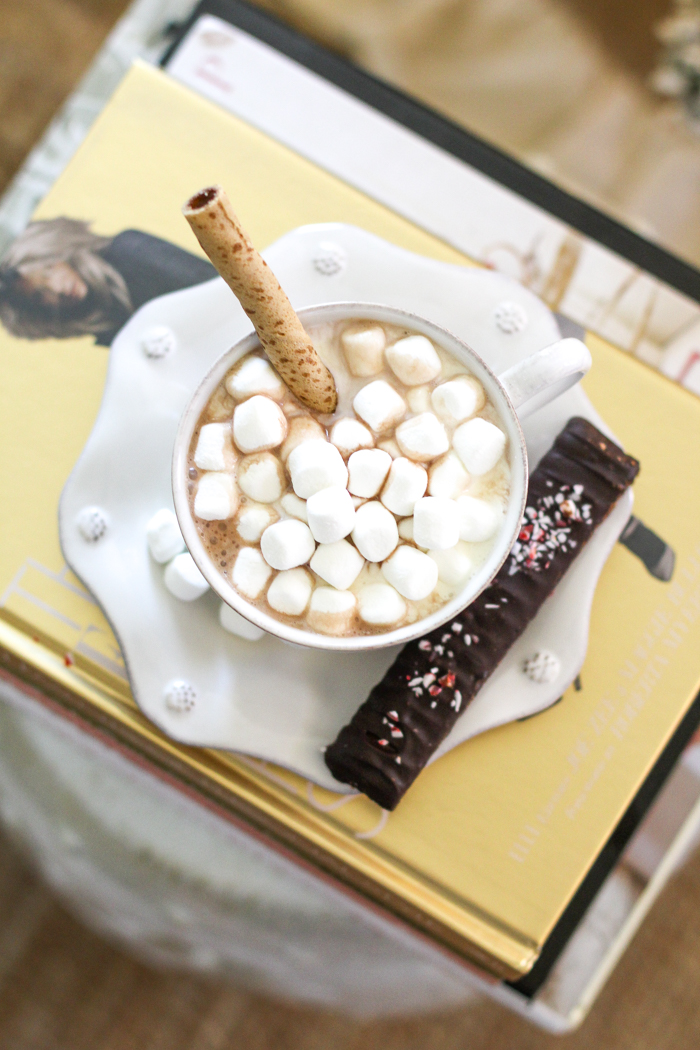 December and hot chocolate just go hand-in-hand, do they not? I'm an eggnog lover and a hot chocolate lover (both non-spiked if you can believe it), and this time of year either or is the perfect dessert of choice! Those little packets with hot water did the trick in college, but if I'm going to make hot chocolate, I'm willing to put in the time for the real deal.
SO, I wanted to share my current favorite hot cocoa recipe with you guys – just in time for you to make a cup with your families this weekend!
Ingredients:
1/3 cup cocoa powder – I used Max Brenner's from NYC, addicting!
1/3 cup sugar
pinch of salt
1/3 cup boiling water
3 1/2 cups milk – I used almond milk
dash of heavy cream or half and half
optional: dash of vanilla extract + marshmallows
Directions:
Mix cocoa, sugar and salt in a medium-sized pot.  Add water and bring mixture to a simmer.  Add milk and whisk well until it's at a simmer (but do not boil!).
If I'm really indulging, I like to add a small dash of heavy cream before pouring in the chocolate and topping with mini marshmallows.  I take my hot cocoa with a dash of vanilla extract as well, while C goes without – it's up to you!
Of course I added some extra sweets to my dessert drink because… I'm wearing a giant sweater and who's counting? It's fine.
denim c/o | similar sweater | cup and saucer | shirt c/o | tree c/o
Do you have a favorite holiday drink recipe? I'd love to hear!  We are heading to a little cabin in the snow tomorrow and I think I could use some hot drinks.  Merry merry to you and yours and thanks always for reading – XO –