I'm so excited to invite you guys into our home to share my 7 Holiday Decorating Tips with Seven Daughters Wine!  I love getting festive without totally interrupting the decor of our home, so today I want to show some subtle accents I've added to achieve that.
Most years I wait until Thanksgiving weekend to pull out the Christmas decorations, but I admit this year I put up the tree a little earlier than that.  I think it's because this King of Christmas Flocked Tree made all my tree dreams come true!  I was amazed at how easy it was to put together, and a pre-lit tree is seriously as dreamy as they come. Last year we had a real tree, and while I loved the smell the cleanup was never-ending.  I have chosen to go with the artificial tree and light a pine-scented candle instead!
SO, let's get started.  Some of my holiday decorating tips –
1.   Have a visual in mind before you start decorating the tree.  
I've made the mistake of just going for it in years past, and while that's not a bad thing by any means – if you're looking to achieve a cohesive look, having a vision always helps.  This way you can place your ornaments strategically. Last year our tree was much more colorful, and this year I chose to keep it more neutral – all with only adding 10 more ornaments and hanging them mindfully.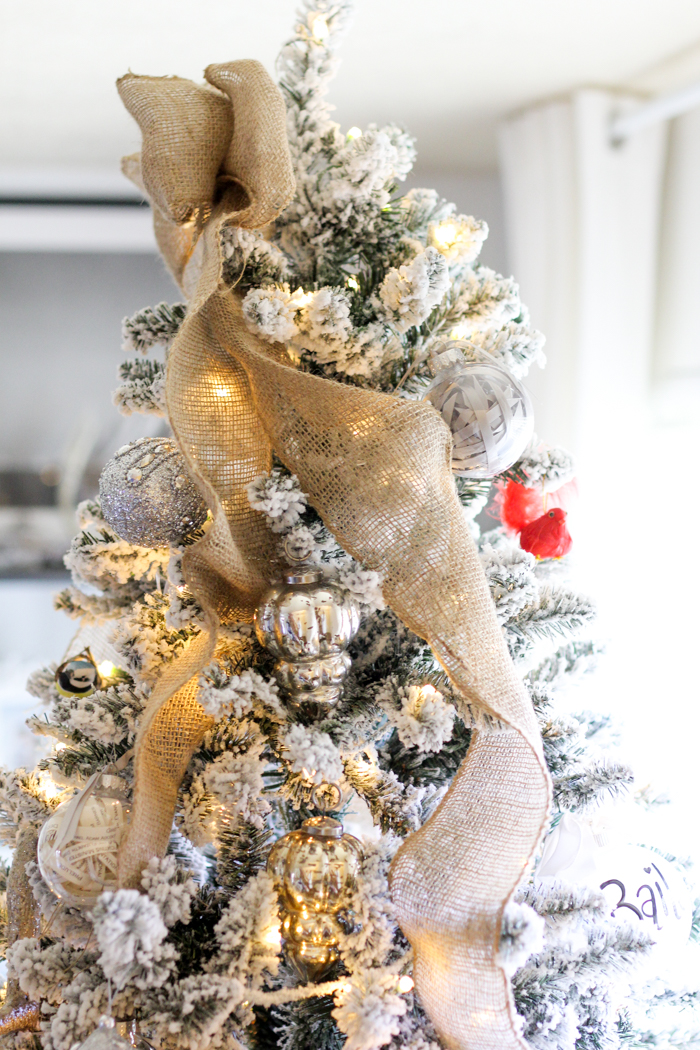 2. Get creative with stockings!
My family's tradition is to put pins on the Christmas stockings.  You know those pins you receive for various accomplishments or trips and you think…. "this will look great in the kitchen drawer until it inevitably gets thrown away!"  We always put these little charms on our stockings, and it's always a hit for guests to check out when they come over.
And one day, when I'm a "grown up," hopefully I'll have a mantle to put them on!
3.  Add some festive pillows for a quick (and easy) holiday touch.
The fastest and easiest way to add some spirit – toss in some pillows! This sequin pillow and reversible "naughty or  nice" pillow always come on in December.
4.  Make use of the free resources around you.
You don't have spend a ton of money on flowers. I like to cut a few sprigs of greenery outside and use pinecones to decorate and brings in that touch of nature that brightens a room.
5.  If you have a bar or bar cart, use those wheels to your advantage!
Our small bar cart has wheels and I roll this baby all around the house for different occasions.  Add some white candles, gold accents and Seven Daughters Wine and you've got a Christmas cart that you can move anywhere you'd like!  And I had to include Bailey's photo-bomb… those eyebrows!
This bar cart is currently sold out, but when it becomes available again I plan to do an entire post about it – stay tuned!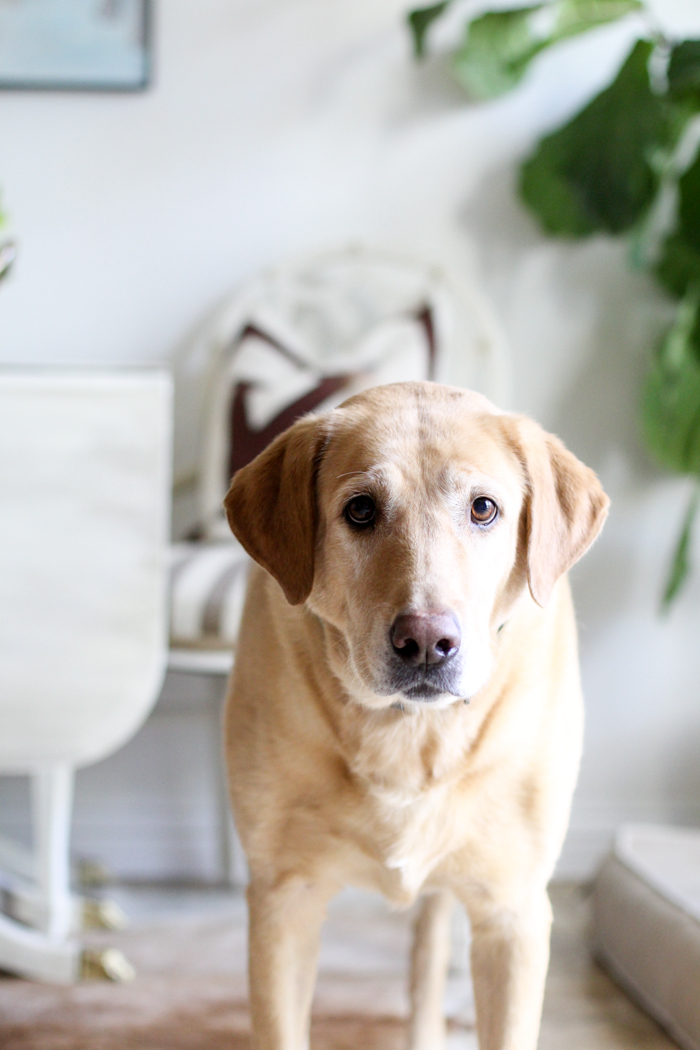 6.  Stay true to some traditions.
So I realize they might look a little creepy, but growing up these Byers Choice Christmas Carolers were always placed on the dining room buffet at Christmas time.  My sister and I would always argue over which little girl caroler we were, and I've started a little collection myself (and added a Lula and Bailey)!  My mom of course gave me the daughter caroler without thinking that I don't have a daughter, but that's ok… tis the season!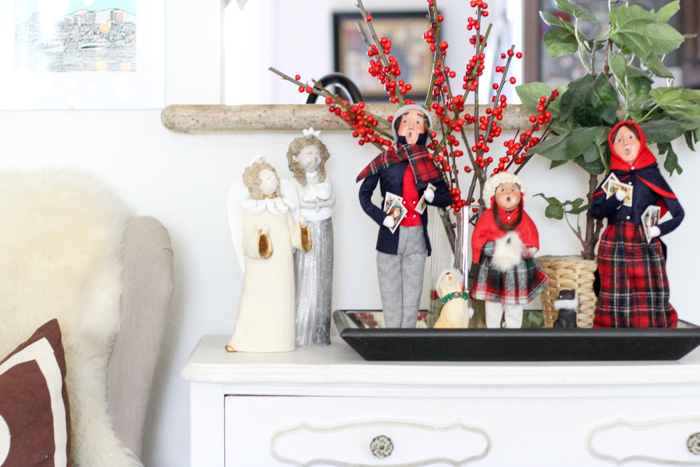 7.  Wreaths aren't just for the front door.
I love a wreath and place them all over the house!  This little sparkly one (with matching garland) is placed in a different place every year.  Last year I used it as a centerpiece, and this year we decided to hang it on the ladder with some leftover burlap from our Christmas tree topper!

Cheers to one of my favorite times of year!  This year I plan to spend plenty of time curled up on the sofa with a big fur blanket and a glass of Seven Daughters Pinot Noir (cue "these are a few of my favorite things").  What are some of your favorite ways to decorate for the holidays? I'd love to hear your traditions and home touches.
Lastly, this framed print is from Minted (has totally transformed our living room), and I want to share that they are giving one CBL reader a $250 credit toward anything from their site. Just visit here to enter!
* Update: our winner was Cassandra! *
Thanks so much for reading and Happy Holidays to all of you – XO –
PS – If you didn't catch Saturday's post, it's a fun one!  I'm sharing some of our holiday photos and how we designed our holiday card!