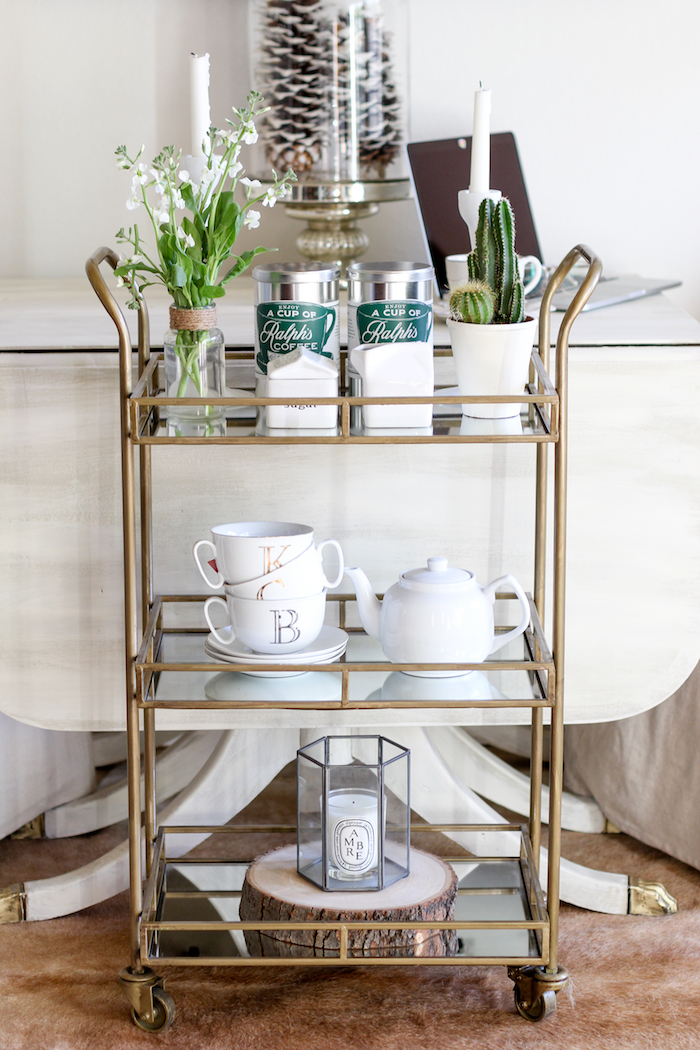 sponsored by World Market
First post of 2016!! Thank you guys for all the sweet words in last week's "best of" post and this Instagram – each of you that engages with me in comments, messages, emails, tweets – you bring so much joy into my life and I can't thank you enough!  I hope everyone had a fab holiday break.  I enjoyed some days off myself, and it was the first time I've unplugged in quite some time. It felt good.
SO, I've had this adorable bar cart since October but it sold out so quickly that I've been waiting to share this fun post with you guys until it's been restocked!  So it was restocked a little over a week ago… and then sold out yesterday – oy vey. NO worries – I'm sharing several other bar cart options that are totally affordable and marked down!
It's obvious what you put on a bar cart… alcohol, right? But there are so many different ways you can style a bar cart. They can be used for multiple purposes, so today I want to share three of the ways I use our bar cart that aren't your traditional booze cruise on wheels (not that I am against that concept, I fully support it!).
First, we have a coffee cart. A great way to use your bar cart when you have overnight guests!  When we have overnight visitors I always pull out the cream and sugar and set the coffee in case they wake before I do and want a cup.  I think pulling out a cart, having it prepped (of course the coffee will be in the coffee pot and the creamer will be stored in the fridge) it such a thoughtful touch.
Second is probably the most common way I use this little cart.  I fill it with candles and light it when we're having dinner.  It gives that romantic ambiance without cluttering the dinner table.
Lastly, kitchen storage! Adding your cookbooks and some cookware is a really cute way to bring the cart into the kitchen without it looking like you're pouring wine in your coffee cup. But maybe you are? I'm not judging.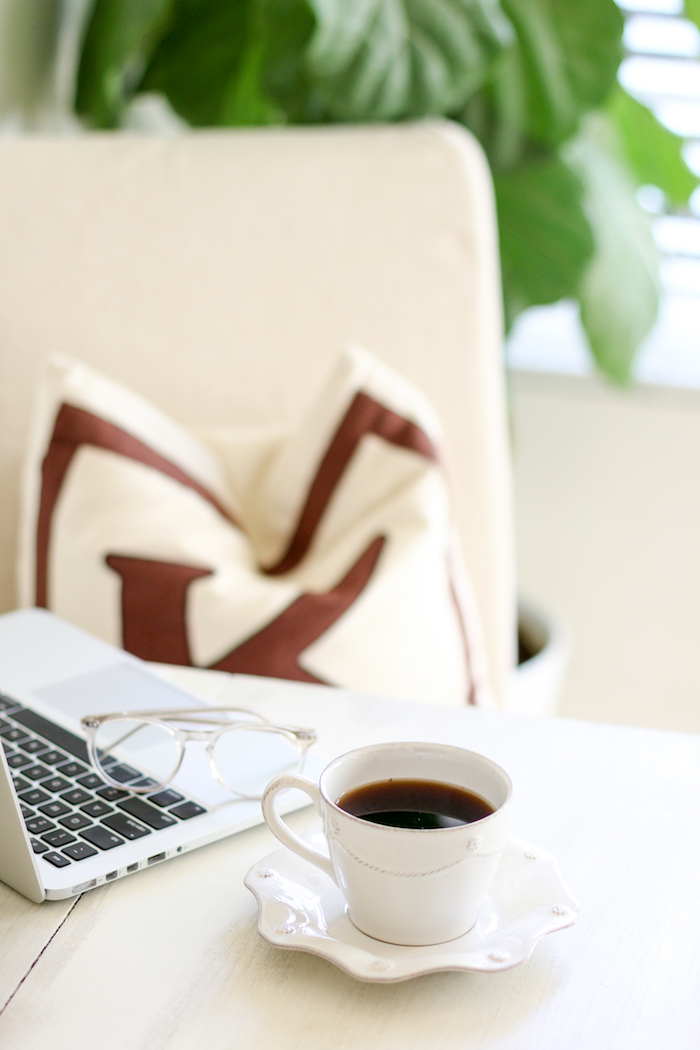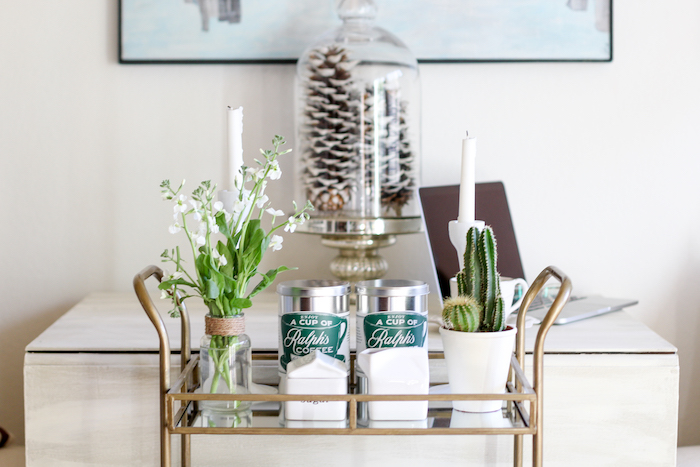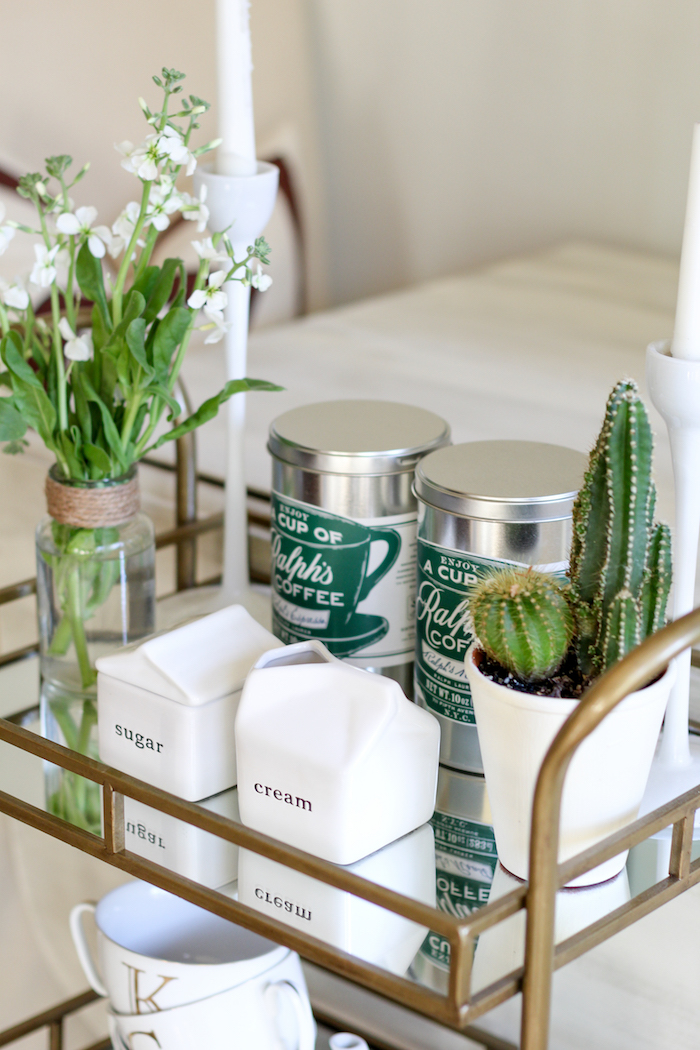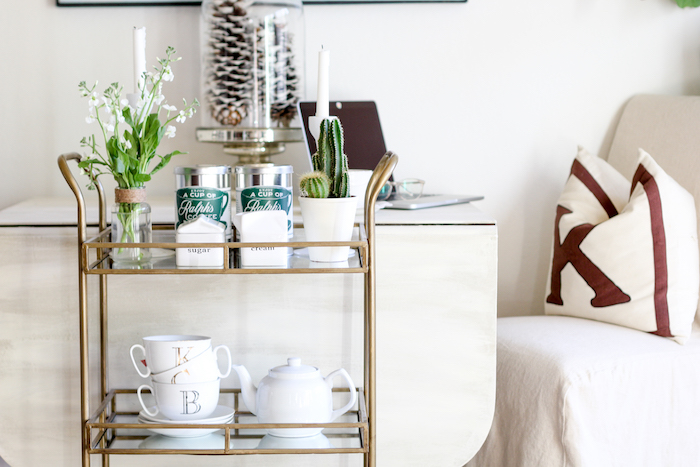 bar cart c/o | Ralph's Coffee | similar wood pedestal | candle c/o | glass container c/o | similar monogram mugs | teapot | candlesticks | sugar and cream containers – Target, old, love these | cup and saucer | chair and slipcover c/o | monogram pillows | similar table here and here
Style 2: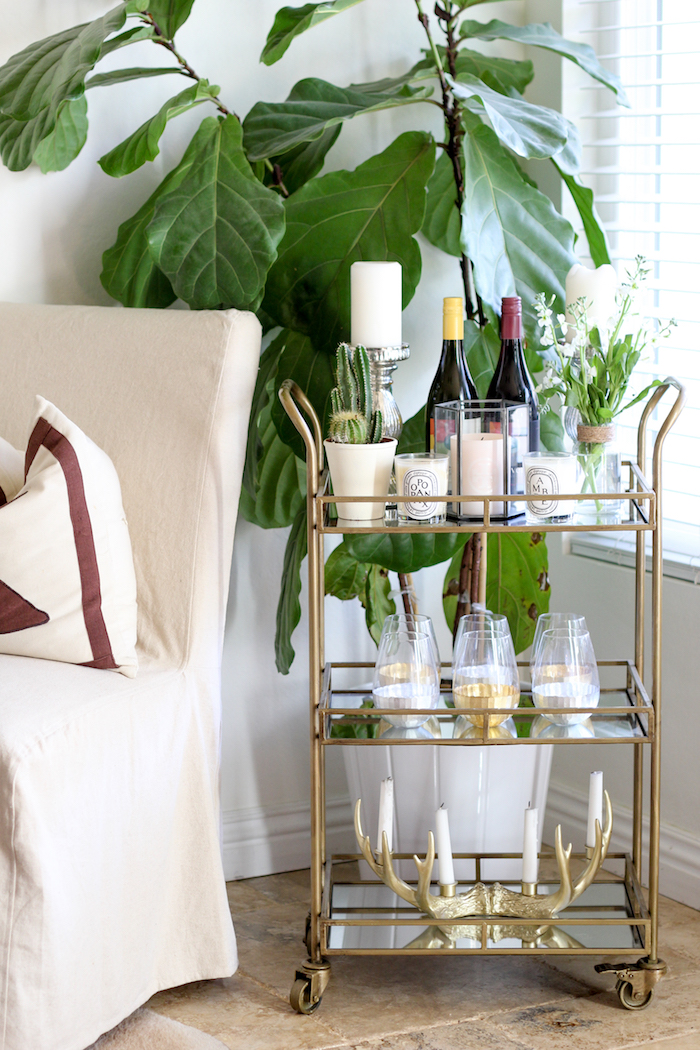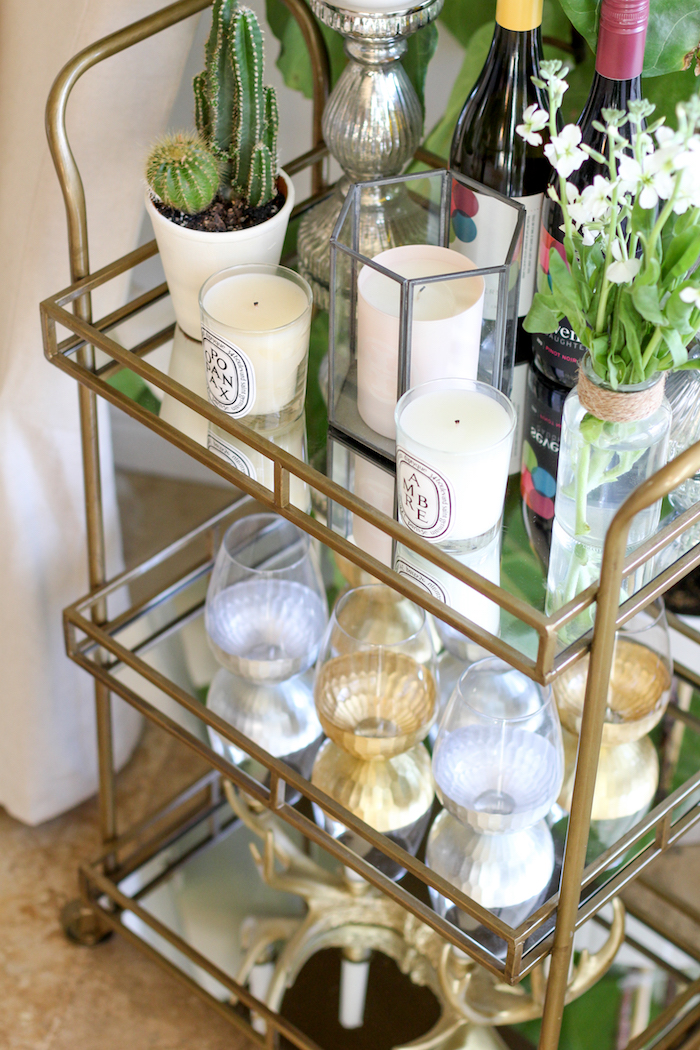 bar cart c/o | similar candlesticks | candle 1, 2 c/o | tory burch candle | similar antler candlesticks | wine glasses c/o | wine c/o Seven Daughters Wine
Style 3:
bar cart c/o | marble utensil holder/wine cooler | similar geode bookends | Annieglass wine coaster | similar pineapple vase | candle c/o | similar colanders here and here

Do you have any ideas for styling a bar cart? I'm always looking for new ways to incorporate it… like a hot cocoa cart, patio bar cart or even nightstand.
Thanks so much for reading – I hope you guys liked this post… I love sharing home posts! XO –