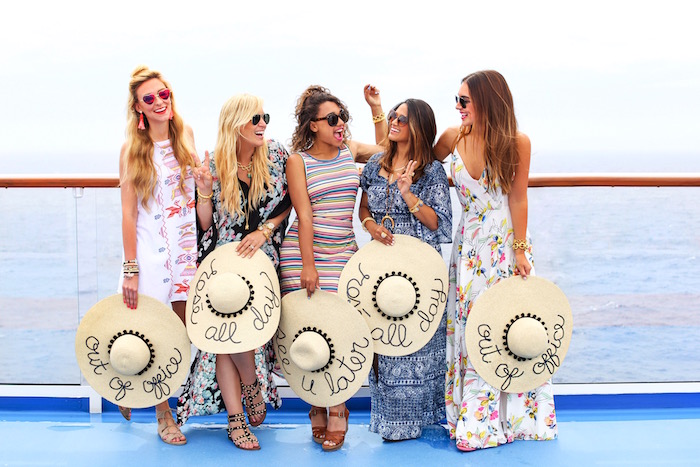 my dress, blog post here | out of office hat | rosé all day hat | see u later hat
A few weeks ago I experienced my first cruise with Royal Caribbean.  I boarded their Anthem of the Seas ship (and found out we were on a practically brand new boat!) with some of my blogger friends Krystal, Nikki, Jenn, Courtney and Summer, and being a cruise newbie, I wasn't quite sure what I would find.
I've heard all of these stories about how small cruise ship rooms can be, so I was a little nervous to check into my "cabin," but I was so amazed at how spacious it was! Honestly, it was hardly any smaller than an NYC hotel room, and I had not one but two closets (a girl's dream, we all know this), a sparkly tile shower, a vanity with a large bulb-lit mirror, a chest of drawers, a queen bed and a balcony with two chairs and a small table. Um… did I say I was on a 5-night cruise? I should have booked the 10-night, because I was just getting settled in to my #cruiselife.
There were three pools on the ship, tons of restaurants, plenty of bars, and my favorite part – numerous options for nightlife on the boat – all planned ahead for you.  Every day we received an itinerary to our rooms of all the events happening on the boat from sun-up to sun-down. Surf stimulators, salsa classes, bumper cars, yoga on the deck, rock climbing, rollerskating – all kinds of daytime activities. We saw a small broadway show, a Journey cover band (seriously so good), movies by the pool – this boat was gigantic.
Perhaps the most fun of all was had in the Music Hall.  Every night this turned into the nightlife spot of the boat – our first night being "Groovy Town," including disco dancers and a brief Jackson 5 performance that was too good to be true (if you follow me on Snapchat: CBLied, you saw this!).  The next night it was normal top 40 music, and our last night was "Silent Party" that may have just been the icing on the cake.  There were two dj's wearing headphones – one was lit up blue and one was green.  Everyone on the dance floor was given a pair of headphones and you could switch "stations" to each of the dj's, back and forth depending on if you liked what they were playing. We're all dancing around with these headphones on, but when you take them off you just see a bunch of crazy adults dancing and singing along to… silence.  Honestly, it was probably one of the most hilarious experiences I've had in 2016 thus fur, and the middle-aged woman scream-singing Adele with her headphones on was the cherry on top.
I was really sad for the cruise to come to an end because it was such a unique and fun experience – we all left the boat talking about where we would want to go next!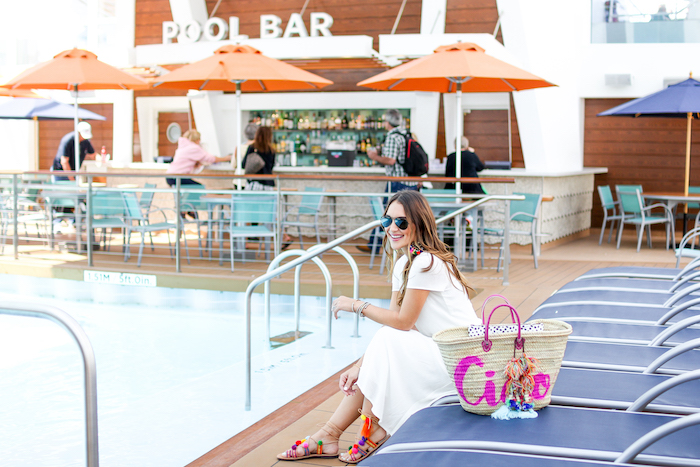 bag | hat | passport cover | clutch | swimsuit (comes in three colors!) | sunglasses | necklace | cuff | chainlink bracelet | sandals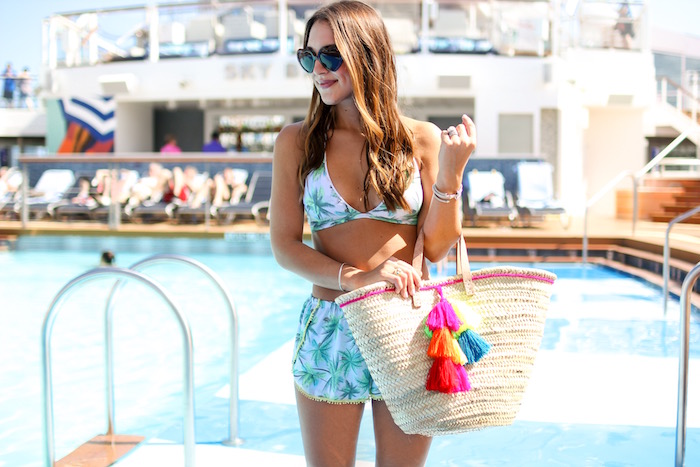 swimsuit, similar here and here | shorts | passport cover | sunglasses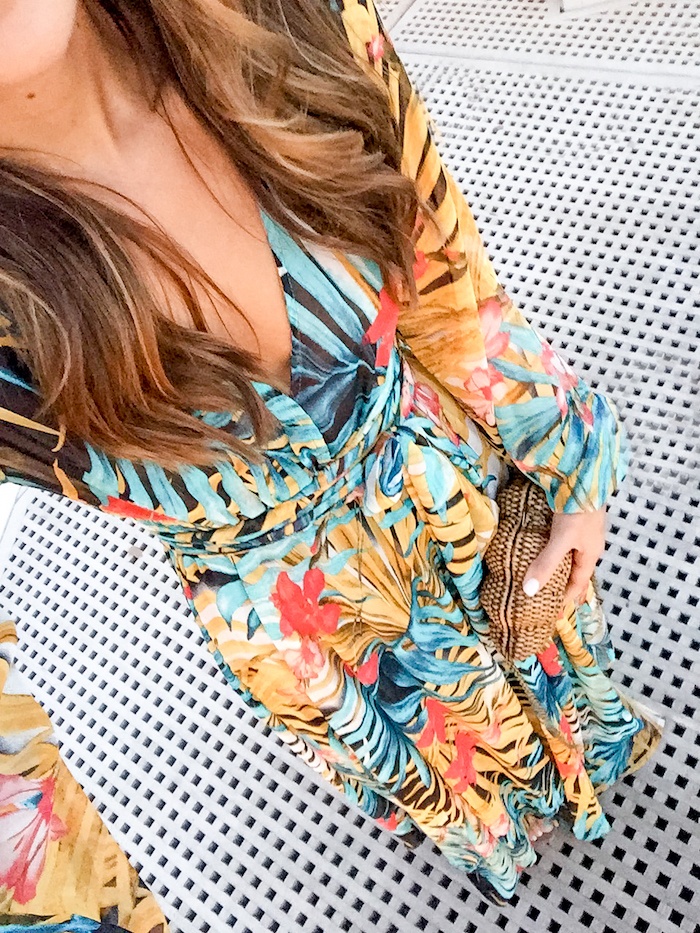 dress – no longer available | clutch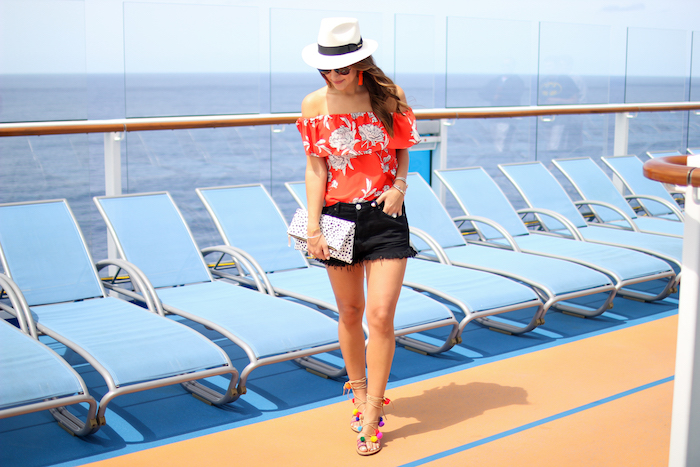 top | shorts, love these too | clutch | sandals | similar hat | earrings
swimsuit | similar shorts | bag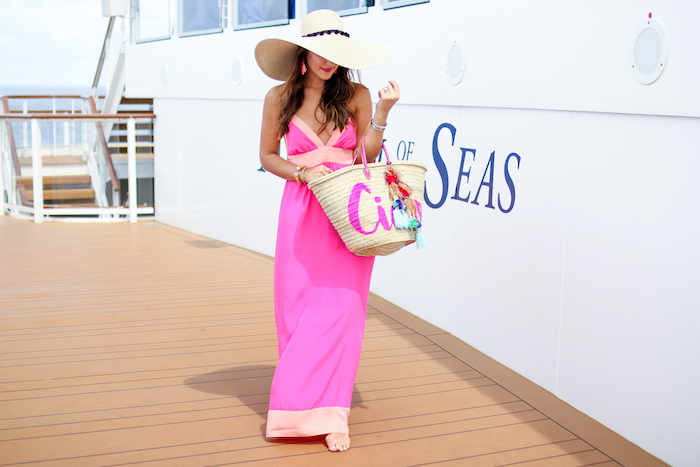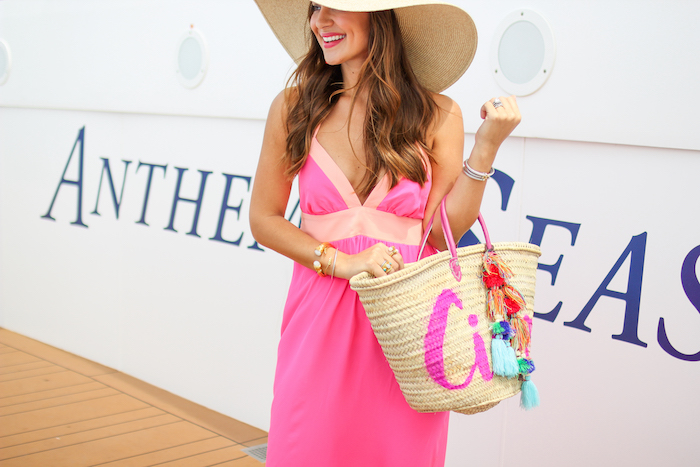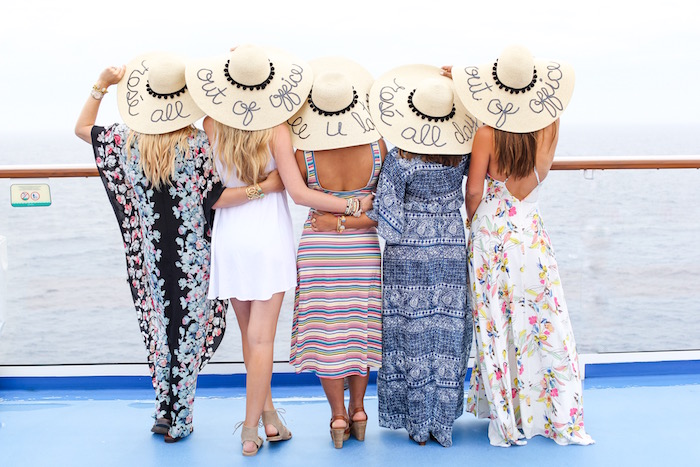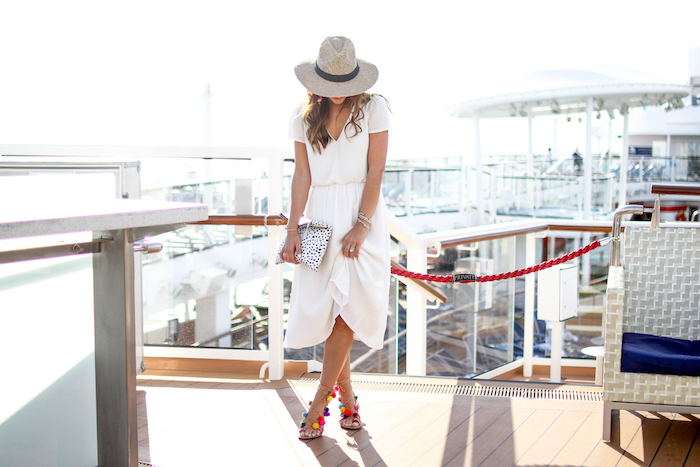 dress (comes in two colors!) | similar hat | sandals | clutch | similar earrings here and here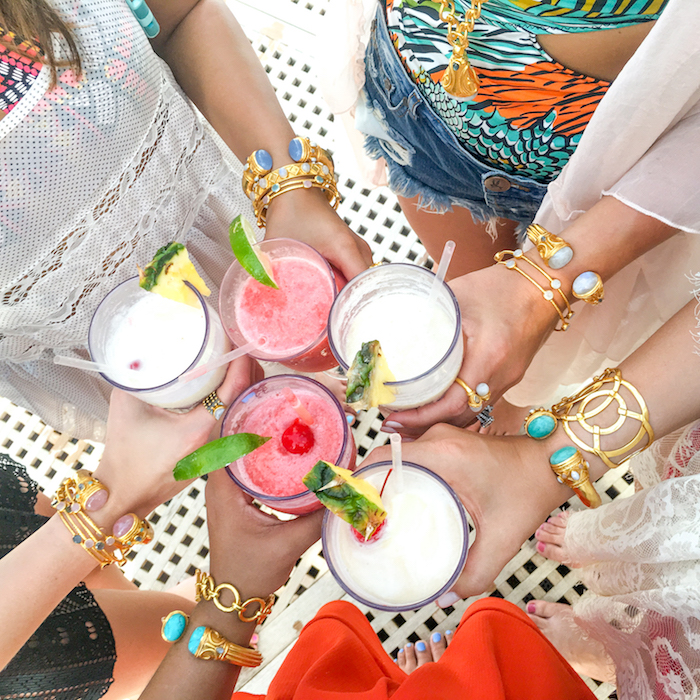 If I had the opportunity to go on another cruise, I absolutely would – hopefully one that stopped along the European coast!  I loved how incredibly easy the entire experience was, and the fact that everything is planned for you really allows you to be carefree and totally relax.  Not to mention the convenience of it all – your feet hurt? Go to your cabin and change.  You want to drop off your handbag in the room? Done. You want a snack? Stop around the corner. I usually plan my excursions ahead of time, but knowing that I could step on the boat and it was all done for me was amazing.
I have another post coming next week from our two days spent docked in Bermuda and will be sharing my tips and recommendations for that as well!  If there is anything I'm wearing in these photos that you don't see linked – please let me know and I'll be sure to get you the source! Thanks so much for reading – XO –
I was gifted this trip with Royal Caribbean, but this post is not sponsored and all opinions are my own.