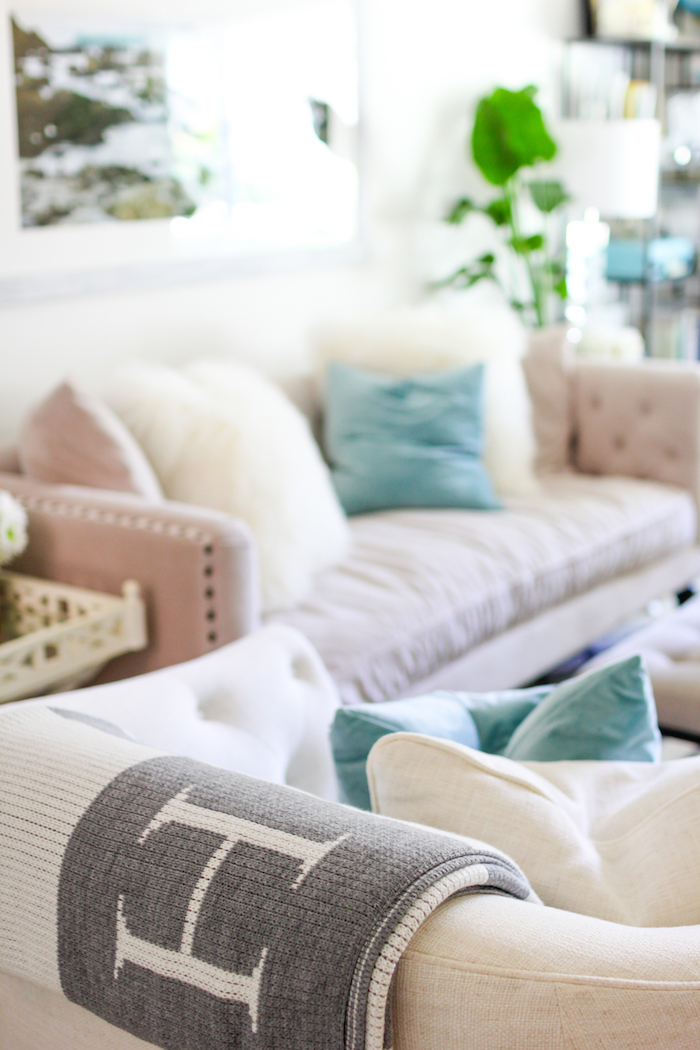 Today I'm teaming up with Seven Daughters Wines to share 7 ways to incorporate greenery and plants inside your home! This has definitely been a new love of mine, so I'm exciting to share my plant-lady-love with you guys. If you follow me on Snapchat (CBLied), you may have seen me count all of the plants in our home + patio on "plant watering day." The grand total was… 18 (excessive), but only five of these are inside!
Until about two years ago, I didn't have a single plant in my home.  I had been wanting a fiddle leaf fig tree, so Christian surprised me with one he picked out from a local garden.  I found a sunny spot for it, and by watering it once a week, it's managed to look beautiful ever since.
This triggered my love of indoor plants, and when we moved the fiddle leaf to the breakfast room to make room for the temporary Christmas tree two holiday seasons ago, I really enjoyed having the pop of green in the new room. SO, I went to Home Depot and bought a new plant… and the story goes on.
I'm now a wino cat-lady turned plant-lady, and I mean… I'm happy as a clam.
I'm going to break down the different ways I like to incorporate plants inside the home – so let's get started!
1.  Traditional floor plants.  I know, I know, this is obvious.  Floor plants are a great way to add a pop of color, and I love they add height and texture to a space.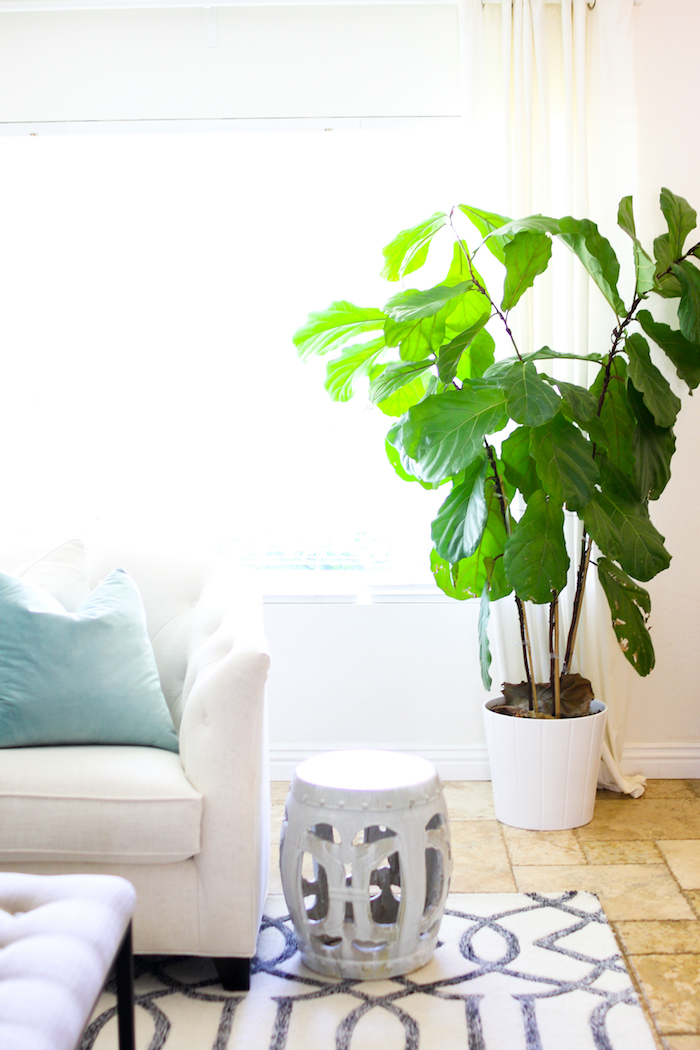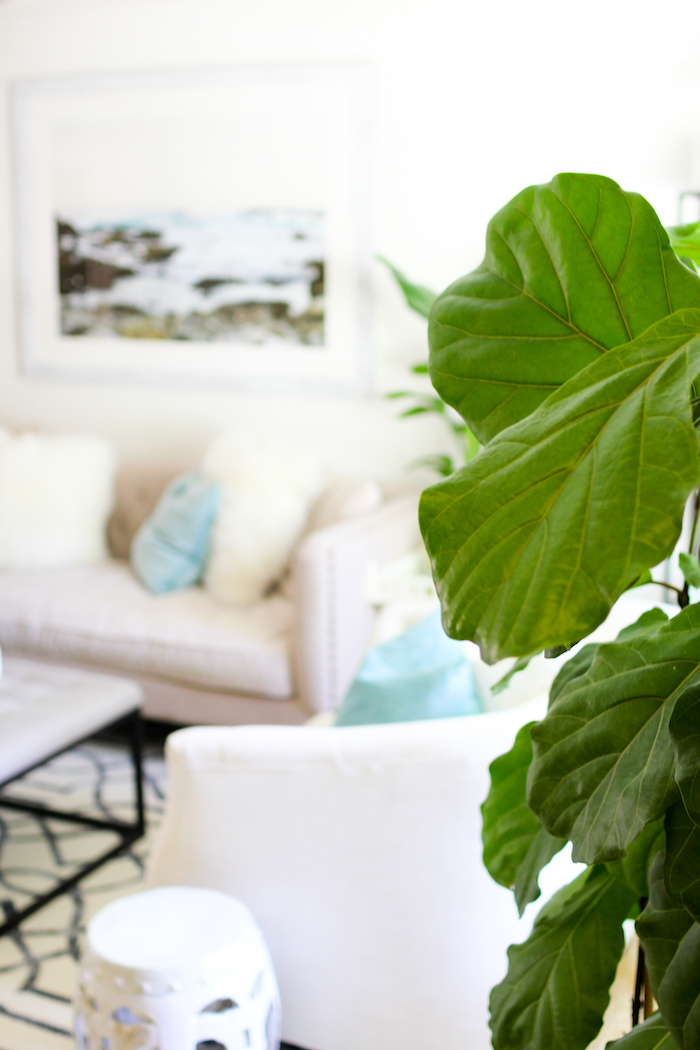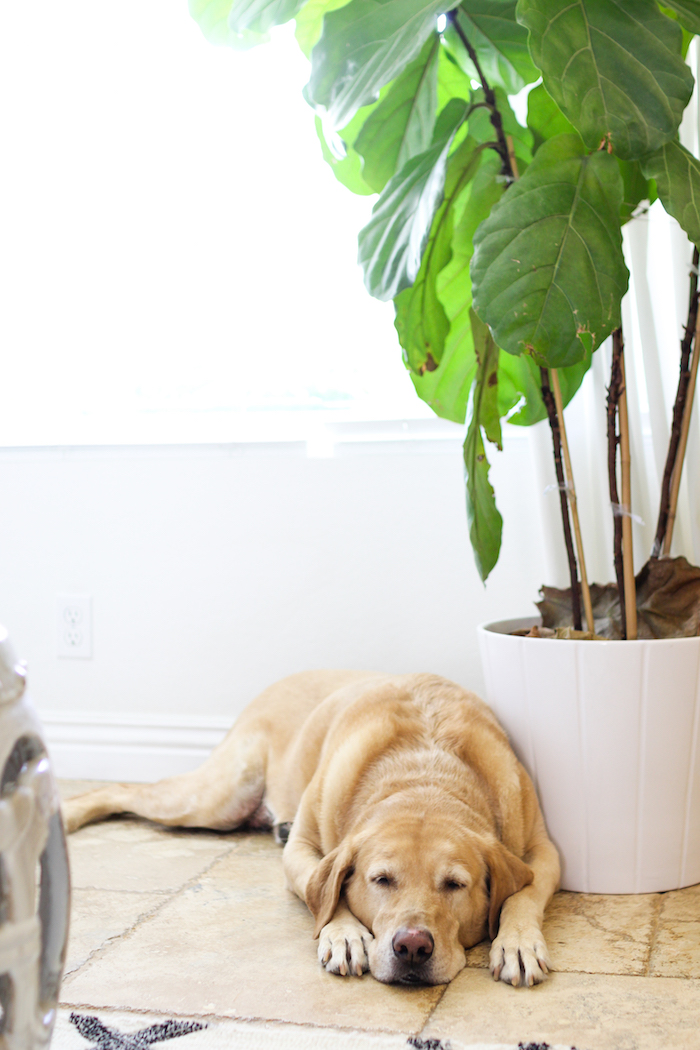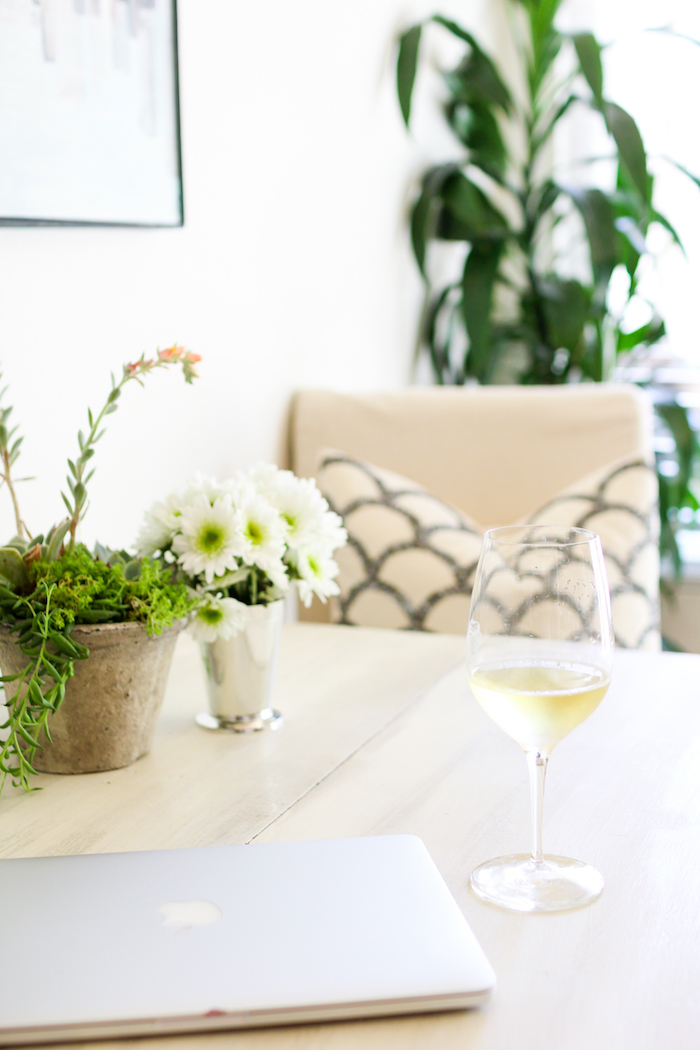 2.  Faux plants.  Don't have a green thumb? Plants can get excessive if you're on round two or three of purchasing a plant. I water all of our plants on Friday mornings (except the basil outside which needs more frequent watering). When I'm going to be out of town, Christian waters them for me.  If you want to add nature and color into your home without the maintenance, there are lots of great faux options. This little potted tree is a faux plant I picked up a few years ago from Ikea.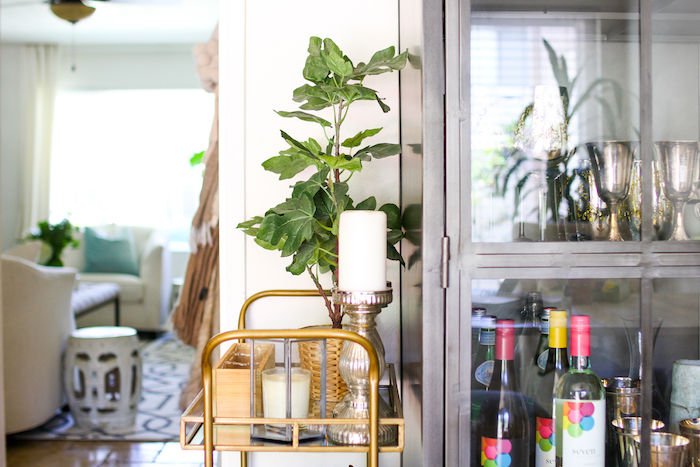 3.  Table plants.  This can be a great way to try out a plant without spending as much money on a floor plant.  I purchased this one for less than $25 at a Home Depot and found the pot for it at Home Goods. You can try out a smaller tabletop plant and see if you can keep it alive.  If it's doing well and you'd like to expand your indoor plant collection, you're ready to splurge on a floor plant!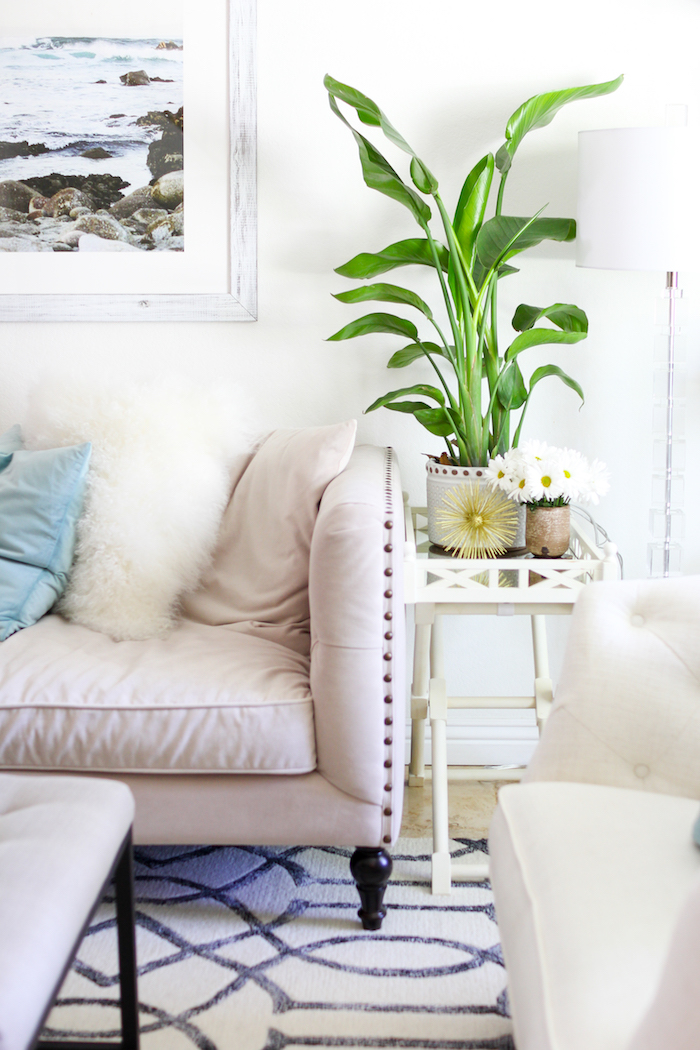 4.  Succulents.  These guys are really low maintenance and hardly require any water (although they DO require lots of sunlight, so they'll need plenty of light!).  I have a small plant mister that I will spritz my indoor succulents with.
5.  Orchids.  I'll pick up an orchid about once a season. They're so beautiful and require very little water, but they do need sunlight! From time to time I'll set mine out on the patio to get some sun.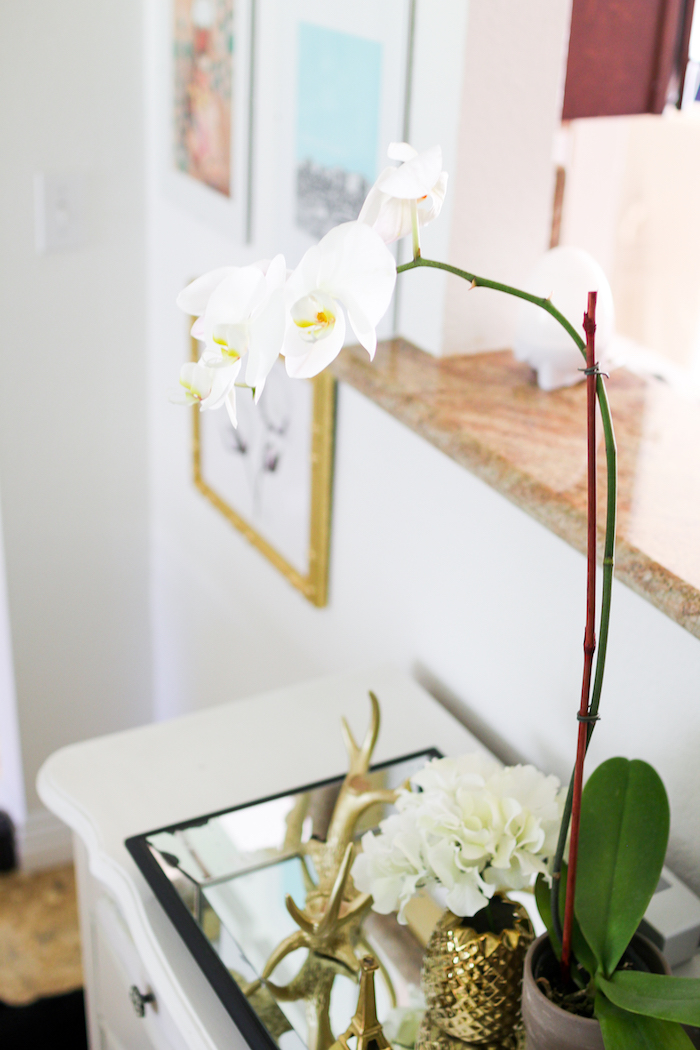 6.  Greenery arrangements.  I tend to lend toward floral arrangements with lots of bright greenery in them. Christian picked up this hydrangea bouquet for me at our neighborhood grocery store with all of these fresh leaves and twigs and I LOVE it!
7.  Pluck twigs and leaves from outside.  On another note, you don't have spend a dollar to try pops of green in your home. I often take a pair of scissors outside our house and cut some twigs off of a tree in the front yard and stick them in vase. True story!  I've gotten to where I almost prefer this over buying fresh flowers.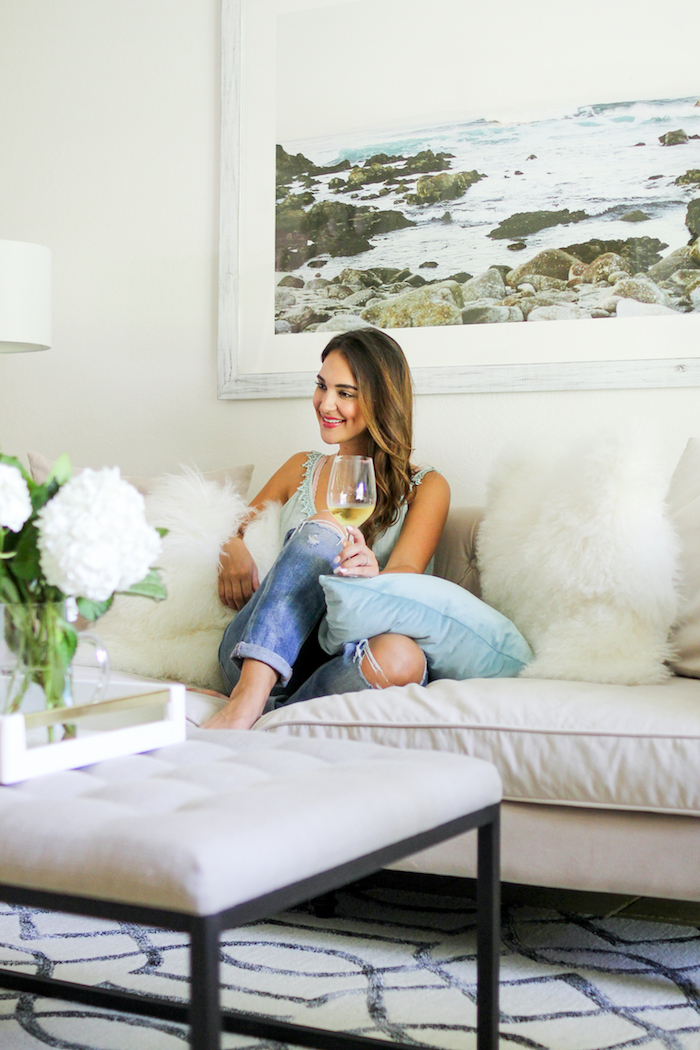 rug c/o Rugs USA | sofa and white chairs c/o | Mongolian fur pillows c/o | coffee table | art c/o | similar velvet pillows | top (part of CBL for Morning Lavender Collection) | similar denim
A lot of you have been asking about our new rug – thank you so much for the feedback! We have had a sisal rug for years, but after a few too many pet vomit incidents, it was time for a fresh start. I wanted to try something more interesting, and this geometric rug has really balanced out the room in a unique way.
And now it's time to sit back, pour a crisp glass of Seven Daughters Chardonnay (or even make a spritzer, my favorite summer drink!), and get back to our Stranger Things marathon. Have you guys been watching this show!?
Do you have a favorite indoor plant – real or faux? I'd love to hear about it! Thanks so much for reading! -XO –
Brought to you in partnership with Seven Daughters Wine