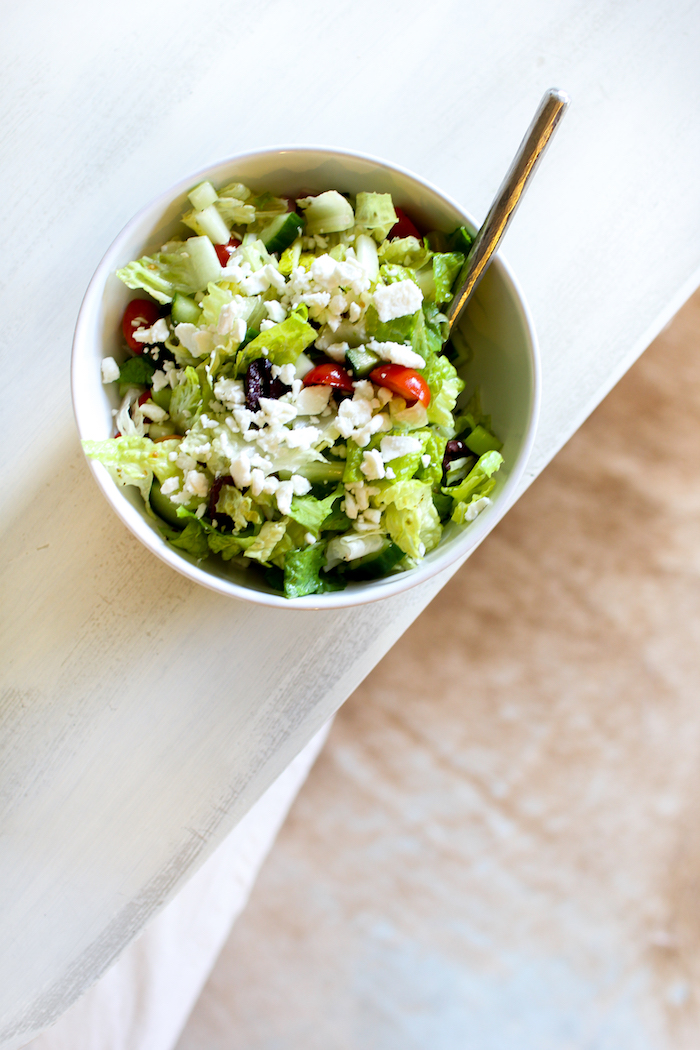 If you follow along on Instagram, Insta-Stories or Snapchat (CBLied), you probably know that I cook at home… a lot. I've gotten a lot of questions from you guys about certain recipes and so many of you screenshot the dishes I share SO… I thought why not try to mix in some of my favorite healthy eats a few times a month!?
I used to share more cooking posts (you can find them under the "Food & Drink" category), but I kind of slowed down because they were never my own original recipes, I was just cooking and crediting my favorite food bloggers. I'm happy to share my favorites as long as I link back to the source, so let me know what you guys think about more food and recipes and I'll get on it!
This month I wanted to share a handful of the quick and easy dinners I've been making since I've gotten back from Europe. I definitely enjoyed plenty of baguettes and croissants, so I'm trying to go light on the carbs at home.
1. Greek Salad. I love making this for lunch, but it's great with dinner with some seared salmon or grilled chicken. Full of fresh veggies and flavor.
2. Broccoli Rice and Shrimp "Fried Rice." I've eaten this multiple times (if you follow me on Snapchat: CBLied) in the past few weeks, but it's seriously SO yummy and really helps cure the fried rice craving I have from time to time. If you're really counting calories ditch the cashews!
3. Chicken Nachos. I don't even know what needs to be said besides…. YUM.
4. Garlic Parmesan Spaghetti Squash. I wasn't as in love with spaghetti squash as everyone else seems to be… until I simplified it. This dish is just squash, butter, garlic and cheese and seriously tastes like a rich pasta without the guilt. SO GOOD!
5.  Tilapia with Lemon Butter Sauce.  Christian isn't really a salmon or tilapia person, but I love keeping some tilapia in the freezer for unprepared nights because it's so easy. I was determined to change his mind and this recipe is actually on the Trader Joe's tilapia packaging. It is DELISH. So good that C actually said, "this tastes like it came from a restaurant." I usually serve it with brown rice and steamed veggies. Yum!
I'll be drumming up my favorites for February. If you have any New Year favorite dishes so far, I'd love to hear! For those of you doing Whole30, I share my experience and favorite dishes here: Week One | Week Two | Week Three | Week Four.
Thanks so much for reading! XO –