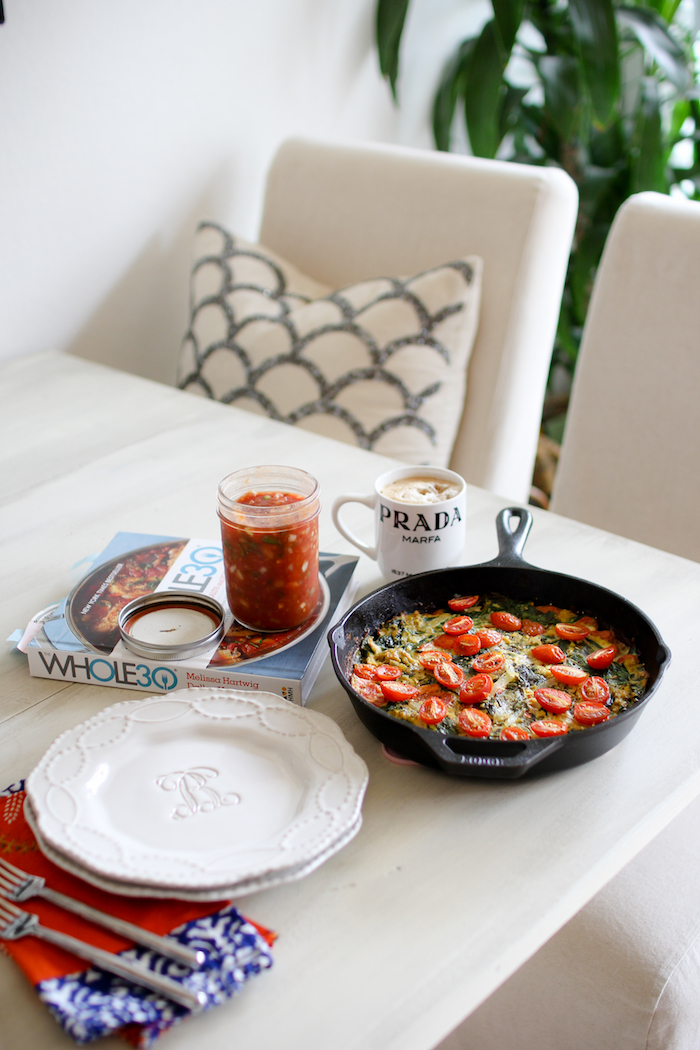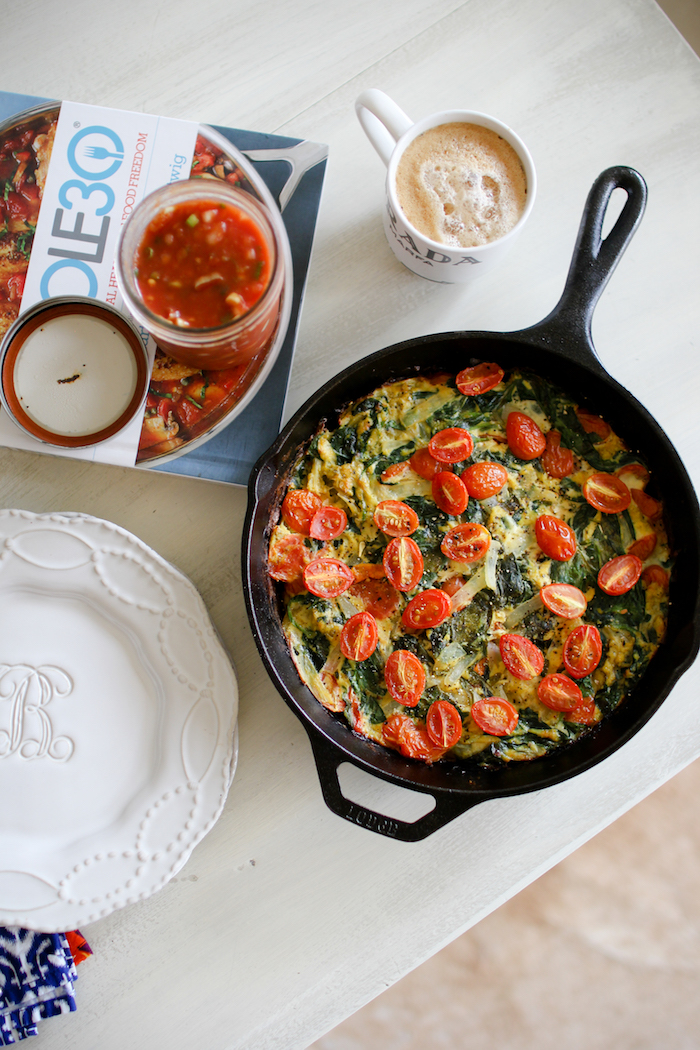 In  last Friday's post, I asked you guys if you were interested in Whole30 updates this year and was really surprised that so many of you said yes, SO here we are! Last year I covered Whole30 by a weekly breakdown (you can see all of those in the "food" category of this site), and this year I'm going to be replacing Friday's Five with Whole30 updates for the duration of this month. Let's get into it –
PROS: 
I have a lot more energy – major perk!
I feel like a balloon that has been popped. I am always shocked at how many grains I eat on a daily basis when I take them away. Yowza!
I love having three healthy meals a day and no snacks. I'm not a snacker and this has just reminded me how much better I feel when I stick to meal times.
CONS: 
I miss wine. No surprise there, you guys know I'm a major wine-o!  When I have a really bad craving for it (like on Friday or Saturday night), I pour myself a small glass of organic concord grape juice. I know that technically you're not supposed to drink juices… but I don't have any guilt about this in times of desperation.  OR I'll pour sparkling water in a wine glass with a lime wedge. 20 minutes later, my craving has disappeared.
I find myself dreading social situations that might involve food/beverages. This is my #1 dislike of any cleanse or eating program… I don't need any more reasons to stay home. I'm already such a homebody!
FAVORITE RECIPES…
BREAKFAST: 
I made these these egg cups (I skipped the sausage and just made them veggie), and the best part about it was not having to think about breakfast. Definitely plan on pre-cooking recipes for weekday mornings. So easy.
I tried the Whole30 method of cooking bacon in the oven (375 on an aluminum lined baking sheet for 15 minutes) and found it SO much easier than the skillet. Small victories!
I made this frittata (pictured above) and it was really good and a nice change after eating the same thing for breakfast for a week.
I've started making bulletproof coffee. So far I really love it because I feel like it gives me more energy. I'm going to try to stick with it!
LUNCH: 
I made my own mayo for chicken salad. I prefer chicken salad with greek yogurt over mayo, but for the time being this will have to work! I also add walnuts or almonds to this recipe.  I put a couple spoonfuls on a bed of lettuce or wrap them up in lettuce wraps.
I like to buy this salsa from Trader Joes and add green onions and red onions to it to make it chunkier. Basically I'm trying to recreate my favorite salsa from our local Mexican restaurant and it works pretty well! I'll eat it with plantain chips (or add it to a veggie egg scramble), and I'll have some grilled chicken or protein on the side for lunch.  One might say I am addicted to this salsa.
This is the best egg salad recipe (I also shared it last year here), and I like to have it cold with leftover roasted finglerling potatoes.
DINNER: 
I made this spaghetti squash and meat sauce and ate it off and on for nights when Christian worked late. I also tried it on zucchini noodles and it was delish.
This is always a weeknight go to recipe for me – fried "rice" without the grains and with waaayyy less calories (ditch the soy sauce if you're on Whole30).
I made this shrimp recipe and put it on top of cauliflower rice. Really good.
That's about it for now! I'll share another update next Friday.
Let me know if you have questions or recommendations! My girlfriend Marissa of Style Cusp has done Whole30 multiple times and does a great job of sharing it on her site too. You can view her most recent post about it here. Thanks so much for reading and have a great weekend – XO –