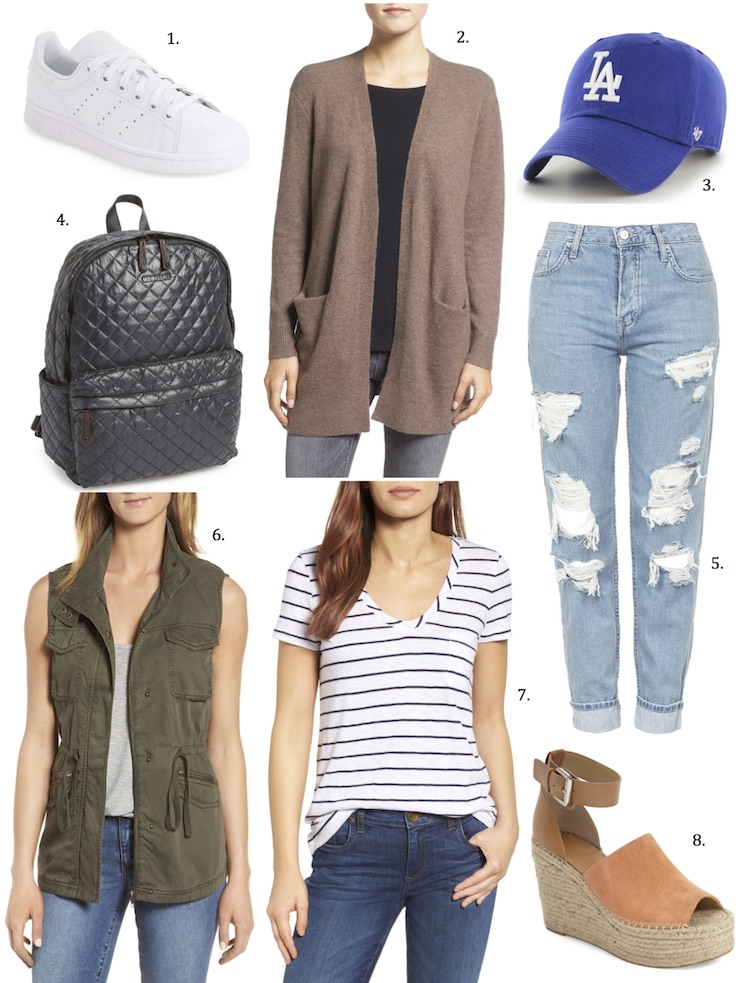 Can you believe it's back to school time? I feel like it always sneaks up on me, and then I'm like… well here we are.  I'm rounding up some of my ultimate picks for heading back to the grind. Let's get into it –
1.  Great Sneakers | You gotta have a great pair of kicks. My pick for everyday wear would be these or these.
2.  Cozy Sweater | I bought this sweater during the Anniversary Sale and can't stop wearing it. So cozy! My other picks would be this one or this one. Perfect for classrooms when you need something a little soft.
3.  Baseball Cap |  I mean, as soon as the day is done you gotta throw on a cap – truth be told I still love C in a backwards cap. Also love this one.
4.  Stylish Backpack |  I have this backpack and wear it when I travel all the time. Pick a stylish one over a typical backpack and you can really wear it all kinds of ways throughout the year instead of just to school. Also love this one and this one!
5.  Boyfriend Jeans | The most comfy pair of jeans in my opinion. Perfect for sitting all day. Love this pair too!
6.  Utility Vest or Jacket | You would be shocked at how versatile this really is. I wear my utility vests and jacket with almost everything in the fall! I also love this one and this one.
7.  Striped Tee | I mean – everyone loves a great striped tee. I also love this one!
8.  Espadrilles | I've had this pair over a year and they continue to look cute with everything. Love that they come in multiple colors!
What's on your must-have back to school list? I'd love to hear. Thanks so much for reading! XO –