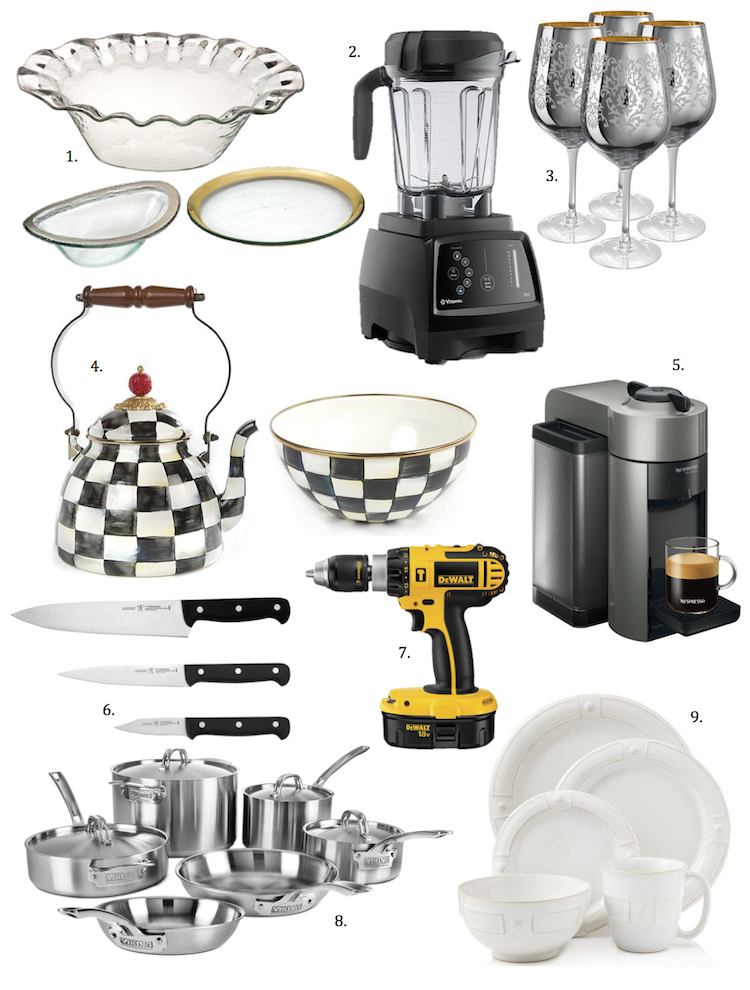 1 – ruffled bowl, plate, mini bowl | 2 | 3  – also have and love these | 4 – kettle, bowl | 5 | 6 | 7 | 8 | 9
I've had this post on my mind to do for months! I'm excited to finally pass on some wedding registry tips now that I've been married almost five years.
One of the best things I did when I registered for our wedding was… taking my sister-in-law instead of Christian. That sound harsh, but I'm serious!  My SIL had been married for a few years, and I thought she would be really helpful. She knew what she wished she had registered for and what she received that she didn't use that much.
To be honest, Christian was a-ok with skipping the hours of walking up and down aisles of kitchen products. At the end of the process, we had hundreds of dollars of credit leftover. I handed it over to him and said, "go crazy!"  He ended up getting some extra knives, grilling tools and a Yeti cooler. See? Everyone wins.
With all of that being said, let's get into my most loved and used items! In the appliance world, our Vitamix and Nespresso VertuoLine are used the most. What I have and don't use much at all are my food processor (I ended up returning it) and KitchenAid. It hurts my heart that I never use my beautiful KitchenAid, but I end up using my handheld mixer so much more because it's so quick, easy and lightweight.
The best advice my SIL said was to invest in nice pots and pans. She couldn't have been more right. I chose Viking because my family is from Greenwood, Mississippi (the Viking HQ), but Calphalon is another great brand. I use these every single day and have recently added some MacKenzie-Childs pans to the mix too!
I chose Juliska as my everyday china, and we really love it. We've since added the loaf and muffin pans, cups and saucers and so on to our collection. It's great because Christian knows that extending the pattern is always a great gift idea, and it's available at Bloomingdale's and Amazon.
My favorite serving pieces are hands down MacKenzie-Childs and Annieglass. I use them all the time, and even after several years I cherish the unique and beautiful pieces.  It always feel special to pull them out.
Last but not least is the least glamorous but still important tool – a hand drill.  C and I are about to move for the fourth time in five years, and this baby comes in handy each time!
If you're married, what are some things you're glad you registered for? What are the item you never use?
Single gals, what is the piece you know you definitely have to have?
Thanks so much for reading and sharing – XO –