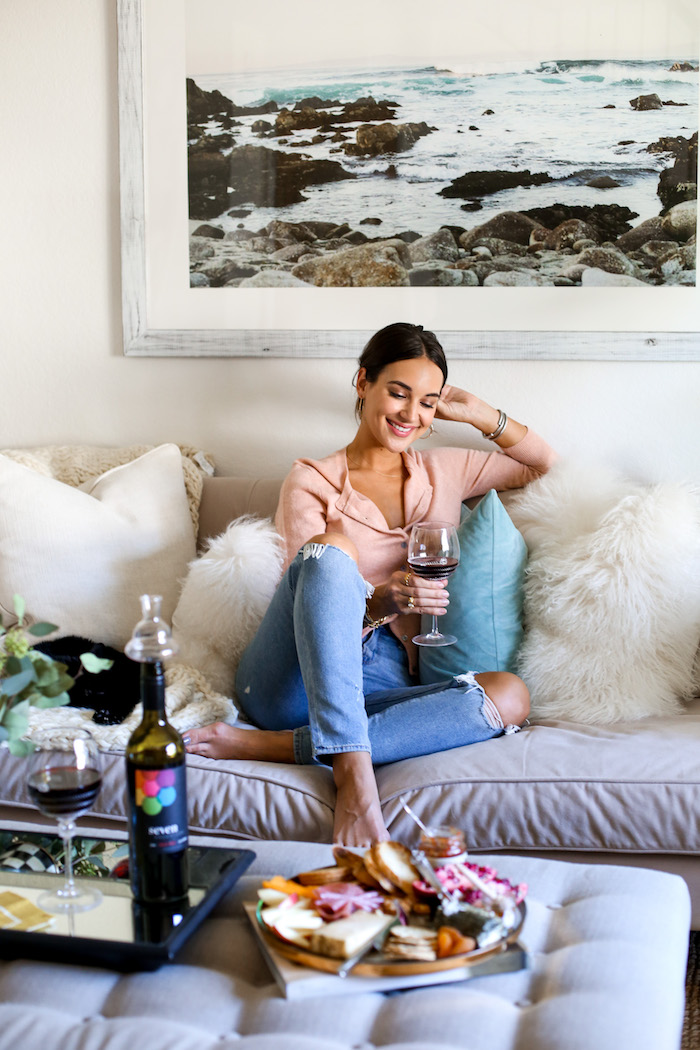 I love sharing holiday posts with you guys, and this year I'm getting a head start by sharing some of the ways I keep things low-stress when hosting.
This will be our fifth Thanksgiving and Christmas in California, so I've had fun learning each year how to cook the whole meal (with the help of my sister-in-law who is a great cook) and have fun while doing it.  I definitely envy my friends who can just show up to their Aunt's house with a pie, but I want to share some of what I've learned over the years!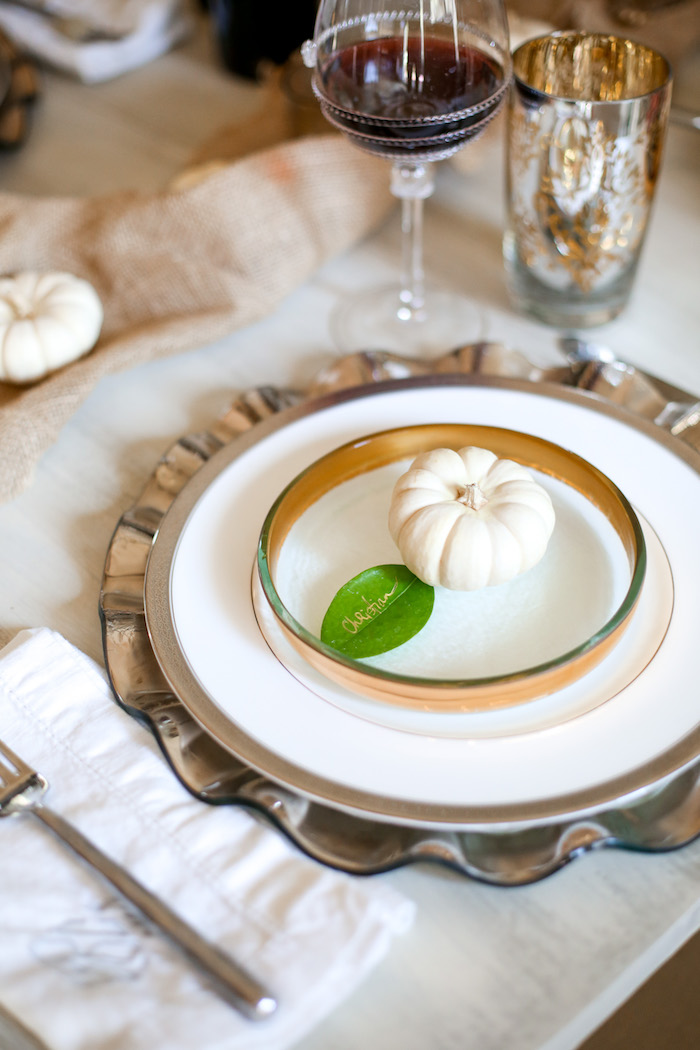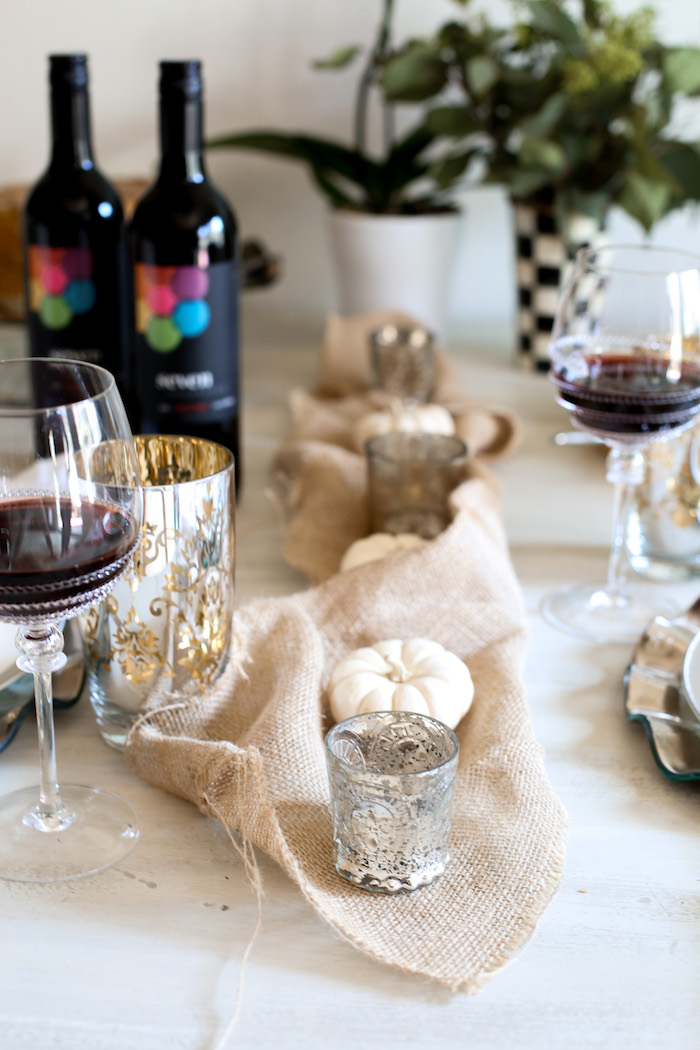 1.  Do as much prep as you can ahead of time.
This is probably the biggest no-brainer tip, but it makes a big difference. The first few years I had a full-time job + CBL so I would prep things at night.  Now I am lucky to work from home so I can spend the entire day before cooking and prepping, playing holiday movies on my laptop and sprinkling cinnamon on everything!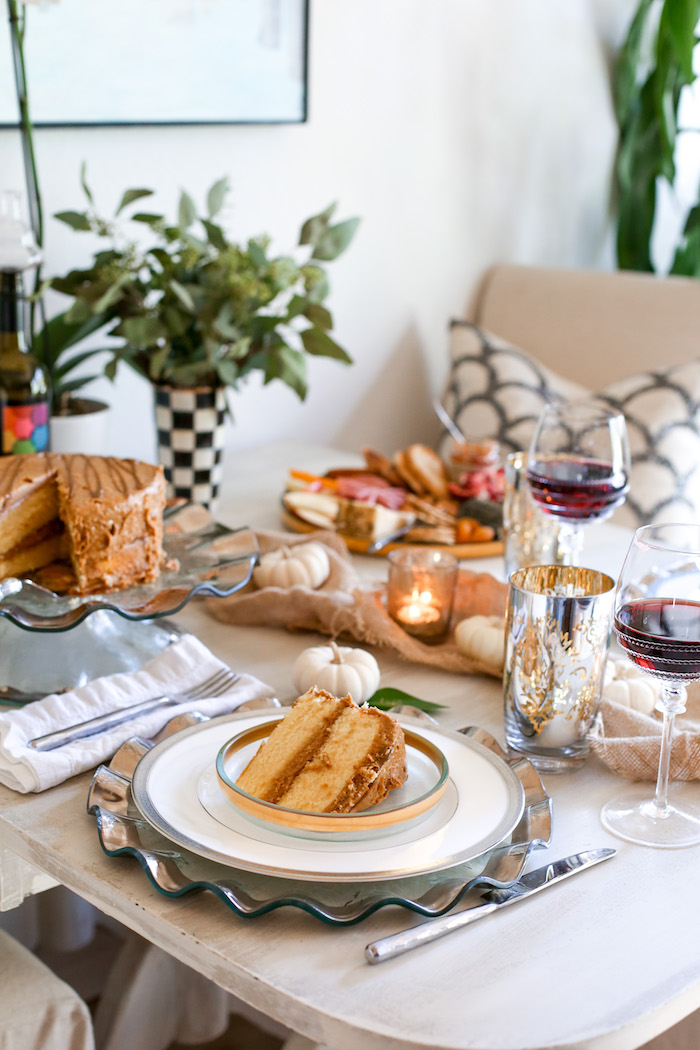 2.  You don't have to make everything from scratch.
I mean… cut yourself some slack. Store-bought rolls, a pre-made casserole or a pie from a bakery never hurt anyone.  One year I spent all this time trying to make gravy (I don't even eat gravy) and it wasn't even good. The next year I bought gravy in a plastic container which tasted better than anything I could have made.

3.  Skip the complicated appetizers and opt for a cheese plate, or frozen goods.
These pigs in a blanket and this dip are frozen from Trader Joe's and always crowd pleasers!

4.  Set your table the day before… and have fun with it!
By taking time the day before to set your table, you can have fun with it and play with it until you get it just right. I usually add greenery from outside and wait to add that the day of so it's fresh.

5.  Ask your guests to bring their favorite dish.
Everyone has a sentimental dish, so invite your guests to bring something they love! It's also a fun way to try something new.  Christian grew up with creamed spinach and I never had that during the holidays but now I'm trying to master it!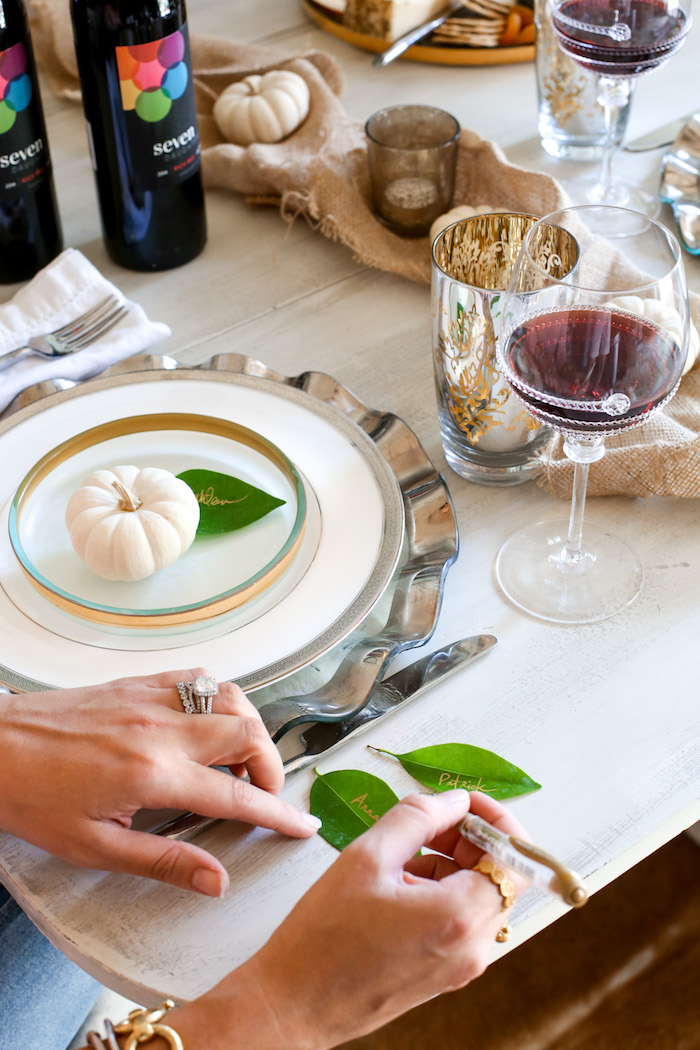 6.  Place cards are a thoughtful touch and eliminates the whole "where do you want us to sit?" confusion.
I like to write names on greenery, but there are tons of charming ideas on Pinterest!

7. Have a glass of wine and remember that the holidays are for enjoying time with loved ones and making memories. You don't want to be stressed in the kitchen the whole time!
Red wine is my go-to this time of year and Seven Daughters Red Blend is smooth and well-rounded. I pour myself a tall glass and try to remember that the holidays area about love, no matter where you're spending the weekend. Cheers!
similar sweater here and here | similar denim | breakfast table – antique, paint tutorial here | chairs & slipcovers | art in kitchen – by my mom | art in den | sofa | similar ottoman | mirrored tray | similar fur pillows | similar blue pillows | blanket | cheese plate | ruffled cake stand | wine glasses | water glasses | ruffled chargers | similar dinner plate | dessert plate | napkins | vase | Seven Daughters Red Blend available at Uncorked.com, Target, BevMo, Whole Foods and Sprouts
You can check out Seven Daughters on Facebook and Instagram and find their wine in your area here.  AND the code CBL7D is good for 20% off any Seven Daughters purchase on Uncorked.com! XO –
Photos by Christian Barnes
Brought to you by Seven Daughters Wine