A few weeks ago I was considering doing Whole30 again this month (you can see all my posts on Whole30 here).  After watching What the Health, I decided to challenge myself to eat plant-based for a month instead (this means eliminating meat and dairy from my diet)!  When I shared this on Instagram, you guys said you'd be interested in weekly check-ins, recipes, etc., so here we are.
I've been buying only organic, free range/cage free meat and dairy products since I watched Food Inc. many years ago.  It changed the way I grocery shop.  I've said it before, but one of the most impactful parts of the film was when the narrator said "every time an item goes across the grocery scanner, you're voting."  That means I'm voting for the treatment of animals, the handling of my produce, the employees who work at these farms, etc.
First thing first, I do feel the need to share that I don't have a problem with people eating meat, and my father-in-law even owns a cattle farm.  I just want the animals to roam around on grass, live normal lives and be treated kindly while they're living.  I would happily eat any dairy from my father-in-law's farm if they were dairy cows!
Food is a touchy subject for many, so I just wanted to be honest that I am doing my best to eat plant-based, but I'm not going to beat myself up if I find out a product has a non-dairy ingredient I missed.  This isn't an allergy, therefore it's not an emergency.  Everyone makes the choice that is right for their bodies, and I completely support that.  I'm doing my best to read ingredient lists and use helpful sites like this one that list all the vegan foods at Trader Joe's (this Instagram account is great too).
I will be sharing any inches or weight loss at the end of the month (note: I've already seen the numbers go down which is kind of crazy).  That being said, weight loss is not the reason I decided to do this… but it's a welcomed result, let's be real.  I've chosen to adjust my diet for a month to see how it makes me feel, to help me recognize where my food comes from, and to push me to explore more vegetarian recipes.
So basically, I am a full Californian now (said in this accent).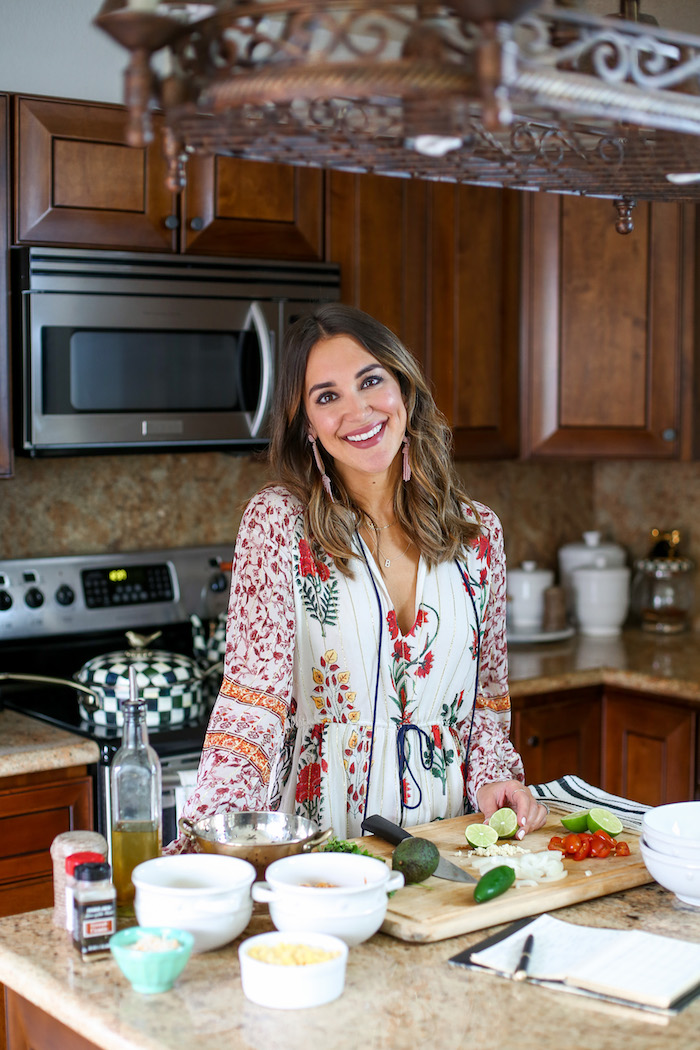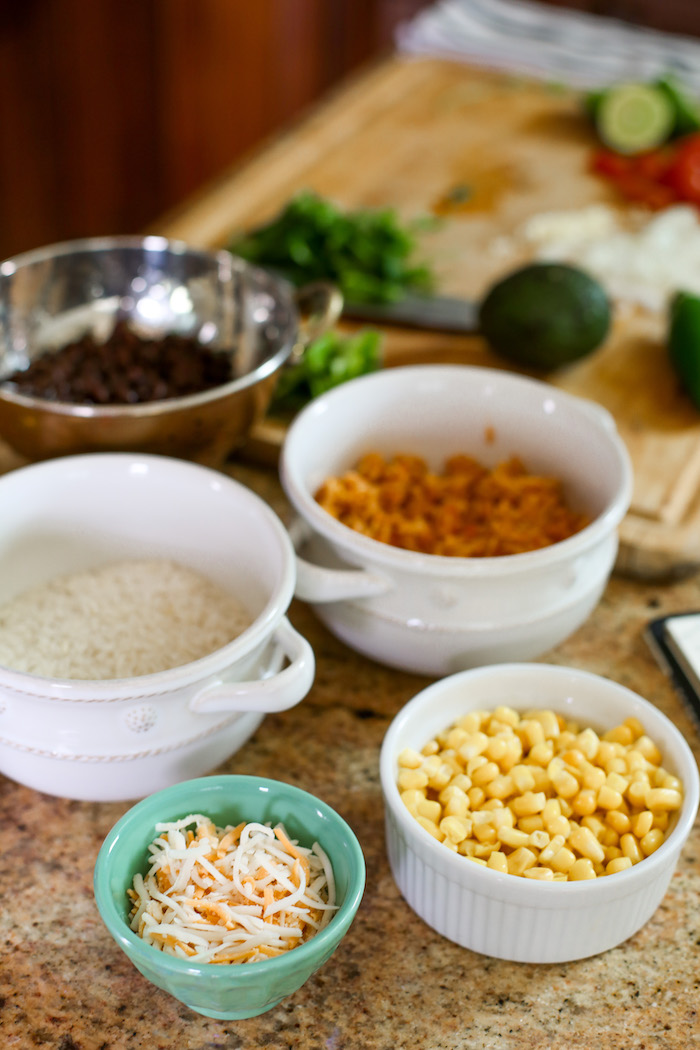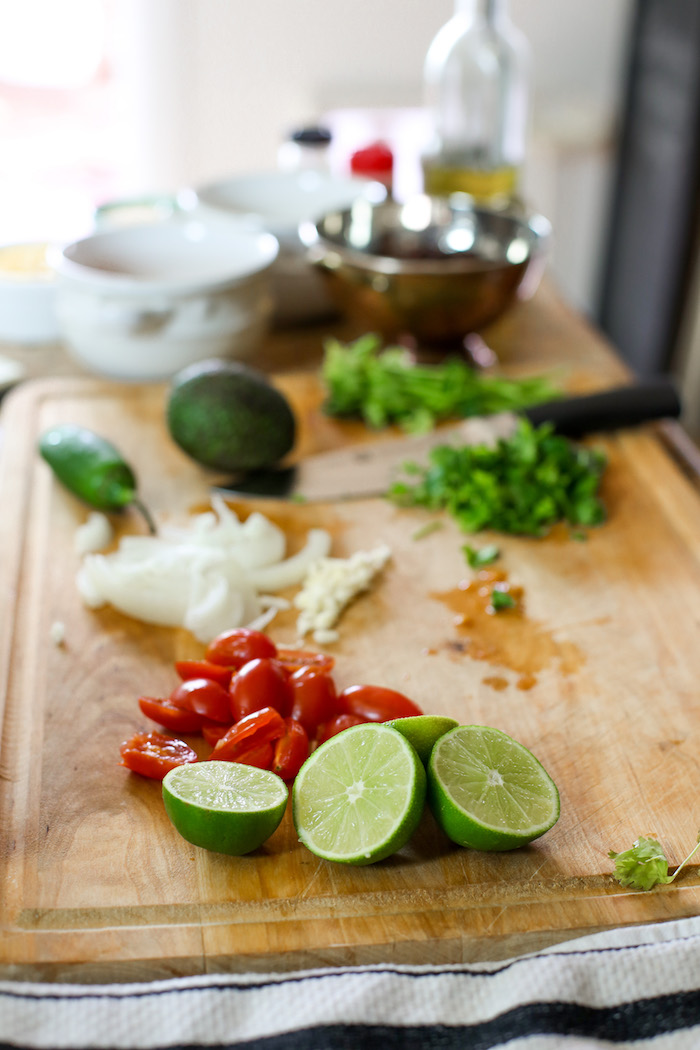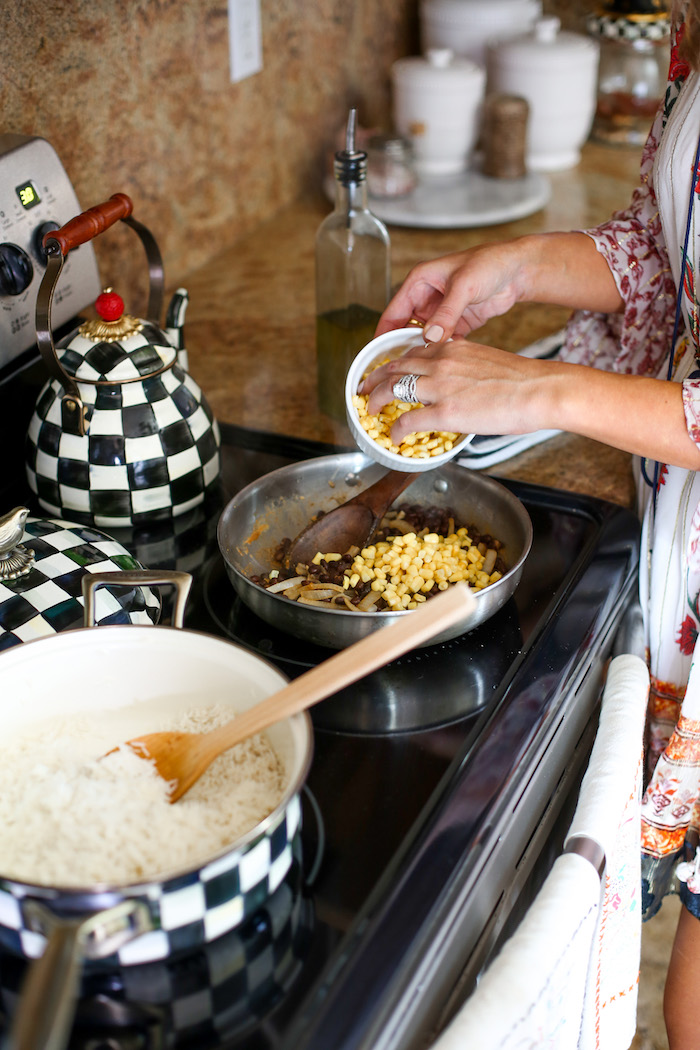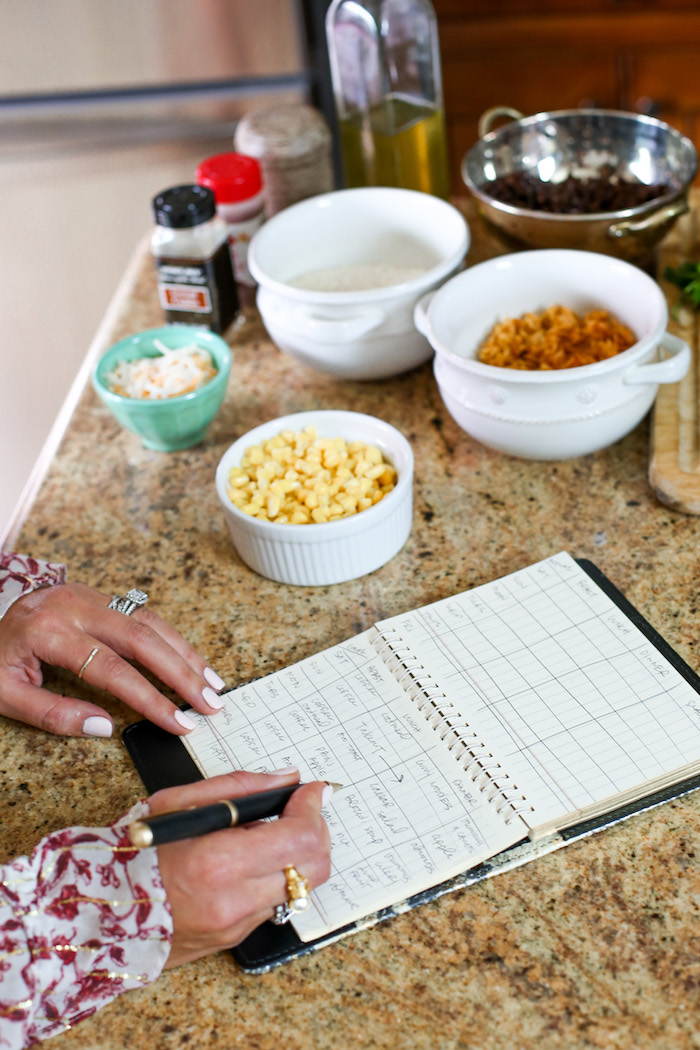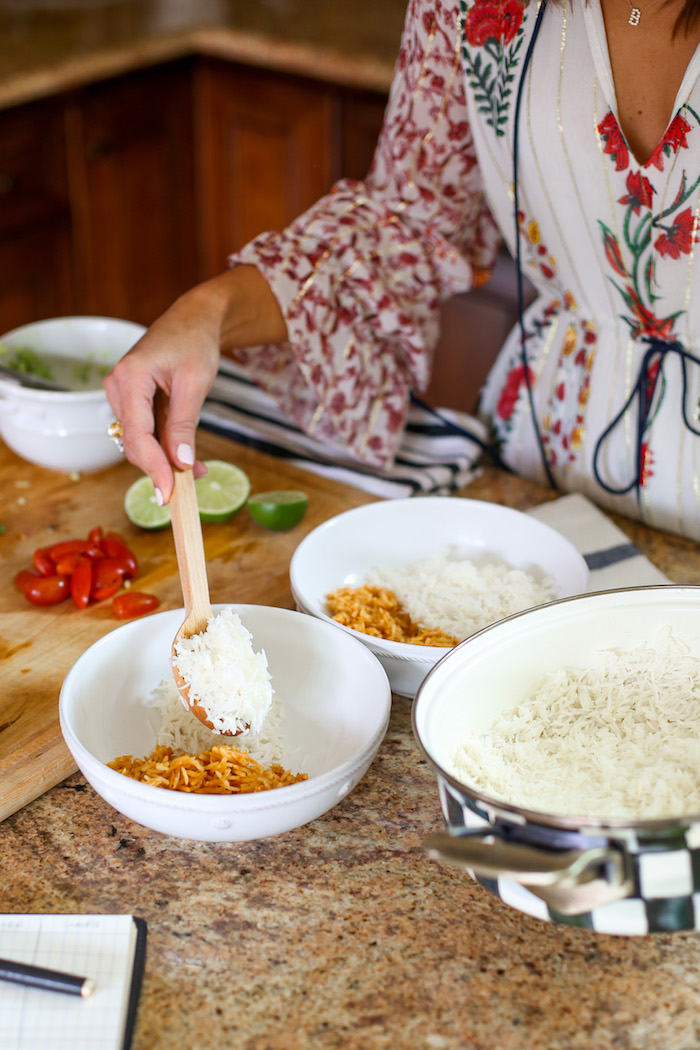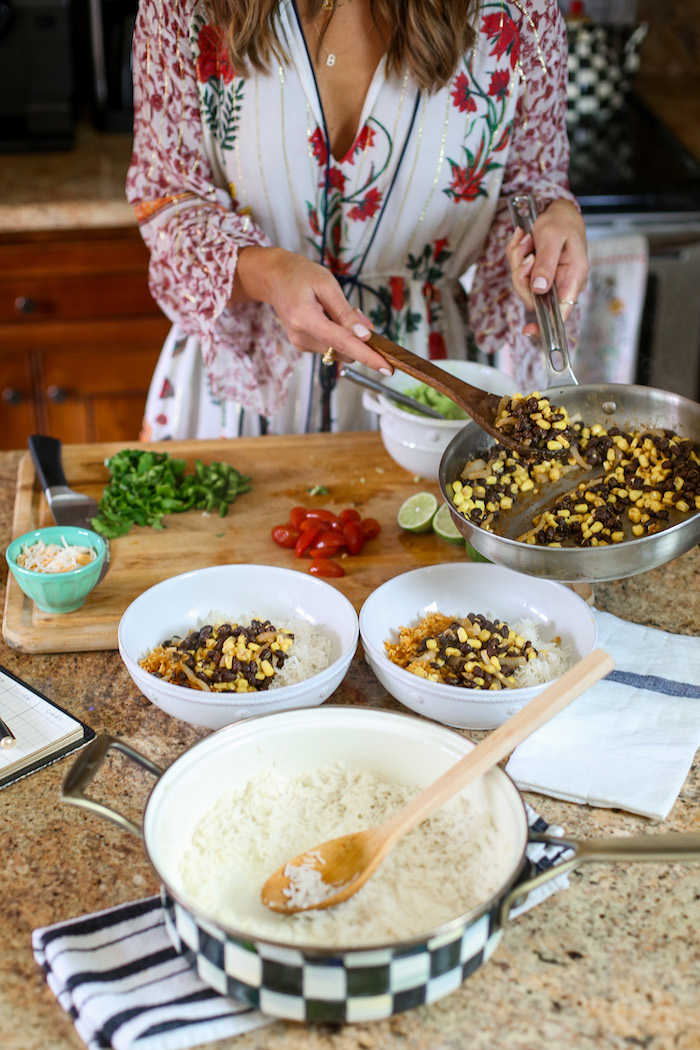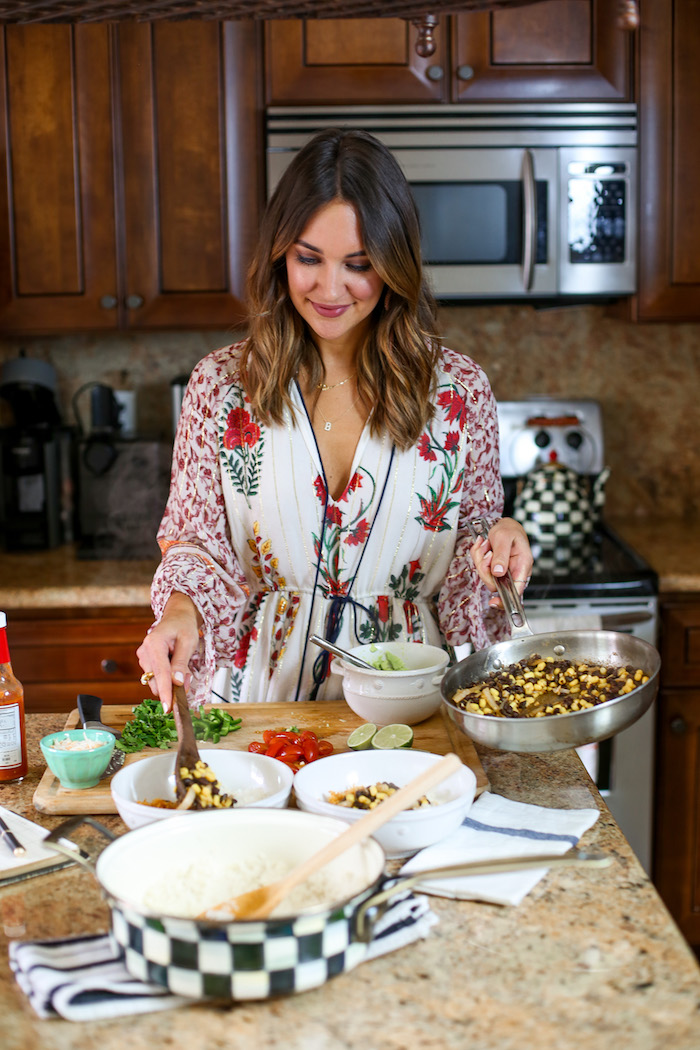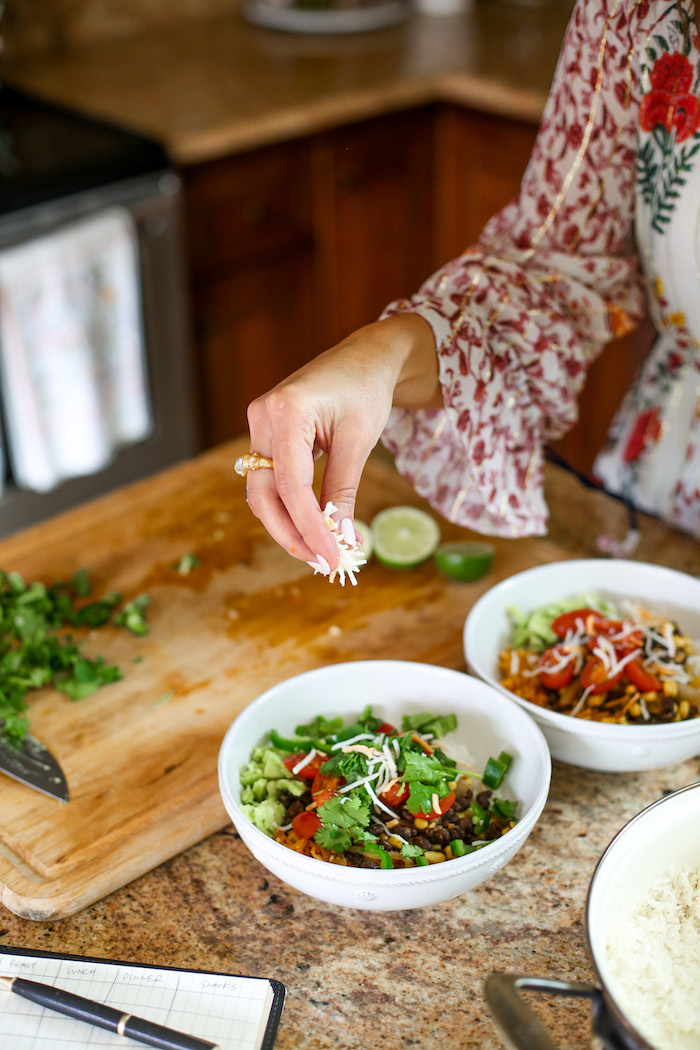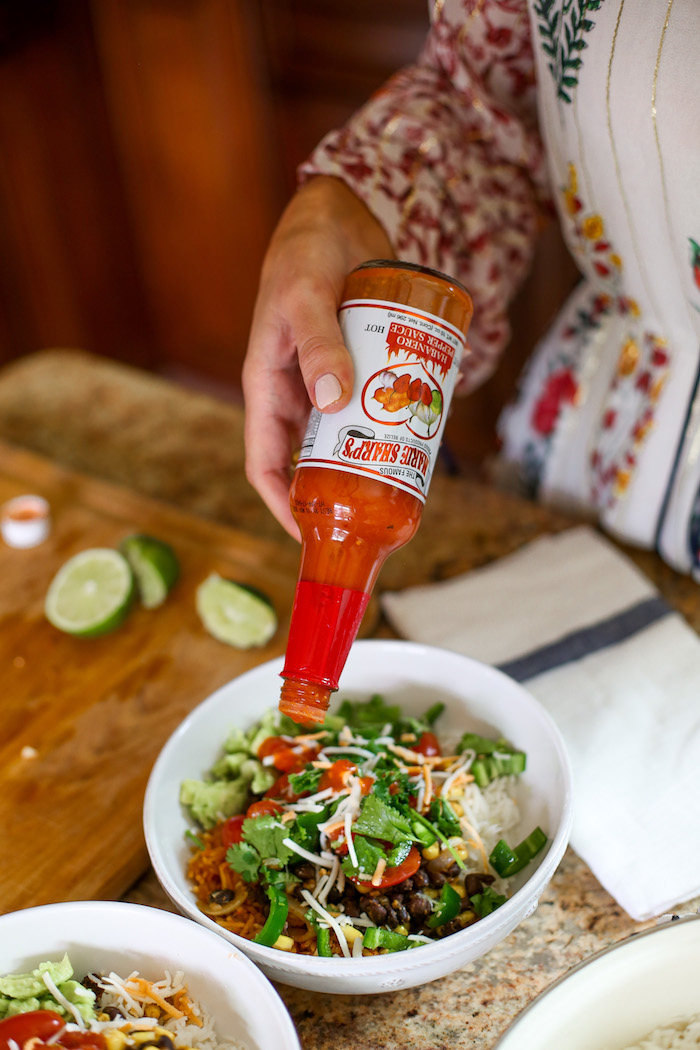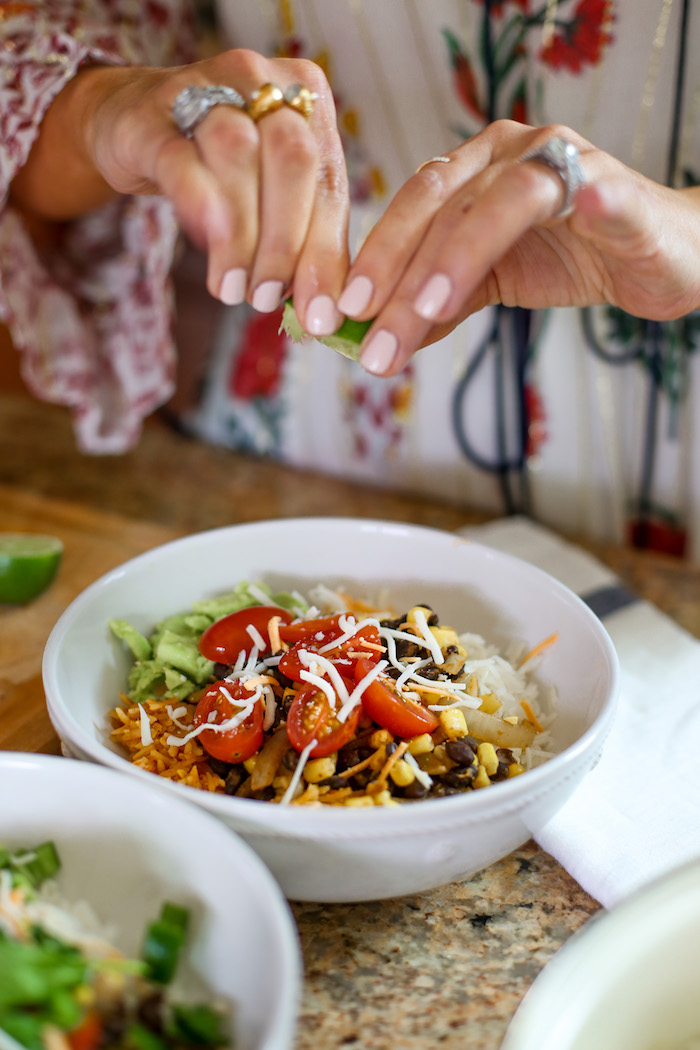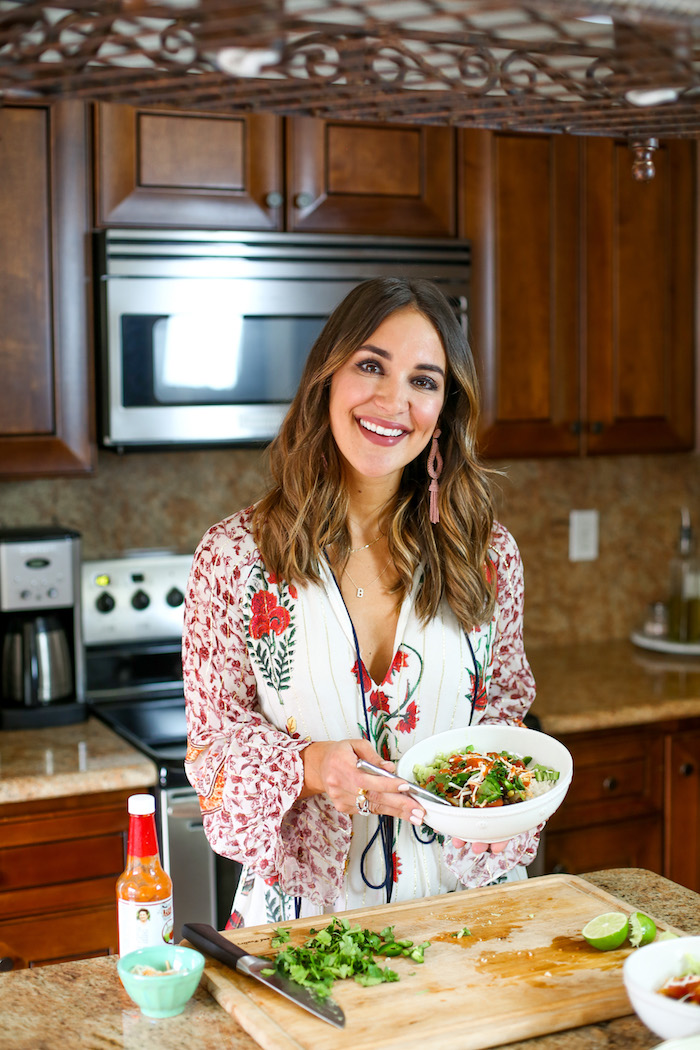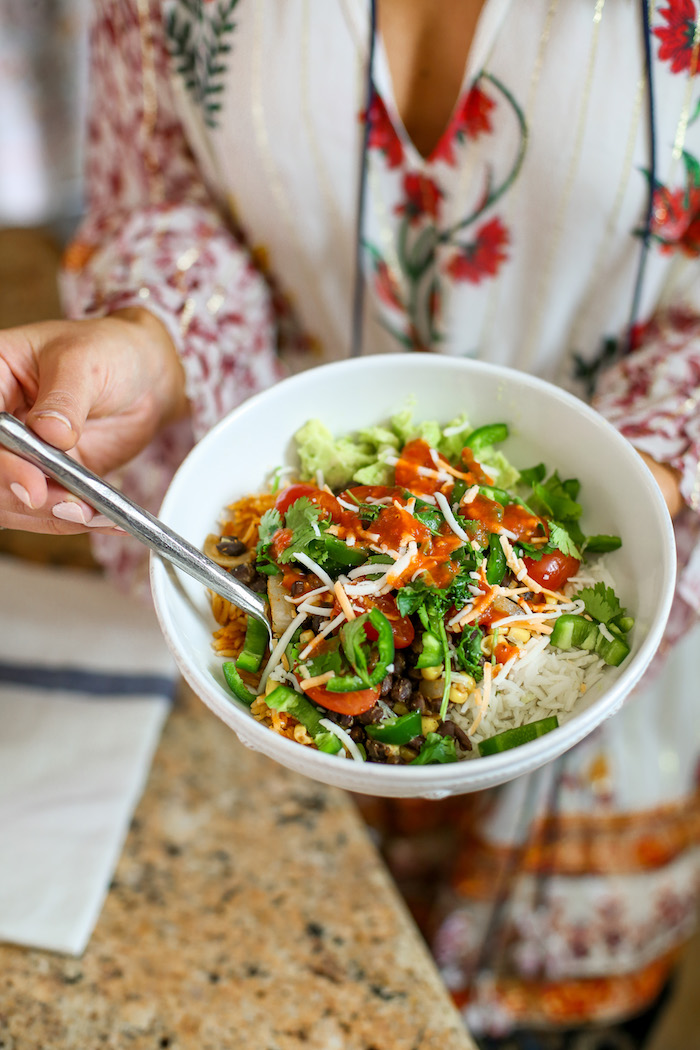 Some great vegan food blogs I've been stalking:
Faring Well (located here in Orange County!)
Last week's recipes:
Mexican Rice – I used half of this in the recipe above!
Veggie Burgers – used soy cheddar cheese and a vegan egg
Veggie Burrito Bowls – This is what's featured in this post! I used Trader Joe's soy shredded cheddar cheese and it tasted great.  I also added onions, cilantro, hot sauce, etc. You can totally use this recipe as a base and make it your own!
Brussels Sprouts Salad (with no cheese or bacon)
Kale Salad (without cheese)
When I'm doing a specific food "challenge," I've found it's vital that I make a loose weekly meal plan. Life is busy and when you're hungry, you're hungry, so looking at a piece of paper to remember some of your options is mega helpful!
Once a week I pull up several recipes I want to try, I write down the ingredients I'll need for the grocery and I sketch out a little meal plan (you can see a picture of this above).  I'm only going to be sharing what I actually ended up eating because I thought it would be more realistic for what a week attempting plant-based looks like.
Dining out:
Eating out has been NO big deal which is huge for me. I love to have lunch with the ladies and eat out on the weekends with Christian (I'm a new mega fan of Loving Hut).  While I was on Whole30, eating out felt overwhelming and honestly, a little sad. Grocery shopping has also been really simple and I found everything I needed in one stop. AND my grocery bills have been less expensive that my usual runs – even with loads of avocados, nuts, vegetables, etc.
How I'm feeling:
I feel great. I am having no trouble waking up in the morning or concentrating during the day. I've have zero stomach aches and my body is functioning extremely regular and consistent.
I've had a few people ask if I'm tired without eating meat, and contrary to what many assume, it's actually really easy for vegans to meet dietary protein recommendations.  Almost all vegetables, beans, grains, nuts and seeds contain protein, and I'm eating these daily.
photos by Christian Barnes
dress (size down) | similar earrings | bowls | pan with lid | tea kettle | middle finger ring | evil eye necklace | "B" necklace | gel nail polish in Lace Me Up with Top Coat
Let me know if you have any questions or if you'd like to see anything specific in next week's update! Thanks so much for reading and sharing – XO –