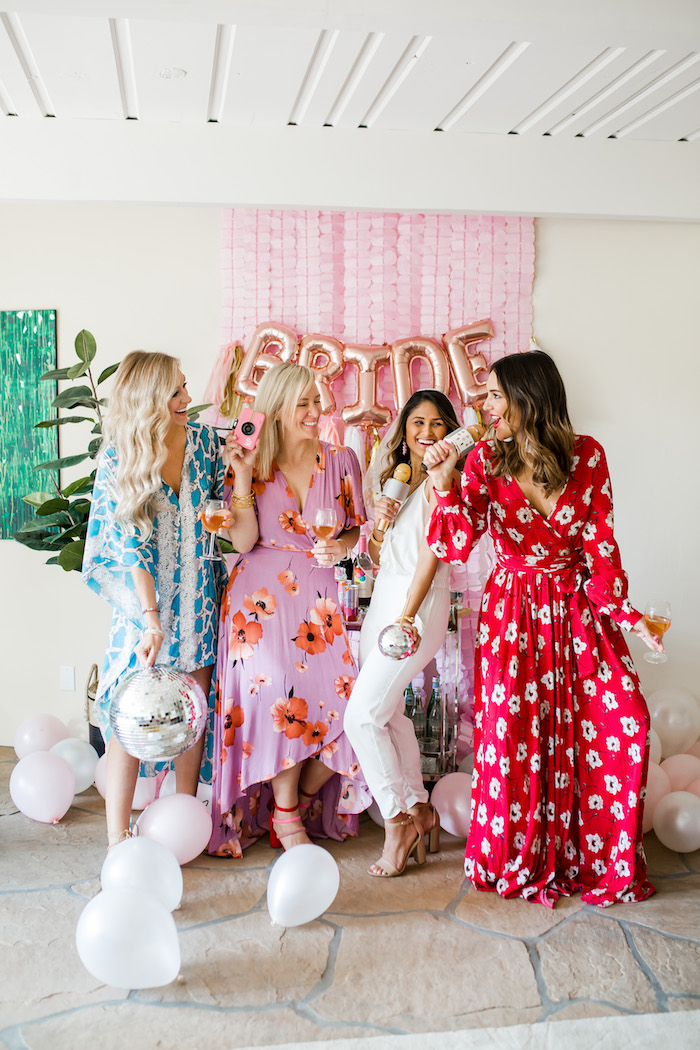 On Friday I shared that I spent last week in Palm Springs with this crew to celebrate Jenn's wedding next month!
I was so excited to get in on a little bachelorette party prep, and we definitely started the week with a bang thanks to Seven Daughters Wines.  All of that being said, I wanted to share some of my bachelorette party-planning tips with you – and yes, karaoke microphones are definitely involved.
Don't overthink the decorations.
When you first start thinking about a themed party… it can feel overwhelming. But it doesn't have to be!  All you need is a decorated "area" where you can have all of the gifts, party supplies, snacks and so on. If you think about decorating the entire room floor to ceiling, it's too much.
Have a designated photo spot where everyone can get their picture with the bride, where she can sit to open gifts and so on.  I am linking all of the supplies for this party at the bottom of the post – and they were so fun and not expensive.
If you need a space filler: blow up balloons and have them on the floor. It looks so fun and adds some quick and easy "party" vibes to the room!
Keep it tasteful.
Call me old fashioned, but I like to keep bachelorette party decorations tasteful.  People are going to be videoing, snapping photos, etc. Thanks to the internet and social media… some of these private moments are no longer so private. No one wants a wild photo resurfacing online when they're interviewing for a new job next year.
While we're talkin' tasteful, delicious snacks are a must.
Any party I'm throwing needs the essentials: a cheese and charcuterie plate, fruit, crudité, anything wrapped in a wonton wrapper and chips and an assortment of dip.  We had a homemade dip, smoked gouda dip, salsa and guacamole… and as I'm writing this I'm now hungry again.
Wine, wine, and please more wine.
Of course, find out the bride's favorite blend or drink so you can have that ready to go, but this group likes to keep the wine a-flowing. We had Seven Daughters Red Blend, Cabernet Sauvignon, Moscato and Rosé for the occasion.
The Rosé Cans were so handy because you can easily slip in a little straw, grab another if yours is no longer cold, share with a friend, etc. When it comes to parties – having some cans to serve is so convenient!
Having wine charms (how hilarious are these) or a wine glass marker are great ways to keep track of whose glass is whose.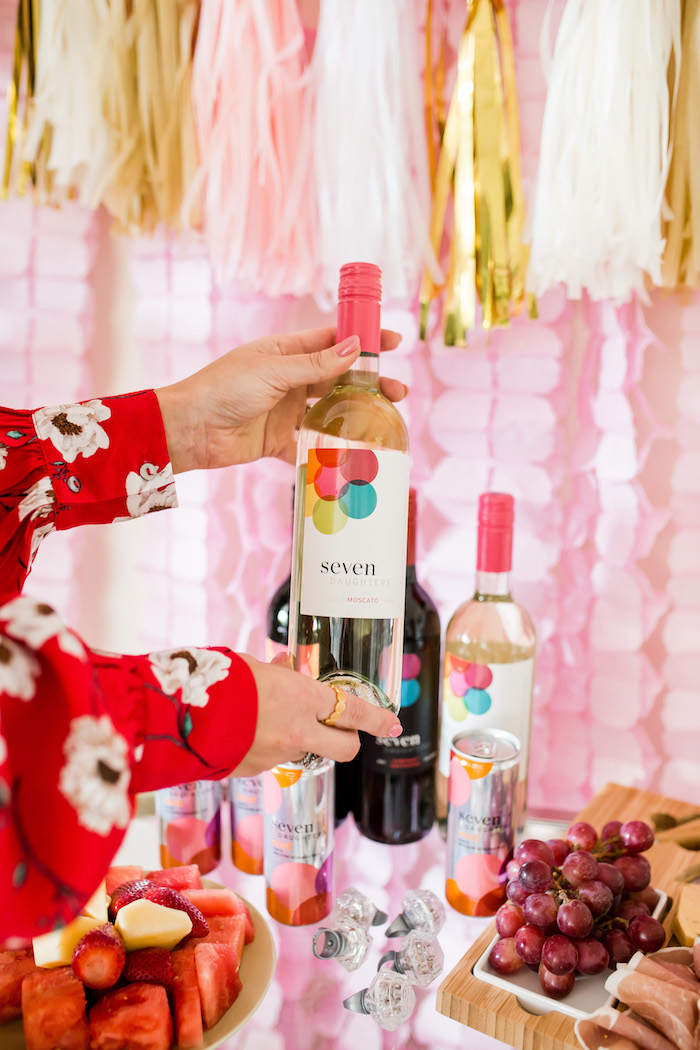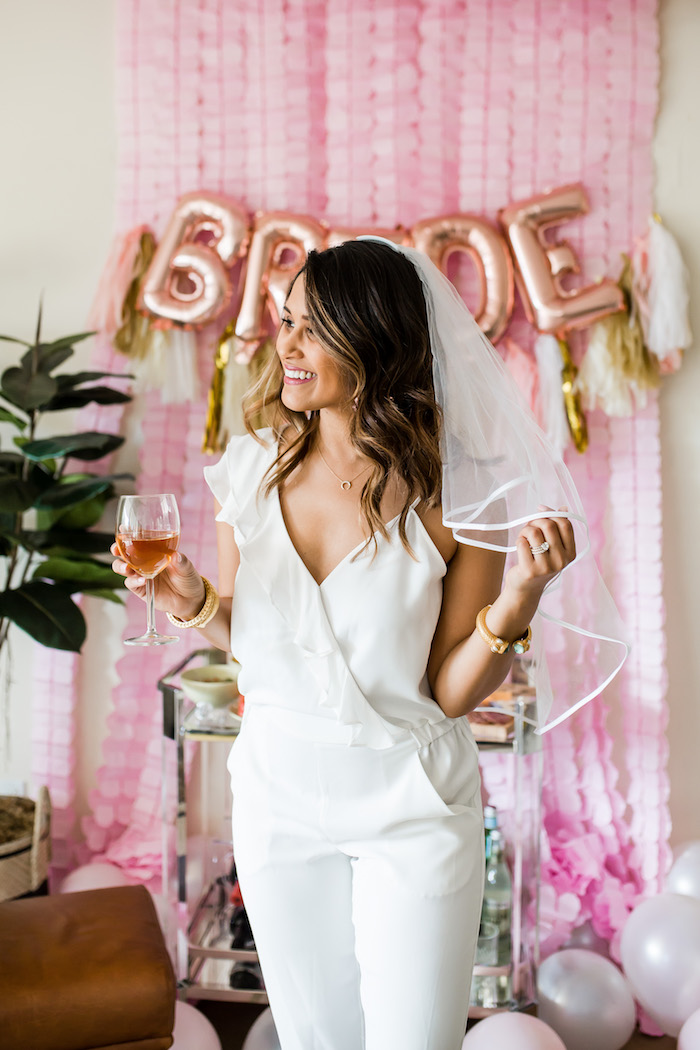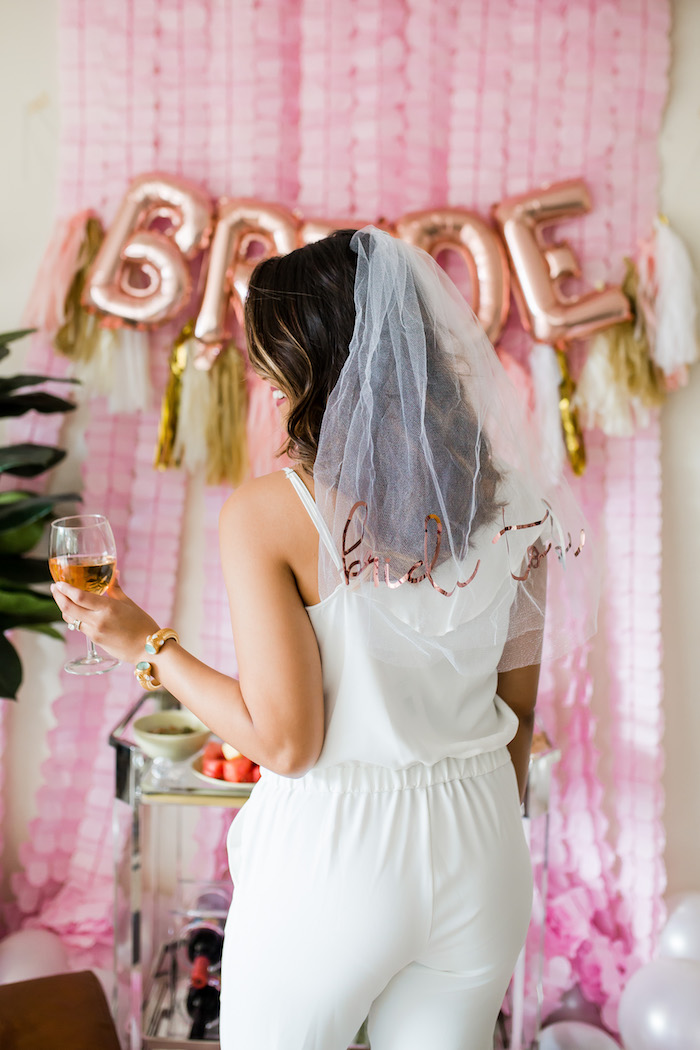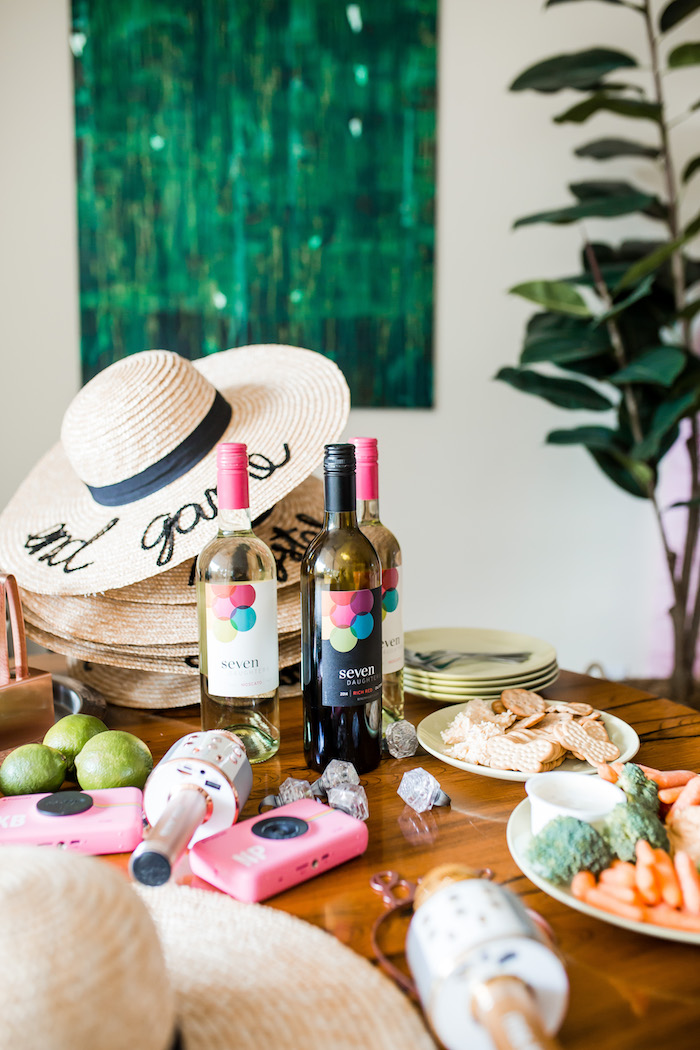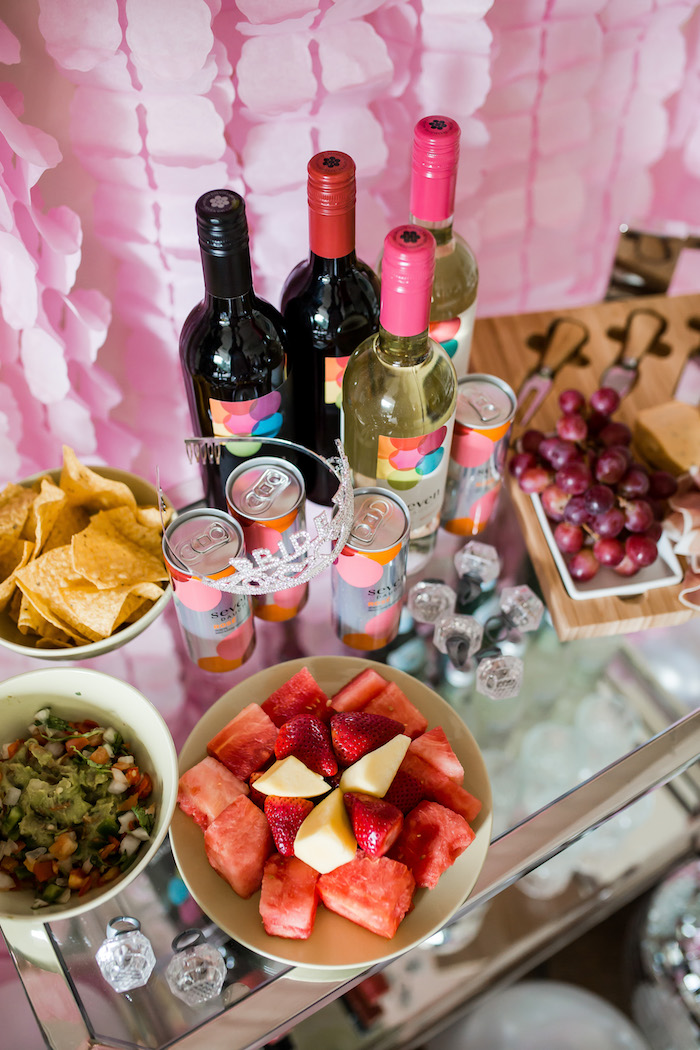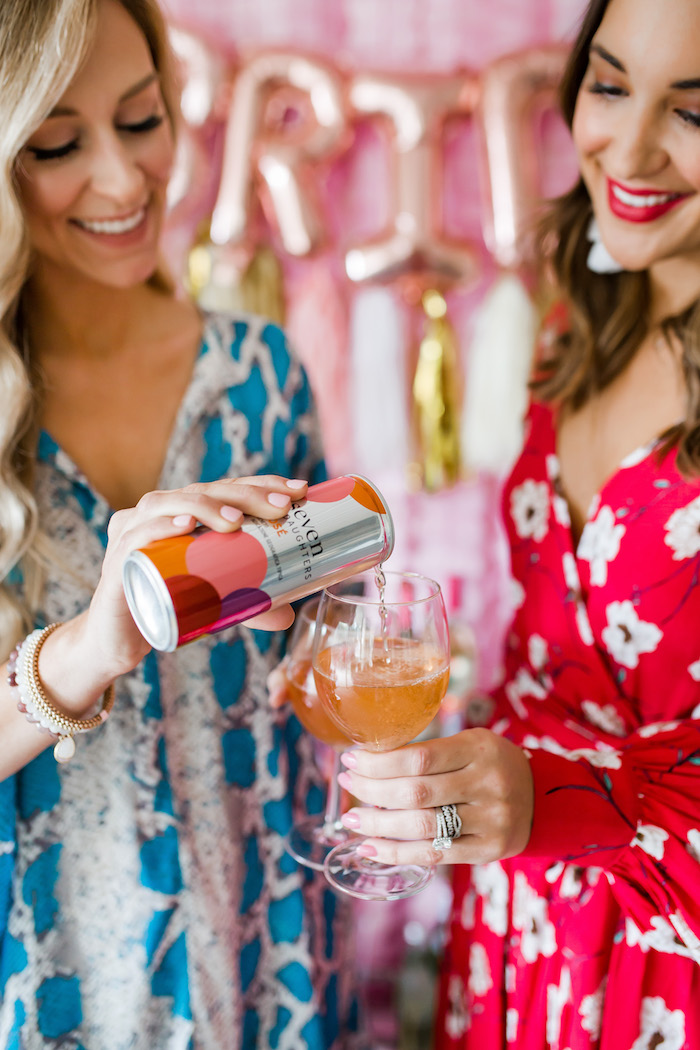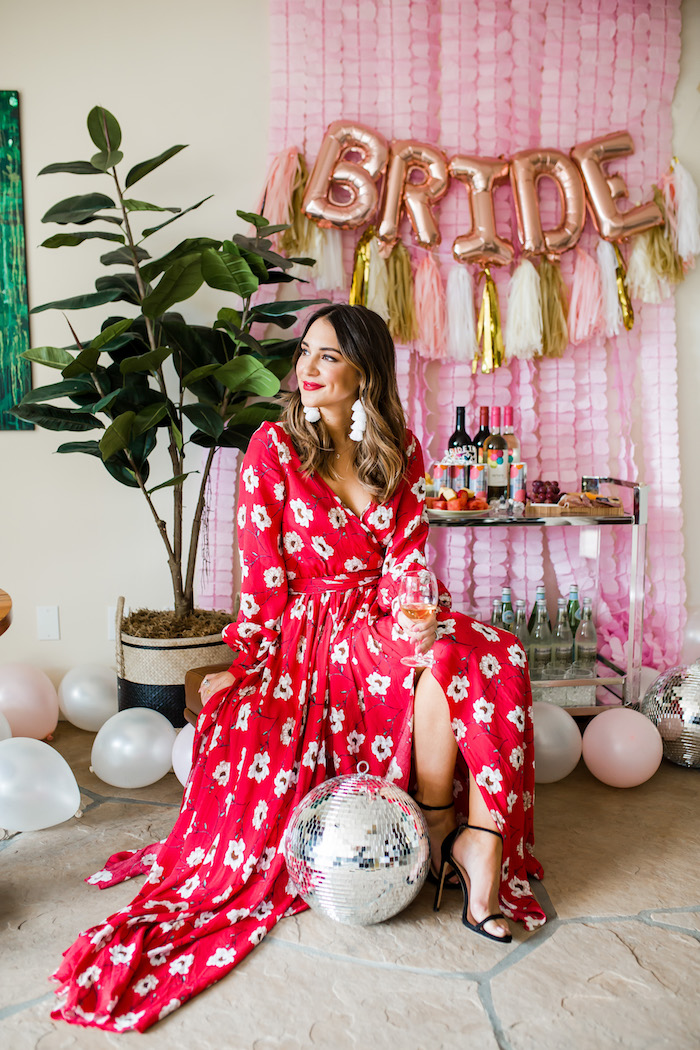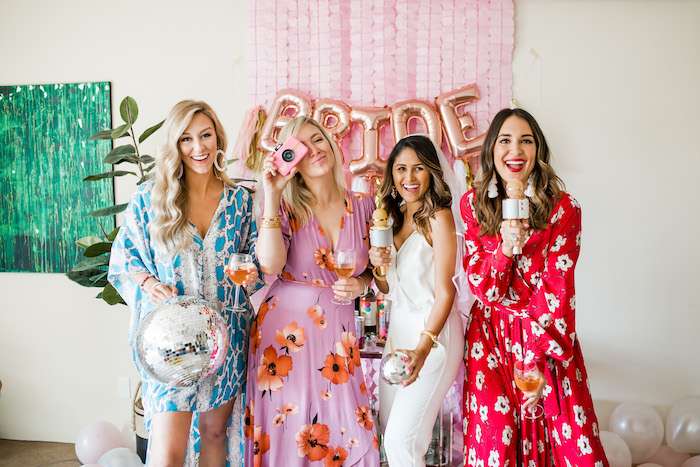 Have an element of fun/silly/playfulness.
Our girl Jenni Jenn is all about the laughs, so some of her requests were karaoke and disco balls. I must say, they were quite a hit. And I love that you can continue to enjoy them and it's not just a one time thing!
Party rings are also usually well received. I love that these light up for later in the night. So fun!
Add a party playlist.
You know I love a playlist. Flashback to this post when I shared a "Friday" and "Monday" playlist. For this party we had DJ Krystal on the scene and she did not disappoint.  This helped with the karaoke as well… and everyone boo-ing me when I wanted to sing Billy Joel.
That is rude.
Take photos in the beginning of the party, then put your phones away and enjoy yourselves!
We had these adorable little polaroid cameras that were so cute for snapping photos. If someone has a polaroid or is willing to add one to the scene, it's a really fun addition.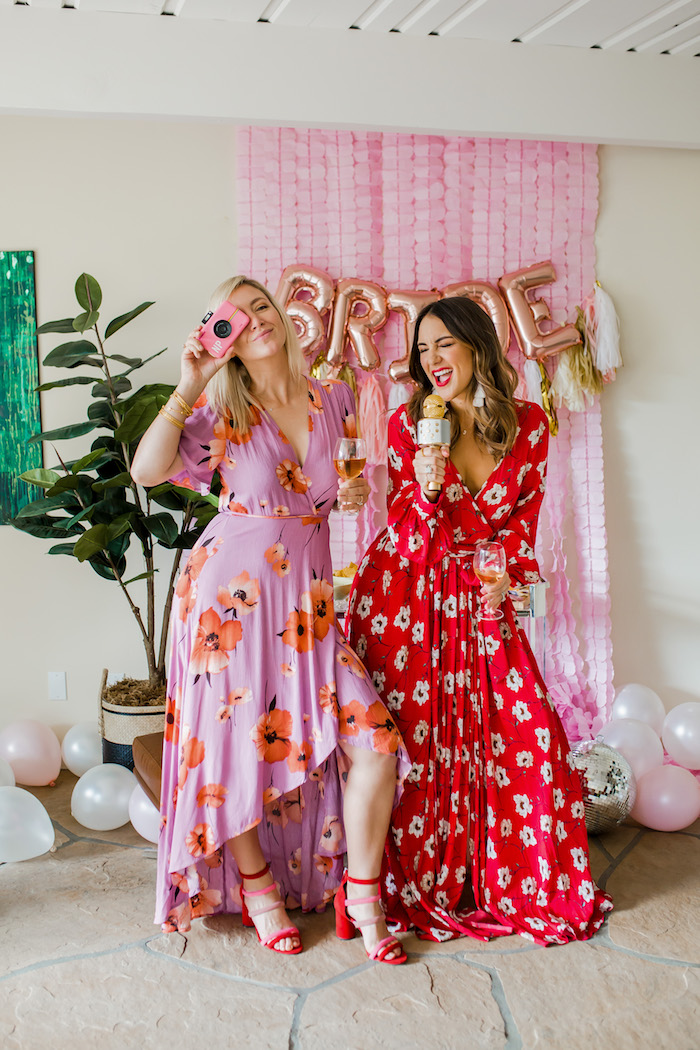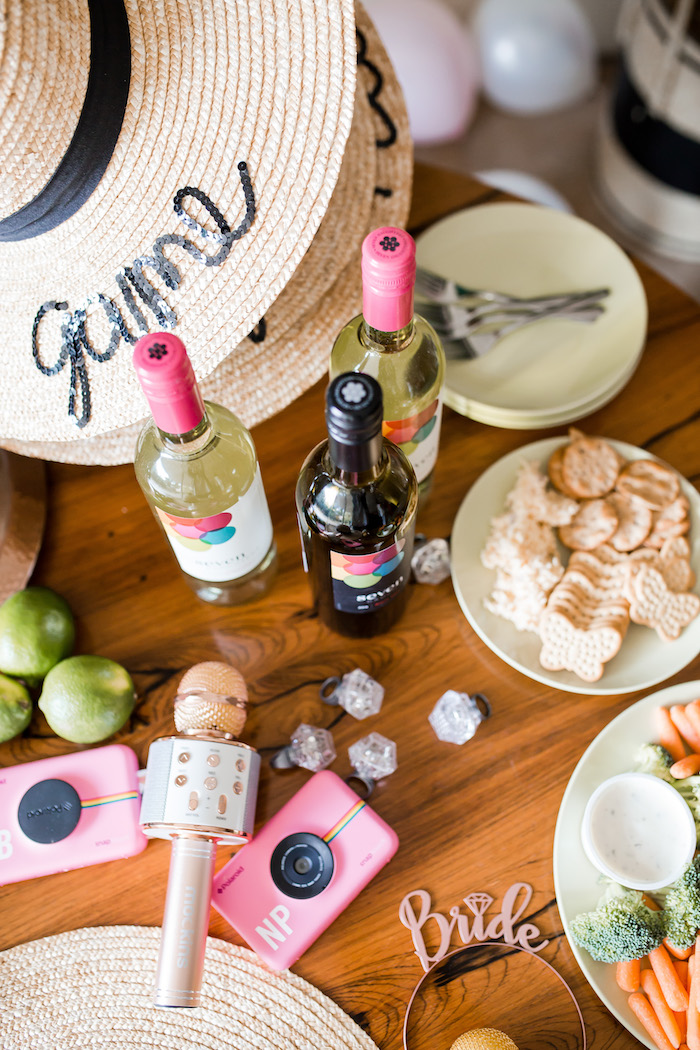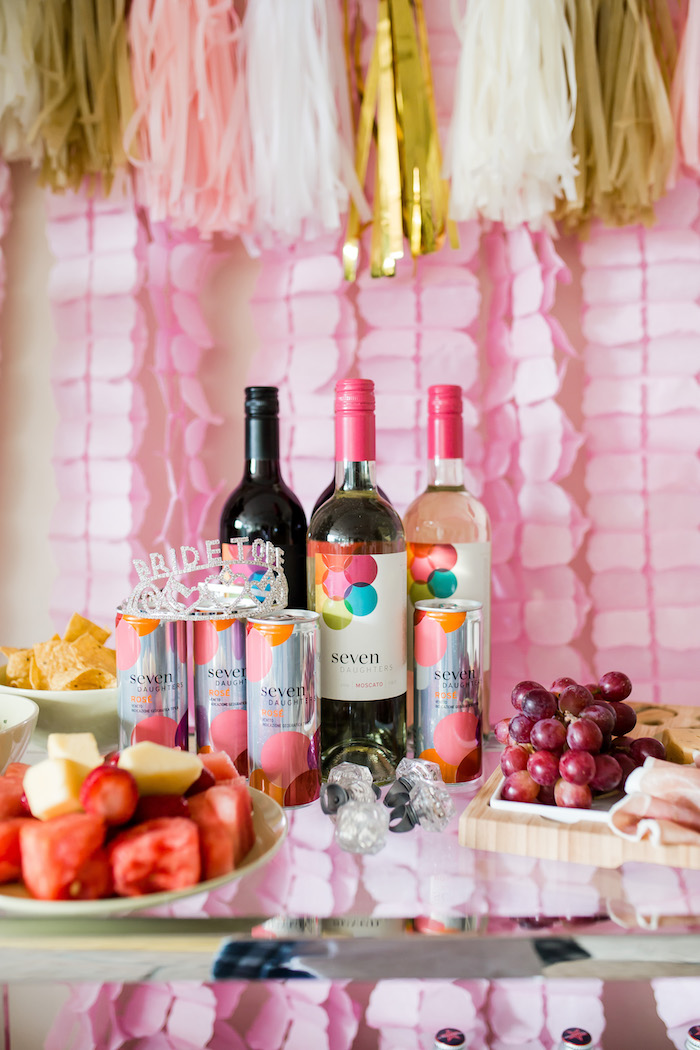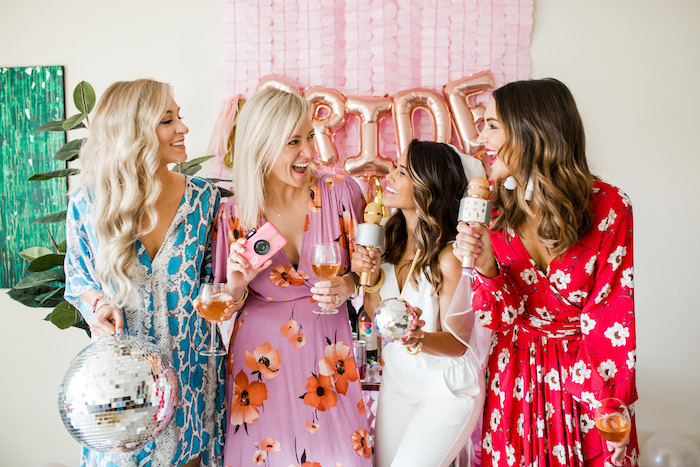 L to R: A Pinch of Lovely, My Style Diaries, Haute off the Rack
photos by Michelle Preau

Decorations: polaroid cameras | microphones | disco balls | "bride" banner | tassel banner | pink streamers | balloons | rings | headband | hats | similar bar cart here and here
Outfits:  dress – sold out, same print in this duster
wrap dress c/o Vici, similar styles here and here, heels
red dress c/o Vici, similar styles here, here and here
Have you ever planned a bachelorette party!? I'd love to hear your hits and misses. I have another one coming up in July, so let me know if you think I missed something!
You can check out Seven Daughters on Facebook and Instagram and find their wine in your area here.  AND the code CBL7D is good for 20% off any Seven Daughters purchase on Uncorked.com! XO –
Thanks so much for reading and sharing – XO –
brought to you by Seven Daughters Wines