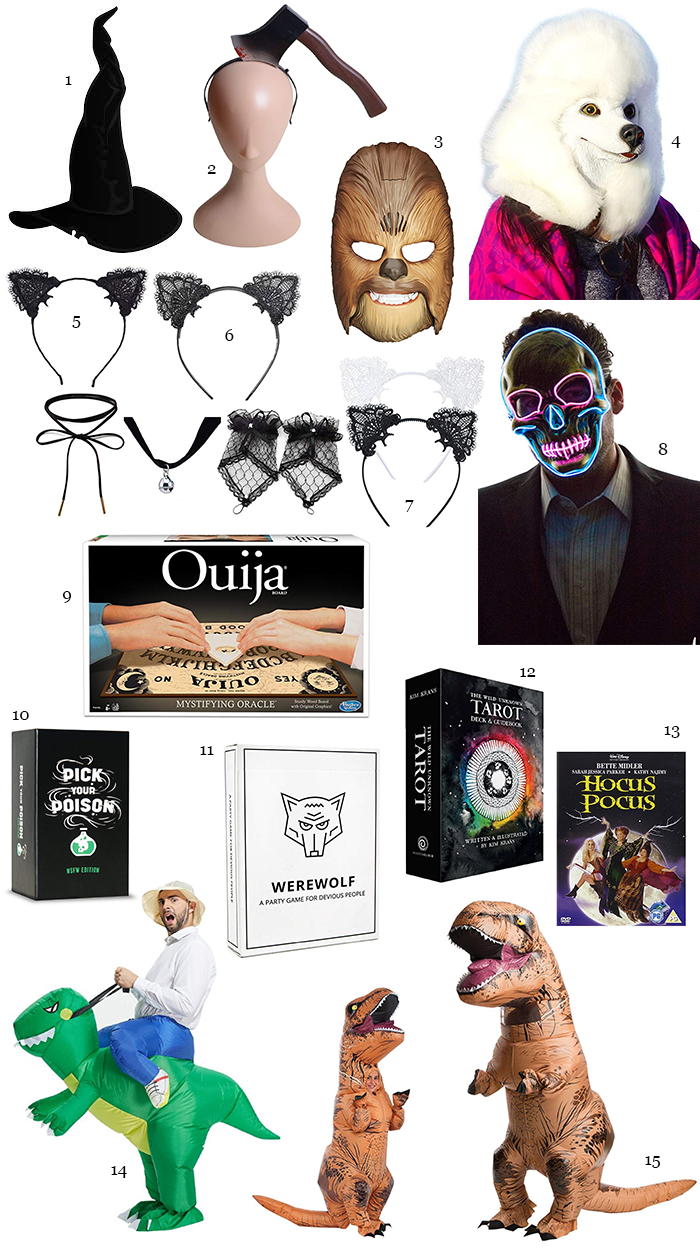 1 | 2 | 3 | 4 | 5 | 6 | 7 | 8 | 9 | 10 | 11 | 12 | 13 | 14 | 15
Last week I couldn't get enough of chic Halloween decor.  This week we're taking a left turn with inexpensive costume and game ideas! Hint: tomorrow I'll be sharing a seriously easy, delicious and festive Halloween cocktail. I LOVE OCTOBER.
I have a pair of cat ears that have been in a drawer for literally eight years. After college, I only thought about my costume on the day of Halloween.  To be honest, I'm usually only wearing a costume to work (I worked at a makeup HQ, so people really went all out and it was amazing!) or when I'm giving candy to trick-or-treaters. So my go-to is to dress in all black and stick on some cat ears.
When I have a little more space, I for sure plan on buying a witch hat. It feels more appropriate for my energy. Who doesn't love Hocus Pocus!? Hellooooo!?
The best part is that most of these pieces can be shipped via Amazon Prime and they cost less than $40. Personally I'm not investing a ton of money in a costume, so a great hat, mask or set of ears is totally my vibe. Wear all black and call it a day, girlfriend!  Although this costume seriously made me laugh.
If you're an adult with no kids, some of these board games look seriously fun. Like… can I please learn how to read tarot cards and serve friends Halloween cocktails!? Yes.
What's your favorite Halloween costume from years past? I want to hear! As well as your Halloween plans for 10/31.  My favorite thing to do on Halloween (since college) is to take Bailey on a walk around 5PM and watch all the little kids in their costumes go trick-or-treating. The best!
Thanks so much for reading and sharing – XO –