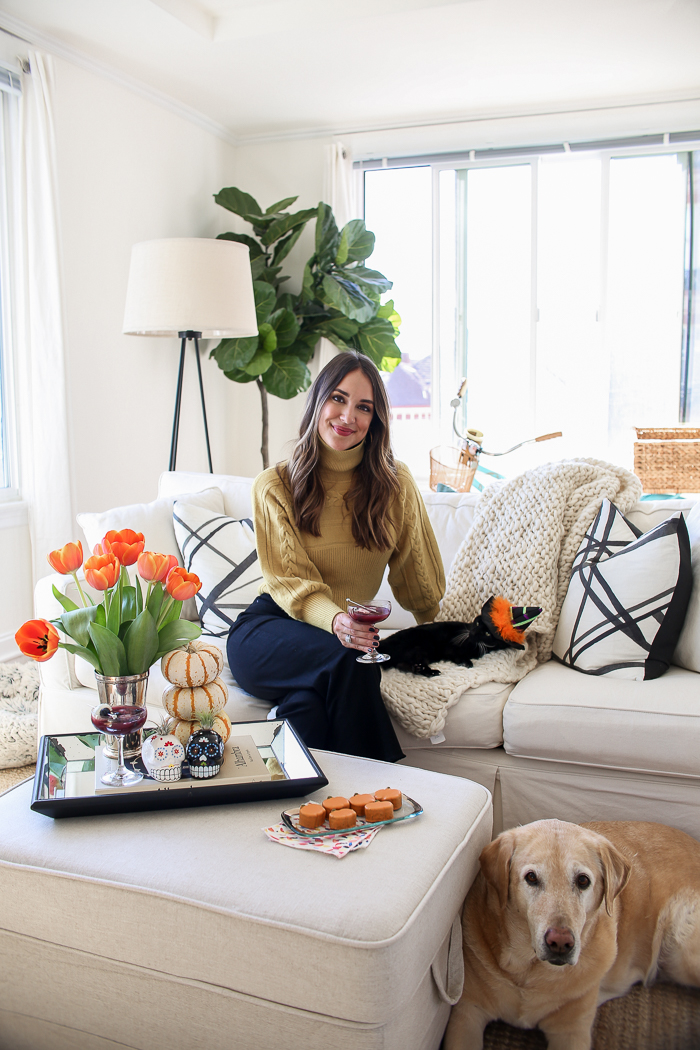 I don't know why exactly, but this year I am FEELING the Halloween spirit.  Yesterday I shared some inexpensive Halloween costume and game ideas, and today I'm sharing something that would pair beautifully… a cocktail! Or mocktail – you do you, girl.
This year I wanted to make something fun and easy. Emphasis on easy – if a cocktail recipe has more than 5 ingredients, I'm not interested.
The showstopper here is clearly the eyeball garnish. The magic of lychees stuffed with blueberries! If you want some extra gore, you can put some strawberry jam in the lychee before you stuff it with the blueberry.  I skipped that part as I was feeling lazy.
Ingredients
1 can lychees in syrup (I found mine at Whole Foods)
12-24 blueberries
3 cups pomegranate or blueberry juice (you can see what I used below – you just want a dark color)
2-3 limes (juiced)
2 cups Sparkling Water
Optional: Gin or Vodka
Directions
The day before, open your can of lychees. Don't discard the syrup/water in the can just yet! Stuff the lychees with blueberries and put them in the freezer.  Save at least 5 tablespoons of the syrup – you'll use this to sweeten up the cocktail.
The day of, combine the pomegranate juice, lime juice and around 5 tablespoons lychee syrup. Taste and adjust measurements to your liking.
You can combine the juice and sparkling water in a pitcher together OR you can let everyone mix their own. I went about 50/50 with juice and sparkling water.
Add a few floating frozen lychee eyeballs to each cocktail, slide one on a cocktail toothpick for a garnish and toss in a few blueberries if you have extra. Voila!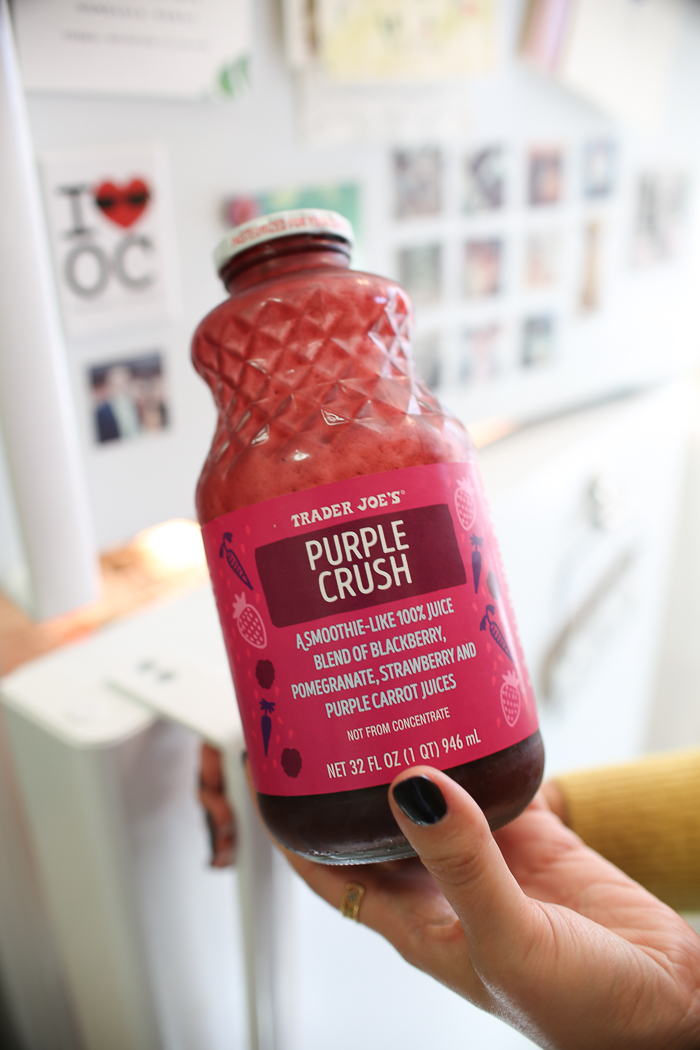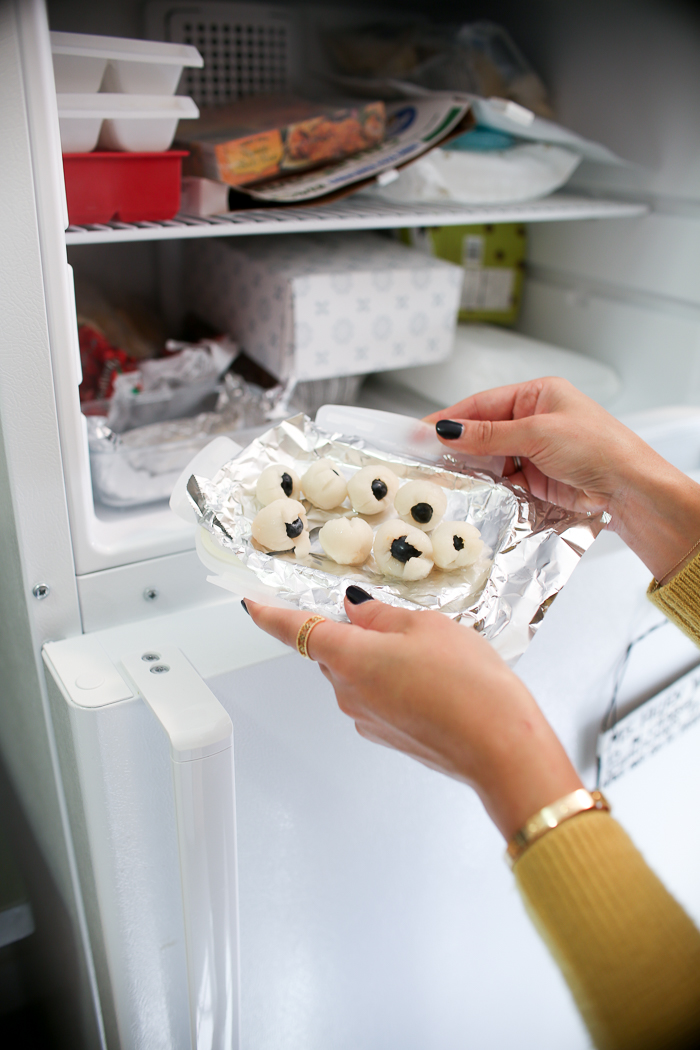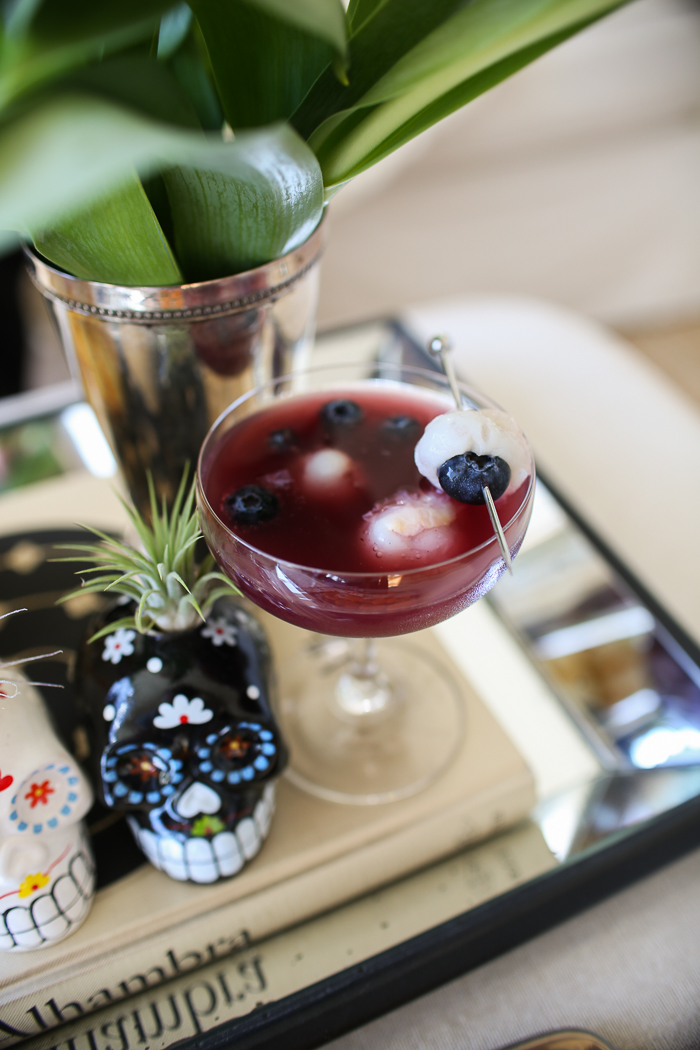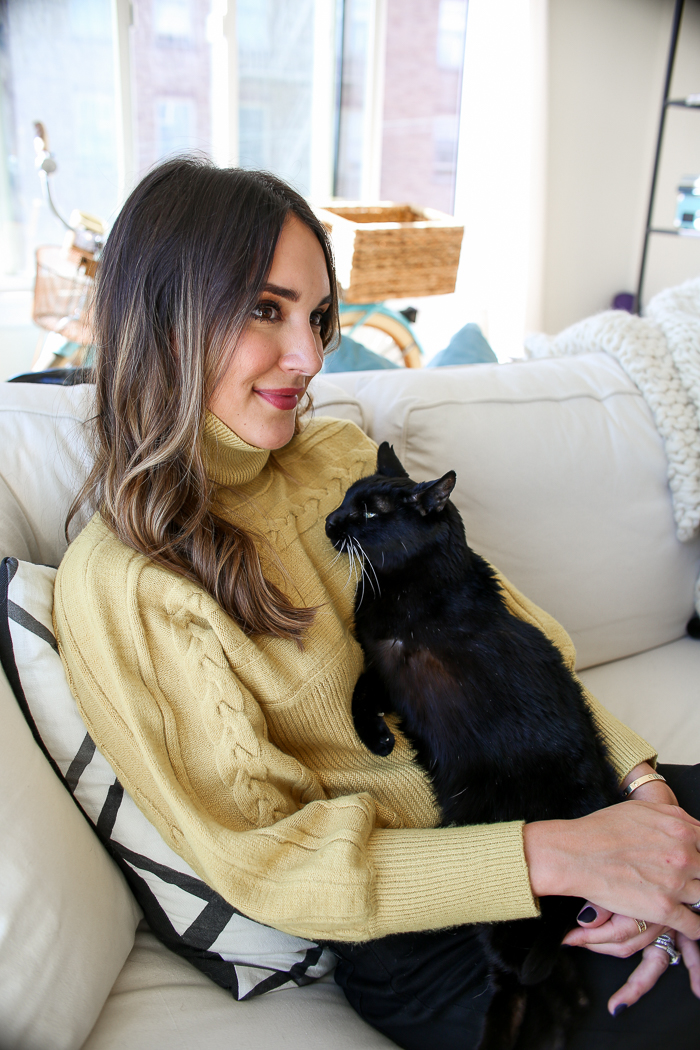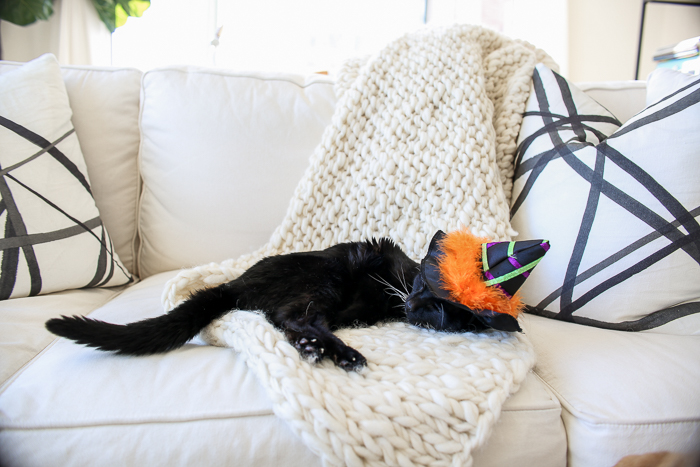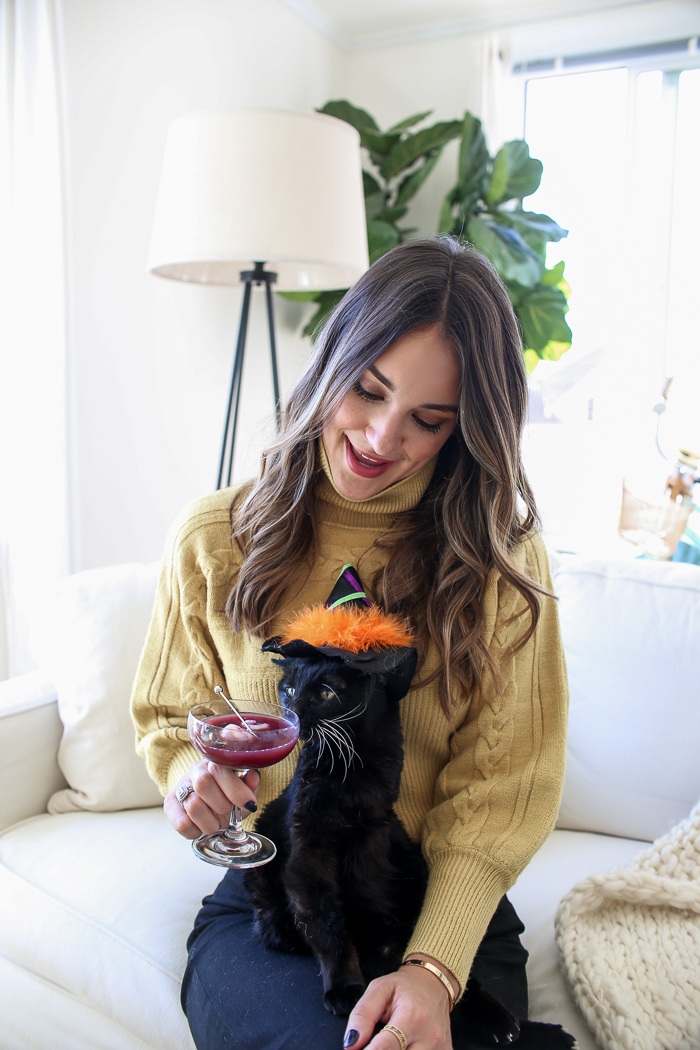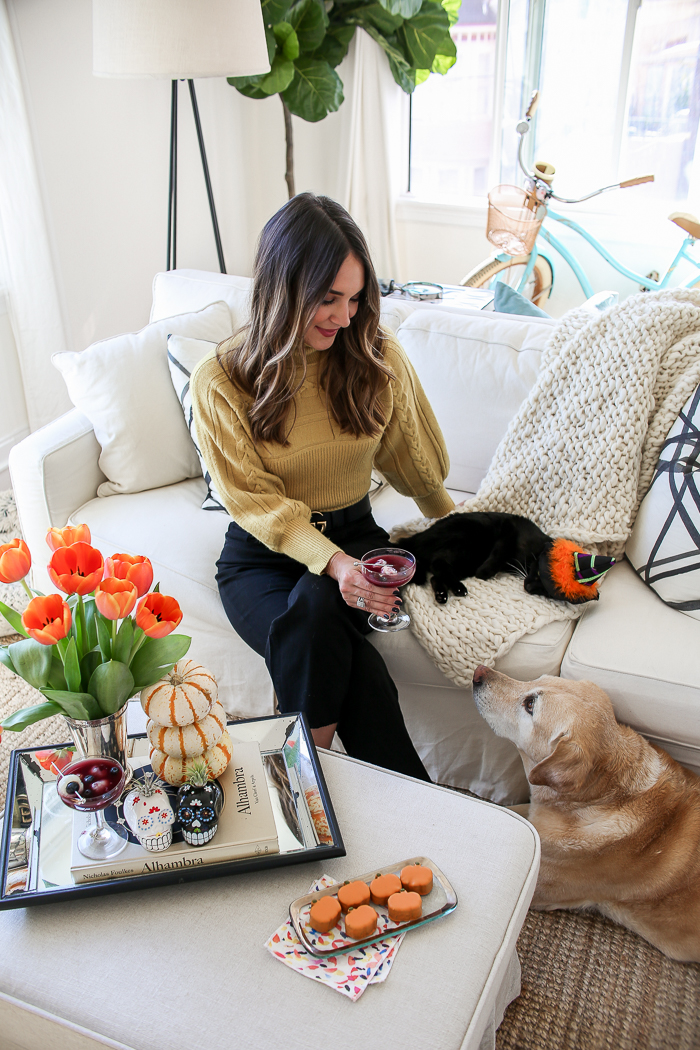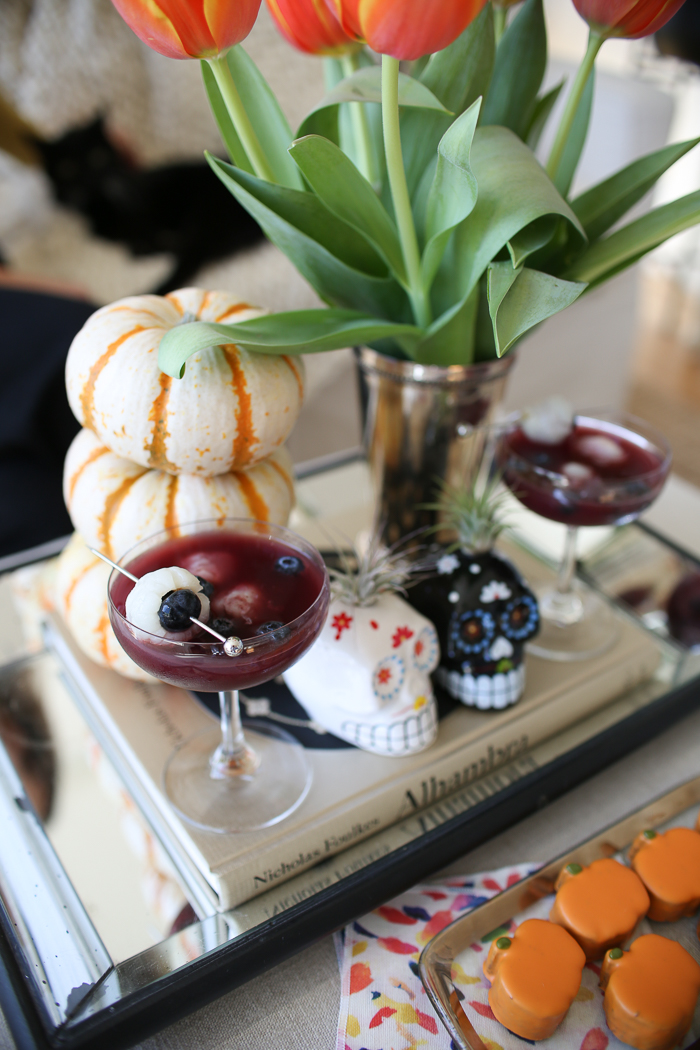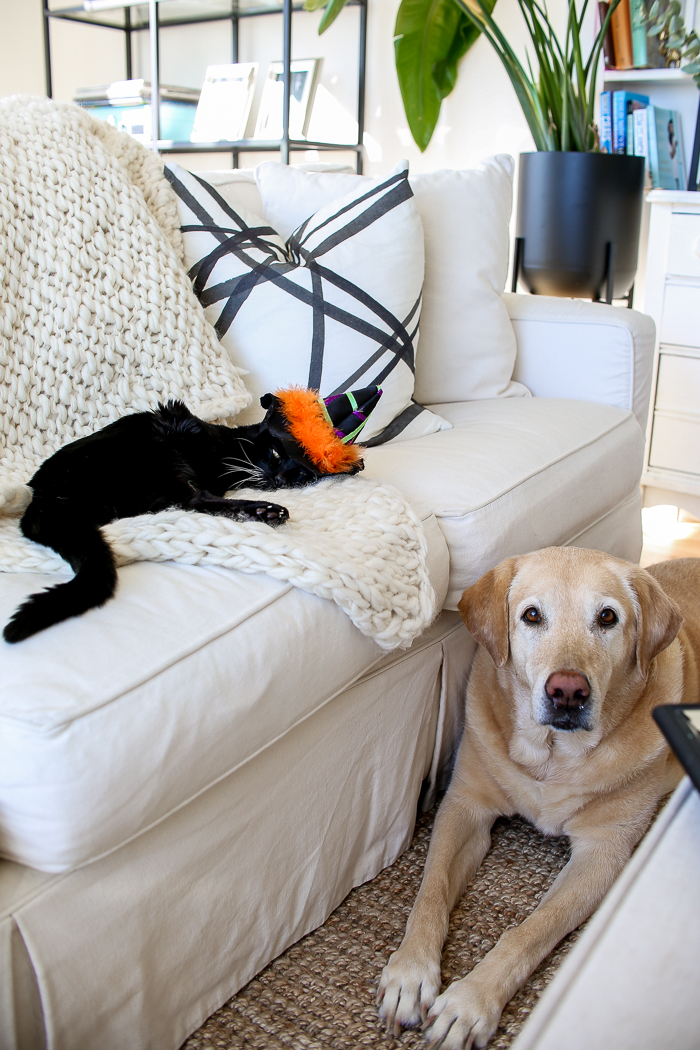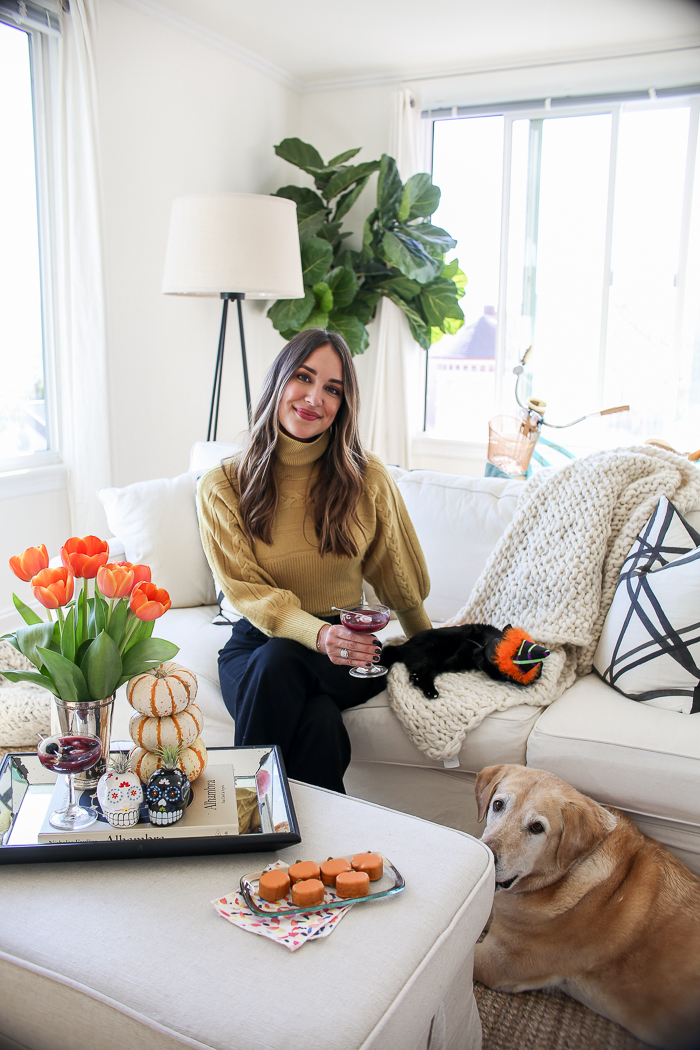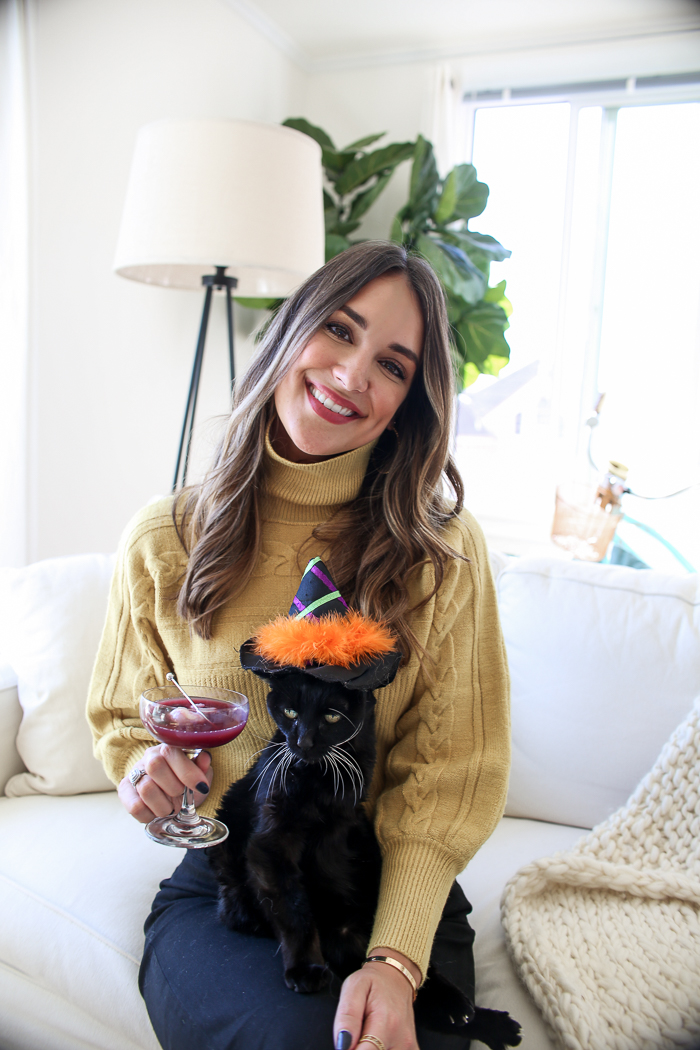 photos by Christian Barnes
sweater | belt | denim (runs big, I should have sized down!) | abstract pillows | blanket – no longer available, similar styles here and here | tray | skull succulents via Trader Joe's | similar rectangular serving tray | lamp – no longer available, similar style here | love these linen cocktail napkins
What do you think? Are you up for making some lychee eyeballs!?
And I must note that Lula's angry looking face is… just the way her face looks. That black fur and those green eyes… it's ironic to me that she's the cuddliest cat I've ever met yet she definitely looks the meanest. She literally took a nap in this hat – I had to take it off of her. Unfazed!
Thanks so much for reading, and for some chic Halloween decor inspiration check out this post! XO –