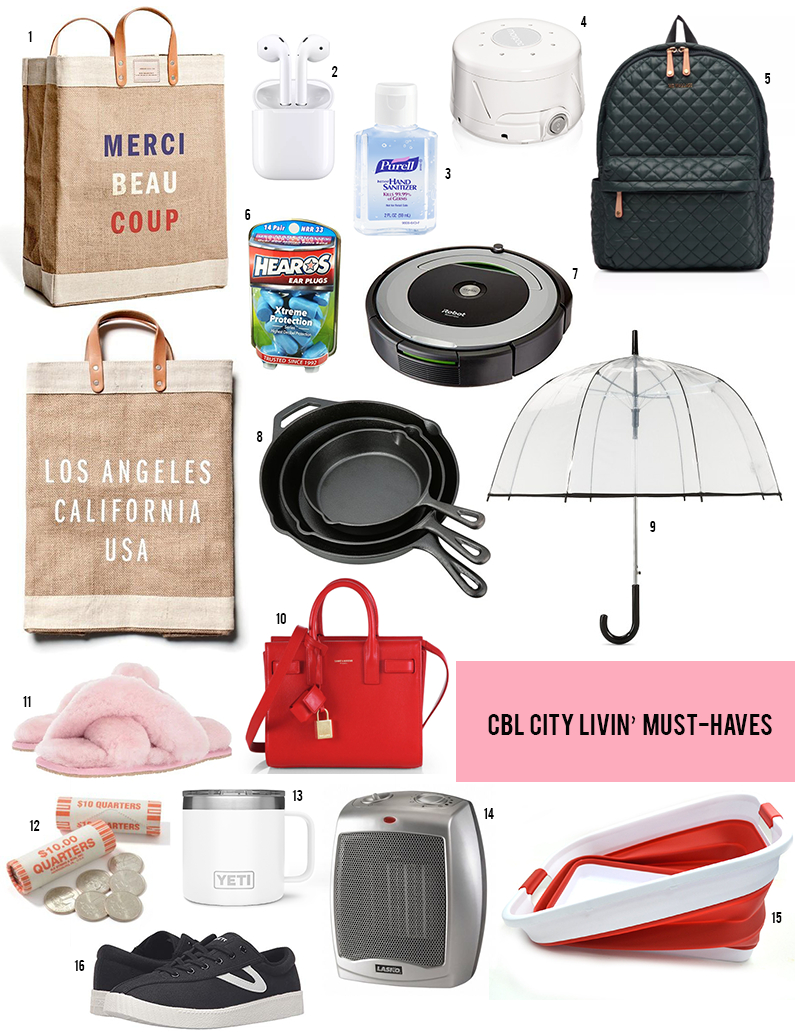 1 | 2 | 3 | 4 | 5 | 6 | 7 | 8 | 9 | 10 | 11 | 12 | 13 | 14 | 15
I've been so surprised at how many emails and DM's I get about a pair of ear plugs I casually mentioned on Instagram many months ago.  I wanted a blog post about a few of the things we've purchased or used this year to make city life a little more manageable!
I lived in New York for a summer in college and always thought a short stint at living in a large city would be a great experience.  These are few things we've purchased this year that have make a BIG difference –
Sturdy Grocery Bags | Honey, when you're schlepping 40 lbs of groceries uphill, the fewer the bags the better.  I know they make little wheelie carts, but since we are only here for one year I didn't want to have store it in our hallway when we weren't using it (small spaces, guys).  When I got my first Apolis bag… it was followed by three more.  They're now all I use because they're so durable and hold so much!
My mom emailed to remind me that these bags can also be personalized – which is fun.  They are also lined in plastic, making them waterproof and can carry up to 100 pounds in one bag!
Air Pods | I didn't fully understand why these were so great until I had my own pair.  Forget cords! When I'm walking Bailey or on a conference call while also pouring a cup of coffee, there's nothing better than being wireless.
Ear Plugs  + Sound Machine | I have found (being married to an ear doctor), that the key to fantastic ear plugs is an NRR-33 rating.  Most ear plugs are NRR-32… and trust me, there is magic in that slight number increase.  I also finally got a Dohm sound machine (my dad has used this soundmachine for literally over 30 years) once we moved into our apartment.  We didn't need one in Orange County, but we have way more street noise now and it's a GAME CHANGER.  Christian never goes a night without turning it on!
Backpack | I am 100% behind MZ Wallace for travel.  Their bags are incredibly lightweight, can be shoved into any tiny space or airplane, extremely versatile and durable.  I don't even know what else to say – they're just the best.
Roomba | I can't praise this little robot vacuum enough. I was so obsessed with ours that my sister ended up getting one, and now she's also obsessed with hers.  The only con is that it is pretty loud.  Other than that, this little vacuum is the only thing that keeps me from complaining about dog hair all day.
Cast Iron Skillets | Christian actually added this one!  We have always had easy access to a grill until this year.  You're hard-pressed to find a balcony or outdoor space in San Francisco, so anything that requires grilling goes on a cast iron griddle or skillet.  An essential if you like to cook!
Good Umbrellas | We have been through it with rain in San Francisco and bought two new umbrellas that made a big difference.  Christian prefers this one and I prefer this clear one because I can protect practically my entire upper body and still see through it (you may remember it from this post!).
Small Crossbody Bag | I bought this little Saint Laurent nano bag specifically for all my daily walking around the city, and it's been a great addition.  Small enough to toss in a bigger tote yet big enough to carry everything I really need.
Lightweight Slippers | I usually wear Ugg slippers, but I quickly realized when moving to an apartment with wood floors that it would be pretty inconsiderate to be clonking around in them when there are sweet girls who live below us.  So I bought two pairs of these and they're so much quieter! They're also really cozy and cute, so that helps too.
Quarters, and More Quarters | I've only had quarter laundry in college and at our first place in Orange County.  I lasted for about a month before we bought our own stackable to hook up in the patio closet.  Unfortunately we don't have a hookup in our SF apartment (most people don't here), so quarter laundry is the only option.  It costs $5 in quarters (that's 20 quarters, people) to wash and dry one load.  So we breeze through quarters.  Funny enough, grocery stores are often out of quarters because we're all trying to grab 'em, so my mom now has given us hundreds of dollars in quarters as Christmas and birthday presents, and it's truly the best gift ever.  The closest bank is several blocks away and who wants to carry rolls and rolls of quarters uphill? No one, that's who.
Yeti Coffee Mug | This was one of my favorite things I left Aspen with, and I use it almost daily.  I will drink tea out of it at my desk or walk Bailey with my morning coffee.  Sometimes I even drink my hot water with lemon out of it.  The best!
Mini Heater | This isn't groundbreaking, but this is my second time living in an apartment with no central heat or AC and mini heaters and fans are a GIFT!
Collapsable Laundry Basket | I actually don't have one of these because I didn't know they existed before I started working on this post. Now I'm like… how did I not know about this? Genius.
Sneakers | I wear sneakers every day. Every single day… and I never thought I'd see that.  These are my favorite!
Other things I've read about that sound brilliant:
Hair Tool Holster | Might need to snatch up one of these.
Makeshift Pantry | If I was going to live in this apartment long-term, I would for sure make one of these.
Folding Ottoman Bed | So brilliant if you have frequent guests!
I hope this helps some of you in the same position I was in – moving to a compact city without knowing exactly what you need!  If you have anything to add to this  list, I'd love to hear and I know the girls reading this would find it really helpful.
Thanks so much for reading and sharing! XO –