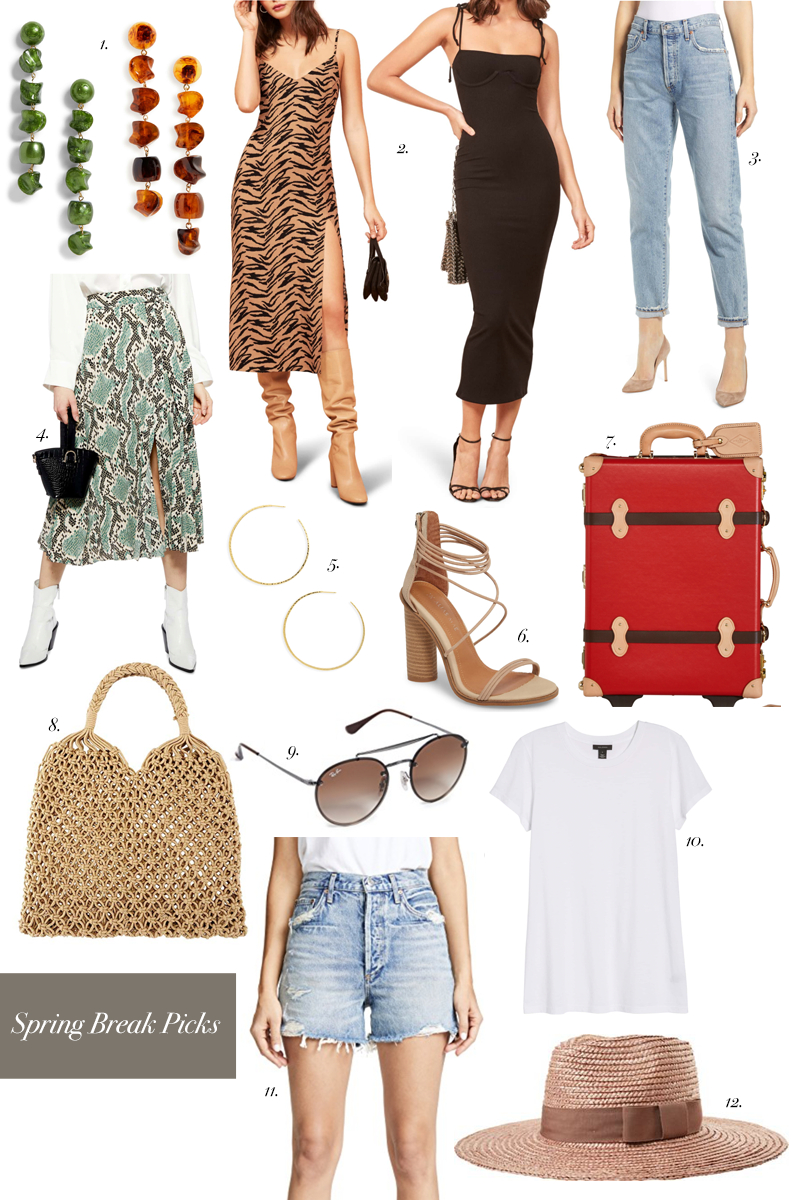 1 | 2 | 3 | 4 | 5 | 6 | 7 | 8 | 9 | 10 | 11 | 12
I don't even want to admit how many years it's been since I had a traditional "spring break," but in the season of SPRING being around the corner, I wanted to share a roundup of what would be in my bag if I was heading somewhere warm –
1.  Statement Earrings | I own far too many statement earrings to count and love them all. LOVE these that come in two colors!
2.  Slip Dresses | I have so many slip dresses in my closet and I think they are SO versatile!  Loving this chic black one and hello tiger stripes, come to mama.
3.  High Waisted Jeans |  I can't have enough! Recently bought these and really love these.
4.  Midi Skirt | The ultimate flattering skirt for curvy girls. Love this one!
5.  Classic Hoops | These go with everything, are lightweight and so easy!
6.  Strappy Heels | My favorite heel for spring and summer: nude and strappy.  Also own three pairs of these (in different colors) and they've been a great investment.
7.  Chic Luggage | I just got this little vanity bag (shared here), and I can't even handle how cute it is. Love red luggage!
8.  Straw Bag | This adorable bag is under $20, comes in two colors and works for the beach or a sundress.
9.  Round Sunglasses | I had no idea how much I would love my round Ray Bans. I wear them ALL the time.  I love this pair!
10.  White Tee | Works with jeans, shorts, skirts, over a swimsuit – you name it.  Can't have enough classic white tees!
11.  High Waisted Shorts | If you can't tell, I pick high waisted over everything else.  I have so many pairs of these it's almost embarassing.
12.  Straw Hat | I just bought this one and love how beautifully it looks with camel slides. Chic!
Would love to hear if you have spring break plans and if so, where you're headed.  Please make me jealous!  Thanks so much for reading – XO –