I'm excited to bring another video to you guys from my baby of a YouTube channel – and today, we are entering a new realm… my fake cooking show.
I love sharing recipes and kitchen tips with y'all on Instagram Stories (many are saved in the "Cooking" saved stories), so I thought I would try sharing a recipe on YouTube for you guys to see how it goes over.  I also share a lot of my favorite bites and drinks in the "food + drink" category of this site, but let me know if you guys like this video version.
I would be happy to do more if it's something that you guys find helpful or fun… even from this little apartment kitchen!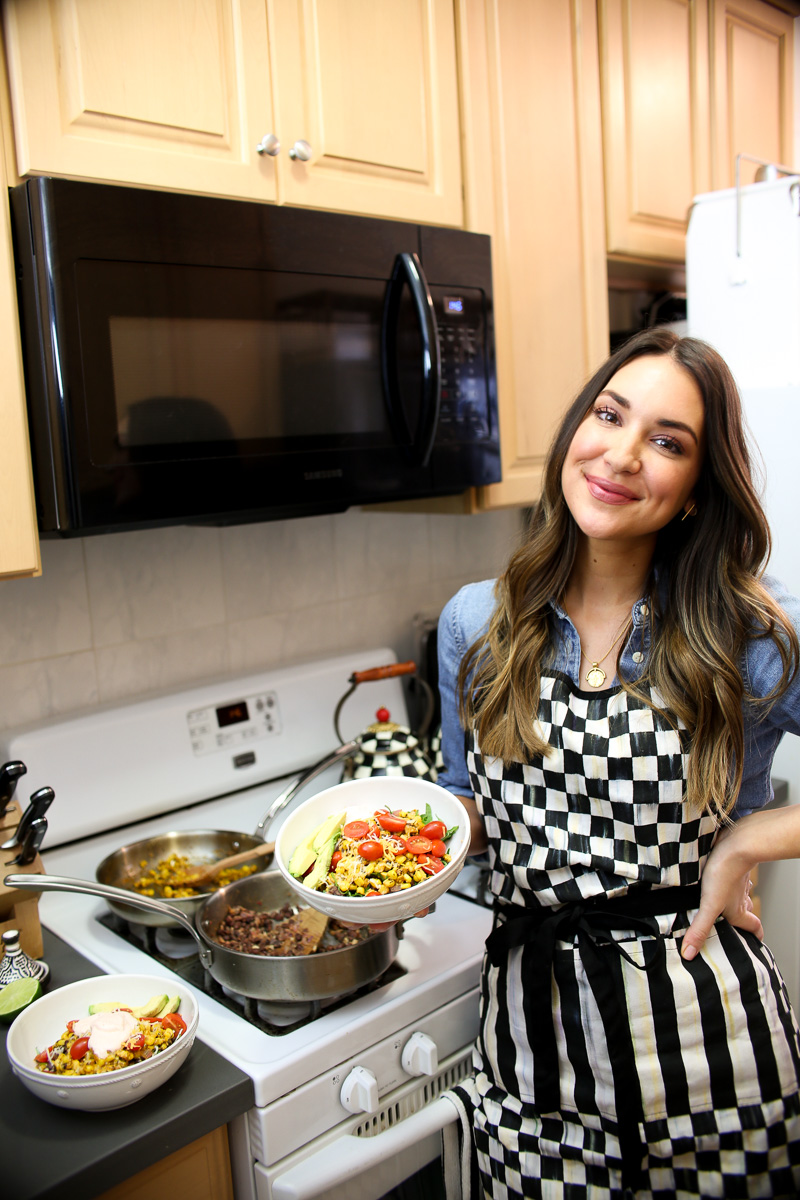 chambray shirt | apron | pasta bowls
And the recipe details for this Southwestern Quinoa Bowl (serves 2-3).
INGREDIENTS:
1 cup quinoa + 2 cups water
1 tbsp olive oil
1/4 – 1/2 cup onion, roughly chopped
1 clove garlic minced
2 cans black beans, drained and rinsed
1/4 tsp chili powder
pinch cayenne pepper
salt
1/2 fresh lime
Trader Joe's Frozen Street Corn
arugula or lettuce
Optional Toppings: shredded cheese, Greek yogurt + hot sauce to make a crema, tomatoes or salsa, sliced avocado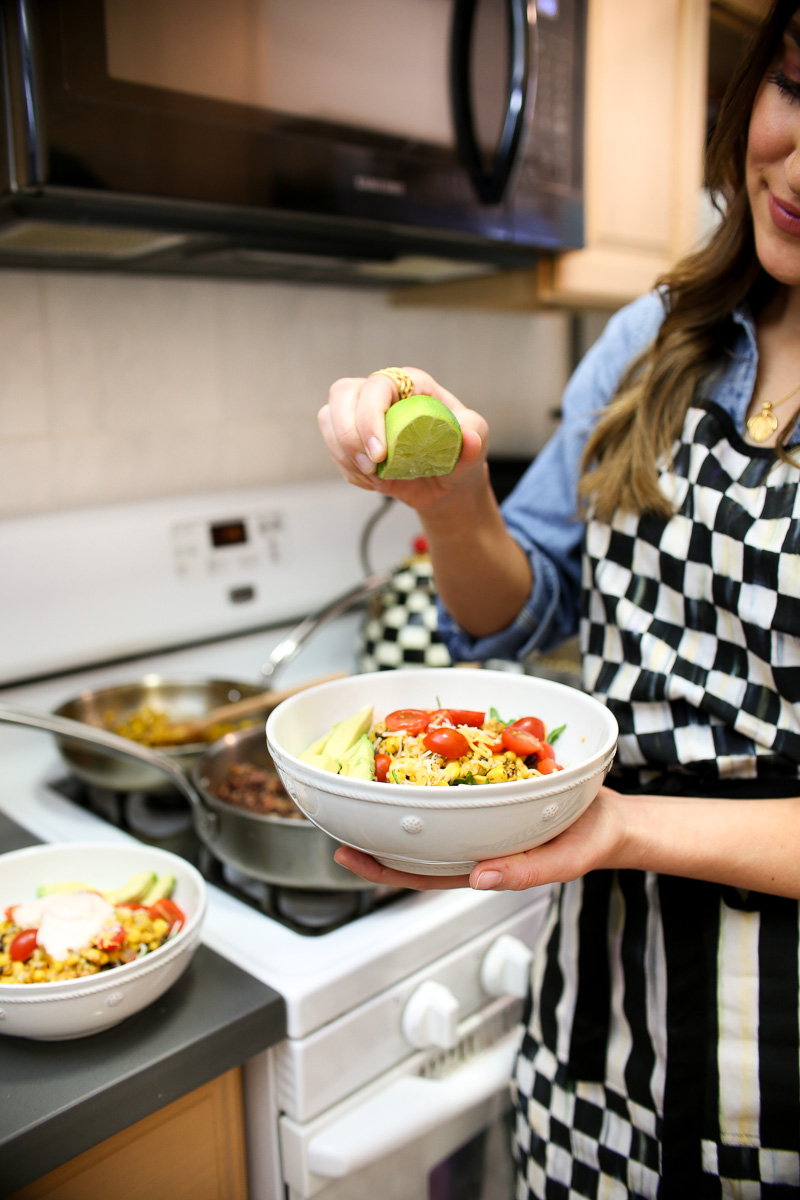 DIRECTIONS:
1) Rinse quinoa. Put in pot with 2 cups water, bring to a boil and then simmer for 15-20 minutes until fluffy.
2) While quinoa is cooking, add some olive oil to a mediums sauce pan and sauté your onions and garlic. Add two cans of rinsed black beans, 1/2 cup water, salt, cayenne and chili powder. Cook until water is absorbed.
3) Follow directions for Trader Joe's frozen street corn. So delicious and so worth it!
4) Assemble! Quinoa, arugula, black beans and onion, corn. You can top with tomatoes, your spicy crema, avocado and shredded cheese!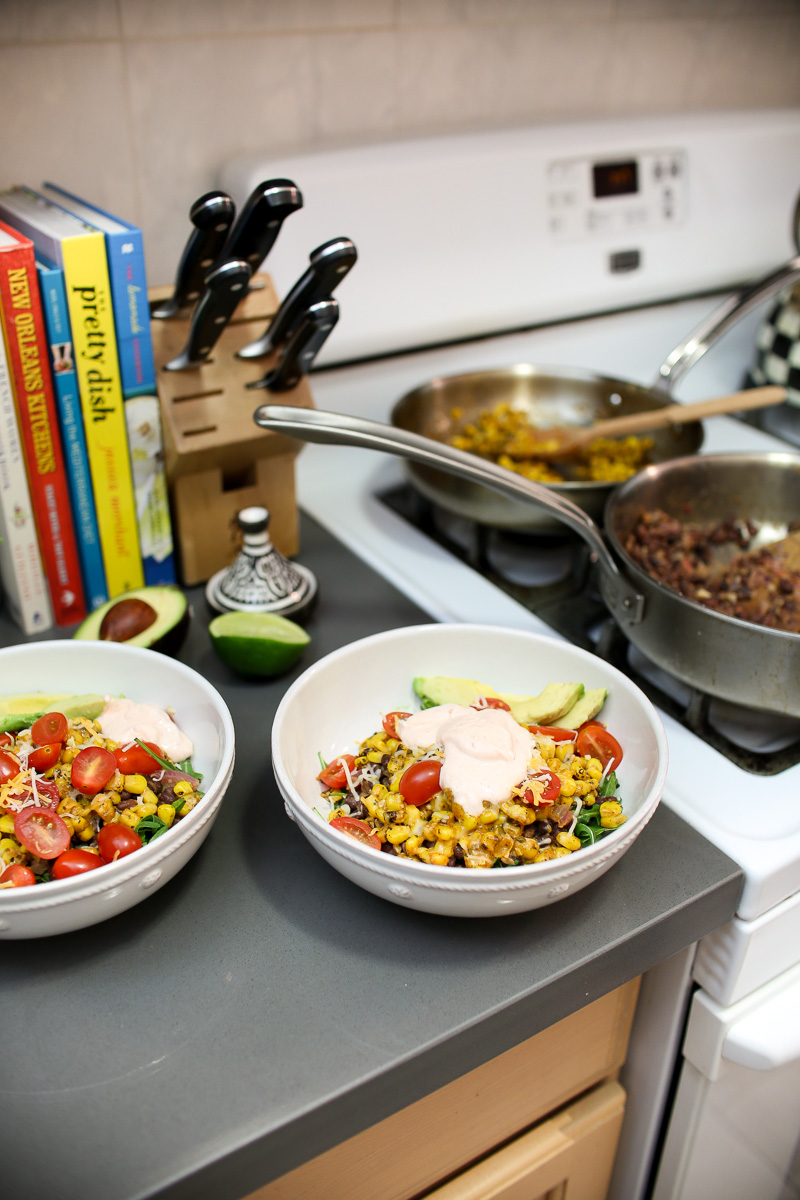 And thank you SO much to those of you who have subscribed to my YouTube channel.  It's a completely new world for me but I really, really appreciate it.  Greatly!
Thanks so much for reading and let me know if you guys try it!  There's also a fun giveaway happening this week on IG Stories (saved under "April Prize!" saved stories), so be sure to check that out if you follow @kathleen_barnes on Instagram!  XO –