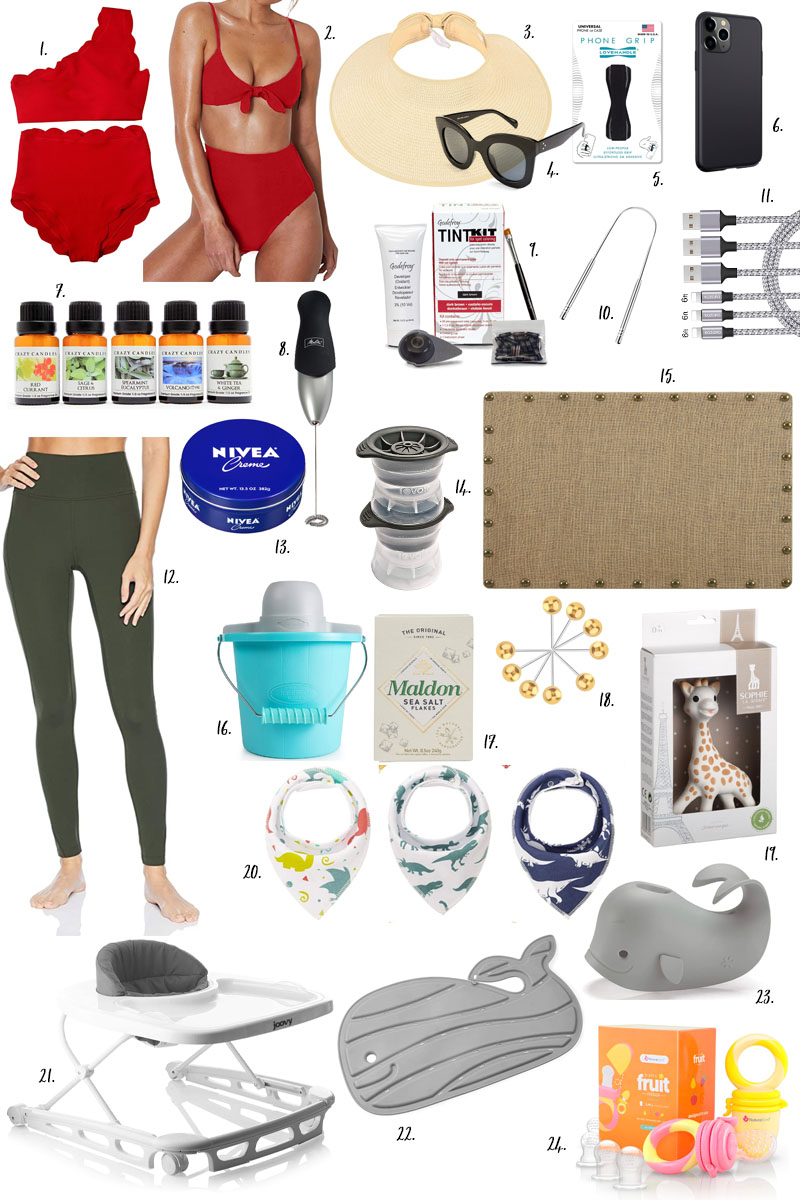 1 | 2 | 3 | 4 | 5 | 6 | 7 | 8 | 9 | 10 | 11 | 12 | 13 | 14 | 15 | 16 | 17 | 18 | 19 | 20 | 21 | 22 | 23 | 24
Personally, there's nothing I love more than seeing what random things people are buying.  Whether it's their grocery cart or Amazon cart… I'm interested in taking a peek.
So I thought I'd share some of my most recent Amazon buys.  In fact, most of these purchases were made since quarantine began.  Let's dig in!
Personal:
I bought this swimsuit and this swimsuit and love them both.  I had to send this one back for a smaller size – if you're in between sizes I would recommend sizing down.
A straw visor.  Still not sure this is a great look on me, but I wore it over the weekend and loved that I could easily throw my hair in a top knot.
My most handy cell phone combo – a simple black case and a hand strap.
My favorite iPhone cord because it's super long and durable.
The best workout leggings!  I bought the green pair but I think I stretched them out a little in pregnancy.
Nivea Creme, rumored to be almost identical to La Mer.
The best tongue scraper.  Maybe too good… I'm a little disgusted with what I see this thing lift!
Home:
A set of fragrance oils for my diffuser.  Knew I would love the volcano and red currant, but they're all so good!
Round ice cubes that I'm loving in a cocktail glass.
Linen wrapped cork boards and pushpins for the laundry room.
Salt flakes = my favorite.
A hand frother that I don't need but felt like I deserved. #socialdistancing. I use it for coffee!
Christian insisted on an ice cream machine – this one works dangerously well!
Baby:
Hudson has two bottom teeth coming in so he's loving is Sophie teether.  I also just bought him these teething pacifier things for frozen fruit or ice cubes.  We've tried frozen berries and pineapple and they were both a hit!
Bibs for the teether.
The most esthetically pleasing walker I could find.
A bath mat and spout protector for when he can sit up.
The cutest pair of baby sunglasses I could find.
On My Wish List: 
These sunglasses that look super luxe for $16.
A blow up pool and balls once Hudson can sit up.
The Baby Brezza everyone talks about that I can't decide if it's worth it considering our baby will only be taking bottles so much longer.  I also am nervous for him to only have bottles at a specific temperature as currently he will drink them cold, room temperature or warm.  H isn't one to turn down a snack!
A round rolling laundry basket.
The cutest playmat.
If you've bought anything you're loving from Amazon lately – I would love to hear!  Thanks so much for reading and sharing – XO –