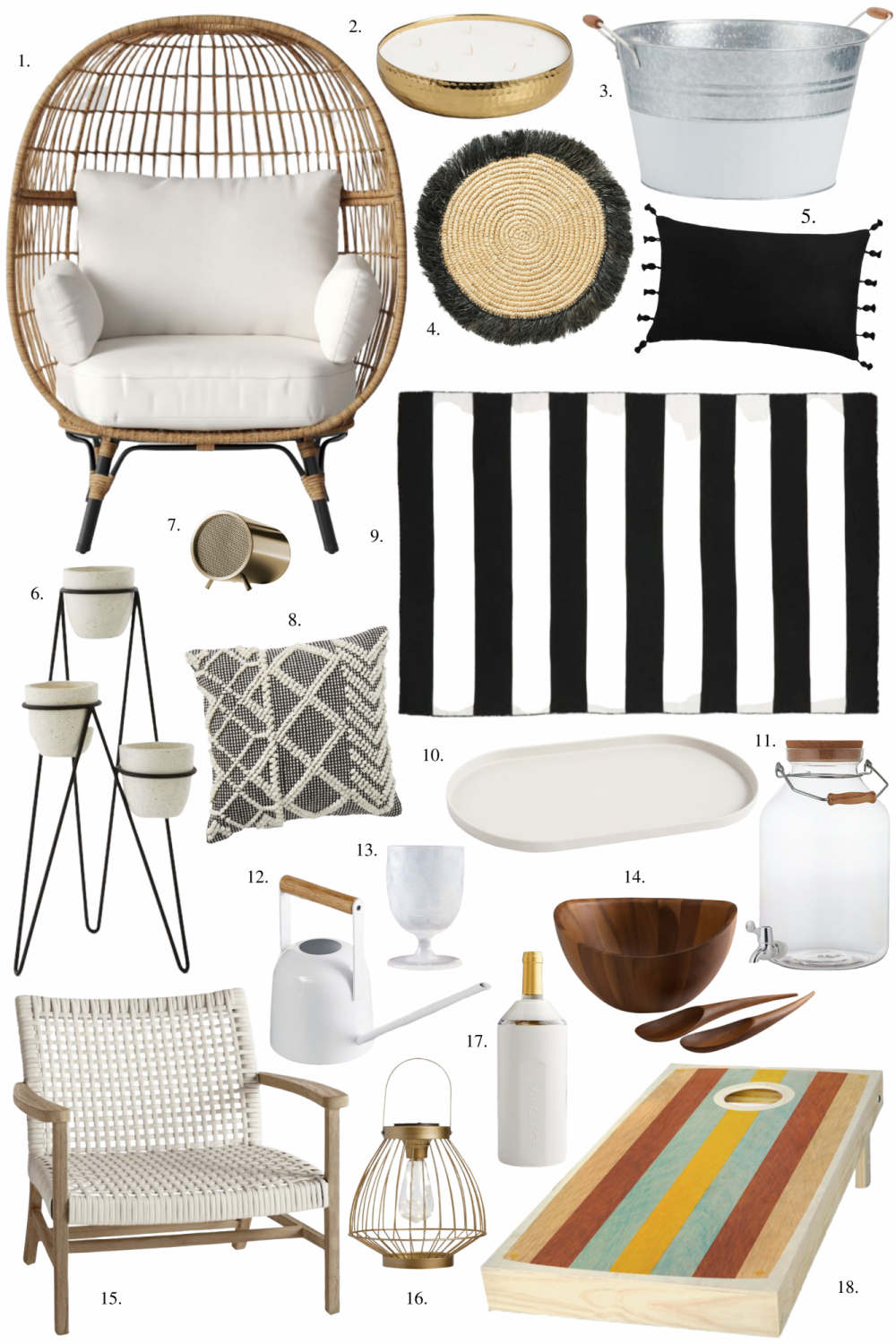 1 – 10% off | 2 – 40% off | 3 – 40% off | 4 | 5 – 40% off | 6 | 7 | 8 | 9 | 10 – 50% off | 11 – 20% off | 12 | 13 | 14 | 15 – 25% off | 16 – 40% off | 17 | 18 – 13% off
I love hearing that so many of you are spending more time outside.  Whether you're revamping your patio or working in the yard or garden… I think we are all looking to freshen up our outdoor space.  Nothing like the government ordering you to stay home to make you want to create an outdoor sanctuary for your family!
When we lived in California, everyone really counted their outdoor space as an extension of their home.  I was so impressed with the efforts neighbors took into making their outdoor space as cozy as inside, and it's something I knew I wanted to do in our home one day also.
I think comfort is really important when picking out any furniture, including outdoor pieces.  We have a sofa and these egg chairs on our patio and even though the sofa is plenty comfortable, we're always in the egg chairs.  They are so cozy and can fit multiple people in one chair.  If it's not comfortable, you'll be less tempted to spend extra time outside!
A rug for your feet, throw pillows and candles or lanterns are another great way to make a space feel warmer and more welcoming.  We bought these Adirondack chairs and foot rests and put them across from the outdoor TV.  We have eaten dinner al fresco so many times in those chairs!
Music is another way to keep you wanting to stay outside.  We played this playlist on bluetooth speakers for hours while gardening a few weeks ago.  And as silly as it sounds, a cute watering can can bring you a lot of happiness when you're watering your plants each week.  I've had mine for at least seven years and use it every single week!
Would love to hear what you're working on for your patio or yard.  I'm sharing a full gardening post tomorrow with some of my favorite little plants that have started taking off since quarantine started.  Thanks so much for reading and sharing – XO –