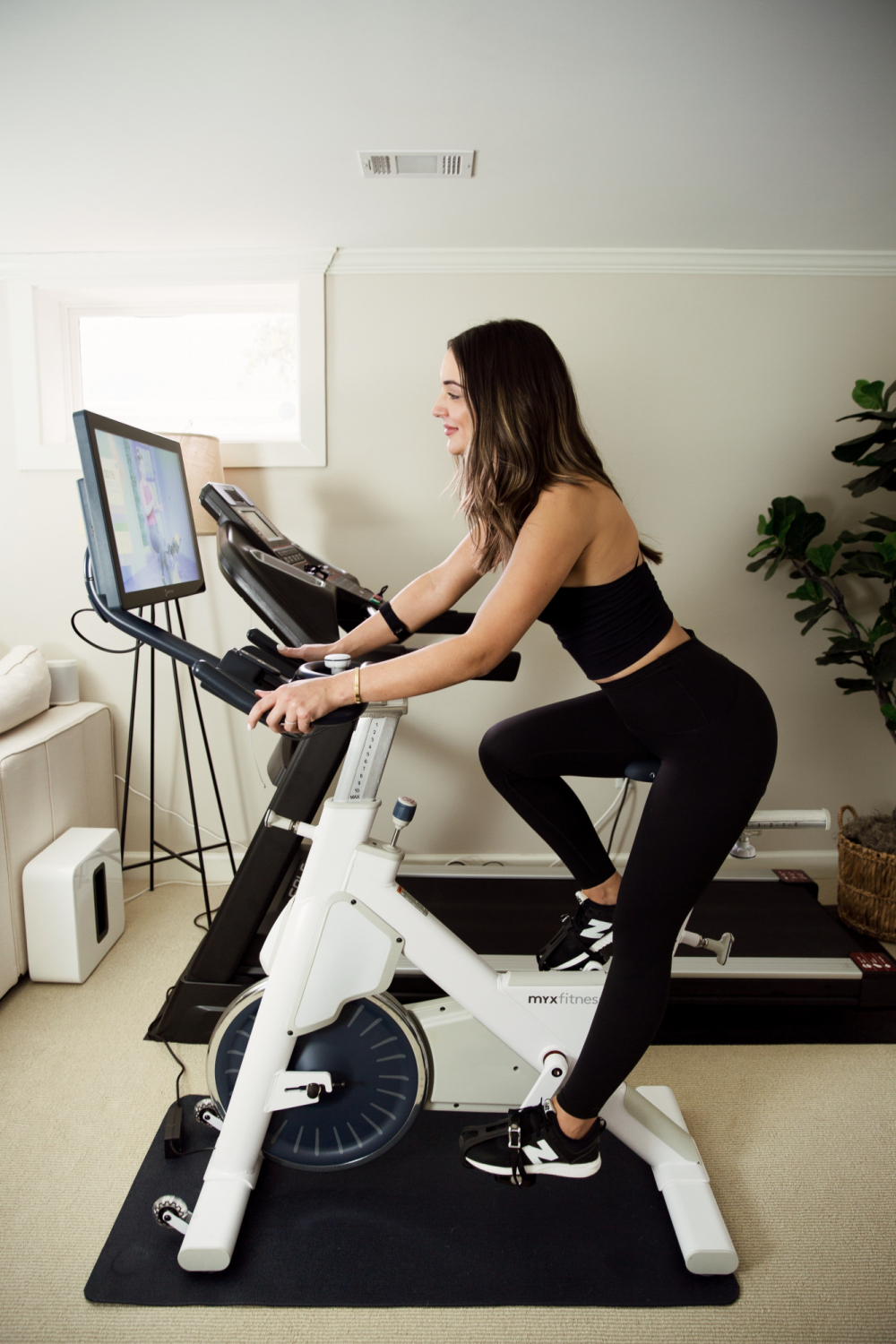 There have always been a few things on my personal home "I've made it list."  Some of those things are a double oven (got it!), two refrigerators (don't got it) and a small, dedicated space for a mini gym (somehow… got it!).  A few months ago we added a MYXfitness bike to our basement gym.  It's sleek (I love the white!), doesn't take up much space and packs in a lot of workouts.
The biggest reason why I thought this would be the best stationary bike for us is because not only can you take instructor-led classes or scenic rides with road noise, silence or music, but you can also swivel the monitor 360 degrees and take an instructor-led mat class.  Mat classes vary from yoga, pilates, core, HIIT to stretching and meditation.
Like most, during quarantine I started working out more often and then it slowly tapered off.  But my goal this year is to remind myself that anything is better than nothing.  Even if it's just a 20 minute ride or a 15 minute core workout.  It eventually adds up and most of all, it affects my daily attitude.
For price, dimensions and a full list of every class offered, check out the MYXfitness website.  There you can also watch a short bio video on each instructor and see which classes they specifically teach.
Last week I asked you guys on Instagram to send in any questions you had on the MYX system.  Thank you so much for taking the time to do that, below you can find my answers!
How are the classes?  Do the spin classes have choreography or is it just biking?
I really enjoy the classes and have found myself actually take more mat classes than cycling classes, whereas Christian usually only takes the cycling classes.
There are a variation of rides – climb rides, HIIT and Interval rides, Endurance rides, MYX rides and warm up/cool down rides.  You can also watch sample clips from rides on their website.
Does it sync with the Apple Watch?
The MYX mobile app connects with Apple Watch but the tablet app does not.
How's the music?
There are different playlists for each workout, and you have the ability to skip a song should you want to.  The music differs for every type of class, which means you can take the same class five days in a row and possibly never hear a single repeated song.
Lastly, there are separate volume controls for the music and coaches, which I really appreciate.
How much is the monthly membership after you buy the bike?
$29 per month for unlimited access to all content.  Collectively they have hundreds of workouts and compared to its competitors, this is the best monthly membership cost.
How often do they upload new workouts?
New workouts are added weekly!
Do you have to have special shoes?
No, I just wear sneakers.  But the pedals are made for both options, so if you have bike shoes and want to wear them, they'll clip in.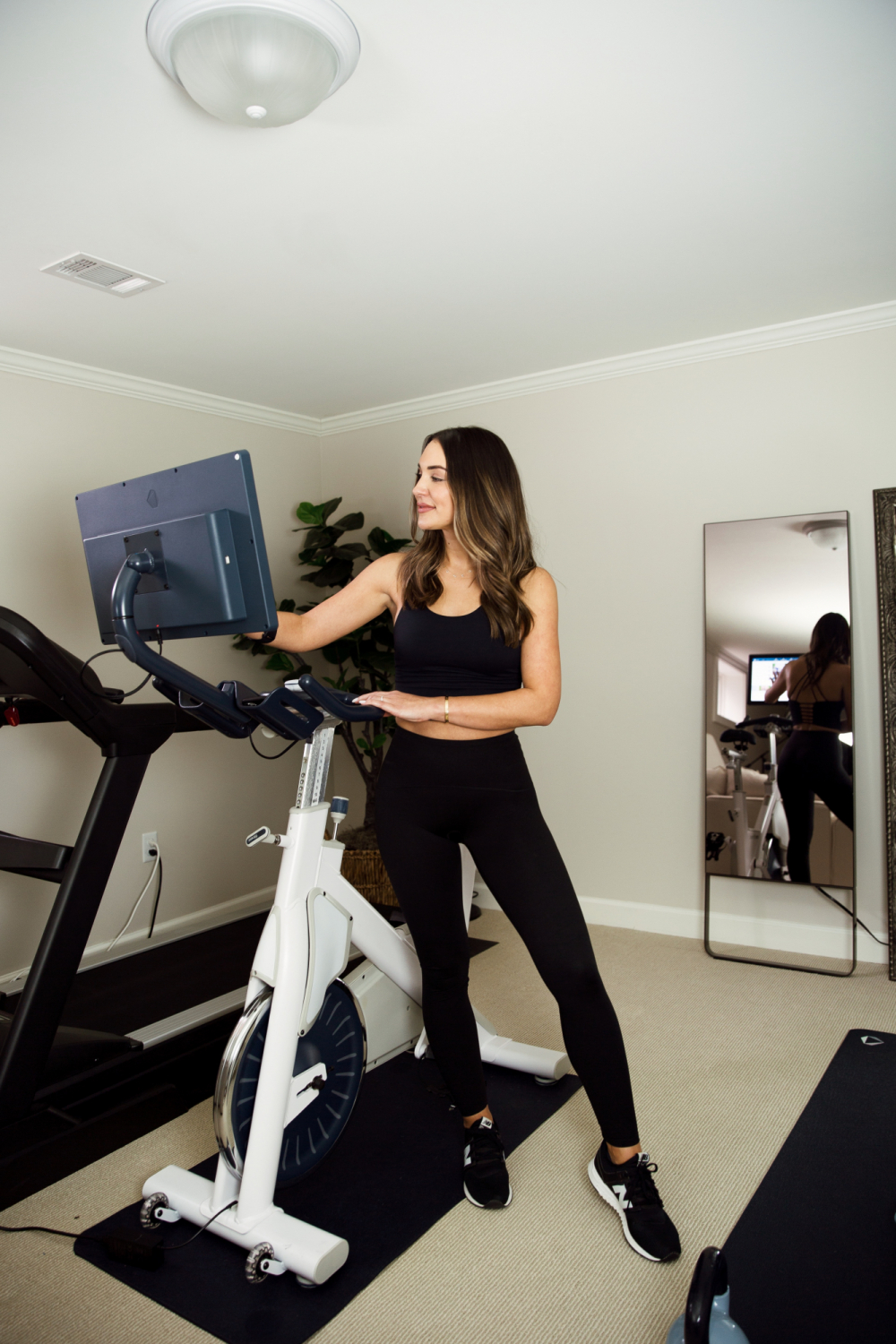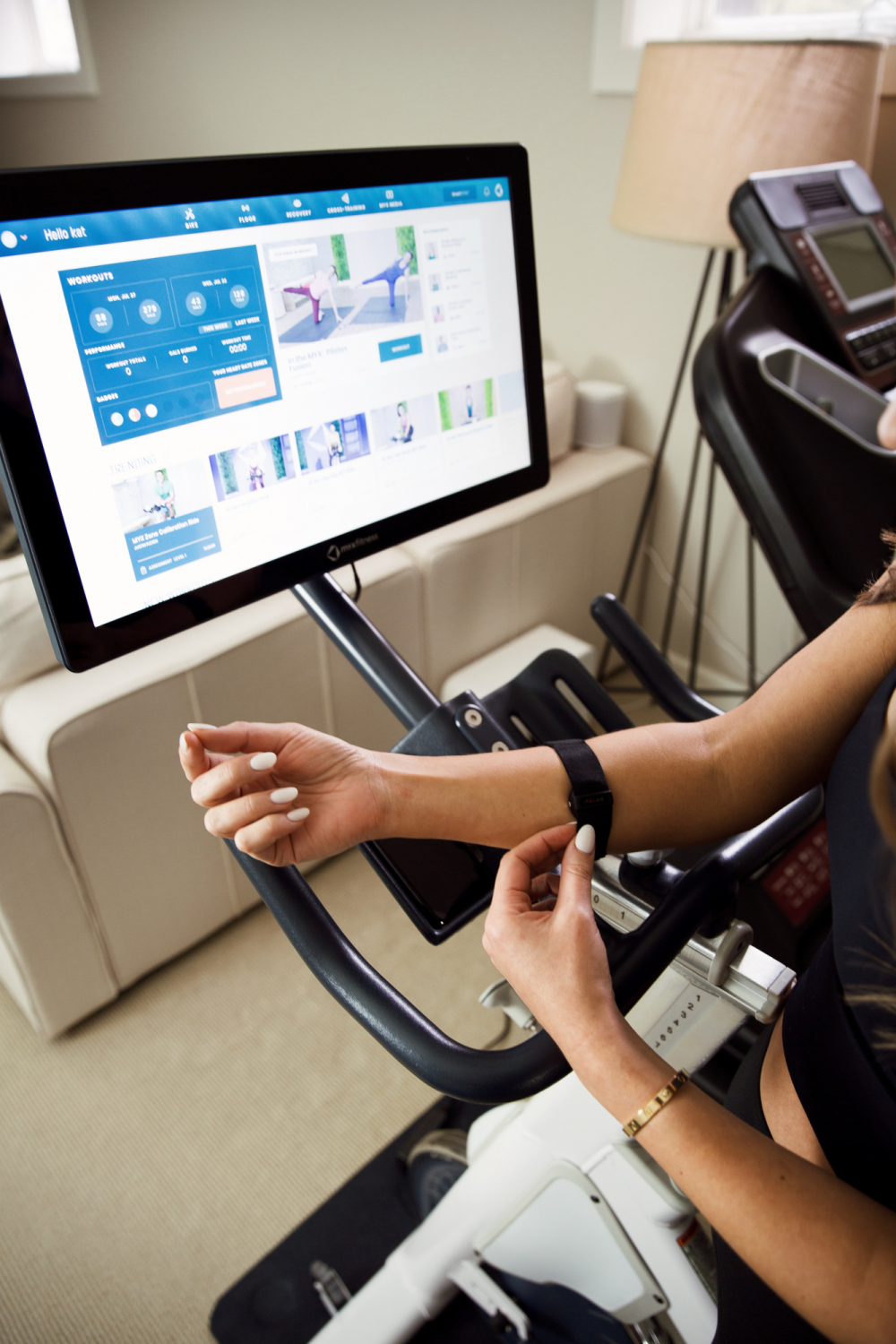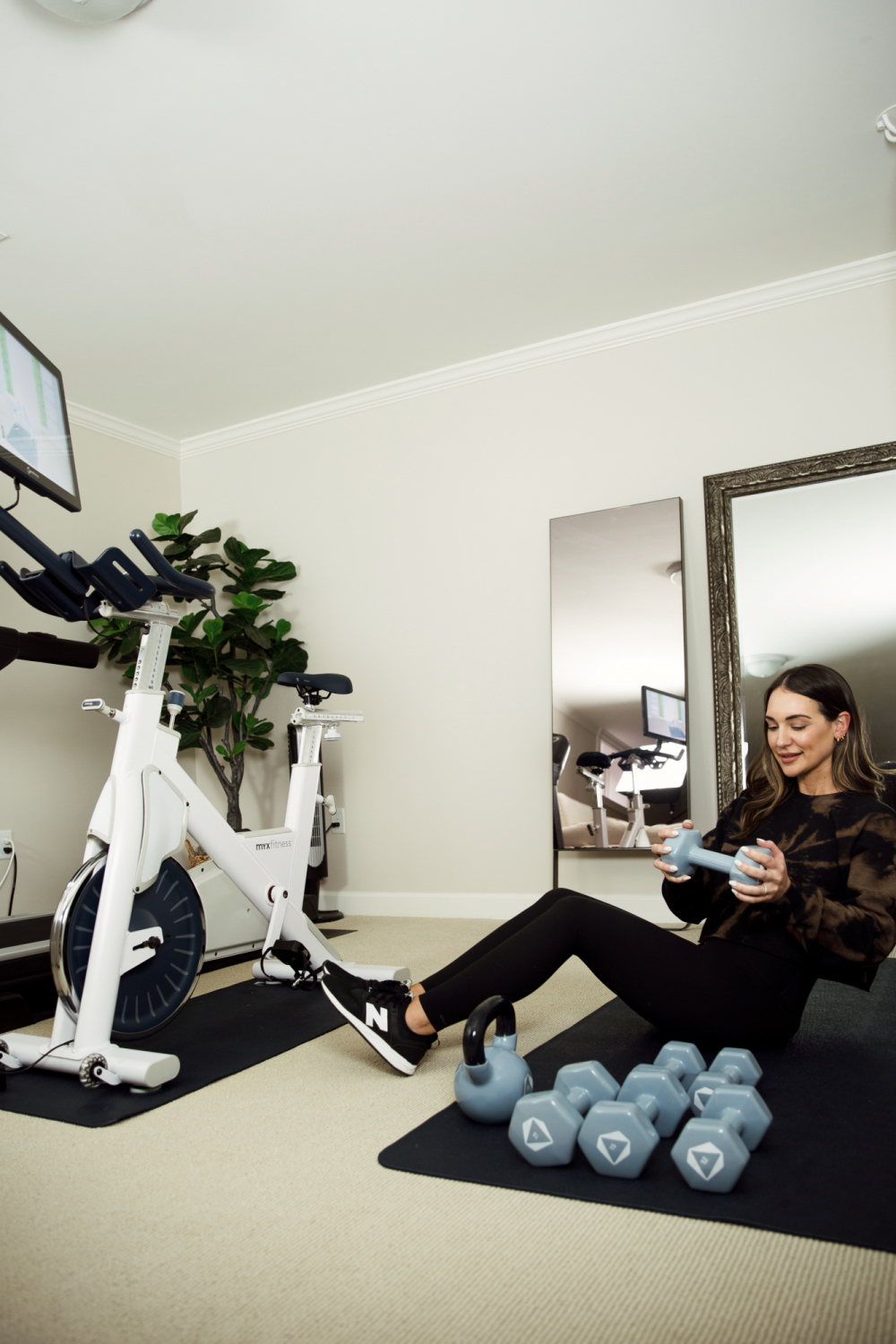 Why MYX over Peloton or SoulCycle?
By far, the question I get asked most frequently.  First things first, I don't have a Peloton and have only taken one of their classes in a hotel gym a few years ago.  I probably took less than 10 SoulCycle classes while I lived in California.  So I've dabbled in both but truthfully am not super knowledgeable about either.
What I like about the MYXfitness is the wide assortment of classes and the 360 swiveling monitor for the extra classes including core workouts, pilates, yoga, kettlebell, etc.  My favorite combo is to take a short 20 minute hip hop class and follow up with a mat workout.
On their website, if you scroll down you'll find a full graph with the differences between MYXfitness and Peloton in terms of size, workouts, weight, etc.
Do you feel like there are enough variety in the classes?
Definitely yes!
How long are the classes?
They range from 5-60 minutes with everything in between.
Do you have a discount code?
Yes!  With the code KATHLEEN you can get $150 off your order and free shipping (valued at $250).  AND the MYX and the MYX Plus are $100 currently, so that is up to $500 off!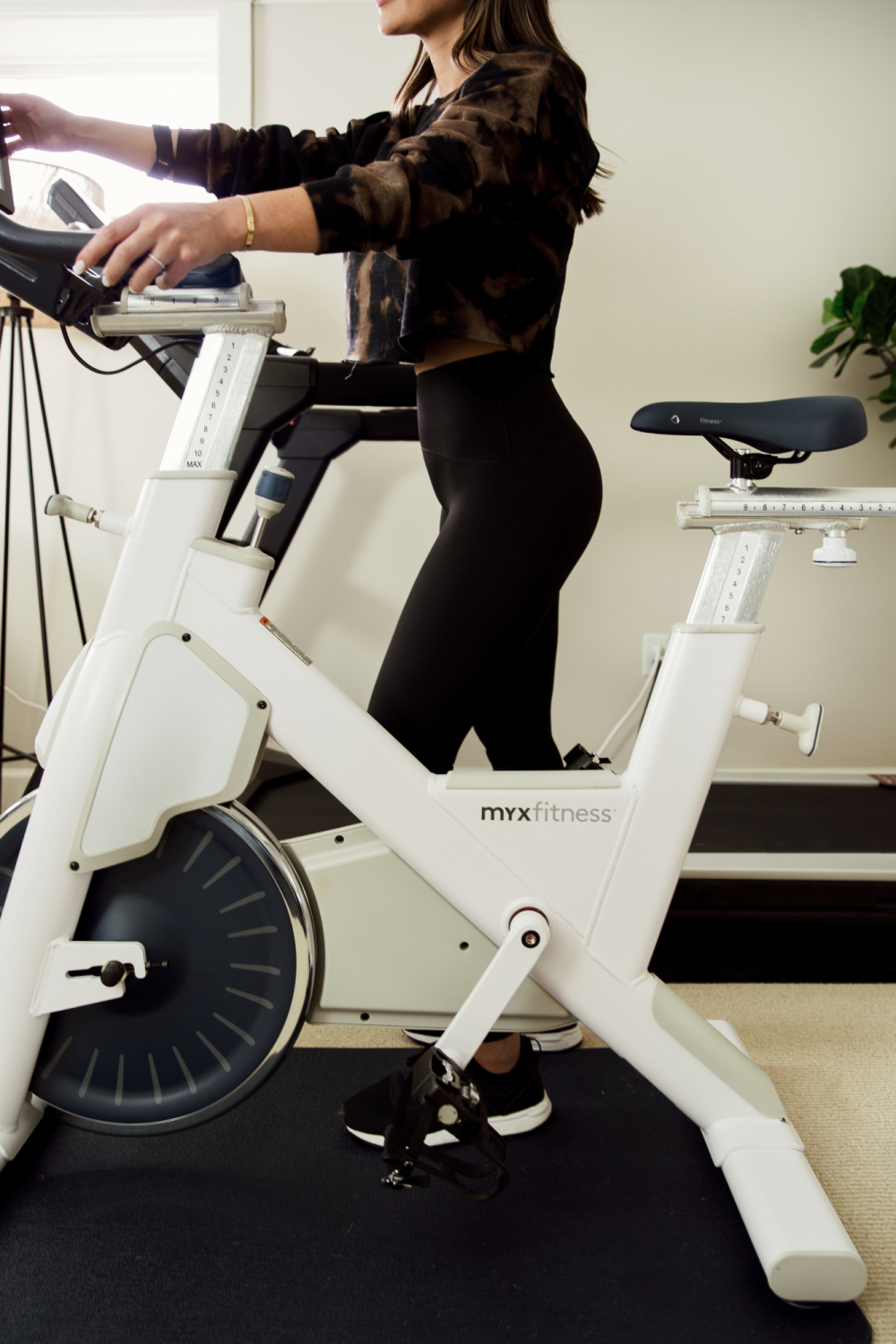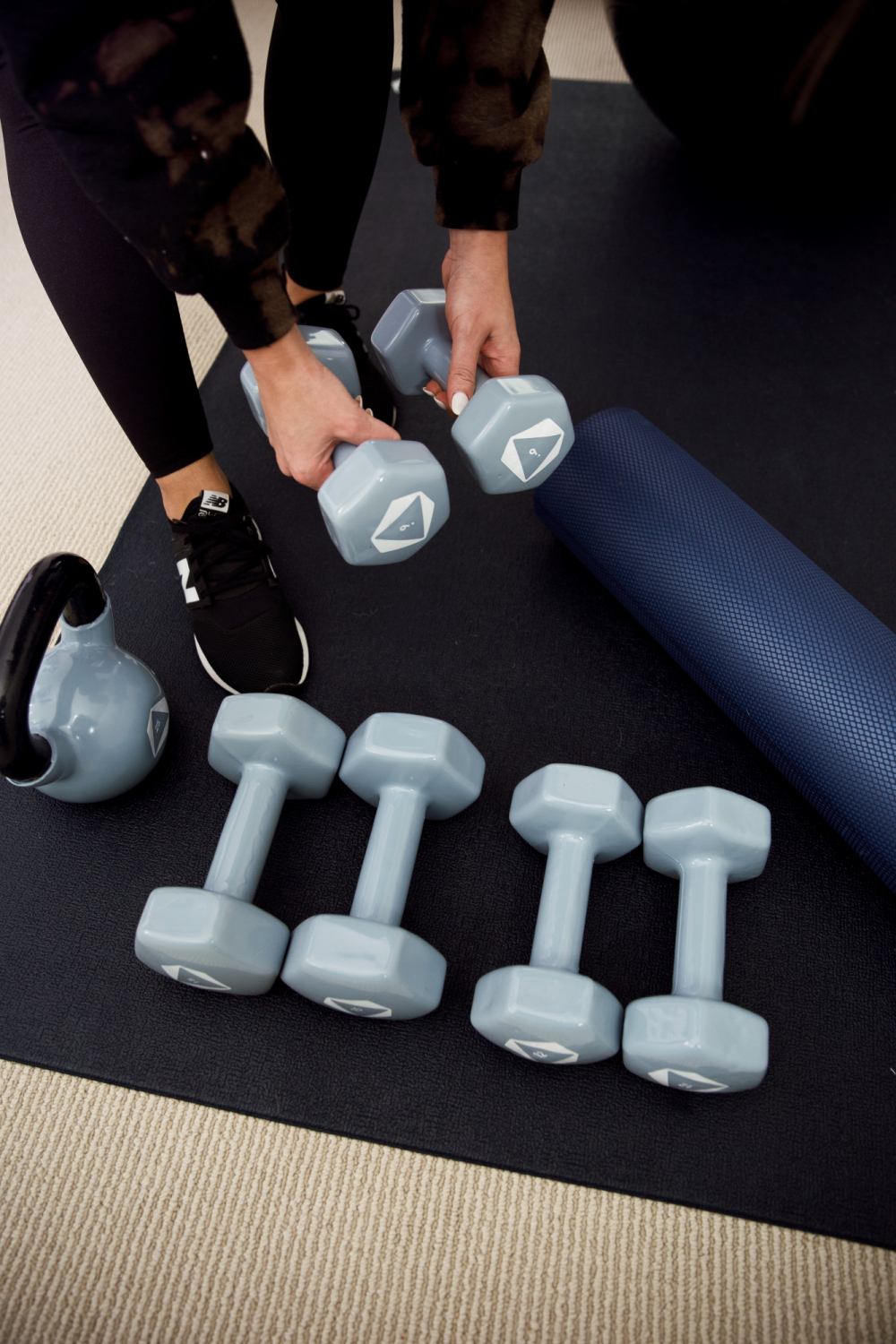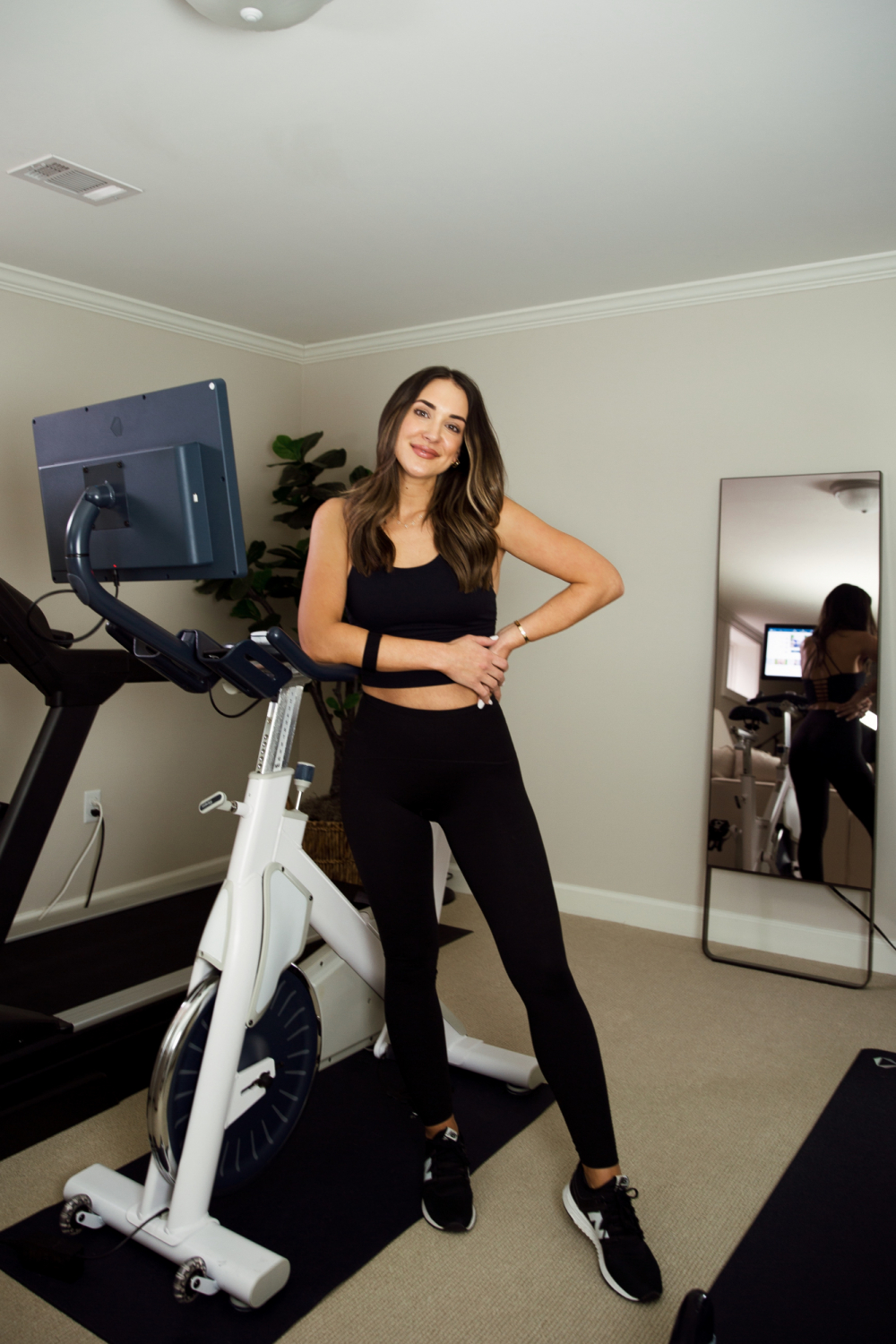 Can you use other fitness apps on the screen?  For example take a peloton class using the MYX?
No.  You can ride with our without a MYX instructor and with or without music.  The scenic solo rides are in locations like San Francisco, Costa Rica, Northern Italy, Hawaii and so on.  The solo scenic rides offer road noise, music or you can silence both.
Does it track your performance?
The MYX bike comes with a heart rate monitor that allows you to track your heart rate in every workout.
Also, when you create your MYX account you'll be asked a series of questions that helps create your custom heart rate zones. There is also a SmartMYX option that will tell you which workouts to take based on your specific goals.
One thing it does not do is track distance, which I wish it did.
Who are some of your favorite instructors?
Most of the classes I've taken are from Christina and Shaun.
How long is shipping?
Typical shipping is 2-5 weeks which is significantly faster than its competitors!
I hope that helped clarify some of your questions about this particular at-home system.  If I missed your question, please leave it in the comments or check out the MYX Fitness website.
Don't forget that with the code KATHLEEN you can get $150 off your order and free shipping (valued at $250).  If you are a self-motivated person who will really use a machine like this for quick and frequent workouts, it is really, really worth it.
Thank you so much for reading and leave me any additional questions you might have!  XO –
brought to you by MYX Fitness