I recently took to juicing in my Vitamix now that I have a nut milk bag to drain some of the pulp.  I have heard so much about the BluePrintCleanse and have been curious to see what all the fuss is about.  $250 for three days worth of juice seems a little pricey when there are so many DIY recipes out there, so I thought I would give it a whirl!
I like to put my juices in cute glasses because deep down in my heart it makes me miss chips and salsa a little bit less. Some of these juices really are so good – like the pinapple-apple-mint juice and cashew milk.  I think I'll keep making these even when not on the cleanse.
Did I follow this cleanse exactly like I should have….no.  I slipped a quinoa-spinach-avocado-egg dinner one day and maybe had a handful or two of yogurt covered raisons another day.  BUT I mostly drank the juice, and I just wanted a healthy eating head start.  I felt energized and awake each day and would definitely recommend this to anyone wanting to kick start a diet or change things up.
Let's start with the overall grocery list of what you'll need.  These ingredients cost me about $40 at a local community-owned grocery store.  I would recommend a farmer's market or local supplier if you have one available!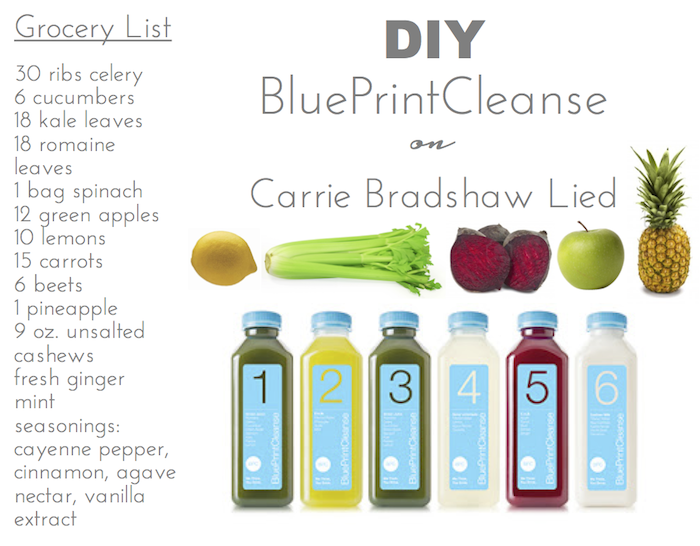 The first juice is the green juice that you'll drink first and third a day for three days.  I like to make all the juices for the day the evening before.  That way I have a full day's worth and I can have a fresh batch everyday.  Do whatever is easier for you!  If you want to make one day's worth of juice at a time, double this green juice recipe.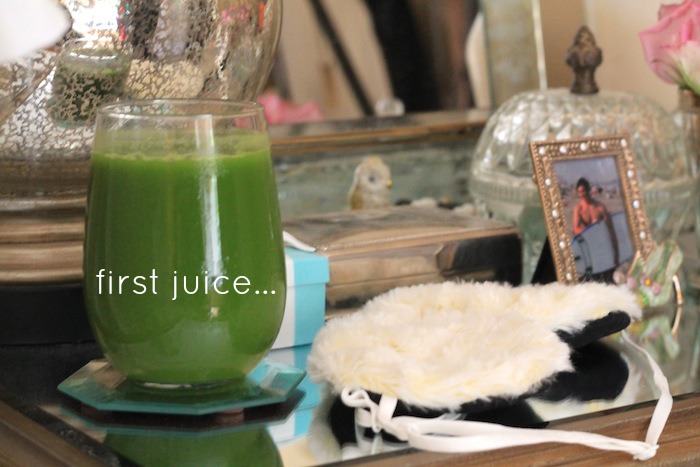 The second juice you will drink each day is pineapple, apple and mint.  Use more or less mint to your liking – whatever you prefer!  I love mint so added a small handful.  This is definitely my favorite juice.  I can picture adding a little rum and an umbrella straw and sitting on the beach…
The fourth drink you'll have each day is the spicy lemonade.  This is similar to the master cleanse drink that I tried in college for about four hours.  This lemonade is by far my least favorite drink of the day.  Confession…day two and three I skipped the cayenne pepper.  Whoops!  Clearly I'm not a rule follower.
The fifth juice is carrots, apple and beets.  Be sure to wash your cutting board and blender/juicer immediately after making this as to avoid any beet stains!  And definitely don't grab the pitcher with slippery fingers and shatter the pitcher on the floor, leaving a really fun beet juice murder scene.
The sixth and final juice of the day is the delicious cashew milk.  You can use raw almonds if you would like. Whichever you choose, be sure to soak the nuts in a bowl of water for at least three hours before blending.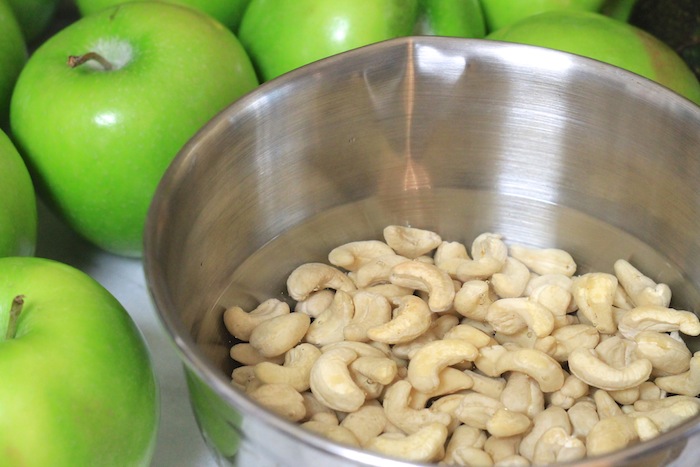 And that's a juice cleanse wrap!  Would you ever try this?  Do you have more willpower than me?
Talk to me.
Thanks for reading and good luck if you plan on trying the cleanse! XO –