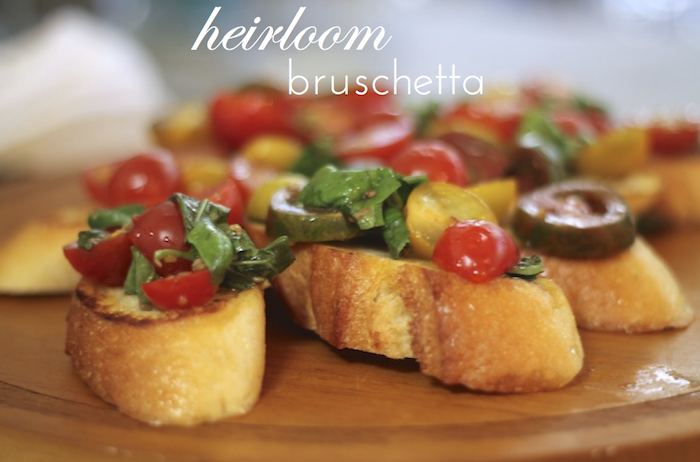 I love summer tomatoes.  My basil plant has really made our meals more delicious this summer and bruschetta is a big favorite in our house.  Simple and fresh…and deliciously messy, this savory treat is not served on the sofa.  I used farmers market heirloom tomatoes for this particular batch of bruschetta, but any tomatoes work perfectly.  My stomach is growling as I type this!
      serves four
a French baguette
one pint heirloom grape tomatoes, halved, or tomatoes of your preference
large handful fresh basil leaves
about 2 TB olive oil
1 TB balsamic vinegar
3 cloves garlic
3 TB butter
salt & pepper to taste
In a small skillet on medium-high heat, add the olive oil and garlic.  Sautée until the garlic is lightly brown and then pour into a mixture bowl.
Add the tomatoes, balsamic vinegar, basil, salt and pepper to the bowl.  If you can, cover the bowl and refrigerate for an hour or so, allowing the flavors to really blend.
Cut about half the baguette into individual slices.  Melt the butter in a skillet and add the bread to the skillet, lightly browning on both sides.  Repeat until you have as many pieces as you'd like.  If you'd rather, you can butter the bread and stick it in the oven on broil until the bread has browned a little bit – your call.
Remove the bread from skillet, allow it to cool for a beat or two and add a generous helping of the tomato mixture on each piece of bread.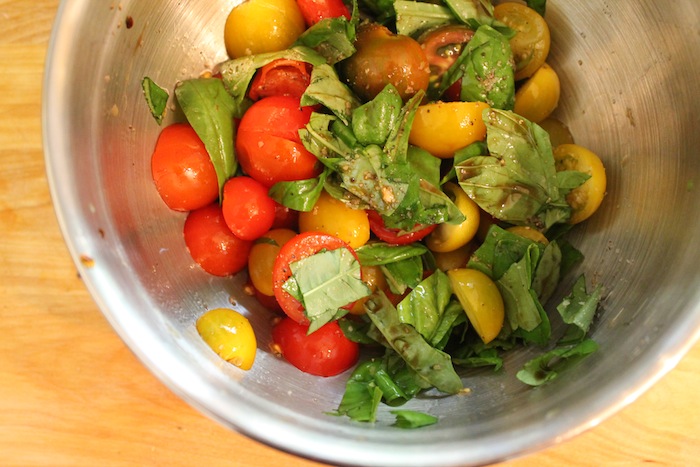 Thank you for reading!  XO –