– spending the afternoon reading in the sunshine while this guy surfed –
– spotting my face in Modern Luxury Riviera –
– great seats to LA Fashion Week –
– breakfast and Glee on my DVR –
– pretty breakfast room blooms –
– playing with these new super fun Sticky9 jigsaw magnets –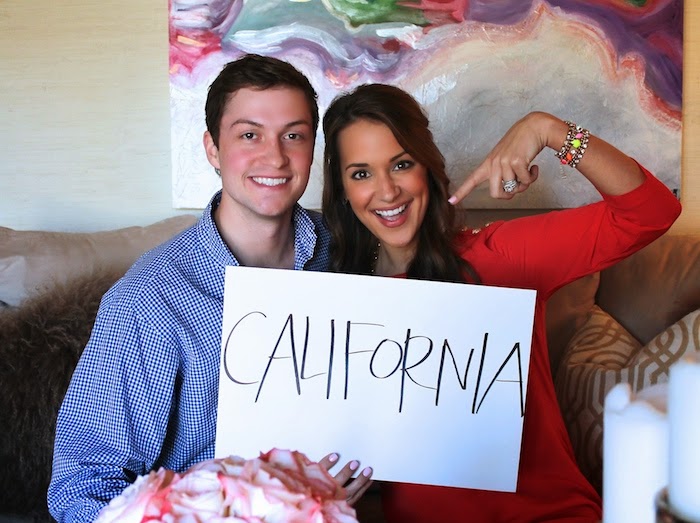 – thinking of all of those matching for their medical residency this year and extra appreciative of our good luck –
I had so much fun attending some of the shows for LA Fashion Week last week.  My girlfriend and I were able to sneak backstage between shows and as I passed a line of tall, svelte models – I immediately flashed back to the episode of SATC with Carrie modeling in the runway show.  In the episode, the fashion show is split between models and "real people."  When walking past these models backstage, I was very much the "real person."
And then I got another cocktail.
Today is Match Day for all the fourth year medical students and it certainly takes my heart back to last year when Christian was matching.  Some of you may remember this post – but I know the nerves all those residents (and their hopelessly in love significant others) are feeling this year!  Christian interviewed in 14 cities between California and New York for a program with less than 300 available spots nationwide, so everything was on the table.  As long as I had my college sweetheart (and my (at the time) four-legged pets) with me, I was along for the ride.  I'm so proud of Christian for really putting himself out there and so thrilled for him that his hard work paid off.  Being so far away from home has been such an enormous team-building experience for us and I truly wouldn't change it for anything.
In other news, this is my last weekend with my honey in sunny California before heading back to Chicago for two weeks.  It's definitely going to be hard to leave my girl Lula LaShonda (and Christian and Bailey), but I know these three will look out for each other.  How on earth am I going to pack 12 days of clothes in one suitcase?  Any tips?  The last time I packed for this long I was going to Miss Teen USA…and that was a little different.  More sparkle, less thermal socks.
Y'all have a beautiful weekend and thank you for reading! XO –