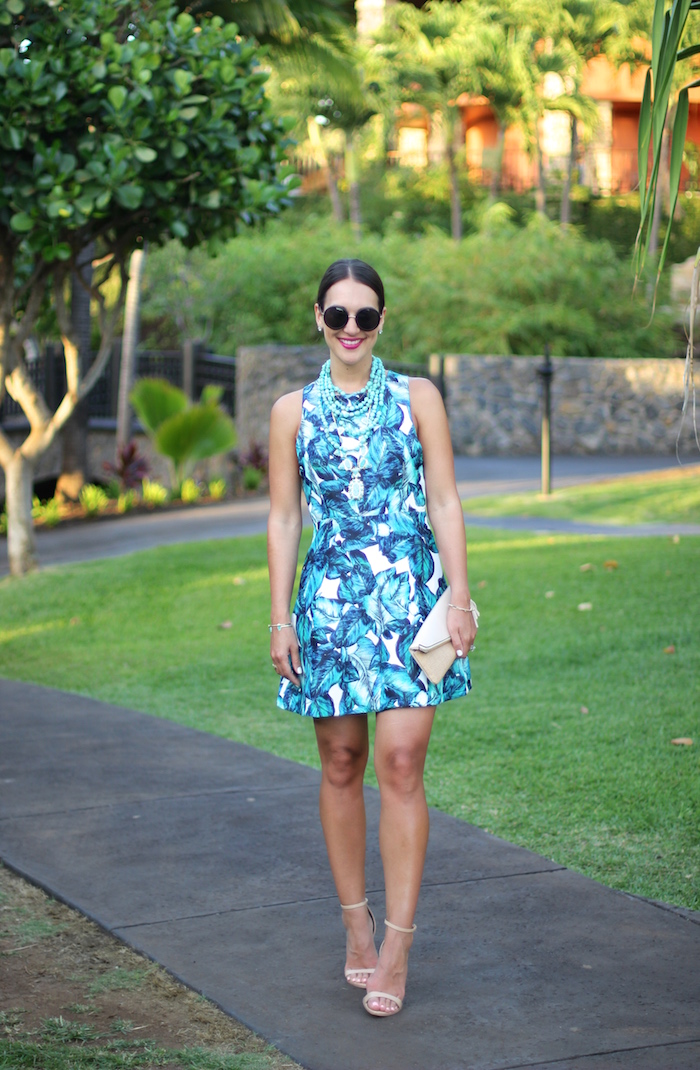 This dress is like… a vacation staple, right? I love the comfortable fit-and-flare of the silhouette  and the cutouts in the back are an extra dose of fun.
I wore this little number for our last dinner in Hawaii at Capische at the Hotel Wailea.  That last night on vacation is so bittersweet… ok mostly bitter. But re-living our vacation through these posts has actually been so much fun and reminds me how important it is to treat-yo-self. I usually am the person who takes one vacation day here, two vacation days there, but to take a full week off is a rarity.  Now that we live in California, there are so many new trips we want to take and Christian can't take the one or two days off, rather he gets to pick four weeks a year to completely unplug.  For that reason, we've become the week-long vacationers and I never expected for it to feel so much more relaxing.
Coming back to hundreds of emails is not so relaxing, but nonetheless, I'm grateful to have a reason to take this time for ourselves and experience something new together. What's your vacation strategy?  I'd love to hear.

dress (under $30!) | heels – Zara (old), similar here | pendant necklace c/o | chunky necklace – White House | Black Market, old, similar here and here | sunnies | clutch c/o | studs c/o | turquoise cuff c/o | gold cuff 1, 2 c/o | cable bangle
Thanks so much for reading you guys! XO –