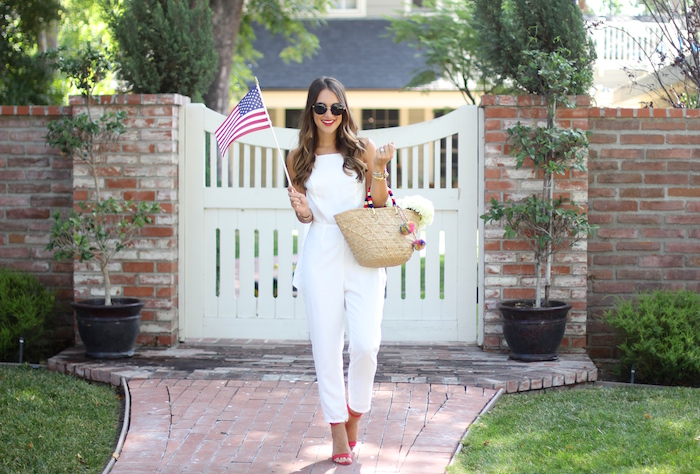 It's safe to say this white ruffled romper is a summer obsession of mine.  I love how polished it is with a little feminine ruffle and party in the back.  I also think it would look so cute with a chambray shirt knotted in the front.
Christian was working on the 4th, so we celebrated on the 3rd with a day at the pool, a picnic with Bailey and cooking together at the house while arguing between old Sex & the City episodes vs. The Discovery Channel.  So basically it was our usual summer day!  Sidenote: I think this is why I've always been an Aidan fan.  If I relate to Carrie, C is most definitely Aidan.  Like this scene?  Tis my life – down to the dog. And this scene? Been there, done that.
"No, I'M taking a walk. You can stay here with your boxes of shit and your shoe-eating dog, and you can knock yourself out putting on the rogaine and the speedstick!"
I have so many favorite scenes I could talk about it for hours. Do you have a favorite SATC scene? I need to hear it!

romper c/o, runs true to size | tote c/o | sunnies | heels – Prabal Gurung for Target, no longer available, similar here and here | earrings – etsy, similar here and here | geode cuff c/o Macy Carlisle Designs – 15% off with code carriebradshawlied | gold cuff c/o | turquoise bangle c/o | gold bangle c/o | cable hook bangle | x ring c/o
Thanks so much for reading and I hope you guys had an amazing weekend! XO –