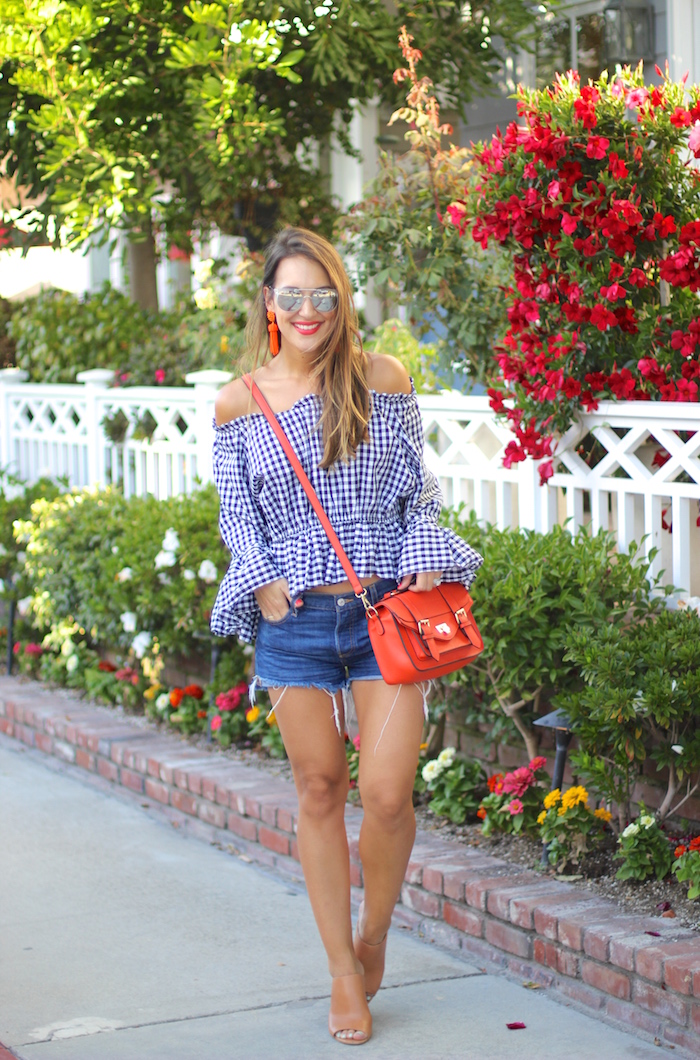 I am all about dressing for yourself.  Always have been.  When I was younger, my artist mom always told us, "dare to be different," and sometimes I took that a little too literal. I've always loved fashion and have been playing dress up my entire life – SO when you dare to be different, sometimes you miss the mark, but I never regret it!
All of this being said, my sister has a three year-old daughter who is my mini-me.  If you follow on Snapchat (CBLied), you probably saw that cute curly haired little girl when they were visiting a few weekends ago!  I dressed myself in this outfit and asked Harper if I looked cute.  From one fashionista to another, she eyed me up and down and said, "no."
What does that kid know? She's three.

top c/o | shorts – super old Levi's, most similar pair I could find here, also love these | mules – sold out, nearly identical here (so identical I have a pair of them too and LOVE them!) | sunnies, sold out but these come in a ton of colors and are only $15! | bag c/o – under $40! | earrings c/o | lip in Temper
Never let anyone tell you that you don't look awesome when you feel great, right? #WWCD (What Would Carrie Do?).  Sidenote: this also reminds me of when Christian and I had been dating a few years and he finally said, "I don't like it when you wear hats." Of course my jaw dropped and I answered with, "but my mom says I look great in hats." HAHA – I actually still use that line almost any time someone jokingly critiques me – the "but my mom says I look great in _____."  That's what mom's are for, to be your #1 fan.
Thanks so much for reading! XO –