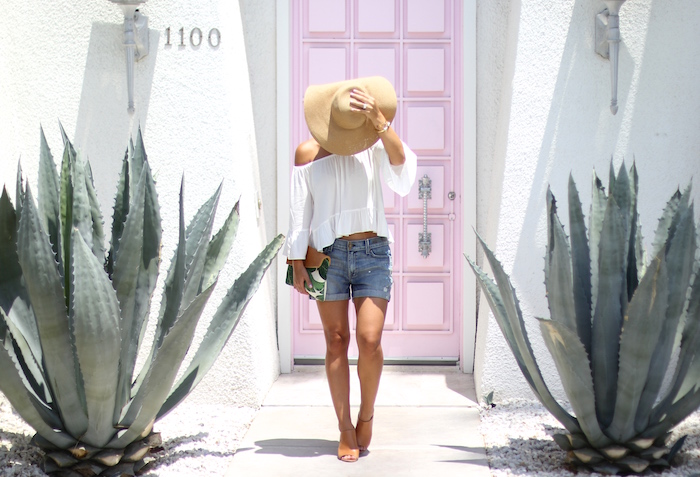 I knew when we recently went to Palm Springs we had to make a stop at the iconic pink door with its own hashtag, #thatpinkdoor. Honestly, it was even more adorable in person that I even imagined!  It felt like it was 150 degrees in the desert, yet I was smiling ear to ear because this door was too cheerful not to, plus this off-the-shoulder Topshop number just fit the bill so perfectly.
Christian participated in taking about 30 photos and then politely jumped back in the car with AC.  No judgement.

shorts c/o Fidelity | top c/o | mules, also love these and these | earrings, sold out, love these, these and these | sunnies c/o | hat | clutch c/o | cuff c/o | triple bangles + ring c/o | "take me away" cuff c/o
Have any of you been to Palm Springs and seen this beauty? Or better yet, have any of you convinced your husband why you should paint your front door pink or Tiffany's blue? Because I'll take all the advice in that area I can get.
Thanks so much for reading! XO –