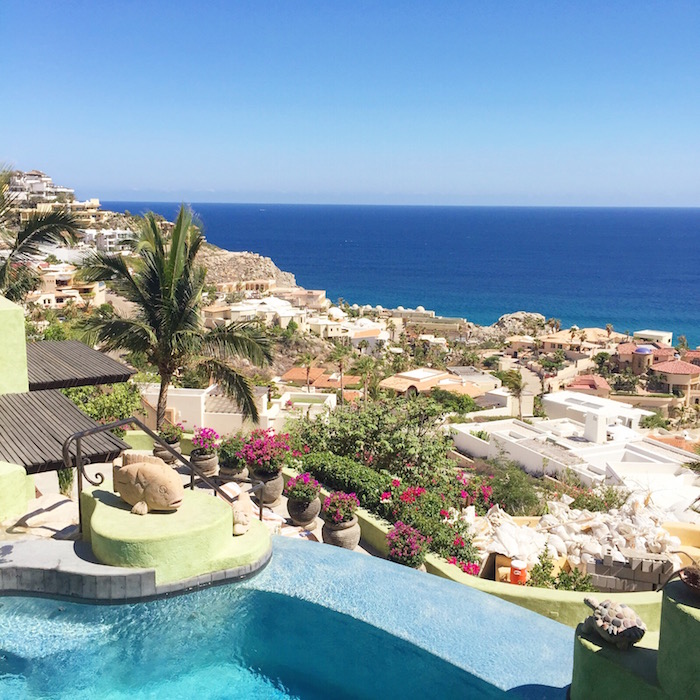 If you follow me on Instagram or Snapchat (CBLied) or saw this past Friday's Five, you saw that I recently traveled to Cabo San Lucas with some of my blogger friends to stay at Shop BellaC's private home, "Casa Verde," which is located at the top of Pedregal in Cabo San Lucas.
I have been to Mexico several times but never to Cabo, so this was such a fun opportunity to see a new part of the country. The home (which I felt was a castle it was so enormous!) was absolutely stunning and I was on a floor by myself conveniently located 12 steps from the home gym so I took that as a sign to exercise which I managed to do twice (a miracle), so cheers!  These outfit photos are are linked at carriebradshawlied.socialroot.co if you want to shop anything in the photos!  All you have to do is move your cursor over the image and the links should appear to click on.
Some of my favorite parts of the trip and recommendations for anyone traveling to Cabo:
Lunch (and dinner) at Bar Esquina, the restaurant within the Bahia Hotel
Lunch and a beach day at Hacienda 
A private tour and dinner at Flora Farms – so beautiful, a full post coming soon! Adam Levine actually was married here and they came back to visit last summer for their first year anniversary.
An incredibly beautiful sunset boat ride to The Arch, something I wish Christian had been able to enjoy with us because it was so breathtaking.
Appetizers and drinks at Lorenzillo's on the water before the boat ride.
A lazy afternoon drinking margaritas at a swing bar, Baja Cantina. Yes – a bar surrounded by swings – no wonder we spend so much time there!  And then did a little shopping at the markets under the influence, no regrets.
A private dinner at Templo Cabo – such a fun drink and dinner pairing while listening to live music.  A perfect way to spend our last night.
Dessert at Señor Sweets – they were closed by the time we made it there, but it was highly recommended!
Dinner at Edith's – also closed for the off-season when we were there, but highly recommended.
The Office – again, closed for the off-season but looked so fun!
kimono from ShopBellaC
photo by Taylor Cole Photo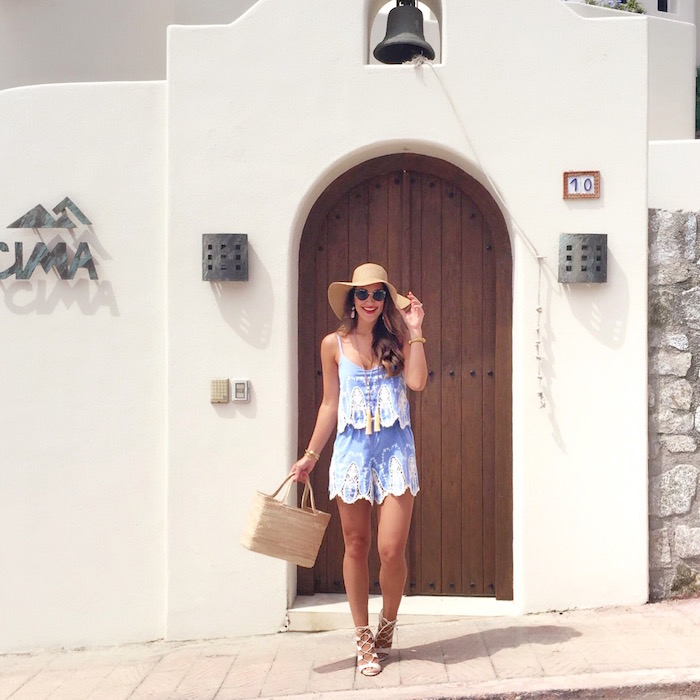 dress from ShopBellaC, currently sold out
Stay tuned for more outfit posts from the trip coming soon! Thank you guys for all of your kind words and suggestions on Instagram – we used several of your recommendations!
Thanks so much for reading – XO –