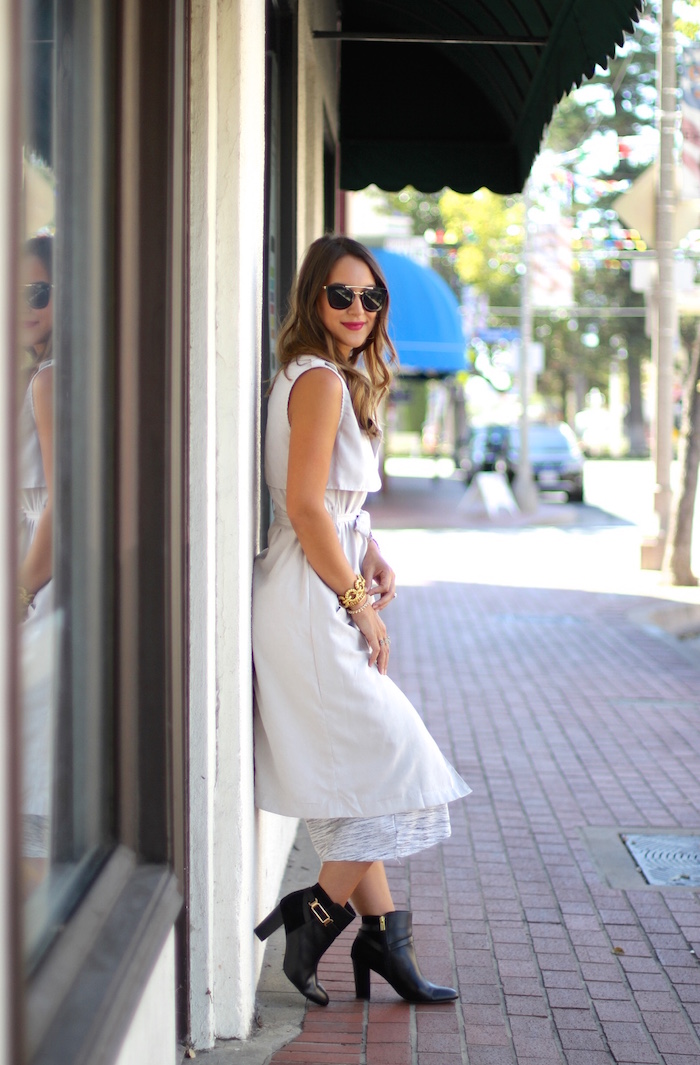 It might still feel like summer, but when September rolls around, out come the ankle boots, scarves and vests. This sleeveless trench (similar style worn here and here) is such a perfect piece for me because it brings in the fall vibes without making me schvitz like cray.
For example, when Christian snapped these photos this weekend we were having a heat wave and it was a breezy… 98 degrees. No big deal. I've worn a similar look before with strappy sandals during summer, but pairing this look with this sleek Isola ankle boots definitely takes this look to a transitional fall ensemble, and it makes me want to light a pumpkin scented candle and watch Ole Miss football.
I can't believe I just said that.  Clearly I'm getting carried away, there's no way I really meant that.

boots c/o Isola | vest c/o | dress – sold out, extremely similar here | bag, sold out, nearly identical here | watch c/o | chainlink bracelet c/o | gold cuff 1, 2 c/o | sunnies – sold out, identical here for under $10! | earrings | ring c/o
Are you guys also addicted to the sleeveless trench and ankle boots? I have a vintage Burberry trench but I find myself wearing this one 10x more, go figure.  Thanks so much for reading! XO –